Crack the Cervezas, it's almost time to party– all we need to do is whip up a batch of Taco Tuesday guacamole then we've got the green light to relax and enjoy good company.
FYI: You're hosting taco night next week. And can you make some guacamole?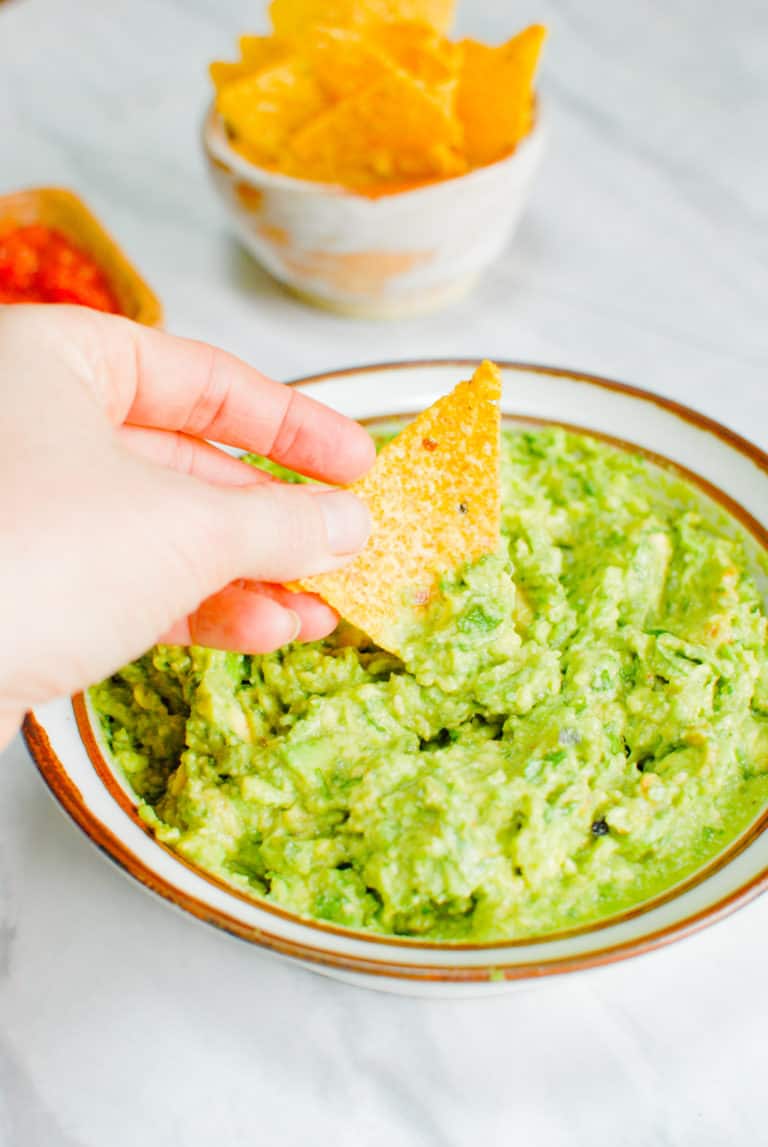 Ingredients
We are giving you the secret recipe of our go-to Taco Tuesday guacamole- yep, it's a certifiable holiday around here. When we make guac for a group for a casual hangout, we are going for easy, flavorful, and satisfying— that's exactly what this healthy guacamole recipe is.
You don't have to chop or zest or sear everything in sight, but we promise you'll get people asking 'what's in this' because we're adding a secret weapon– chipotle peppers in adobo sauce! This lends a complex, smoky and spicy flavor to this guac that your eaters are sure to love!
This guacamole recipe is perfect for nachos… for tacos.. for chips… for avocado toast (don't count on leftovers!)… for a crowd… for 6-8 people to all enjoy together… This is a sensational guacamole dip recipe.
To guac, or not to guac is NEVER the question!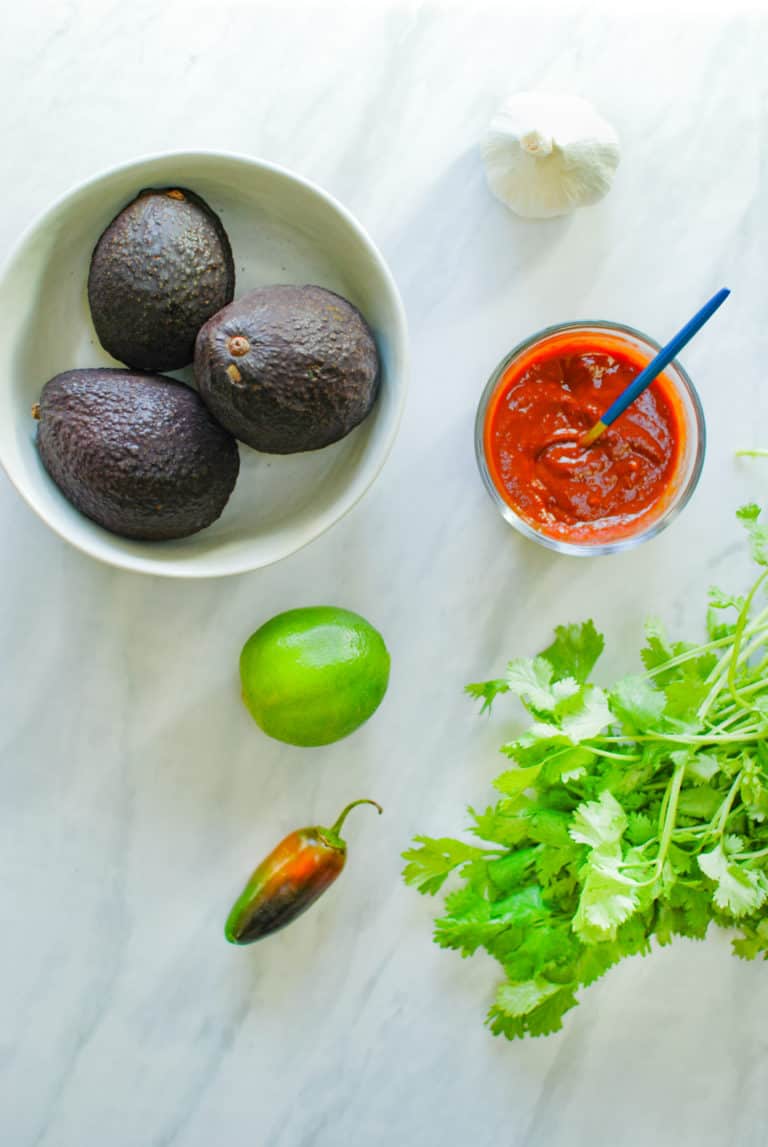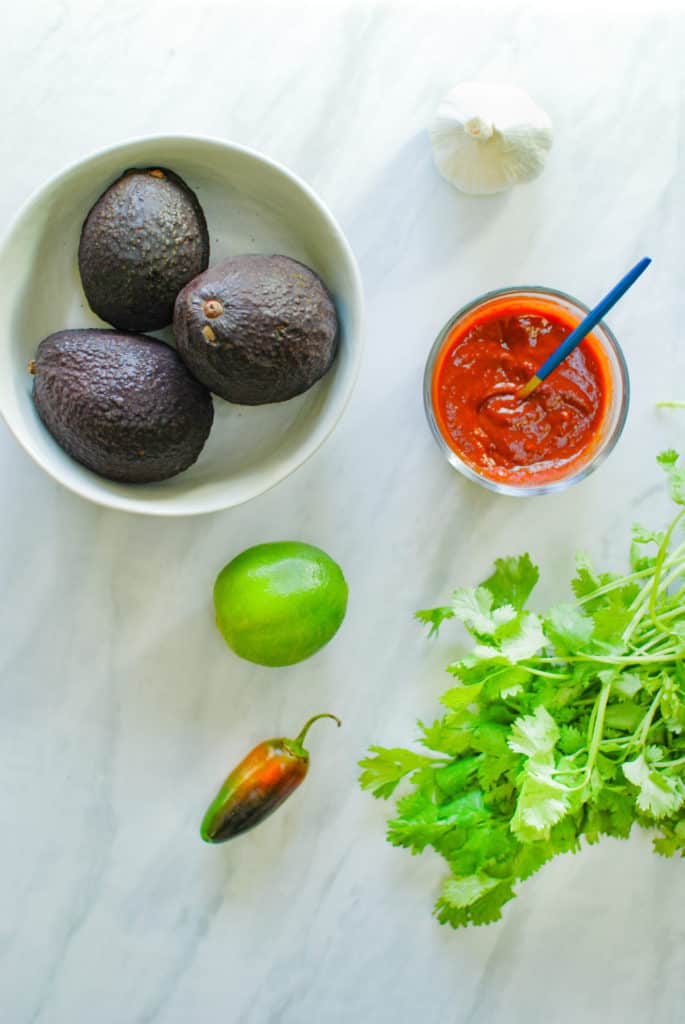 Here are the ingredients you will need for this recipe:
About 2 lbs of avocados ( 3-4 large, 7-8 small)
garlic
a jalapeno or serrano or poblano pepper
lime
cilantro
chipotle peppers in adobo sauce
salt & pepper
With the above ingredients, you only need to quickly chop the cilantro, garlic, and pepper. It's seriously easy and seriously addicting. The smokiness from the chipotle peppers gets us every time.
Basic Steps To Perfect Guac
Let's dive into how to make guacamole! We have a few basic steps and we'll be kickin' back eating guacamole in no time…
Here are the basic steps to make this guacamole:
Halve the avocados and empty into a large bowl
Add salt, pepper, lime juice, and chipotle pepper sauce
Chop the garlic, cilantro, and pepper
Mash it up!
See how easy this is? Boy/Girl if you're looking for the answer to life's questions…. we think you've found it.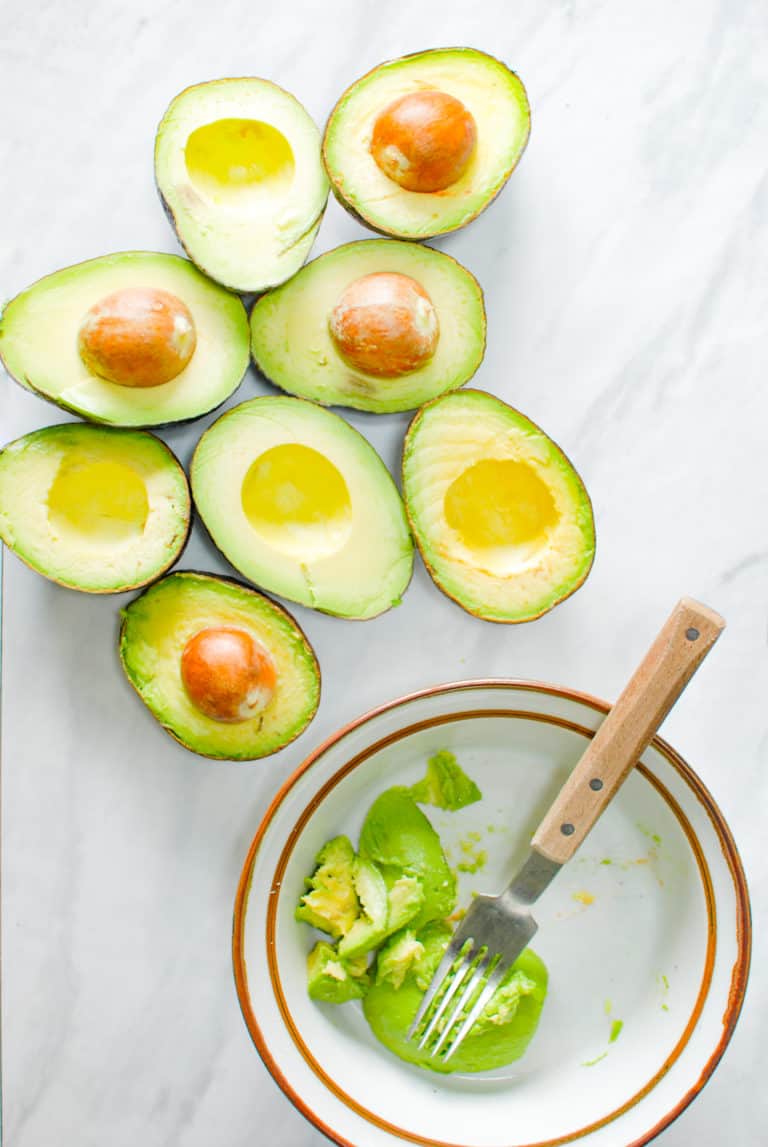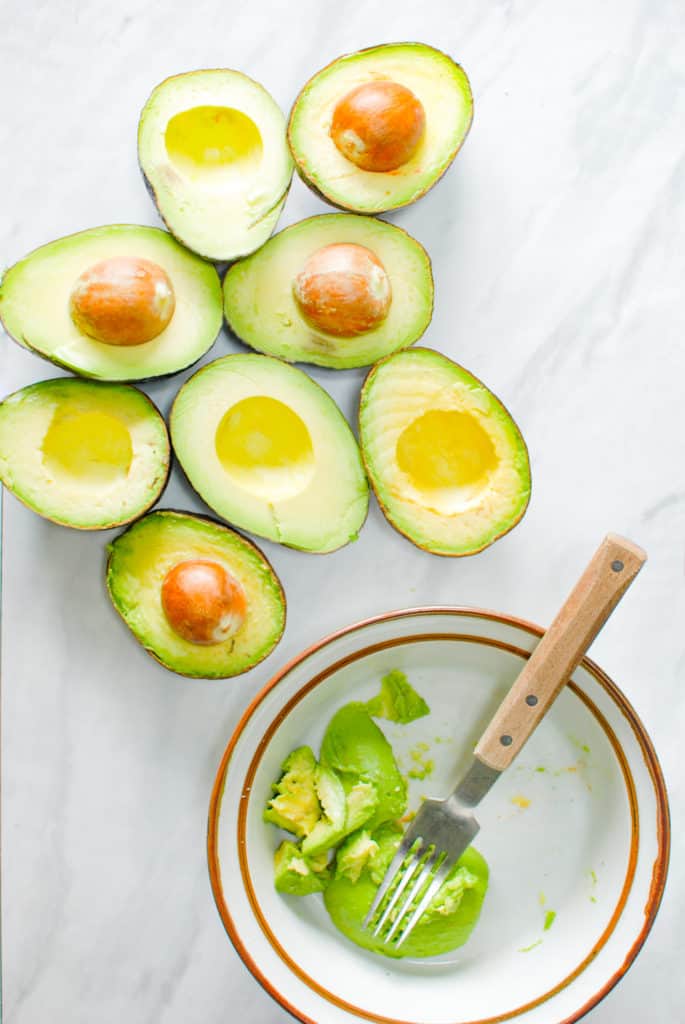 Ok, hypothetical situation: You're hosting a get together on Taco Tuesday. How on Earth do you prep all the food and have all the fun? You can make this guacamole recipe in advance, we recommend the day before and no further!
Yes! Tell me how to make this guacamole ahead of time!! Any guacamole you make ahead will keep better and longer if it has a thicker, chunkier consistency. Hear me, some people like there guac to be ultra-creamy, more like a sauce. That ain't happening!
Our recommendation for making a batch of guac in advance is to coarsely mash the avocado with a fork, level out the top of the finished guac in its dish and add a protective layer over it– either a plastic wrap, a thin layer of oil, or a thin layer of water to cover the top.
What the???? Yes, basically we want to prevent the finished guacamole from exposure to air! This is why guacamole oxidizes and turns brown. It's important that your guacamole dip is thicccc and the surface leveled so water or oil will stay in place.
Another tip for making guacamole in advance is to store it in a tall narrow container, this naturally decreases the amount of guac that will turn brown! Ya with me? Think: store it in a mason jar versus a wide rectangular container— only the surface will turn brown so we can easily decrease the surface area. (Mind Blown.) Of course, before you serve the guacamole to your fellow taco night fans you'll need to remove it from the narrow jar and put it in a bowl made for dippin'!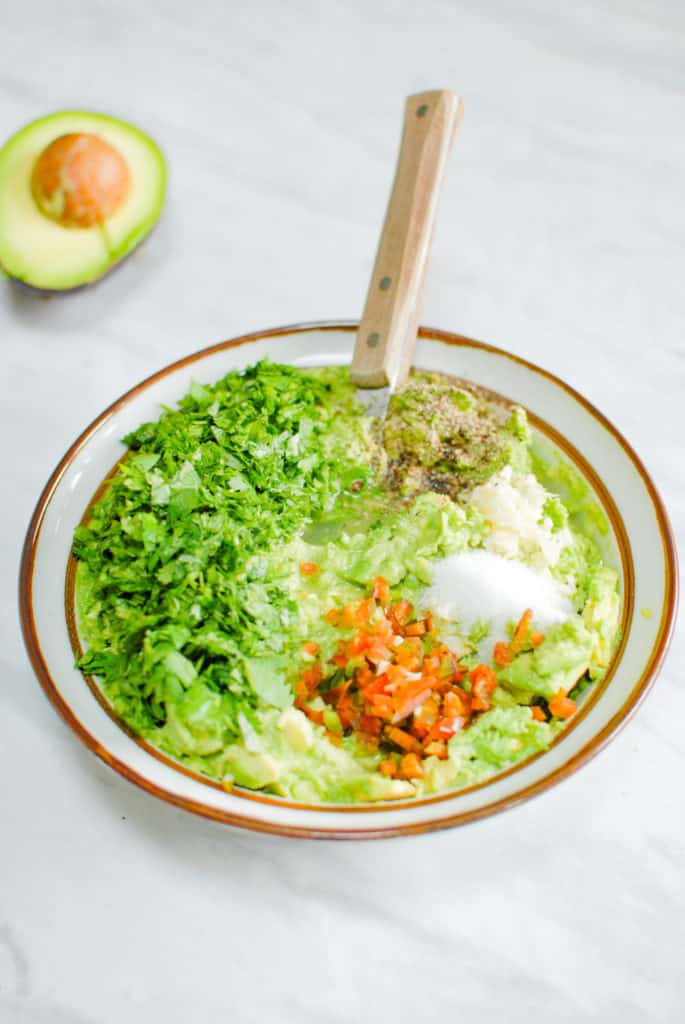 Texture: Chunky or creamy?
How do you dip your chip? Do you like the contrast of a juicy liquidy salsa and a super hearty guac? Guac so thick it almost breaks the chip? (oh, we're here for that!) Guac that's more like a sauce so you can drizzle it on everything?
We KNOW you have a preference, even if you don't know it yet! There are a few options on how to make guacamole different consistencies: thick and chunky or smooth and creamy! A potato masher, a fork, or a food processor all work for the mashing.
Using a fork is our preferred method (#easy) as it yields a chunky, rustic guacamole with some bigger pieces of avocado. A potato masher lends a far creamier, smoother guac with not as many chunky bits. A food processor will create more of a saucy guacamole. Go with the method that sounds best to you!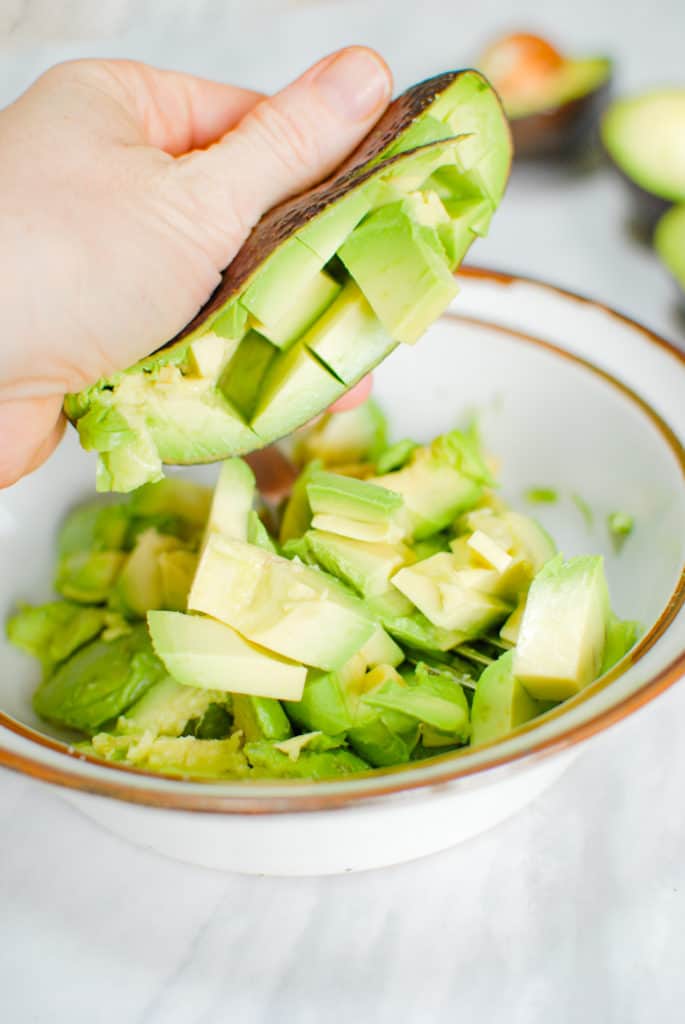 After slicing the avocado and removing the pit, hold the avocado in the palm of your hand and use a chef's knife to cut the avocado into cross-sections. Aka make 5-7 slices hotdog, turn 90* and make 5-7 slices hamburger.
If you make these cross-section cuts you can squeeze the avocado flesh out into a bowl and the majority of the mashing work is already done! (See above photos) Shabamskee! Be cautious not to cut through the avocado skin and slice the palm of your hand!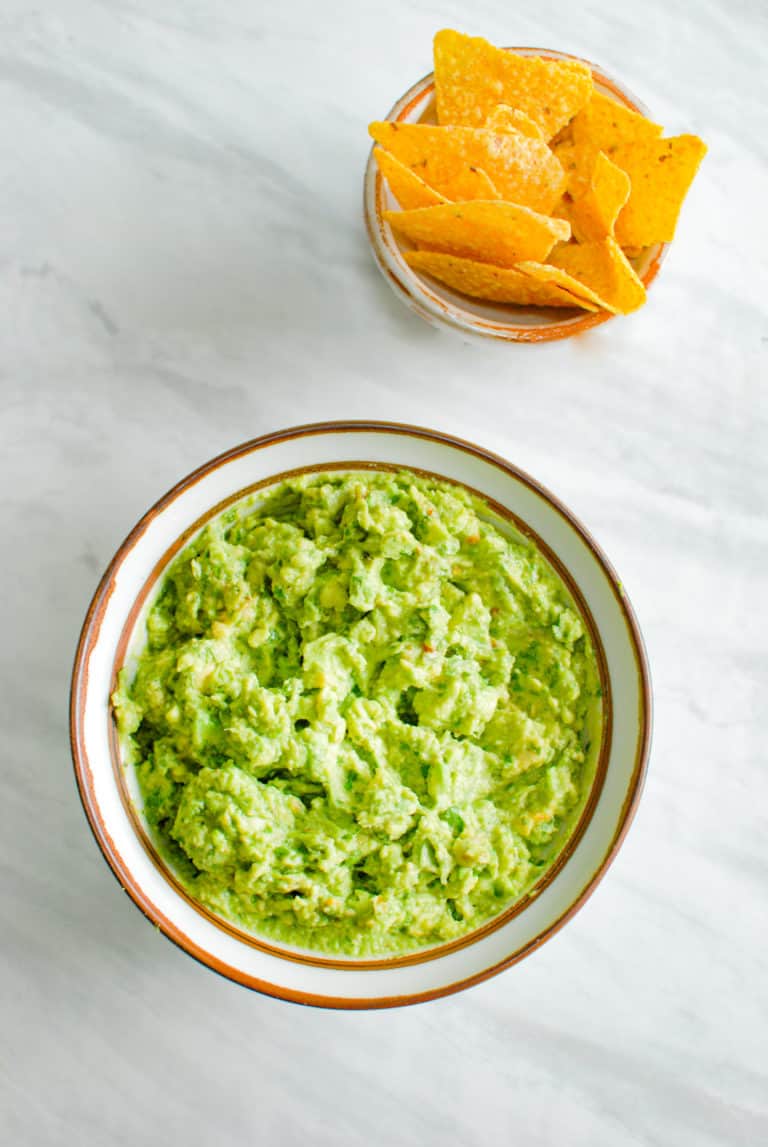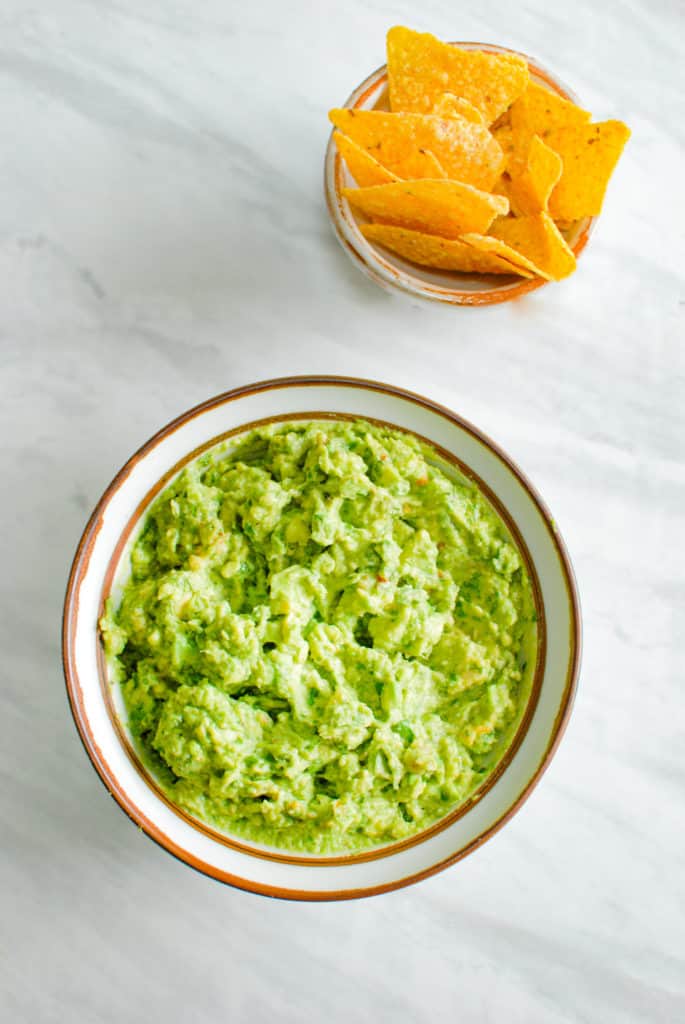 Optional Add-ins
Other ingredients you may wish to add to your guacamole:
spices like cumin, coriander, or smoked salt
corn
chopped or diced tomatoes
a jar of salsa (it kinda has everything you need!)
If you love this recipe and want to play around with flavors:
Swap the lime juice for lemon juice and taste a brighter, citrusy punch!
Add 1 cup of your favorite jarred salsa– this will also help the guac feed a crowd!
Add 1 chopped onion, raw or sauteed.
Add 1 cup of chopped tomatoes– raw or roasted.
Add 1 cup of cooked corn.
If you like heat and are looking for spicy guacamole, add in more chipotle peppers in adobo sauce or more fresh jalapeno or serrano peppers. Love garlic? Great, add a few more cloves in!
This recipe is a great base, and guacamole is a dish you can taste, season and adjust as many times as you like!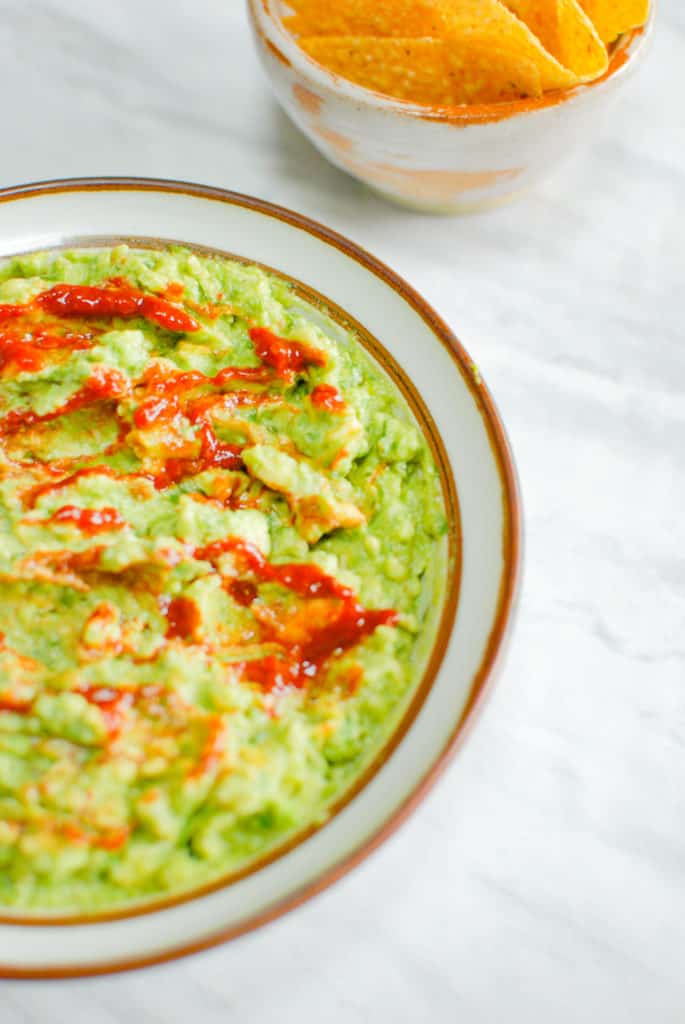 Guacamole FAQs
How to mash avocado for guacamole? Use a fork, a potato masher, or a food processor to mash avocados for guacamole.
Should guacamole have tomatoes? It can! Tomatoes are a complementary flavor and are often included in guacamole. Use fresh tomatoes, canned tomatoes, or jarred salsa!
What do you eat guacamole with? Guacamole pairs well with nachos, tacos, fajitas, chips & salsa, and sandwiches.
Can you freeze guacamole? To freeze guacamole, place in a plastic bag or freezer-safe container. The texture of frozen guacamole is mushier and more watery than fresh guacamole.
What is the best way to store guacamole? Store guacamole in a narrow container with the minimum amount of surface area exposed to air, in the fridge.
How to keep guacamole green? Prevent contact with air– cover with a thin layer of oil, water, or plastic wrap to prevent oxidation (turning brown).
How long does guacamole last? 3 days in the fridge.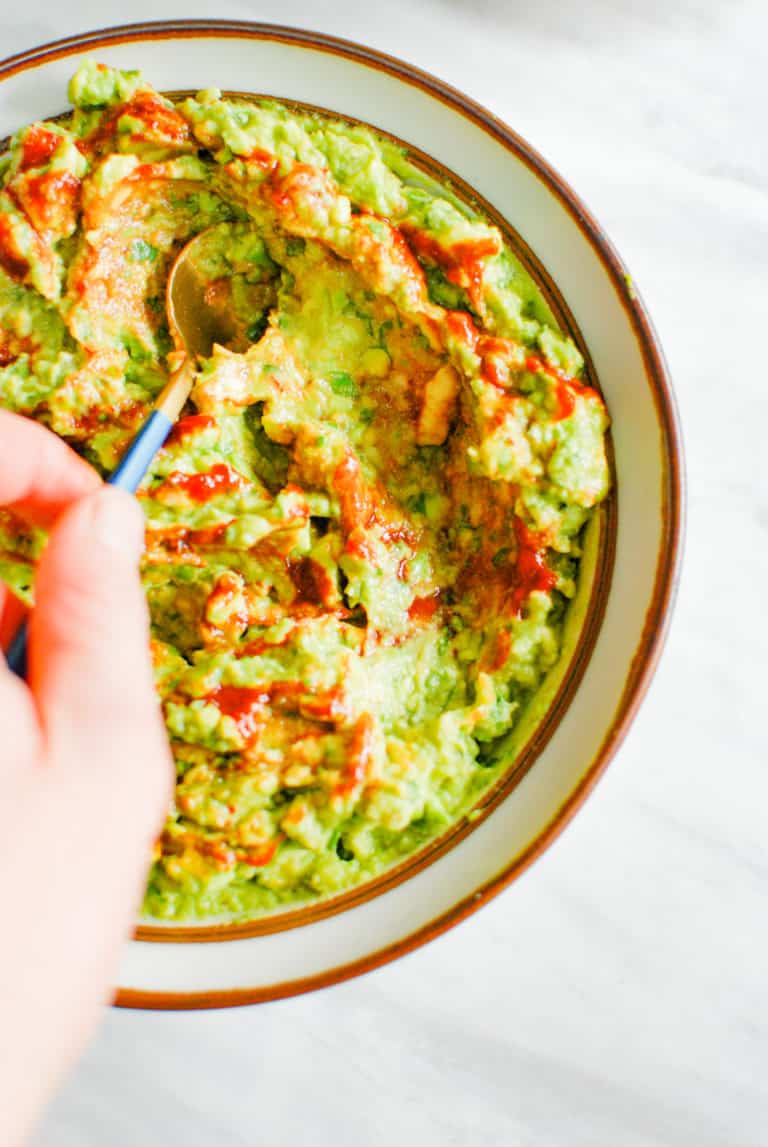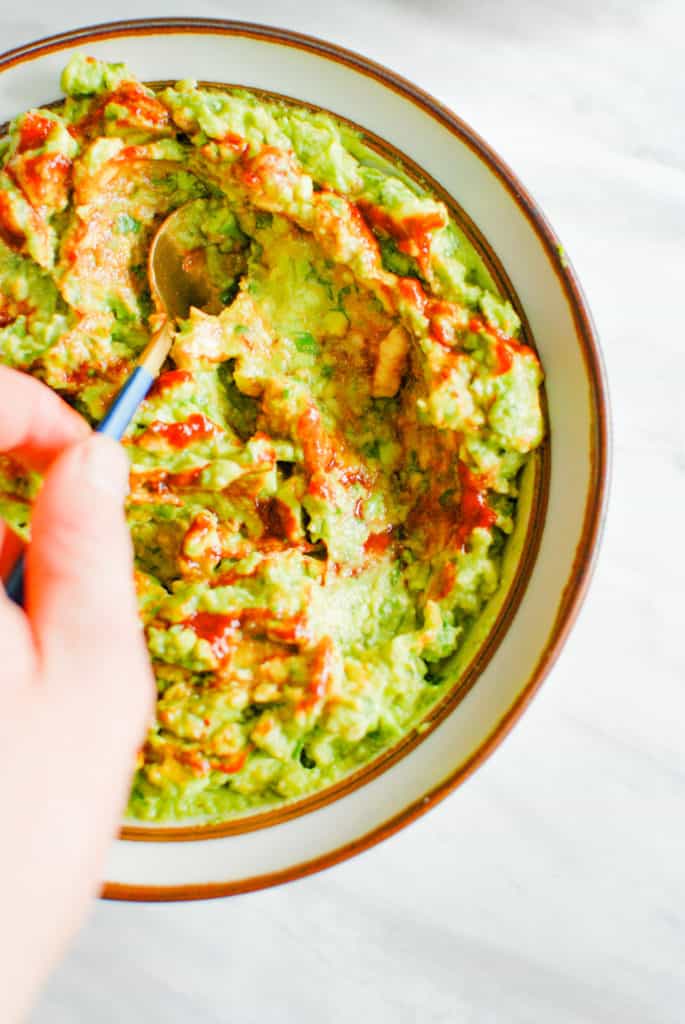 Print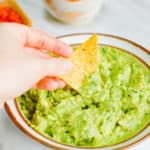 Taco Tuesday's Trusty Guacamole
Author:

Adriana

Prep Time:

15 minutes

Total Time:

15 minutes

Yield:

2.5 cups

1

x

Category:

Recipes

Method:

cold prep

Cuisine:

mexican-inspired
---
Description
We'd wager you love tacos and eat them on the reg– here's a great recipe for an easy, healthy guacamole recipe! This guacamole recipe includes a smoky, chipotle kick and adjustable levels of heat & spice so you can adjust based on your tolerance. Arrrriba!
---
2

lbs avocado (

3

–

4

large,

7

–

8

small)

1/2

bunch of cilantro, chopped

1

–

2

cloves of garlic, minced (to taste)

1

–

2

jalapeno or serrano peppers

3 tablespoons

lime juice (

1

–

2

limes)

2.5 teaspoons

salt (more or less to taste)

2

–

3

teaspoons chipotle peppers in adobo sauce

1 teaspoon

fresh black pepper
---
Instructions
Chop the cilantro, garlic, and jalapeno pepper.
Slice the avocados in half, remove the seeds, and place the flesh into a large mixing bowl.
Add lime juice, chipotle peppers in adobo sauce, salt & pepper. Add the garlic, cilantro, and pepper.
Mash with a fork for a rough, chunky, rustic guacamole. Mash with a potato masher for a smooth guacamole. Use a food processor for a creamy, sauce-like guacamole.
Taste for seasonings. More salt? More lime juice? More heat?
---
Notes
** Guacamole keeps for about 3 days in the fridge. Browning or oxidation is normal and is safe to eat. To prevent guacamole from turning brown, cover the surface with a thin layer of oil or water or plastic wrap.
** We recommend cutting avocados with a cross hatch pattern and mashing them in a bowl with a fork for a thick and chunky consistency!
Keywords: guacamole, taco night