A pumpkin spice latte is the ultimate fall pumpkin treat, and it's the pumpkin food that turned pumpkin spice season into a hero for all of us. We'll dish up the details on how to make a pumpkin spice latte at home– using either regular drip coffee or espresso!
Call what you want: pumpkin spice coffee, pumpkin latte, or pumpkin coffee, it is all of those at once and it is delicious! As long as you have your hands on some pumpkin spice seasoning and pumpkin puree, you'll have a DIY pumpkin spice latte in your hot little hands in no time!
Ladies and gents, let's go.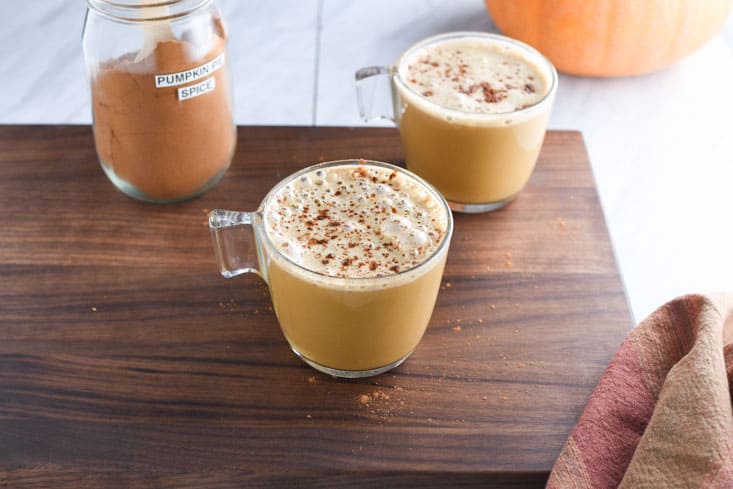 Homemade Pumpkin Spice Latte
Yes! We all want pumpkin spice lattes! And yes! You can skip the drive-thru and make a phenomenal pumpkin spice latte at home this fall. You don't need any fancy equipment but of course, if you have some by all means use it!
You'll not only stay warm and cozy inside your house but you'll save money too. A pumpkin spice latte costs anywhere from $3-$8 depending on where you live!
It's Pumpkin Spice Coffee
Like we promised, making a DIY pumpkin spice coffee doesn't have to be hard. You can easily make this pumpkin coffee on the stovetop or in the microwave.
A typical pumpkin spice coffee has 3 major flavors at play:
Warming notes of cinnamon & ginger
Caramel sweetness from sugar & brown sugar
Richness & body thanks to milk (or non-dairy milk)
When you unpack it, a pumpkin coffee is totally achievable at home. Another perk to making a pumpkin spice coffee or latte at home is that you control the flavor profile!
If you prefer your coffee less sweet, use less sugar!
If you prefer non-dairy milk, use cashew, coconut, or other plant milk!
If you want an ICED pumpkin spice latte, you can even do this at home.
Let's make it!
How To Make A Pumpkin Spice Latte
Okay, we are pining for pumpkin, time to brew coffee, and get these pumpkin spice lattes going! We are going to walk you through how to make 2 pumpkin spice lattes; halve this recipe for one.
Here are the ingredients you'll need for 1 pumpkin spice lattes:
4 shots of espresso OR 1 cup strong drip coffee
1/2 cups milk
3 tablespoons of pumpkin puree (canned or homemade!)
1 tablespoon of maple syrup or 1 tablespoon brown sugar
1 teaspoon pumpkin pie spice
1/2 teaspoons vanilla extract
Optional for serving: whipped cream and more pumpkin spice!
Add all ingredients to a small pot over low heat, stirring to combine. Heat until just simmering (about 5 minutes), stirring occasionally. Pour into warm mugs and garnish with whipped cream and a healthy dusting of pumpkin pie spice. Enjoy!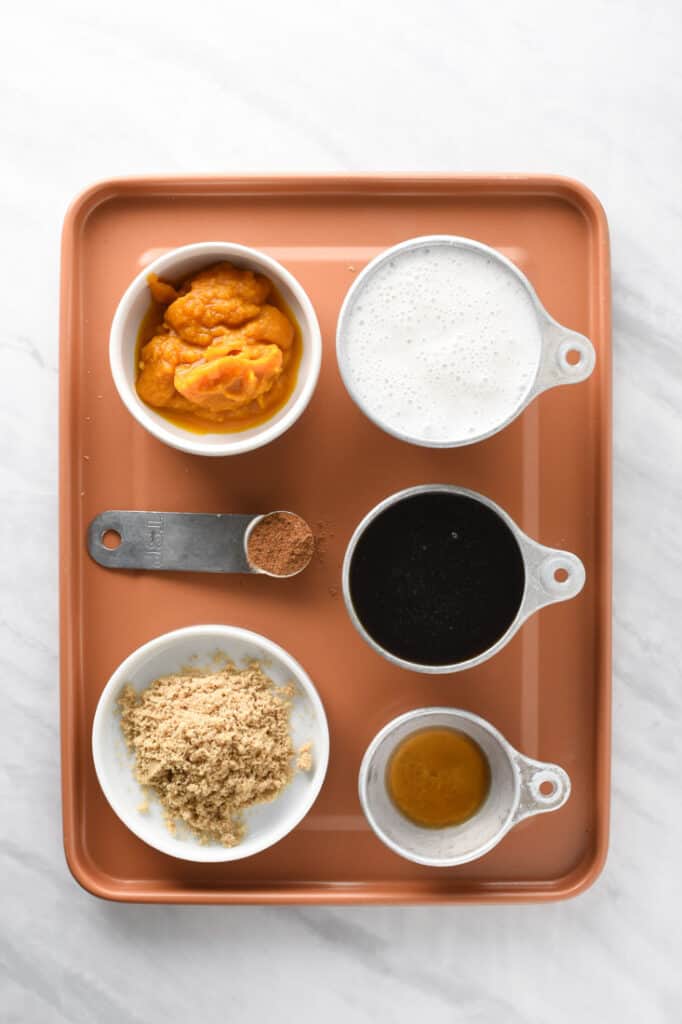 Iced Pumpkin Spice Latte
If you're a fan of iced coffees and lattes, this pumpkin spice latte recipe has you covered! We can use nearly the same exact ingredients in a different process to deliver a cool, pumpkiny treat!
For an iced pumpkin spice latte, you need to use a liquid sweetener in place of granulated sugar. Maple syrup is a fantastic swap as it will emulsify into cold beverages. Sugar will simply sink to the bottom of your drink.
We like to add all ingredients (using maple syrup instead of sugar) to a blender and blend on high for 30 seconds. If all ingredients except your coffee are cold- you don't need to chill the coffee first. Simply blend then pour over ice!
Note for plant based milks: Coconut milk tends to not play well with ice and cold beverage applications. We recommend a different type of plant milk for a vegan iced pumpkin spice latte for the best results!
How To Make Foam At Home
Now if you're after a foamy, frothy pumpkin spice latte we do have some options. And here they are:
If you have an espresso machine, you likely have a milk frother to use. Go for it.
You can purchase a handheld milk frother for less than $15 online. These work surprisingly well! Once the mixture has been heated, use a handheld milk frother in the pot prior to pouring into mugs.
For traditional milk drinkers: using nonfat milk will create more foam.
For plant-based milk drinkers: blending a few tablespoons of cashews or vegan butter to this mixture will help create better foam. OR opt for a plant-based 'barista' style vegan milk, designed precisely to help create foamy coffee drinks!
Recipe
Print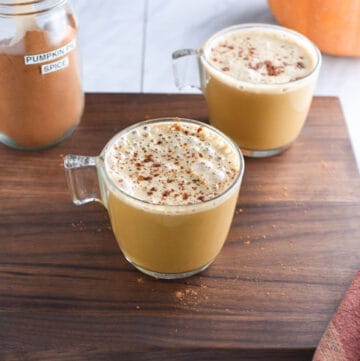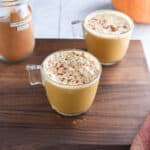 Pumpkin Spice Latte
Author:

Adriana

Prep Time:

5 minutes

Cook Time:

5 minutes

Total Time:

10 minutes

Yield:

1 cup

1

x

Category:

Vegan Pumpkin Recipes

Method:

Stovetop

Cuisine:

Fall

Diet:

Vegan
---
Description
It's pumpkin spice season! Here's how to make a homemade pumpkin spice latte while in your PJs at home in your kitchen! It's just as good as the coffee shop drive-thru and costs far less.
---
1/2 cup

milk (regular or any plant-based milk!)

1 cup

coffee or

2

shots of espresso

1/2 teaspoon

vanilla extract

3 tablespoons

pumpkin puree

1 tablespoon

brown sugar

1 teaspoon

pumpkin pie spice
---
Instructions
Combine all ingredients together in a small pot over low heat.
Stir occasionally for 3-5 minutes until the brown sugar has dissolved and the mixture is simmering.
Use a milk frother to foam the latte while in the pot.
Pour into your favorite mug and top with whipped cream or more pumpkin pie spice!
---
Notes
A handheld milk frother is less than $20 at you local big box store or available on Amazon and well worth it for homemade lattes and coffees!
---
Nutrition
Serving Size:

1 cup

Calories:

44

Sugar:

10.6g

Sodium:

103mg

Fat:

1.8g

Saturated Fat:

.2g

Unsaturated Fat:

0g

Trans Fat:

0g

Carbohydrates:

14.7g

Fiber:

1.6g

Protein:

1.7g

Cholesterol:

0mg
Keywords: Vegan Pumpkin Spice Latte