Hello September our good friend, it's pumpkin spice season again! This pumpkin spice syrup recipe is going to dish up the details on the easiest way to have the warm flavors of fall at your fingertips. Yes, guys & girls- YES, we're making pumpkin syrup!
This hot number only requires THREE ingredients and a few minutes to simmer on the stovetop. We'll even walk you through how to make a sugar-free pumpkin spice syrup and how to use pumpkin syrup for coffee.
Let the pumpkin syrup flow!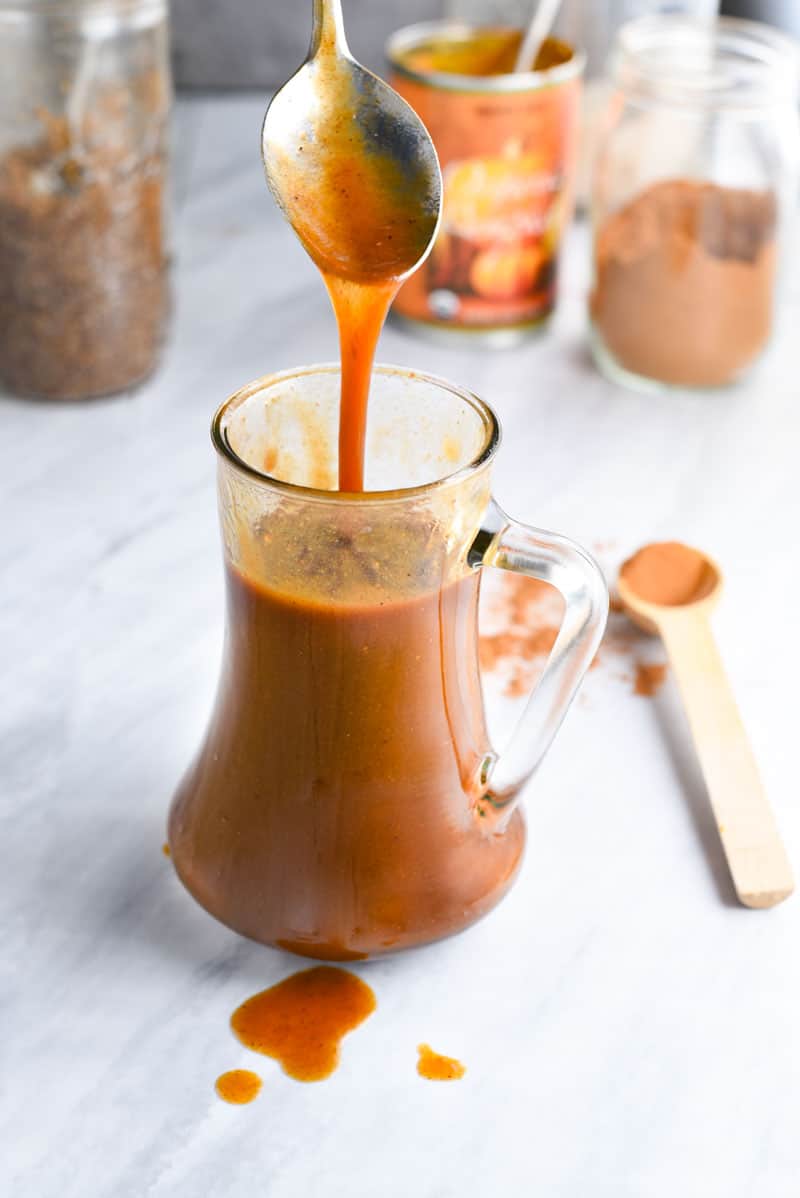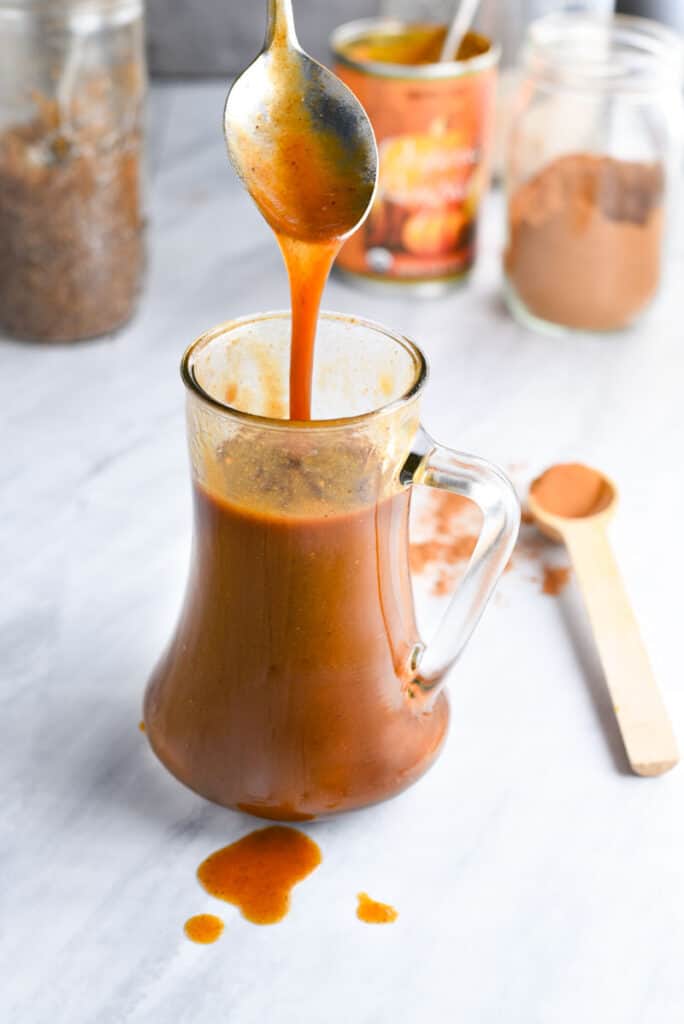 Why We Love Pumpkin Syrup:
Pumpkin spice syrup is a fall essential for far more than flavoring coffee in the morning; it's an easy & pourable way to add fall flair and flavor to a variety of drinks, cocktails, baked goods, and meals. Add pumpkin syrup to coffee & tea, oatmeal & smoothies, cocktails, desserts, or use it as a syrup for waffles and pancakes!
We love this recipe because it's easy to customize and it's super duper easy to make. Friends, you're only going to dirty one dish! A batch of pumpkin syrup makes just over 1 cup– enough to get you through the entire season or maybe just the week, depending on how hard you pumpkin.
Here are our favorite ways to use pumpkin syrup:
Use in coffee or tea
Make a pumpkin hot chocolate
Sweeten & spice up your fall cocktails
Drizzle over yogurt (with granola, pecans, & cranberries- oh my!)
Use as a sweetener in smoothies
Make pumpkin spice oatmeal
Flavor whipped cream by using this as a sweetener
Add to baked goods
Drip over fresh fruit
Use to make a seasonal salad dressing for roasted roots
Pumpkin spice syrup is easy to use because you have pumpkin puree, spices, and sugar already dissolved together. If you tried to mix those ingredients into drinks or sweets on their own, it would have a grainy texture and wouldn't emulsify correctly.
Pumpkin syrup for the win! If you love pumpkin season as much as we do, here's our favorite recipe for pumpkin pie spice blend!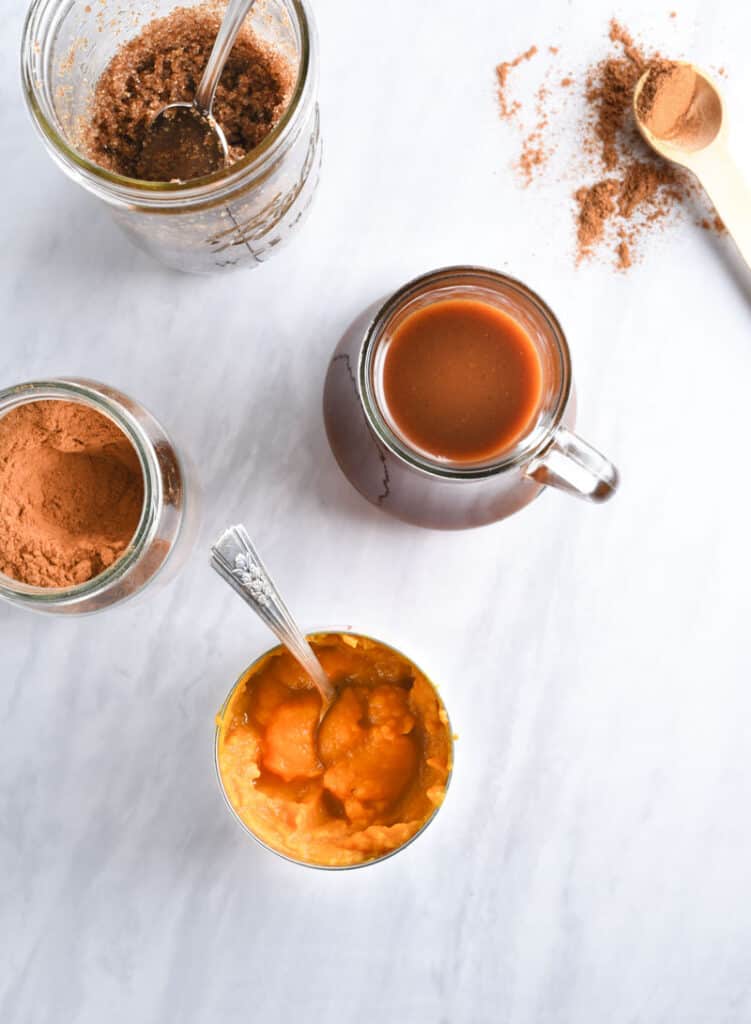 How To Make Pumpkin Spice Syrup:
We have great news for you: pumpkin syrup takes less than 10 minutes to make! All you need is pumpkin puree, brown sugar, and water! Adding some pumpkin pie spice is optional– so is vanilla extract.
You need to add all ingredients to a small pot, bring to a boil, and simmer for 5 minutes to thicken.
Filter through a tea towel, nut milk bag, or a sieve lined with a clean kitchen towel. (let the syrup cool a bit first) This step is optional but helps remove any grittiness from the pumpkin pie spice or pumpkin puree for ultra-silky syrup!
Store in a bottle that's easy to pour from and you're set!
Pumpkin syrup lasts for up to 2 weeks in the fridge or 3 months in the freezer!
Pumpkin Syrup For Coffee
A piping hot cup of coffee is something wonderful to look forward to every morning. Some like it black, some like it sweet, some with glugs of milk, but in the fall we all love a good pumpkin spice coffee.
Whether standard drip coffee is your jam or you have a fancy espresso machine, you can use this pumpkin syrup for coffee. Depending on how strong you brew your coffee, how sweet you take it, and how big your favorite mug is, anywhere from 1- 3 teaspoons of pumpkin syrup will give you a pumpkin rush.
Start at the low end and add more as needed to taste. I usually add a few teaspoons of pumpkin spice syrup, a few tablespoons of coconut milk, and foam with a milk frother. Maybe sprinkle pumpkin pie spice on top. You do you!
We're so excited for you to try this and experience those fancy $8 coffees at home!
Is It Like Starbucks Pumpkin Syrup?
This pumpkin syrup recipe is what we use to easily have the flavors of warm fall spices on hand. And yes, we primarily use this pumpkin syrup for coffee! You can use it to make pumpkin spice lattes, pumpkin cold brew coffee treats, or even a hot cuppa joe!
You could say this is a Starbucks pumpkin syrup copycat recipe, but the ingredients aren't exactly the same. We kept it dairy-free and added vanilla to the blend!
But if a pumpkin spice latte is what you're after, this pumpkin syrup will deliver! Here's the Starbucks ingredient list so you can compare for yourself and riff your own variation.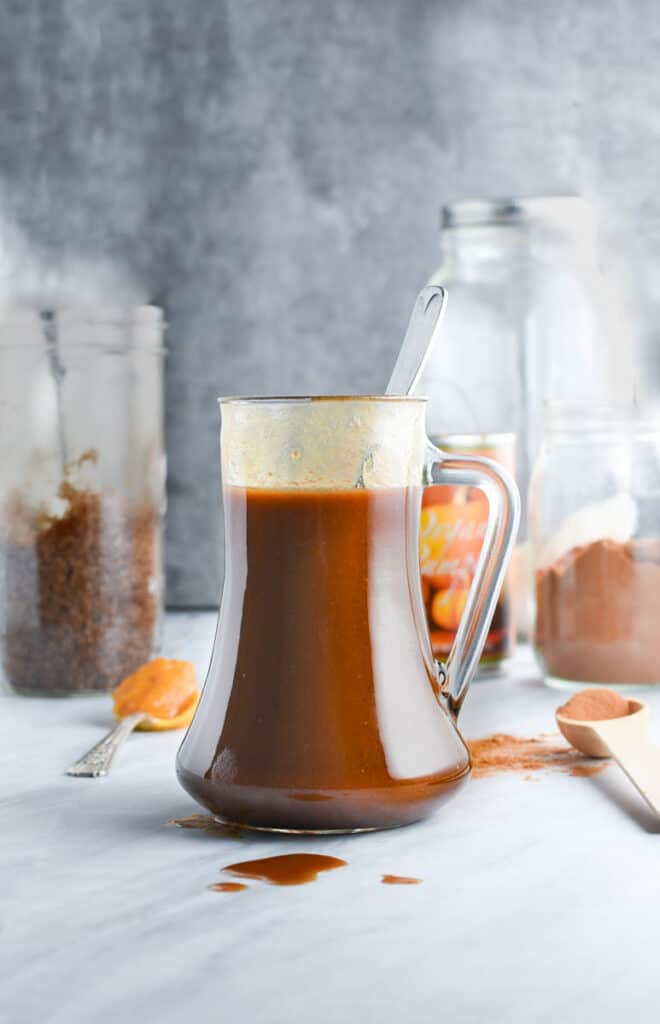 Sugar Free Pumpkin Spice Syrup
Hey hey, keto friends! We have a sugar free pumpkin syrup variation– we didn't forget about you! When pumpkin spice season hits and you're craving a sweet pumpkin treat, this keto pumpkin syrup is the caped crusader to come to your rescue.
Here's the skinny on how to make keto pumpkin spice syrup: in place of the sugar you can use a keto sweetener. We like monk fruit sweetener best in this syrup as it has a more 'savory' flavor than other keto sweeteners.
Note that you can't use a 1:1 ratio of monk fruit to water or the monk fruit will crystalize. Use 2/3 cup monk fruit sweetener in place of the 1 cup sugar that this recipe calls for to make a perfect keto pumpkin syrup!
Print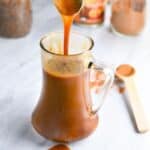 Pumpkin Spice Syrup
Author:

Adriana

Prep Time:

5 minutes

Cook Time:

5 minutes

Total Time:

10 minutes

Yield:

1 1/3 cup

1

x

Category:

Pumpkin Recipes

Method:

Stovetop

Cuisine:

Fall

Diet:

Vegan
---
Description
Pumpkin spice syrup requires just 3 ingredients and 5 minutes to simmer on the stove! Use this pumpkin syrup to flavor coffee & tea or make a pumpkin spice latte. We also included a sugar-free pumpkin spice syrup variation!
---
1 cup

water

1/3 cup

pumpkin puree (fresh or canned!)

3/4 cup

brown sugar

2 teaspoons

vanilla (optional)

1 teaspoon

pumpkin pie spice (optional)
tiny pinch salt
---
Instructions
Add all ingredients to a small pot and bring to a boil. Reduce heat and simmer uncovered for 5 minutes to infuse the pumpkin with sugary goodness and thicken the syrup, stirring occasionally. Watch this closely as simple syrups can bubble over very quickly! 
This is optional but recommended, let the pumpkin syrup cool for a few minutes then filter by pouring through a nut milk bag, kitchen tea towel, or cheesecloth to remove any spices that might have a grainy texture.
Store in a jar with a pour spout for easy use in hot drinks, cocktails, and baked goods!
---
Notes
This will keep for about 2 weeks in the fridge and up to 3 months in the freezer.
Warning about adding pumpkin pie spice: Cinnamon is the bark of a tree and is a a fiber– fibers are thickeners! We've found if you add more than 1 teaspoon of pumpkin spice or cinnamon, this syrup can take on a 'mucousy' or 'slimy' consistency. Yes, gross, we know.  Whole cinnamon sticks are less likely to cause this reaction, so alternatively you can toss in 1 cinnamon stick during the simmer!
For a sugar-free pumpkin syrup: use a keto sweetener like erythritol, xylitol, stevia, swerve, or monk fruit. If using xylitol, erythritol, or monk fruit sweetener only use 1/2 cup sweetener in place of the 1 cup sugar!
---
Nutrition
Serving Size:

1 tablespoon

Calories:

21

Sugar:

9.9

Sodium:

1.7

Fat:

.1

Saturated Fat:

0

Unsaturated Fat:

0

Trans Fat:

0

Carbohydrates:

10.3

Fiber:

.2

Protein:

.1

Cholesterol:

0
Keywords: Pumpkin Spice Syrup