Say hello to fresh ginger paste! Ginger Paste is an amazing way to turn up the flavor on everything you cook at home from smoothies to sauces and even sweets! This ginger puree delivers a gamut of health benefits with minimal effort so you can enjoy the perks of fresh ginger with a simple scoop of a spoon.
If you've never purchased or used ginger paste before- you are gonna get a kick out of this condiment. We're getting this on your radar because we use it everyday!
Get ready to gingerfy your meals!
Psst: Look here for fresh and ground ginger substitutes!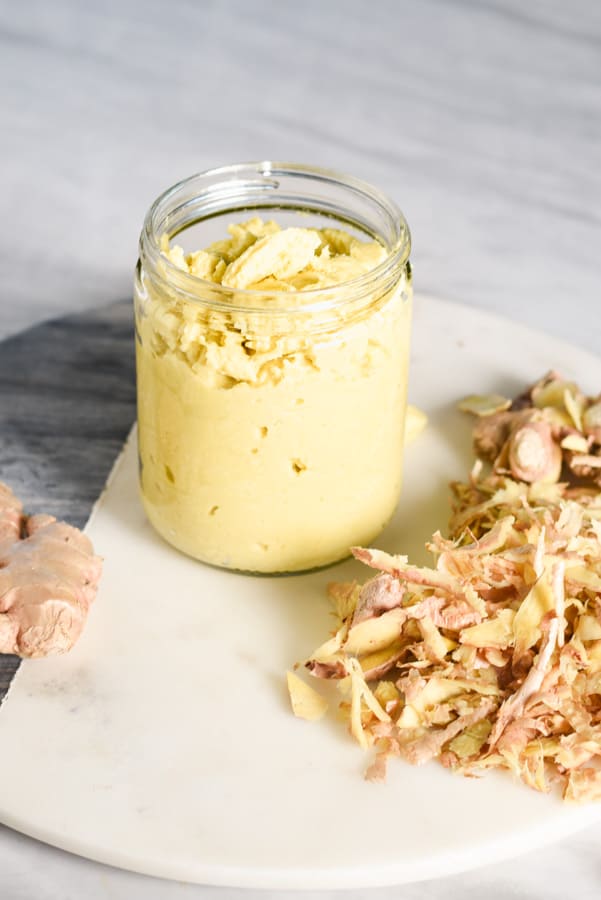 How to make ginger paste
You can easily buy ginger paste at many grocery stores to use in your cooking- why make your own? For starters, storebought ginger paste usually included added sugars and preservatives. Also- the storebought stuff usually costs more. Plus making your own ginger paste/ ginger puree is easy peasy, lemon squeezy.
How to make ginger paste? Here's the plan. Peel ginger. Puree with a touch of coconut oil. Add to all meals. Repeat step 3!
Really the only downside to making your own is spending the time it takes to prepare, peel, and chop the ginger for blending. After this roadblock, you're on your way to flavor-packed stir frys, curries, sauces, glazes, scrambles, smoothies, and desserts. Ginger tea, anyone? Ginger syrup? Extra gingery moscow mule? Ginger marinade?
You name it, this ginger paste can pull it off! (And save you time once it's already waiting for you in the fridge).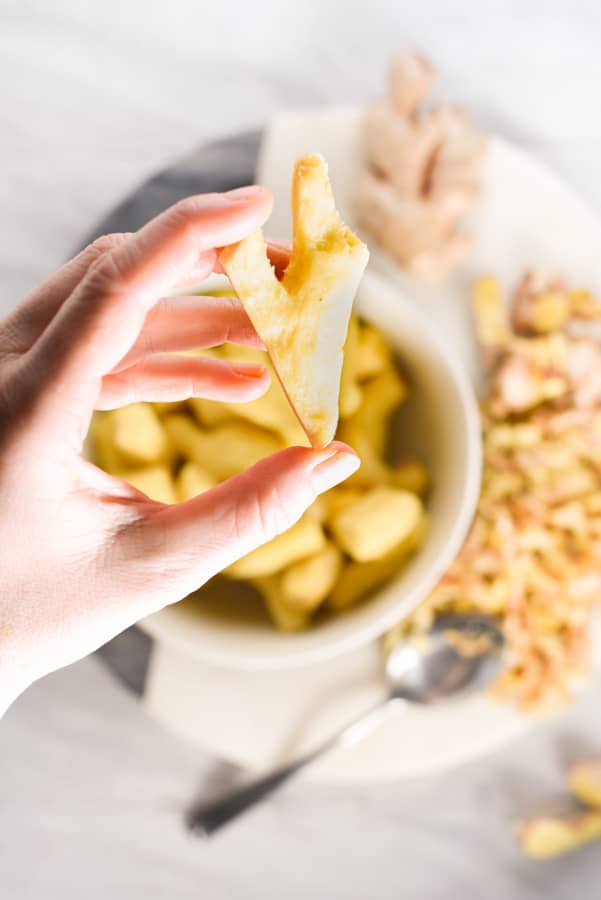 How to peel ginger root? This is the tricky part, girl/boy, you're going to need to peel 1.5 lbs of ginger root. It is worth it! We've done this multiple times and we're here to help. Here are tips to make the job of peeling fresh ginger root easier:
Remove all the small bumpy knobby bits with a sharp knife to give the ginger root a smoother surface.
Use a spoon to scrape the brown papery skin off the ginger root, not a potato peeler!
Fresh ginger root is easier to peel than ginger that has been sitting in your fridge or counter for a couple of weeks.
Soaking the ginger roots in a bowl of warm water for 3 minutes helps to soften the skin for easier removal.
If you KNOW you are buying fresh ginger to make ginger paste, be picky and search for the larger, less knobby pieces at the store. Fresh ginger usually has smoother, shinier skin
How to puree ginger? You can use a blender, food processor, of bullet blender to make this recipe. Simply place the peeled ginger root and neutral-flavored oil into your blender and process until smooth. Use your tamper to incorporate all pieces of ginger and stop to scrape the sides of your blender down every 30 seconds or so. If using a bullet blender you may need a touch more oil.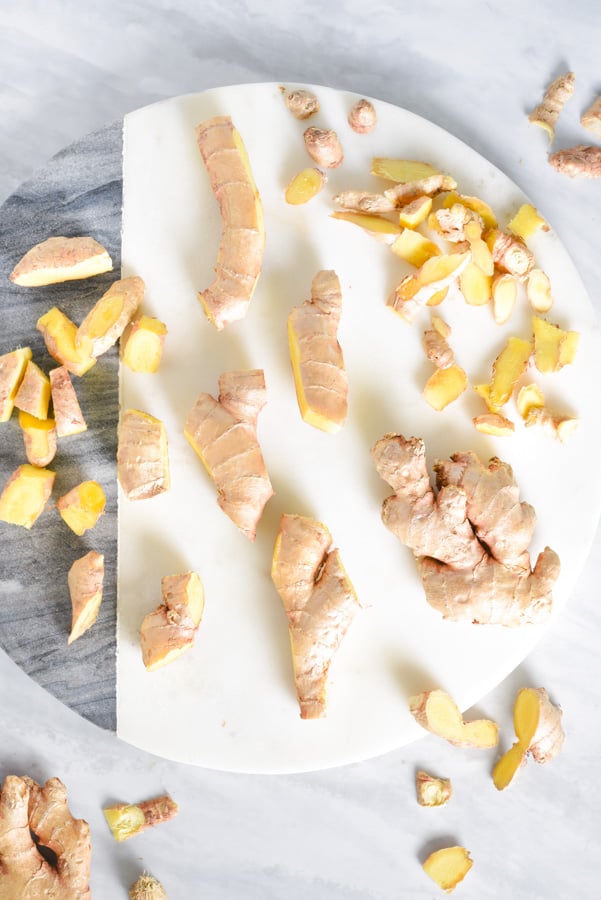 Ginger Paste Conversions
Now that we're armed with a fresh jar of ginger paste, let's touch on how to use it compared to fresh or ground ginger! As you begin cooking with ginger paste, you'll find what works for your palate. As a general rule, when ginger is heated, the spicy, burning sensation lessens in intensity. Raw ginger or ginger added toward the end of cooking is more sharp and snappy. Keep this in mind as the same applies to ginger paste!
Fresh ginger to ginger paste conversion: For every 1″ or 1 tablespoon of fresh ginger a recipe calls for use 1 tablespoon of ginger paste.
Ground ginger to ginger paste conversion: For every 1 teaspoon of ground ginger, use 1 tablespoon ginger paste.
If a recipe calls for ginger paste and you don't have any, you can use minced fresh ginger to substitute ginger paste.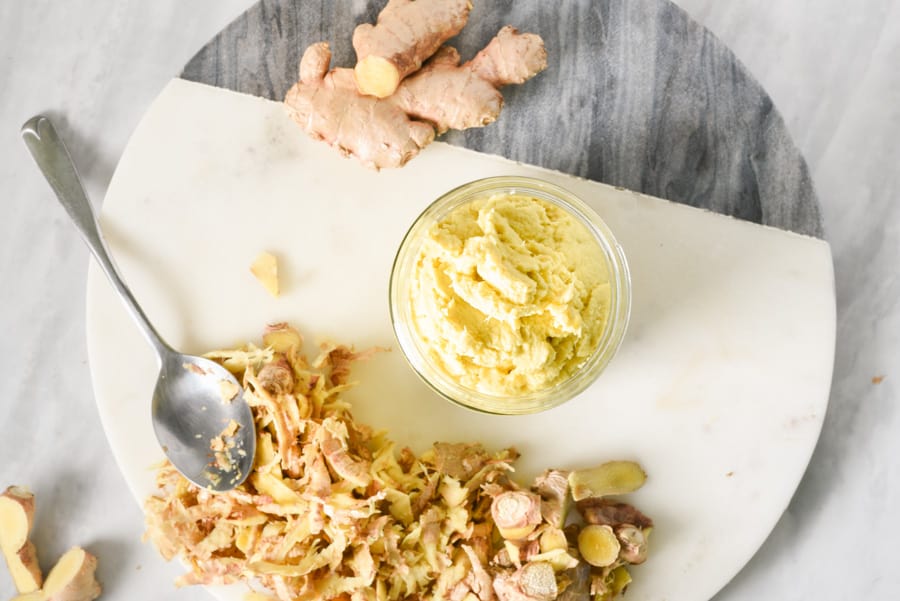 Ginger Substitutes
Ginger paste will help you quickly and easily add a zing of flavor and aroma to your kitchen creations- but what if you don't have ginger, is there a substitute? What if a recipe calls for fresh ginger or ground ginger and you don't have a substitute?
Let's dish on the components ginger adds to your home cooking and how to substitute ginger when you're fresh out!
There are 3 main elements that fresh ginger add to most dishes: Flavor, heat, and aroma. Ginger has an exotic, perfumey aroma, a mild level of heat and zing, and a lemony, spicy, warming flavor.
Heat is the easiest to substitute, follow by aroma, and lastly- flavor.
Fresh ginger is far superior to ground ginger in terms of flavor and aroma; ground ginger seems to carry more heat to it than fresh. We do use ground ginger as it's nice to have to save time on occasion… when we're out of ginger paste!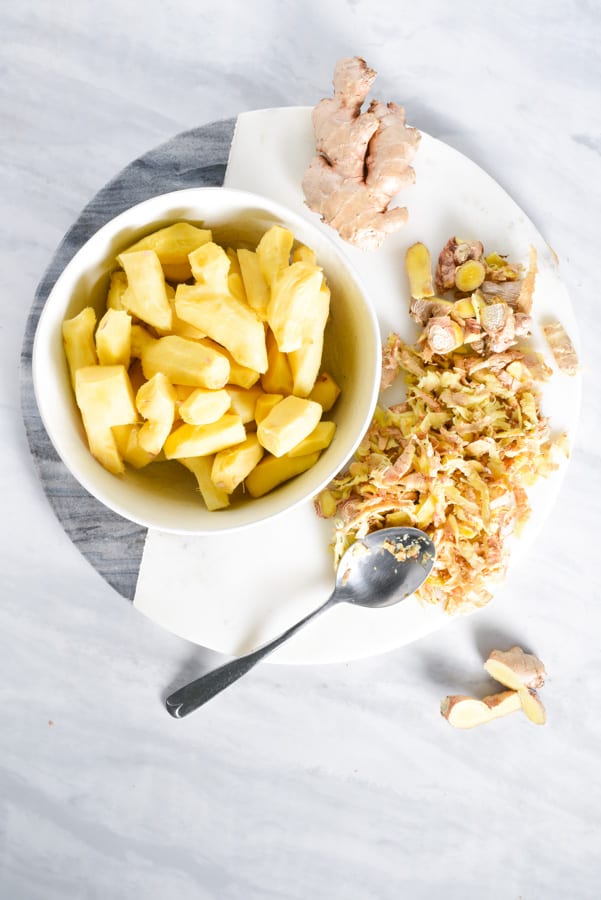 To substitute ground ginger for fresh ginger, use 1 teaspoon of ground ginger for 1 tablespoon zested or 1″ of fresh ginger.
Ground ginger substitutes:
Ground coriander, nutmeg, mace and allspice for flavor and aroma
A pinch of cinnamon for heat +flavor
White or black pepper can contribute to heat
Fresh ginger substitutes:
lemongrass
citrus zest
Ginger candy or ginger beer
You could also use ginger candy (candied ginger) as a substitute for fresh or powdered ginger. It will be far sweeter than ginger is as the candied ginger has added sugar, but chopped and incorporated into a dish with complex flavors it could work okay.
Ginger beer is an option to consider as well if there is a liquid ingredient that you can substitute in a recipe. If a recipe that calls for 1 cup milk, for example, you could try 3/4 cup milk and 1/4 cup ginger beer!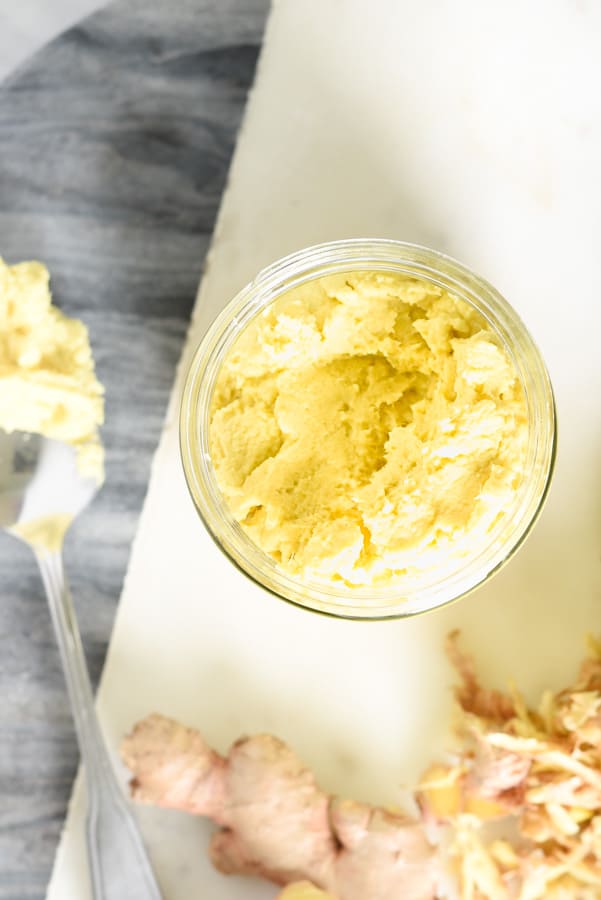 Ginger paste uses and recipes
Here are some suggested uses and applications for your freshly made ginger paste! Remember, raw ginger is sharp & spicy, cooked ginger is less intense and softer.
So, for example, if you want a spicy, flavorful soup add the ginger paste toward the end of cooking and stir well to incorporate. OR if you want a mellow ginger flavor and aroma, add ginger paste early on in the cooking process, like just after sauteeing vegetables.
Add to curry, stir fry, potsticker filling, and soups
Use in cocktails (margaritas, mimosas, mules)
Add to desserts like cookies, breads, and brownies
Use it to make fuss-free ginger tea
Add to marinades
Boost the flavor of sauces, spreads, and dips
Add to oatmeal, yogurt, and smoothies
FAQS ABOUT GINGER PASTE:
How long does ginger paste last? This will last 1-2 weeks in the fridge and up to 3 months in the freezer. We like to line a sheet pan with parchment paper and dollop 1-2 tablespoon mounds of ginger paste onto the parchment. Place in the freezer until frozen solid, then add to a plastic bag and use as needed!
What oil can I use to make this? If you don't have coconut oil, use a neutral-flavored oil like avocado, or grapeseed oil.
Why do I need 1.5 lbs of ginger!? For smooth blending in most blenders and food processors, the machines have a minimum capacity needed. If you try this in a bullet blender, you can try 3/4 lbs of ginger or half this recipe. Note that bullet blenders may require more oil.
Can I add garlic or other ingredients to this? Yes, ginger garlic paste is another common condiment to boost flavor quickly! I can't speak to the shelf life of other additives so you'll need to experiment. One we particularly like is ginger-lemon, adding lemon zest and lemon juice to this recipe!
Print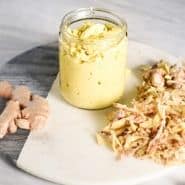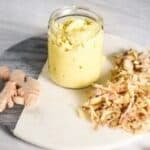 Ginger Paste + Ginger Substitutions In Cooking!
Author:

Adriana

Prep Time:

30 minutes

Total Time:

30 minutes

Yield:

~1.5 cups

Category:

Ginger Paste

Method:

Cold Prep
---
Description
Say hello to fresh ginger paste! Ginger Paste is an amazing way to turn up the flavor on everything you cook at home from smoothies to sauces and even sweets! It's simple to make, easy to store, and even easier to use!
---
1.5

lbs fresh ginger root

2 tablespoons

coconut oil
pinch salt
---
Instructions
Trim each piece of ginger root to remove all extra knobs, bumps, and twists.
Use a spoon to peel the thin skin off all pieces of ginger root. If the skin is difficult to peel, try soaking in warm water for 3-5 minutes to soften the skin.
Cut into 1″-2″ pieces and add to a blender with 2 tablespoons of coconut oil.
Use your tamper to push all ginger pieces into the blades and blend until smooth, stopping every 30-60 seconds to scrape down the sides.
Store in an airtight container in the fridge for 1-2 weeks. Freeze for longer use.
Add to your favorite curry, stir fry, sauce, soup, smoothie, oatmeal, and sweet treat!
---
Notes
** You can use coconut, grapeseed, or avocado oil for best result.
** Keeps in the fridge 1-2 weeks, freeze in 1-2 tablespoon sized portions for easy use and extended shelflife.
Keywords: Ginger Paste, Ginger Substitutes