Jalapeno simple syrup is an effortless way to amp up your cocktail game- the spicy & sweet flavor combination it brings is perfect to pair with homemade cocktails. Plus, there are 3 tequila-based cocktail ideas to make using this jalapeno simple syrup!
We've also included an extra spicy spin: habanero simple syrup.
Spice lovers: Jalapeno-infused simple syrup is a quick 15-minute job- let's hit it!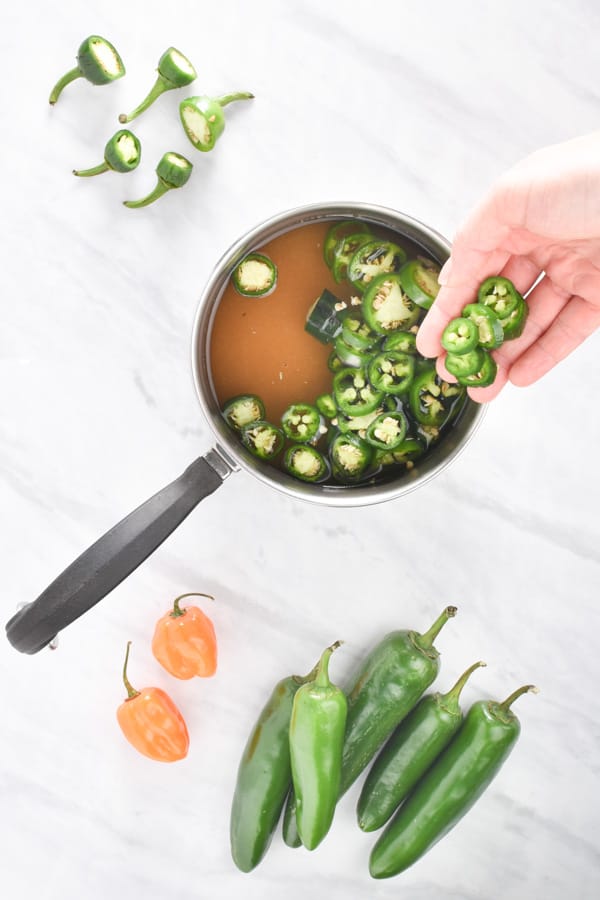 It's a spicy simple syrup
Alright, let's get to this spicy simple syrup recipe! Simple syrup is a liquid sweetener made out of water and sugar used often in cocktails and other iced beverages to improve the taste and mouthfeel of beverages.
The sugar in simple syrup is already dissolved which allows it to fully incorporate into beverages.
Whereas sugar in granulated form doesn't work well with cold beverages- most of the sugar doesn't dissolve and simply sinks to the bottom of your glass.
To make this spicy simple syrup, you simply need to simmer sugar, water, and jalapenos until all the sugar has dissolved and the flavor of the jalapenos has been extracted!
We simmer this recipe for 7-10 minutes after the sugar has been dissolved, then pour the mix over a sieve to strain out the jalapenos. You can simmer for shorter or longer amounts of time for your desired spice/heat level.
Serrano peppers also work in this recipe if you don't have jalapenos at home.
Variation: Habanero simple syrup
In our recipe testing of this, we started off with zero plans to make a habanero simple syrup- it sounded way too spicy and intimidating!
However, as we moved along with different ratios of jalapenos in the simple syrup and the final taste of the jalapeno simple syrup in finished cocktails, we realized we wanted more heat! Most recipes call for 1 jalapeno, this honestly doesn't leave any heat in the final cocktail. You need more.
Now let me preface this by saying I am not the person always reaching for hot sauce at every meal; I have a low tolerance for spicy food. But, this spicy simple syrup is a concentrate– on its own, it should be too spicy and too sweet to consume but when mixed with 6-10oz of other liquids in your cocktail it should be strong enough to leave a lasting flavor.
This was hard to achieve with jalapeno syrup, but with habaneros, it's easy to make happen!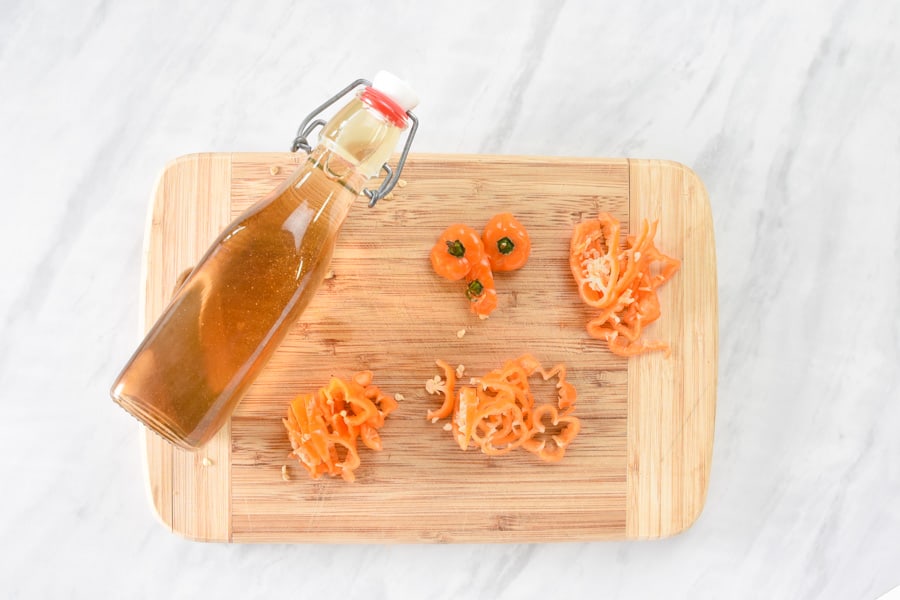 Don't be afraid! Habanero simple syrup is not overpowering, it's deliciously sweet and spicy! Plus, where I live habaneros are less expensive!
In comparing the two, jalapeno simple syrup vs. habanero simple syrup, think of it this way: jalapeno has a better aroma and more upfront on-your-tongue heat whereas the habanero has more spice and the back of your throat burn. Both are awesome.
Other ways to use jalapeno syrup
Yes, most of you will make this jalapeno syrup to use in cocktail recipes, but it has other creative uses around the kitchen! The sweet and hot flavor profile in spicy simple syrup offers up a delightful flavor in other dishes that fit the spicy profile: taco filling, Spanish rice, Thai curry, salsa recipes, guacamole– any dish that is usually sweet, spicy, and glazy!
Jalapeno simple syrup can be frozen in an airtight container for up to 3 months! Make some jalapeno simple syrup margaritas now and freeze the rest of the syrup to enjoy later.
The ratio of sugar to water in simple syrup
There are different ratios used in common simple syrup recipes to alter the viscosity and sweetness. If you increase the amount of sugar used in simple syrup the syrup will have a thicker, more syrupy consistency. and a sweeter flavor.
A thick simple syrup is often used in cocktails like a classic Old Fashioned; the thick simple syrup gives the cocktail a thicker viscosity (mouthfeel) and body.
| | |
| --- | --- |
| Standard Simple Syrup | Thick Simple Syrup |
| 1 cup sugar | 2 cup sugar |
| 1 cup water | 1 cup water |
Additionally, you can swap out the type of sugar you use in your simple syrup! Try using brown or coconut sugar for rich caramel notes and flavors.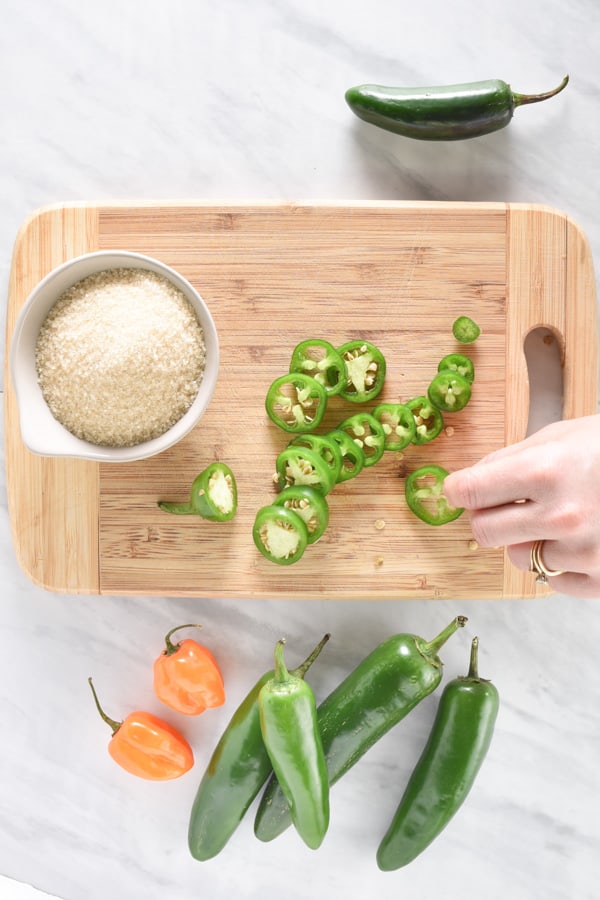 3 Jalapeno simple syrup cocktails
Voila! Now you can use jalapeno or habanero simple syrup to create your own spin on cocktails and beverages! Here are 3 different jalapeno simple syrup cocktail recipes to help get your creativity going…
#1 A spin on the mule we all know and love, a Mexican Tequila Mule. Who knew tequila and ginger beer would be a match made in heaven? Viva margaritas, friends!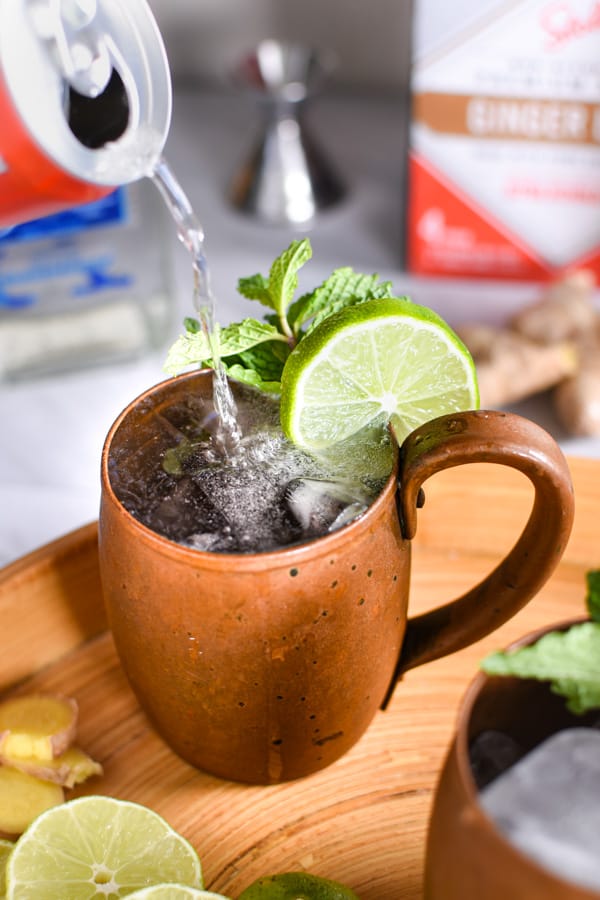 #2 The spicy Jalapeno Margarita. This is a sweet, spicy, tangy twist on a classic margarita perfect for enjoying year-round! If you've got jalapeno simple syrup all you need are fresh limes and tequila. Hip hip, hooray!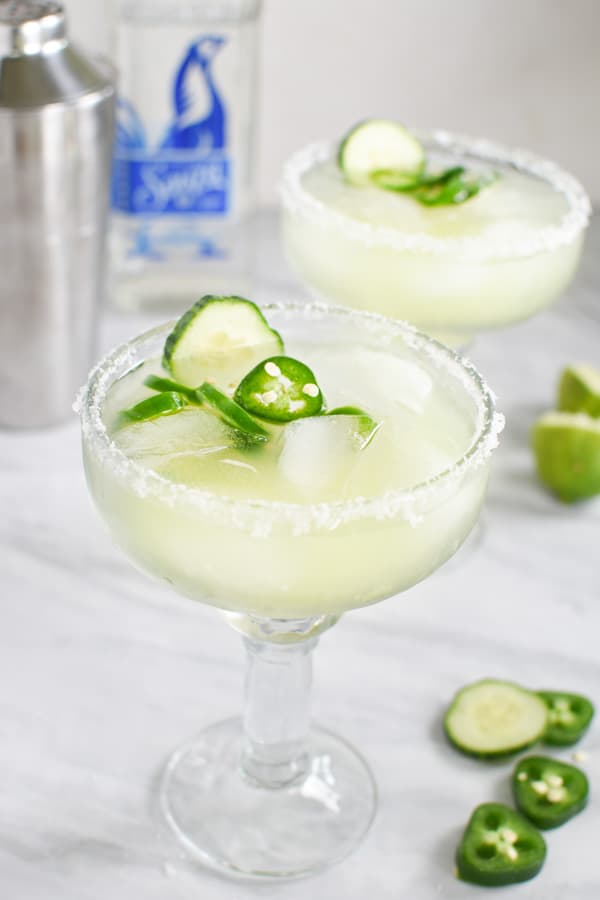 #3 Sophisticate your sombrero with a Tequila Martini. A martini is a perfect treat at the close of a hellish day, am I right? Adding a touch of heat to this boozy combination makes it even better!
Print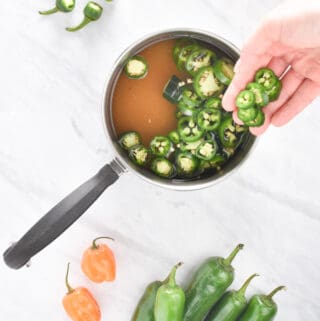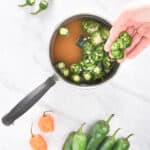 Jalapeno Simple Syrup
Author:

Adriana

Prep Time:

5 minutes

Cook Time:

15 minutes

Total Time:

20 minutes

Yield:

~ 1 cup

Category:

Jalapeno Syrup

Method:

Stovetop

Cuisine:

Mexican
---
Description
Why yes, spicy jalapeno simple syrup is just the cocktail ingredient you've been looking for! You need just 2 ingredients to make this fantastically easy and wonderfully delicious spicy simple syrup. You could even turn up the volume and make habanero syrup because it's equally delicious!
---
5

jalapeno peppers (or

2

habaneros)

1 cup

cane or white sugar

1 cup

water
---
Instructions
Prepare your peppers: Remove the stems and slice the peppers into coins.
Add to a small pot with 1 cup sugar and 1 cup water over medium heat.
Bring to a boil to dissolve the sugar, then reduce heat and simmer for 10-15 minutes on LOW heat.
If you simmer this at a higher heat, more water will evaporate and the syrup will reduce making a thicker, more concentrated syrup.
After 10-15 minutes have passed, pour the mixture through a small sieve or strainer to separate the jalapenos. 
Pour into an airtight container and store in the fridge for up to 2 weeks or freezer for up to 3 months.
Add to any cocktail you wish to spice up!
---
Notes
** Serrano peppers, or really any peppers can be used in this recipe. For jalapenos, we found 5 peppers were needed to create enough spice but this may vary based on the type of pepper you're working with.
** Use caution as hot simple syrup is very hot and can stick to your fingers.
Keywords: Jalapeno Simple Syrup