Three cheers for spicy jalapeno margarita night! Consider this your guide to jalapeno-infused margaritas… we'll walk you through several methods of making them so you can choose what's easiest for you AND you can ensure you've got all the tips to make a restaurant-quality spicy marg!
What is better than the balance of opposites and flavors coming together? Not much! That's why we prefer our jalapeno margaritas with cucumber for a spicy, sweet, and cooling combination sure to please a crowd. But, you do you!
Margarita O'clock starts now.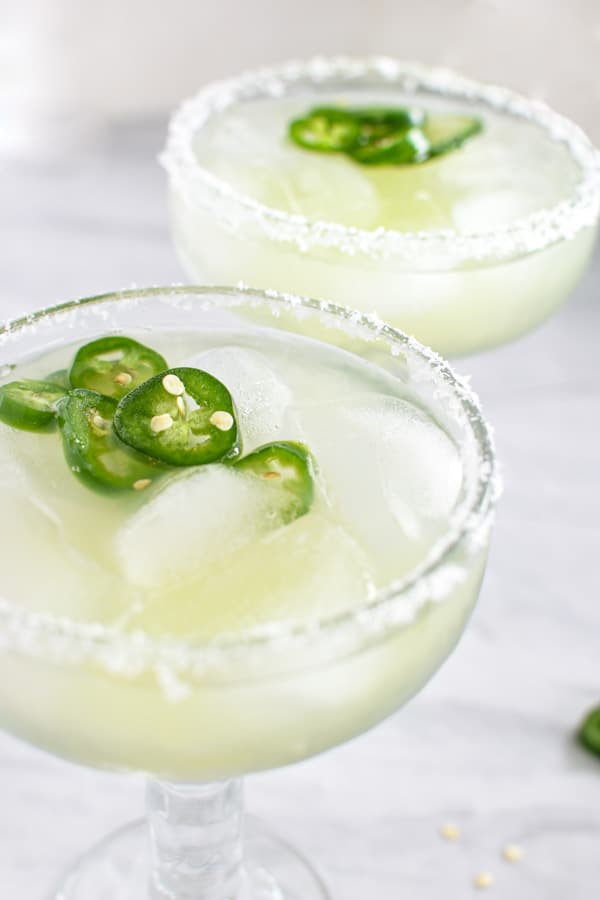 How to make spicy jalapeno margaritas
If you're a fan of traditional margaritas we think you're going to love these babies! If you've got a bottle of tequila lying around and a few limes in the fridge you're already halfway to spicy margarita town. Here's what else you'll need:
Tequila
Fresh limes (1-2 per margarita)
Jalapenos (about 1/2 jalapeno per cocktail)
Orange liquor OR simple syrup
Cucumber (this is optional)
That's it- 4 ingredients and we're in business! Now there are a few different ways to infuse the flavor, aroma, and heat of jalapenos into a margarita, so let's dive into that next.
We've got 4 choices on how to make these spicy margaritas. All of these have a similar flavor but use a different method. We tested these many times using a variety of methods– we know, super hard work 🙂
This really depends on what you're after. If you're hosting friends and prefer an option to prepare in advance with less work to make each drink–like slicing, muddling, straining. Or, maybe you're in the mood to handcraft and enjoy the process on a slow-paced evening.
Here are the 4 different ways to make a spicy jalapeno margarita:
Muddle ingredients together in a cocktail shaker.
Blend and strain ingredients– no juicing or muddling required.
Use jalapeno simple syrup for BIG flavor. Our favorite Way!
Steep jalapenos in tequila overnight to make jalapeno flavored tequila.
The first two methods require more hands-on time just before you make your cocktail while the last 2 methods are super easy to prep in advance…. meaning you can instead focus on all the gorgeous garnishes.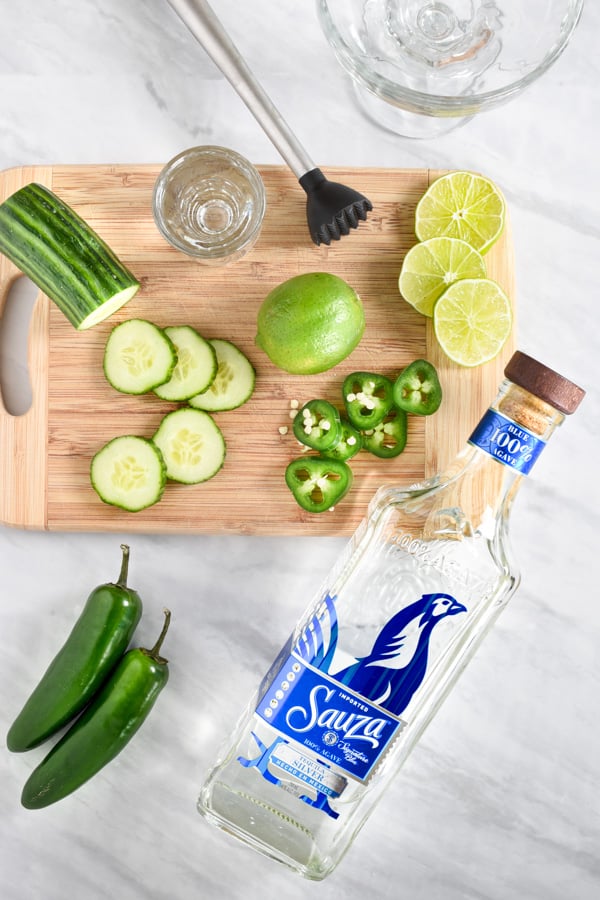 #1: Muddle your spicy margaritas!
First up is how to make spicy margaritas by muddling your jalapenos. This is the instant gratification method of making jalapeno margaritas. Muddling fresh ingredients works best when you want to make 1 cocktail at a time.
If you don't have a muddler and cocktail shaker you can use a drinking glass or tumbler and a wooden spoon.
Add your lime juice, orange liquor, and jalapeno slices to your cocktail shaker.
Muddle by pressing and twisting the sliced jalapenos (and cucumbers, if using) down against the bottom of the cocktail shaker repeatedly. Push down and twist, push down and twist for about 30 seconds.
Add tequila and ice and shake until the shaker is frosty.
Strain through a fine sieve and enjoy!
This works in a pinch and delivers medium jalapeno flavor and spice. But we can do better! **Note: Peel the cucumber if using or it can give your margs a greenish tint!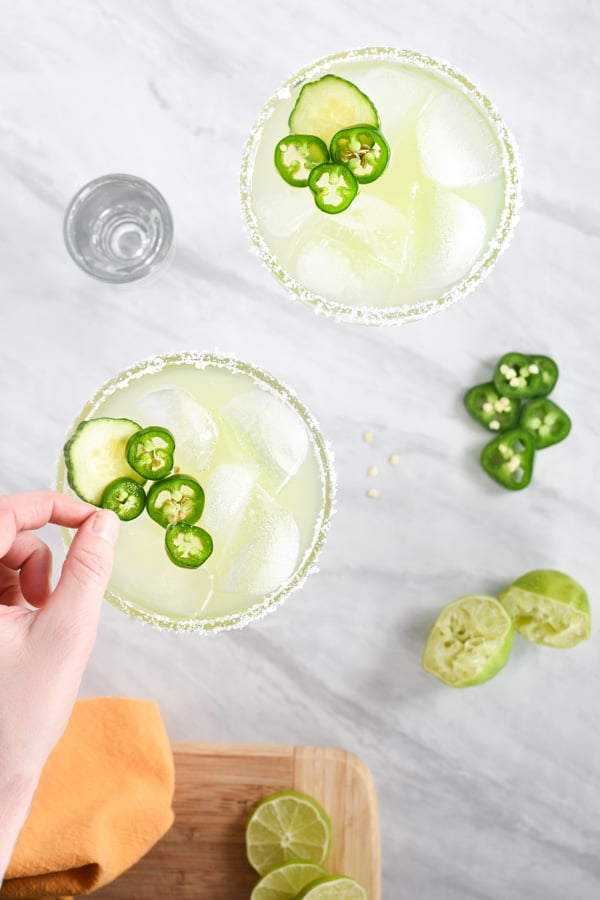 #2 Blend up some jalapeno margaritas!
Easy, peasy jalapeno squeezy! This is an awesome way to make spicy margs– no juicing limes over and over, no muddling anything, just toss it all in the blender, baby!
Now, this isn't for icy, slushie margaritas. The blending is what juices the limes, jalapenos, and cucumbers so you don't have to work as hard doing everything by hand. You with me?
Here's how we do it:
Cut off the peel and white pith from the limes and peel the cucumber.
Remove the stem from the jalapeno and cut into 1-2″ chunks. Add to your blender or bullet blender.
We aren't adding any liquid but the limes will break down quickly and get everything else moving.
Strain this spicy, lime juice blend through a sieve or nut milk bag into a bowl or jug.
Add orange liquor and tequila and stir to combine.
You're ready to GO!
These margaritas DO have a slightly green color. We're okay with that as they are ridiculously easy to make. This method also works great if you want to make a pitcher of spicy margaritas for a crowd.
Salt the rimes of your glasses, add ice cubes, and pour your jalapeno margaritas! Cheers!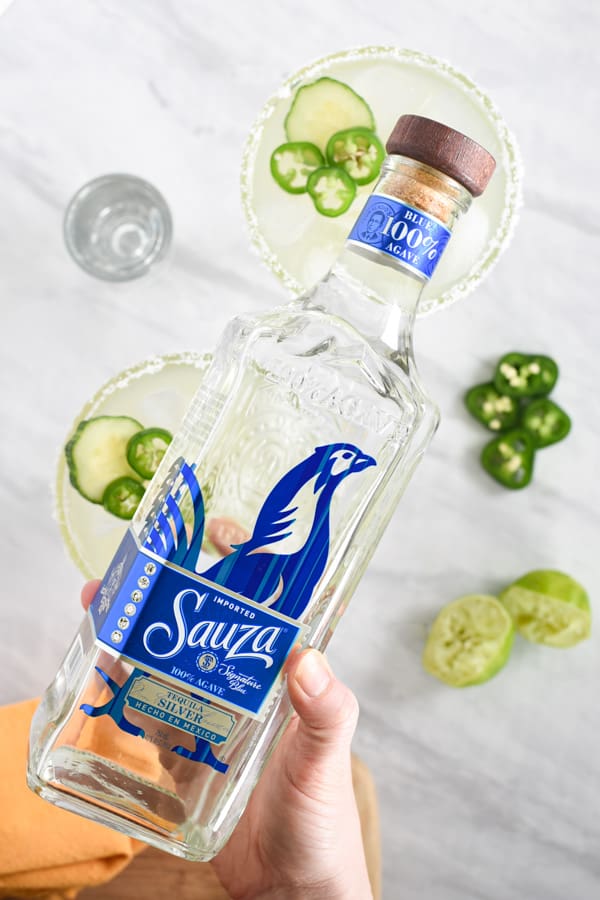 #3 Make Jalapeno Syrup
Here we have our blue ribbon winner, our preferred method to make jalapeno margaritas! If using jalapeno simple syrup you don't need to use orange liquor, as the syrup also acts as a sweetener. SPIFFY!
This creates the spiciest, most flavorful margaritas, and is our favorite way to make them. It's the method most bars and restaurants use to get those oh so spicy margaritas!
Making a batch of jalapeno simple syrup couldn't be easier. We've detailed an entire post about it if you want to dive deeper but here is the skinny…
Slice 4-5 whole jalapenos, yes that many, into 1/2″ circular slices.
Add to a small pot with 1 cup of sugar and 1 cup of water.
Bring to a boil, then reduce heat and simmer gently for 15 minutes.
Strain and store in the fridge until ready to use.
Ta-da! SUPER easy and VERY flavorful! Jalapeno simple syrup works especially well if you're trying to make a pitcher of spicy margaritas or make your margaritas in advance.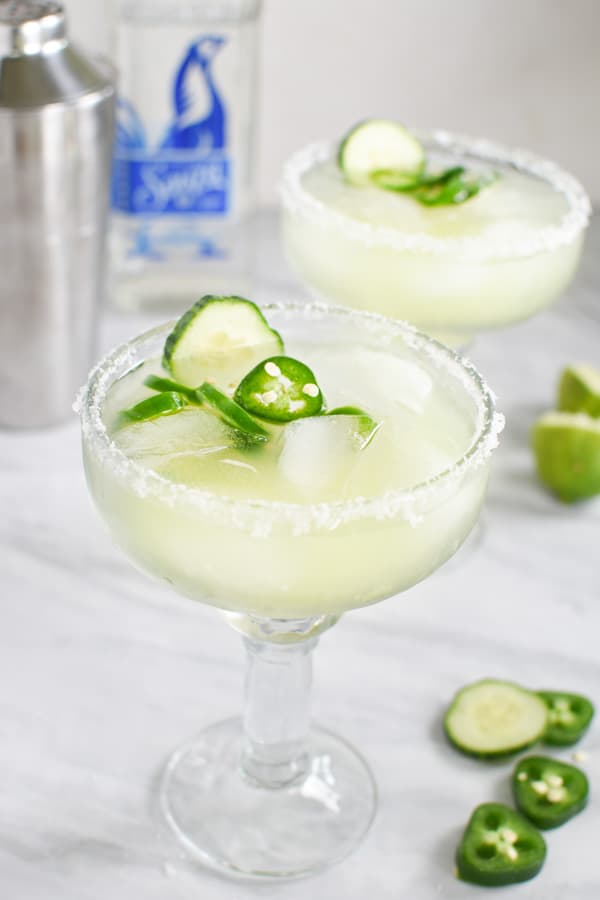 #4 Make jalapeno infused tequila!
This is our 2nd favorite way to make spicy margaritas and it also incredibly easy! This will need 24 hours to steep, so keep this in mind when prepping for your fancy shmancy margaritas!
For one 750ml bottle of tequila we recommend using 4-5 jalapeno peppers, seeds and all, to make a batch of spicy tequila! Here's the DL:
Pour the tequila into a jar large enough to hold the tequila and the peppers! This might be 2 quart sized mason jars or 1 gallon sized jar, whichever you have.
Slice the jalapenos in circular slices and add to your tequila– include the seeds as well.
Cover and secure with a lid, give it a good shake, and let it steep for at least 24 hours. You can steep for 2-3 days longer but we taste tested a 24 & 48 hour batch with very little difference!
Strain your jalapeno tequila, pressing and squeezing the jalapenos that land in your strainer to squeeeeze all the tequila out.
You can add this back into your original tequila bottle for easy pouring or keep in the jar.
There you have it, friends! Our guide to making the best spicy jalapeno margaritas in town! Salud!
PS– these baddies really are delicious paired with cucumber! Give it a try!
Print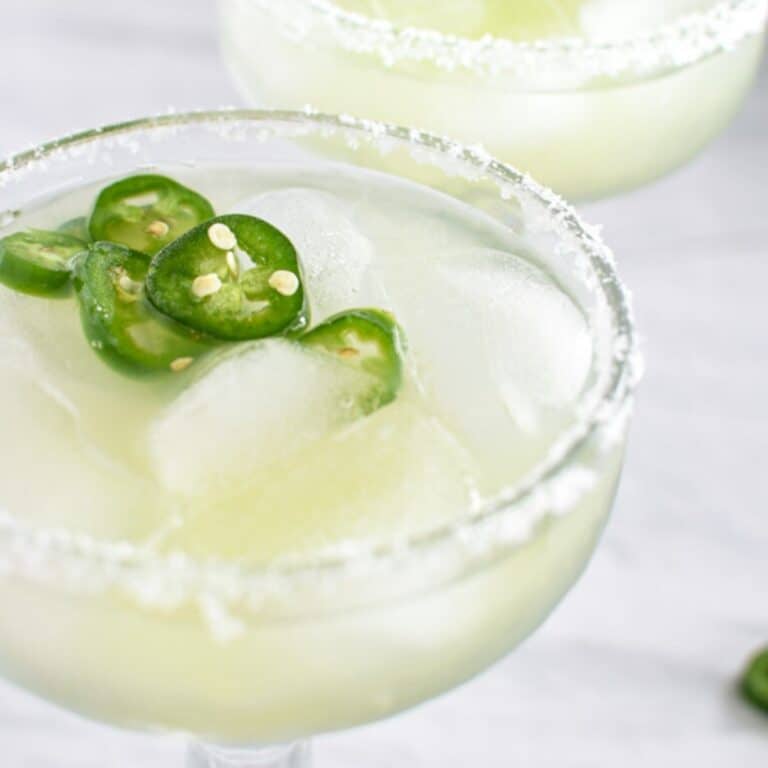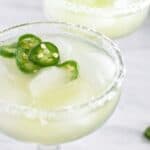 Spicy Jalapeno Margaritas With Cucumber
Author:

Adriana

Prep Time:

5 minutes

Total Time:

10 minutes

Yield:

2

spicy margaritas

1

x

Category:

Jalapeno Margarita

Method:

Cold Prep

Cuisine:

Mexican
---
Description
Bring on the heat with a refreshing jalapeno margarita! These babies are a crazy simple and crazy delicious spin on traditional margs– perfect for spring and summer days. We especially love them with cucumber to play on spicy + cooling qualities. The choice is yours!
---
4 ounces

tequila

5 ounces

fresh lime juice

2 ounces

orange liquor

1

jalapeno, plus more for garnish
Optional: about 1/2 cucumber if making cucumber jalapeno margs
---
Instructions
Squeeze the limes and add lime juice to a cocktail shaker.
Cut the stem off the jalapeno and chop into slices. Add the jalapeno, seeds and all, to a cocktail shaker. Peel and slice the cucumber (if using) and add as well.
Add the orange liquor to the shaker and muddle for 15-30 seconds.
Add the tequila and ice. Shake until the shaker is cold and frosty.
Strain through a fine sieve into a salt-rimmed glass with ice cubes.
Add sliced jalapenos and a slice of lime for garnish and enjoy!
---
Notes
** You can substitute serrano peppers for a similar result.
** There are 3 other methods to make these spicy margaritas, outlined in the post. You can also make these using a blender, by making jalapeno-infused tequila, or by making a batch of jalapeno simple syrup!
** We've found the easiest, spiciest margaritas are made using jalapeno simple syrup— this is how most bars and restaurants do it! 
Keywords: Spicy Jalapeno Margarita