Tequila in a martini? Yep, you heard us! Mexican tequila martinis are an inventive way to sip on your favorite tequila. You can make tequila martinis just as you would make a gin or vodka martini- and you can even jazz it up with an orange liquor like Triple Sec or Grand Marnier.
We'll dish up a few variations on how to make a Mexican martini:
You pick which route is best for you!
A new way to sip on tequila!
Alright, alright. Martini drinkers are creatures of habit– over time we've discovered what we like and which watering holes can deliver a good martini.
How do you take yours? With a twist? Extra dirty? Shaken? 2 olives or 3? Wet martini? If you drink martinis on any regular occasion, you have your preferences nailed down.
For those who aren't regulars to the ice-cold, silky-smooth, top-heavy cocktail, here's the basic rundown of terms we'll be throwing around:
TWIST: This will queue the bartender to add a twist of lemon to your martini– and often times squeeze the lemon peel atop your finished martini to release the aromatic lemon oils prior to dropping in your drink.
DIRTY: A dirty martini includes adding a splash of olive brine, or the juice from a jar of olives. An extra dirty martini is heavier on the olive juice. This turns your martini into a meal… And also the olive juice is what gives the yellow hue in these photos!
Tidbit: Classic martinis are very clear– adding the olive juice 'dirties' up the color, hence the term 'dirty'!
WET/DRY: This describes the amount of vermouth you use. A wet martini uses more vermouth and a dry martini uses less vermouth.
We're dishing up our favorite ratio for a dirty dry TEQUILA martini with a twist and 3 olives! This is exactly how we drink our gin martinis, but adjust as you see fit.
How to make Mexican Martinis
This recipe for Mexican martinis offers a few variations on how to use tequila as a base for a martini. Tequila martinis are quite tasty– we are tequila drinkers but usually we reserve tequila for cocktails, not for sipping and certainly not in a martini.
You guys. Tequila martinis are surprisingly enjoyable and simple to make. First, we'll walk you through how to make a classic martini using tequila!
Here's what you'll need for a basic tequila martini:
2 ounces good tequila
.5 ounce dry vermouth
.5 ounce olive juice from the jar + 3 green olives on a spear
Ice
A shaker & strainer or small sieve
1 lemon, for the twist
OR, for a fruity Mexican martini:
2 ounces good tequila
.5 ounces orange liquor (Triple Sec, Cointreau, or Grand Marnier)
.5 ounces fresh lime juice
Ice
A shaker & strainer or small sieve
Both combinations have their time and place; if you're a fan of the classic martini go that route– if you're looking for a new way to drink tequila, try the orange liquor version!
Essentially now we add our ingredients to a shaker with ice and shake until your hands are ice cold and the shaker is nice and frosty! Be sure to give your martini a nice filter by straining through a fine sieve or you'll end up with chips and chunks of ice floating about in your drink.
Go the extra mile and chill your martini glass prior to use by placing it in the refrigerator to keep your cocktail cold for longer.
Make it a Mezcal Mexican Martini
Mezcal is tequila's mysterious, smoke-enhanced cousin that is increasing in popularity these days. Brands of mezcal vary just as other spirits do– some brands of mezcal have a slight touch of a charred or smoky flavor, while others are intensely and overpoweringly smoky.
You could do a 50/50 mezcal and tequila martini, or simply add a dash of mezcal for aroma OR make a martini entirely with mezcal.
If you're a mezcal fan, take it for a run and see what you think.
Mezcal pairs exceptionally well with sweet fruits; a lot of cocktails bars where we live pair smoky mezcal with berries or citrus for a surprisingly delicious cocktail! For this reason, we think a mezcal martini that includes orange liquor would be incredible!
Make a Spicy Jalapeno Martini
Tequila + spicy food are a match made in heaven– we know this, so why not give a spicy martini a try? There are 2 methods to create a spicy tequila martini with a balanced flavor profile.
First off, you can thinly slice or chop half a jalapeno and muddle it in your shaker prior to making your martini. Then shake and strain as usual for a slight jalapeno flavor and heat.
This is a very easy, quick way to give a spicy martini a try. The jalapeno flavor doesn't truly infuse into the martini, but it works in a pinch. Or you could make your own jalapeno-infused tequila– this requires about 2 weeks to steep.
The best way to make a spicy martini is by using jalapeno simple syrup.
Oh goodie goodie, we are ON to something now folks!
It's a cinch to make, has BIG jalapeno flavor, and is an ingredient you can use in a variety of cocktails or cooking. All you need to make jalapeno syrup is 4 jalapenos, 1 cup of sugar and a few minutes to simmer on the stove. Yahtzee! You're in business.
2 ounces good tequila
.5 ounce dry vermouth
.5 ounce jalapeno simple syrup
Ice
A shaker & strainer or small sieve
Lemon twist OR fresh jalapeno slices for garnish
Which one is your style? Classic, Fruity, Mezcal, or Spicy? Each have their own place in every home bartender's repitoire!
These are the base recipes we use when we make tequila martinis– play around with them and customize them to fit your palate!
Print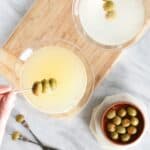 Mexican Tequila Martini
Author:

Adriana

Prep Time:

5 minutes

Total Time:

5 minutes

Yield:

1

cocktail

1

x

Category:

Mexican martini

Method:

Cold Prep

Cuisine:

Mexican
---
Description
New to the Mexican Martini? We're glad you're here… These tequila-based martinis have a bright citrus flavor and smooth tequila finish- Friends, get your shakers ready to prep some drinks.
---
Classic Tequila Martini
2 ounces

good tequila
.5 ounce dry vermouth
.5 ounce olive juice from the jar + 3 green olives on a spear
Ice
A shaker & strainer or small sieve

1

lemon, for the twist
Fruity Mexican Martini
2 ounces

good tequila
.5 ounces orange liquor (Triple Sec, Cointreau, or Grand Marnier)
.5 ounces fresh lime juice or sub orange juice
Ice
A shaker & strainer or small sieve
---
Instructions
Add ingredients to add cocktail shaker, add ice and shake for 15-30 seconds until the shaker is frosty on the outside. Your hands and fingertips will be quite chilly! Once your cocktail is ready, pour it quickly or the ice will continue melting and water down your tequila martini!
Hold a fine sieve over your glass and pour the contents of the shaker through your sieve into your glass. You don't have to strain through a sieve– if you don't your cocktail won't be smooth, there will be small ice chips floating on top of your martini.
Top with garnish and enjoy!
---
Notes
** You can chill the glass if you like. Place in the refrigerator for 30-45 minutes prior to serving the drink.
**For a fruitier Mexican martini, sub orange juice in place of the lime juice or increase the amount of orange liquor to .75 or 1 ounce.
Keywords: Mexican Tequila Martini