Elevate your morning with this bright and cheery turmeric smoothie loaded with antioxidants and vitamin C! Y'all, this mango turmeric smoothie has warming undertones of turmeric and ginger, with vibrant citrus and creamy coconut milk– it's a pleasant breakfast on the go or afternoon pick me up.
Let's up our daily dose of the good stuff!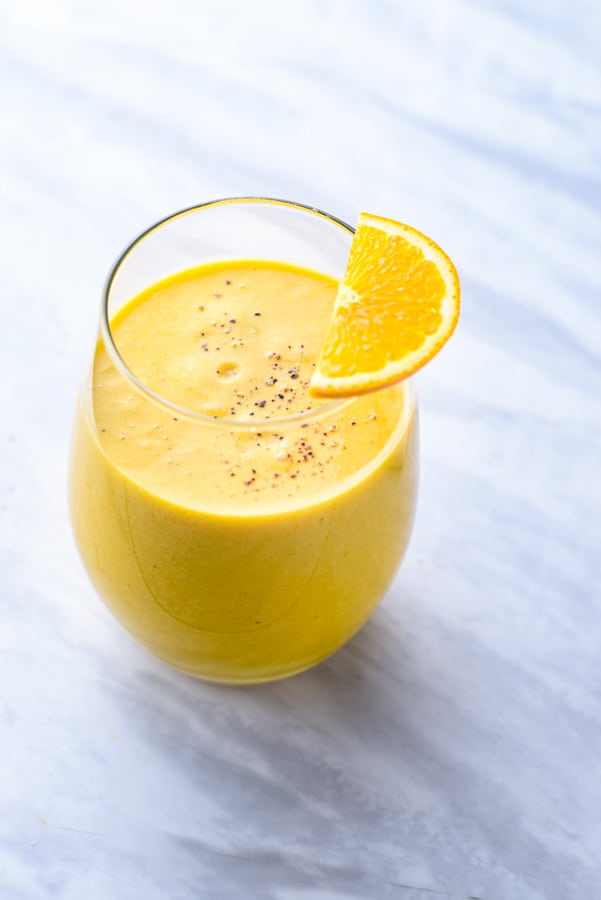 Turmeric Smoothie Recipe
Turmeric mango smoothies, here we come! We'll need just 6 ingredients and a few of these are flexible– use what you have on hand. This recipe is easy to make in a blender, bullet blender, or food processor and you can easily double or triple the recipe to make multiple smoothies at once.
Here's what goes into our turmeric smoothie:
1″ of fresh turmeric OR 1 teaspoon ground turmeric
1/2″-1″ of fresh ginger OR 1/2 teaspoon ground ginger
1 cup frozen mango
1/4 cup plain yogurt
3-4 cuties or one small orange
1 cup coconut milk
optional pinch of black pepper
I try to use fresh turmeric and fresh ginger when possible for the best flavor and nutritional profile but use what you have local access to. Also… fresh mangoes are WAY cheaper where we live so we usually buy fresh mangoes, cut them, and freeze them for later use.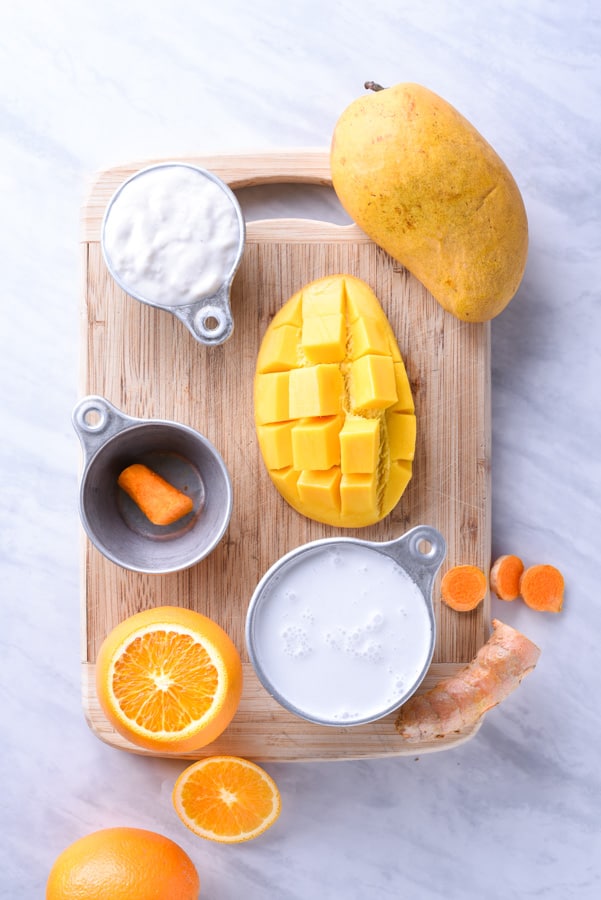 My review: Buying raw, organic whole turmeric root on Amazon.
Why Add Turmeric To Your Anti-Inflammatory Smoothie?
Let's talk the benefits of turmeric and why it could be described as a superfood smoothie add-in! Turmeric is the queen of anti-inflammatory foods about now– plus, ginger and oranges both have a long list of benefits they bring to the table.
What we're after in turmeric root is curcumin or curcuminoids, which are the compounds possessing anti-inflammatory properties.
Turmeric is also believed to help with a variety of skin conditions, homeostatic regulations (like blood sugar and cholesterol), and pain management.
Ingesting turmeric with black pepper helps our bodies extract and absorb more of the curcumin from turmeric! Fat also helps us maximize the benefits as curcuminoids are fat-soluble.
Turmeric + Fat + Black Pepper = The perfect trifecta!
Add a dash of black pepper to this smoothie and you're set! You've got the turmeric, the black pepper, and fat from the coconut milk. Off to the races you go!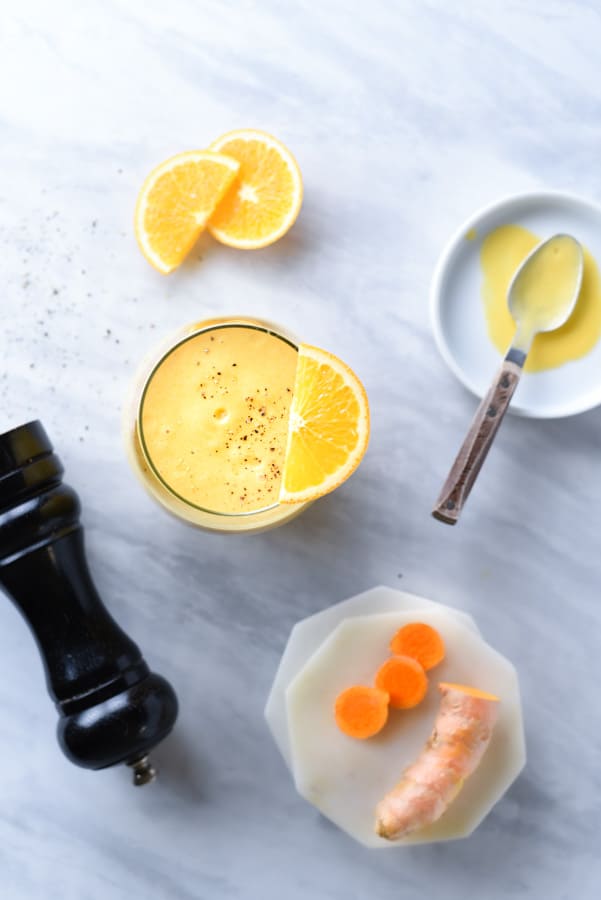 How To Pack Your Blender Cup
Ever tried to make a smoothie and it was not so easy-going? Blender stuck with huge air pockets and you weren't able to achieve that smooth, flowy blending action?
There are several things at play when this happens so here are 2 tips to help prevent this. The first is to ensure your recipe has enough liquid to help get things moving and break down the larger pieces of fruit.
The second is how you pack your blender cup– this can make a huge difference! Here's what we (and most blender manufacturers) recommend for an 'order of operations' if you will: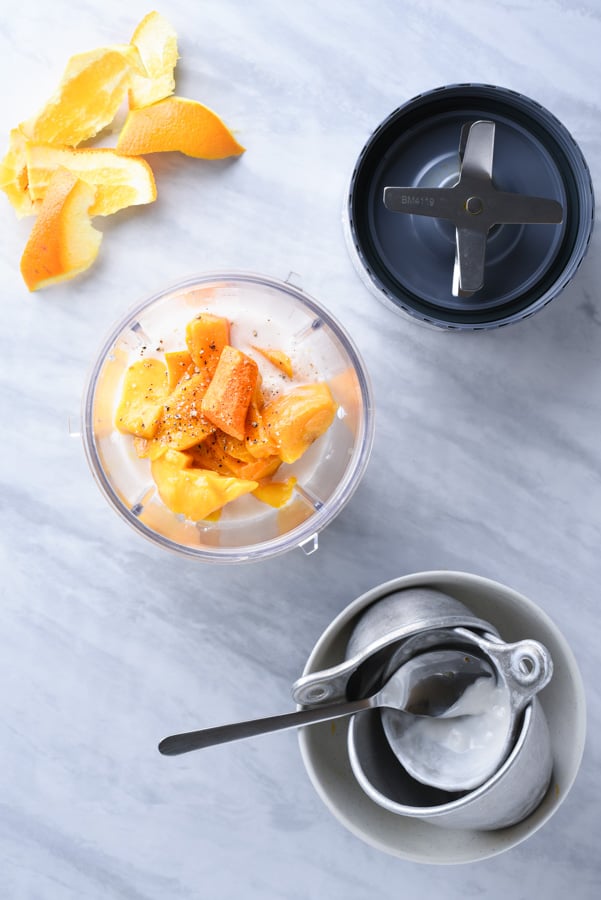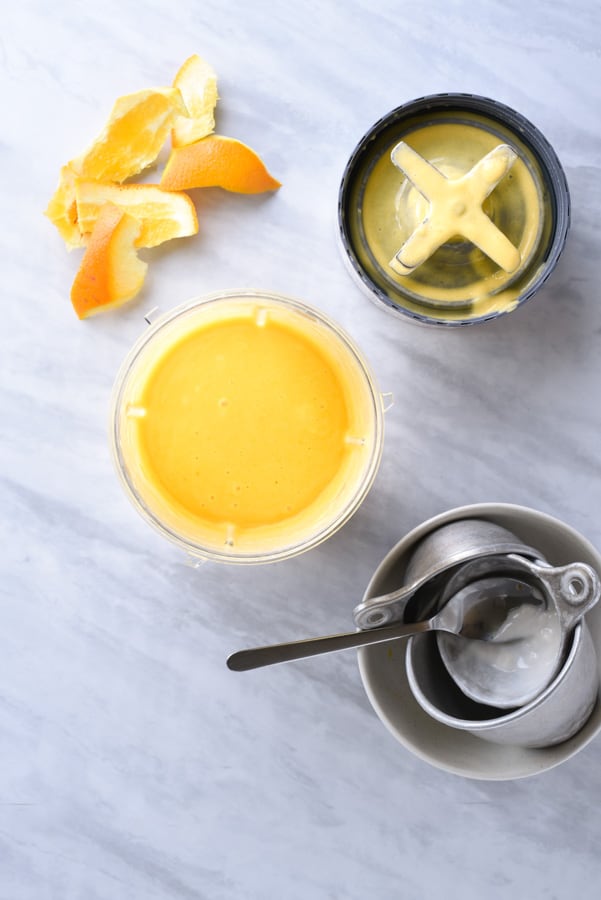 Add your liquid to the blender first.
Follow this with any supplements or mix ins: powders, oils, nut butters, sweeteners, nuts or seeds, yogurt, etc.
Add any leafy greens you are trying to sneak in next.
Place the heavy, frozen items on top– frozen fruits or veggies, frozen yogurt cubes, ice cubes, acai packs. These heavier items help push everything down toward the blades.
Ensuring your smoothie recipe has adequate liquid and your blender is adequately packed will help you create smooth, creamy smoothies. This anti-inflammatory smoothie should have zero problems blending right up!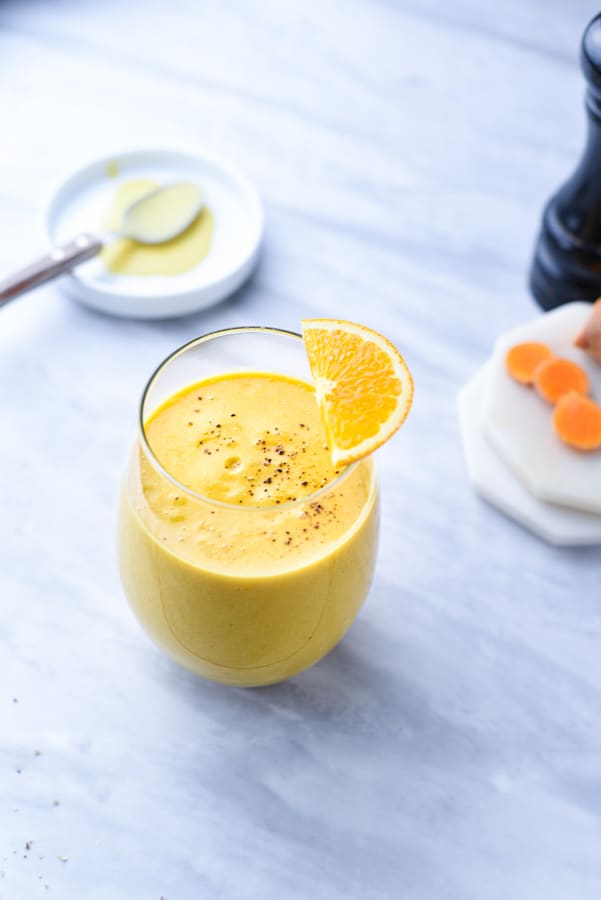 Variations Of This Turmeric Smoothie!
This recipe is very customizable and flexible to what you have on hand or your flavor preferences. You can add a handful of frozen spinach or kale without sacrificing the taste, but it will change the color to a muddy brown. We love the bright orange color the turmeric and orange give this beverage.
Don't have coconut milk? Sub any milk you have on hand; you can even use water but your smoothie won't be as creamy.
Don't have mango? Pineapple, any kind of berry, or any kind of stonefruit (things like nectarines, peaches, plums, or cherries) work just fine.
Use flavored yogurt to dial up the taste! While this recipe calls for plain yogurt, flavored yogurts like vanilla, lemon, mango, or anything else could all be great!
Check out all the other delicious turmeric recipes we have on the site! There are options for juices, condiments, and sides– all using fresh or ground turmeric!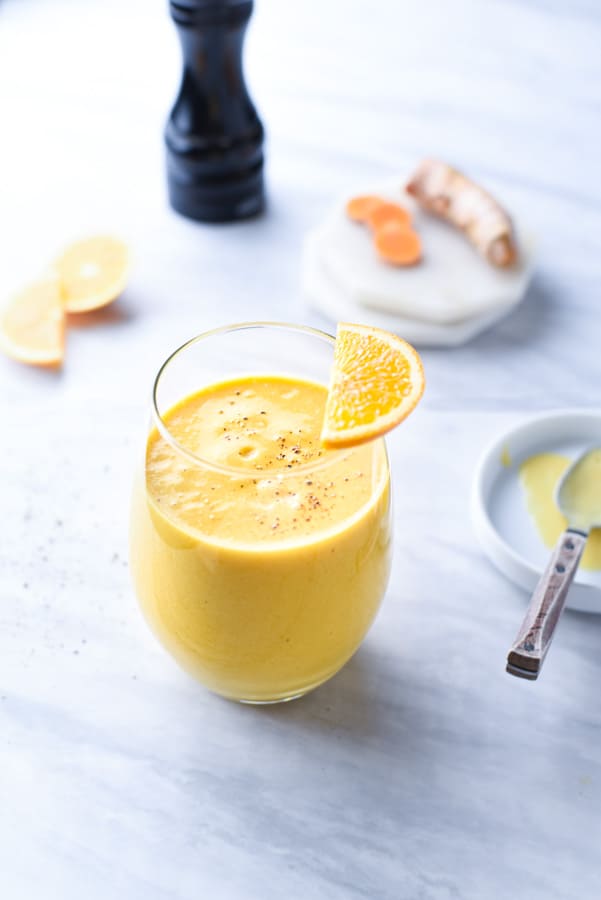 Print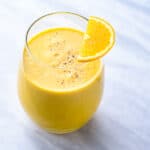 Healing Turmeric Smoothie
Author:

Adriana

Prep Time:

5 minutes

Total Time:

5 minutes

Yield:

~1.5 cups

Category:

Turmeric Smoothie

Method:

Blender

Cuisine:

American
---
Description
In the mood for something bright and cheery? Here's an easy recipe for an anti-inflammatory turmeric smoothie requiring just 6 ingredients and 5 minutes to prepare. This turmeric mango smoothie makes a great breakfast or afternoon snack.
Note: You can purchase raw, organic turmeric root on amazon– here's my favorite!
---
1

" of fresh turmeric OR

1 teaspoon

ground turmeric

1/2

"-1" of fresh ginger OR

1/2 teaspoon

ground ginger

1 cup

frozen mango

1/4 cup

plain yogurt

3

–

4

cuties or

one

small orange

1 cup

coconut milk
pinch of black pepper
---
Instructions
Measure and add milk to your blender cup followed by yogurt, ginger, and turmeric.
Top with frozen mango and orange segments and blend 30-60 seconds until smooth and no large pieces remain.
Pour into a glass and enjoy!
---
Notes
** Swap coconut milk for any milk you have on hand– or, in a pinch, water will work!
** Sub any frozen fruit for mango, especially pineapple, berries, or stone fruits (nectarines, peaches, plums, or cherries)!
** Most health foods stores or co-ops stock fresh turmeric throughout the year! Find out when they have it and freeze some for later use– you can wash the turmeric root and place the whole root in the freezer!
Keywords: Turmeric Smoothie, Anti-Inflammatory Smoothie