Adriana has published hundreds of recipes online and is a Board Certified Nutritionist. Read our recipe development process or more about Adriana.
Capture the essence of summer by making a batch of homemade cherry syrup! This unassuming syrup is an absolute show-stopper of an ingredient. It transforms anything you add it to with intense cherry flavor.
Cherry syrup requires only 2 ingredients and about 20 minutes of your time– mostly hands-off. No pitting or steeping is required! What's not to love?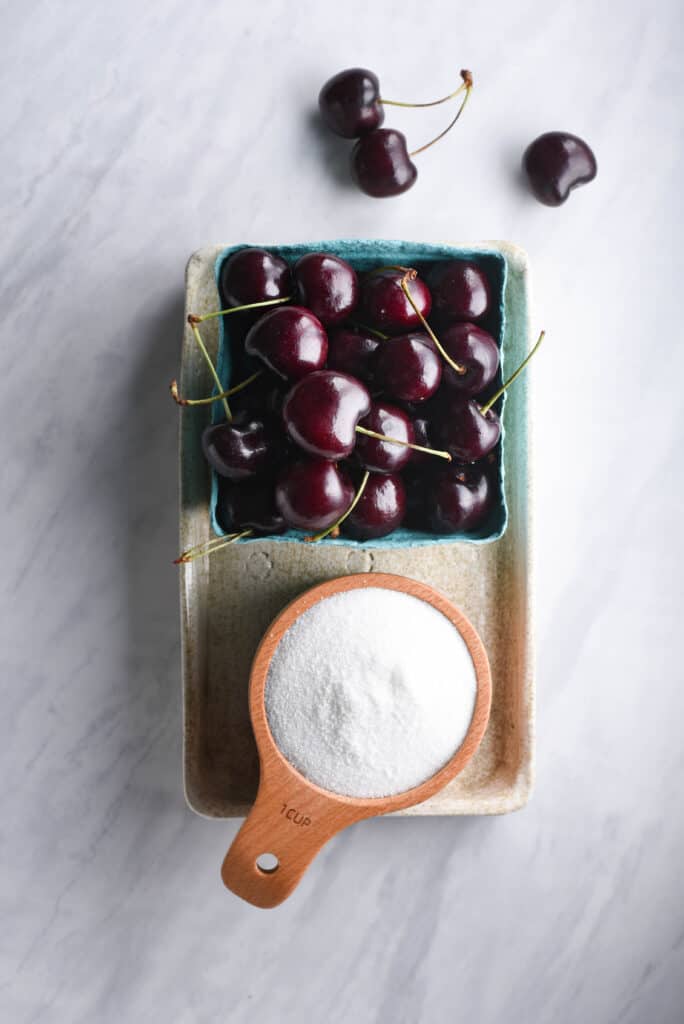 (This post may contain affiliate links. That means I'll get a small commission on any sales made through those links. Read our full disclosure.)
How To Make Cherry Syrup
This is a beginner-friendly recipe but it tastes so amazing, that people who try it will think it's a time-consuming and complicated process. It tastes AMAZING. It's only 2 simple ingredients (cherries and sugar) but the cherry flavor really shines through.
You can make a smooth and silky cherry simple syrup for drinks or a thicker, chunky syrup perfect for desserts. This is a versatile recipe that you can customize by whether or not you strain it and how long you simmer it.
While you don't have to pit the cherries (thank goodness) you need to roughly chop them to expose more of the fruit flesh to extract the cherry juice and flavor.
Add the chopped cherries and sugar to a small pot over medium-low heat and bring to a simmer. Mash the cherries up a bit with a fork or potato masher then continue simmering for 5 minutes to help the fruit release its juices. The syrup will thicken as it cools.
Pour the syrup through a strainer and press down on the cherry pulp to get all the juice out. Cherry syrup will keep in the fridge for a couple of weeks or for several months in the freezer.
Types Of Cherries To Use
This syrup is best using sweet cherries! There are several varieties and monikers of sweet cherries: Bing, black, dark, and summer cherries. Most cherries sold in grocery stores will be sweet cherries unless otherwise indicated.
Types of sweet cherries: Bing, Rainier, Queen Anne, and Chelan are all common varieties of sweet cherries.
Sour cherries or 'pie cherries' have a more tart than sweet flavor.
Cherry Simple Syrup For Drinks
Cherry cocktail syrup is unique in that it pairs equally well with light and dark-colored spirits; cherry and dark rum, whiskey, and cognac are superb pairings. It is refreshing in bright, carbonated beverages over summer and it's comforting in the cooler weather in things like a cherry old fashioned.
Cherry simple syrup can be used to flavor margaritas, old fashioneds, smashes, sours, juleps, mojitos, gimlets, and Collins'.
To use cherry simple syrup in a cocktail, just swap out standard simple syrup for cherry syrup in the same amount!
Cherry Syrup For Cheesecake & Desserts
To make thick cherry syrup perfect for spooning over pie, cheesecake, or ice cream we can follow the same base recipe with a few tweaks. For use over desserts, we like fruit pulp and pieces in the syrup so we recommend pitting the cherries instead of straining the syrup.
Additionally, you have options to thicken the syrup. You can simmer the syrup down for an additional 5-10 minutes or you can add a cornstarch slurry to thicken it. Adding cornstarch will thicken the syrup almost immediately so if saving time is important, this is the route to go.
The syrup has a gorgeous deep red color and looks impressive spooned or drizzled over desserts!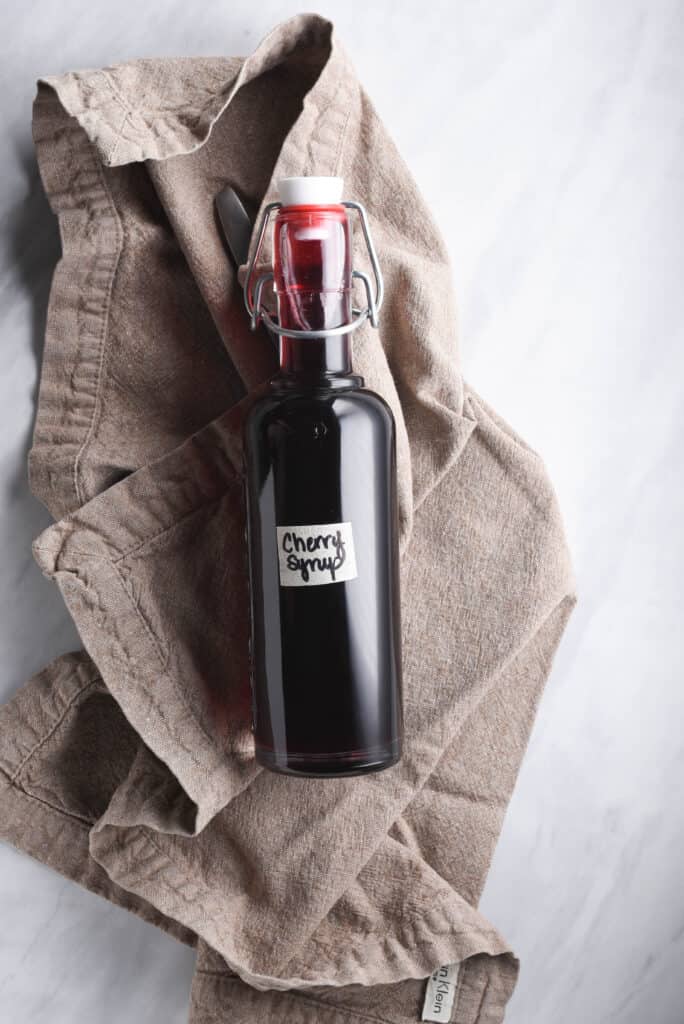 Cherry Syrup Variations
There are numerous ways to add variety and complexity to cherry syrup if you find yourself making this often, or making several batches to freeze and enjoy later. Cherry pairs well with many other herbs, spices, and flavors so it's easy to customize this versatile syrup.
Chocolate: Cherries and chocolate are a power duo!
Almond: Almond and cherry are in the same family and many people think almond extract enhances the flavor of cherry. Almond extract is strong, use a small amount.
Vanilla: Cherry and vanilla gives a cherries and cream flavor, very delicious.
Fresh herbs: Cherries pair well with fresh thyme and fresh mint.
Citrus: Lime and lemon are classic cherry flavor combos, think cherry limeade / cherry lemonade.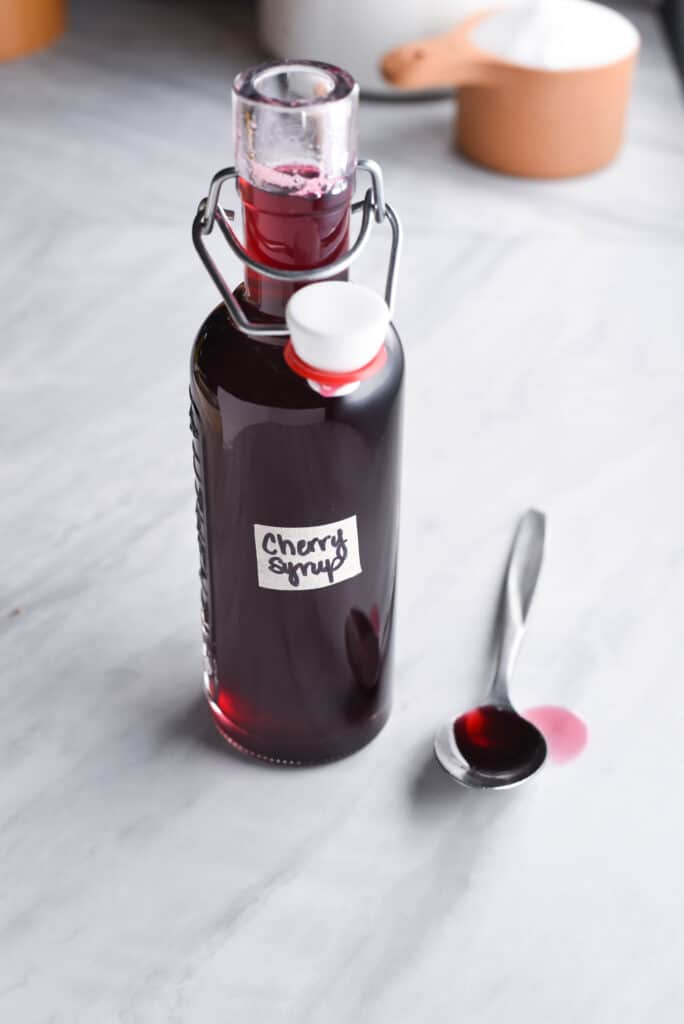 Related Recipes: Ginger Syrup | Raspberry Syrup | Blueberry Syrup
Ways To Use Cherry Syrup
Once you make a batch of this cherry syrup and give it a taste, you're going to want to put this on everything! It is so, so delicious and has such a pure cherry flavor. Don't stop at cocktails, go wild with cherry syrup.
We've got some favorite ways to use it:
Cold Beverages: Lemonade, homemade soda, tea, and coffee can all benefit from a splash of cherry syrup. Iced cherry latte!
Cocktails: Cherry-flavored cocktails are very refreshing on hot summer days.
Serve with ice cream… vanilla ice cream and cherry syrup are amazing.
Use as a breakfast syrup on pancakes, waffles, or French toast.
Use it to flavor and sweeten homemade jam or jelly.
Parfaits & Yogurts: Oatmeal, porridge, overnight oats, or yogurt parfaits can all be sweetened with cherry syrup.
Toss freshly made popcorn with cherry syrup.
Add to smoothies or homemade popsicles.
Use to make candied nuts. Cherry-candied pecans for the holidays? YUM
Use it to make a salad dressing!
Sub for sugar in homemade granola. Like cherry chocolate granola!
Cherry Syrup FAQs
Do I need to pit the cherries? If you are making a cherry simple syrup for cocktails and drinks, you do not need to pit the cherries as you'll strain the syrup to remove all fruit pulp. If you're after a thick dessert syrup with chunks of cherries (and won't be straining the syrup), you will need to remove the pits!
What kind of sugar is best for simple syrup? A neutral-flavored white or cane sugar allows the pure cherry flavor to shine. Cherry does hold up to deeper flavors and would work well with honey, light or dark brown sugar, or coconut sugar!
Can I use cornstarch to thicken cherry syrup? Cornstarch works great to thicken cherry syrup for desserts. Make a cornstarch slurry: Add 1 tablespoon cornstarch to 2 tablespoons water and mix well, then add this to the syrup once simmering and simmer for an additional 1-2 minutes.
Do frozen cherries work in this recipe? Frozen cherries can be used to make cherry syrup; however, the flavor and aroma of fresh cherries produce superior syrup.
Print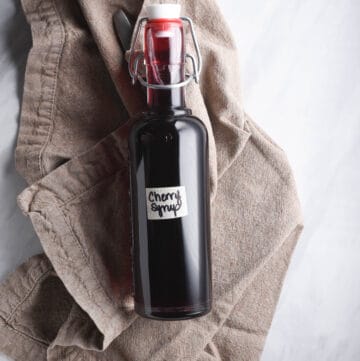 Cherry Syrup
Author:

Adriana

Prep Time:

10 minutes

Cook Time:

10 minutes

Total Time:

20 minutes

Yield:

~1.25 cups

Category:

Syrups

Method:

Stovetop
---
Description
Cherry syrup is an amazing way to use up fresh cherries and infuse all kinds of recipes with cherry flavor. It is addictingly tasty. This recipe details how to make cherry simple syrup for cocktails or thicker cherry syrup for desserts and cheesecake.
Cherry simple syrup delivers HUGE flavor in cocktails and beverages. It's very simple to make! 
We include our tips, flavor combinations, and FAQs about this recipe.
---
2 cups

whole cherries, roughly chopped

1 cup

water

1 cup

sugar
Optional Cornstarch slurry: 1 tablespoon cornstarch and 2 tablespoons water (for a thick dessert syrup)
---
Instructions
Destem, wash, and roughly chop the cherries to remove the inner fruit flesh. You don't need to pit them if you intend to strain the syrup. If you want a chunky cherry syrup with fruit bits, you need to pit the cherries.
Add cherries, sugar, and water to a medium-sized pot and bring to a simmer. 
Mash the cherries with a fork or potato masher once simmering to help release their juice. Once mashed, simmer for an additional 5 minutes.
Strain the syrup if making cherry simple syrup– it's ready for use.
For a thicker, dessert-style syrup you can continue to simmer to thicken the syrup for an additional 5-10 minutes. OR you can stir in a cornstarch slurry, then simmer for an additional 1-2 minutes.
The syrup thickens as it cools.
Store cherry syrup in the refrigerator for 2-3 weeks or freeze for 2-3 months!
---
Notes
The medium-sized pot is helpful because we mash the cherries to further break them down and a small pot is more likely to splash sticky cherry syrup across your stove and counter!
You can use fresh or frozen cherries; the flavor of cherry syrup is better with fresh cherries.
Keywords: Cherry simple syrup