Ginger simple syrup is a golden opportunity to make the most of that knobby root hanging out in your fruit basket. Ginger syrup captures the spicy essence, bright flavor, and mellow aroma of this herb in the easiest manner possible- a quick stovetop simmer!
We'll detail how to make ginger syrup, how to use ginger syrup in cocktails, and as a bonus, how to candy the leftover ginger bits and pieces.
This one makes the hot list. Let's get started!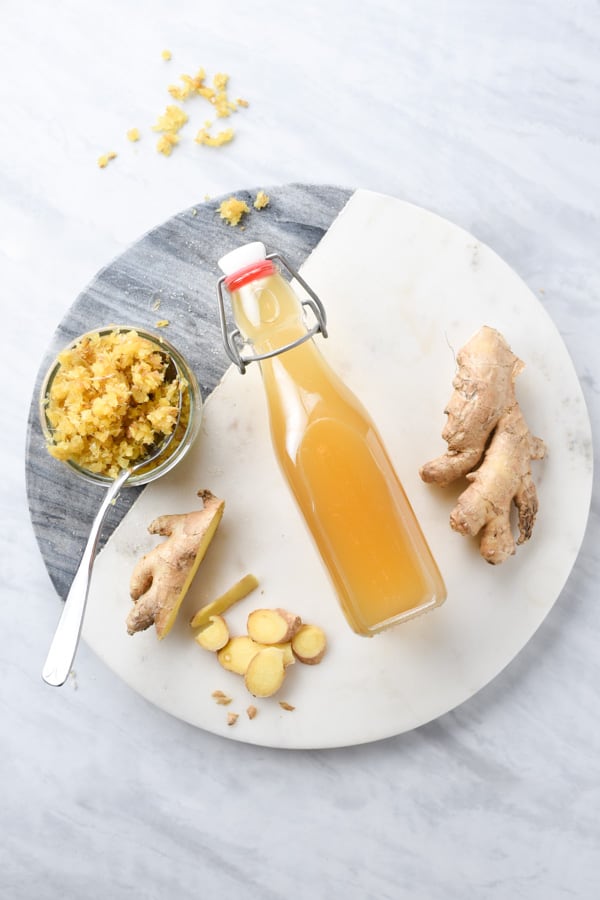 How To Make Ginger Syrup
Ginger simple syrup is easy to make using just plain ol' sugar and water. The flavor that water, sugar, and fresh ginger create when they simmer together for a bit is amazing. This entire process takes no more than 15 minutes and leaves you with plenty of ginger syrup for all your cocktail and home chef extraordinaire needs.
Here's all you'll need:
about 3 'finger-sized' pieces of ginger (100 grams)
1 cup of white or cane sugar
1 cup of water
All you need to do is prepare the ginger to extract all the flavor, aroma, and goodness then simmer this in the sugar and water. You can slice or dice the ginger by hand with a knife or you can send it for a whirl in your food processor- the latter is our go-to method!
Additionally you can change the flavor of your ginger syrup by using a deeply flavored sugar like brown sugar, coconut sugar, or even honey. These will have much stronger, bolder flavors than a white or cane sugar.
Also, the syrup will settle a bit in the fridge so give it a shake or two before using to ensure all the syrup is mixed together.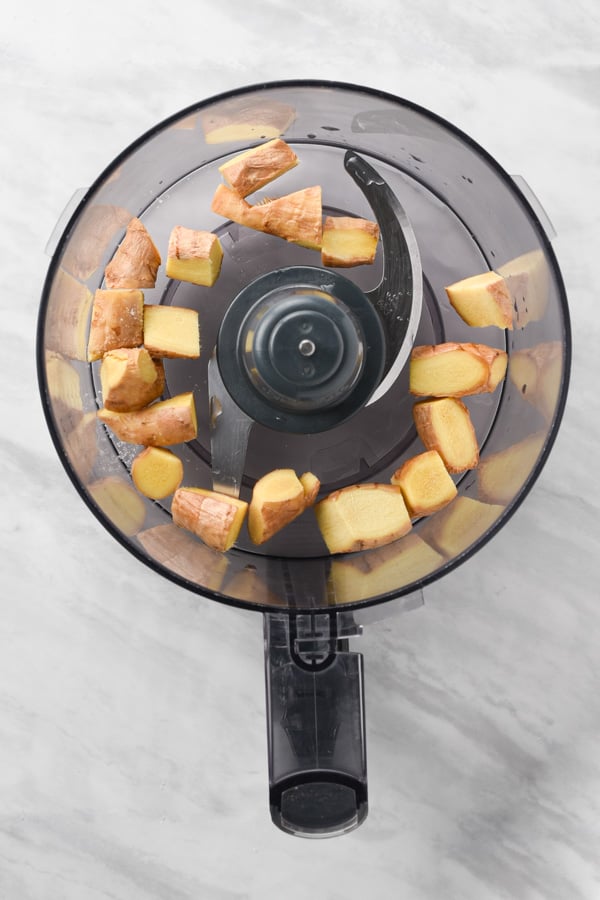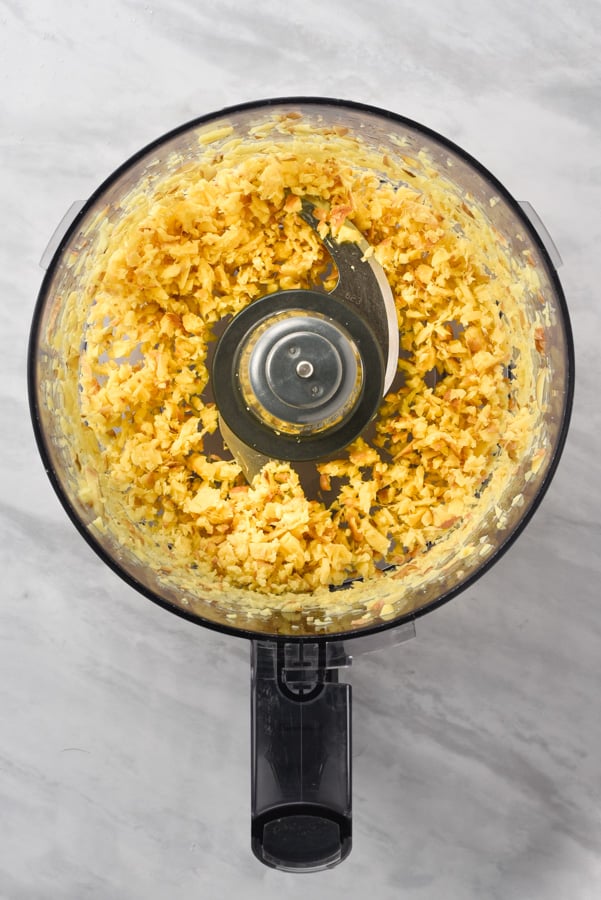 To peel or not to peel the ginger…
Personal preference! This is completely up to you as we tested this recipe both ways and found a minimal difference between the two. The ginger syrup we didn't peel was a bit darker in color and had some teeny tiny flecks of debris in it.
The flavor between the two was the same– we couldn't tell the difference in a blind taste test.
Now, the ginger we used was fresh and wasn't laced with dirt, as ginger grows underground sometimes it has a substantial amount of dirt on it. If the ginger you purchased is very dirty I'd recommend peeling it.
We did slice off the leathery end pieces and removed the 'armpit' sections or the deep V joint where a nodule is growing as these are hiding places for dirt and debris.
If you intend to peel the ginger, the easiest way is to cut off any irregular knobs and growths then scrape the papery skin with a spoon back and forth to remove the skin. This works much better than a vegetable peeler.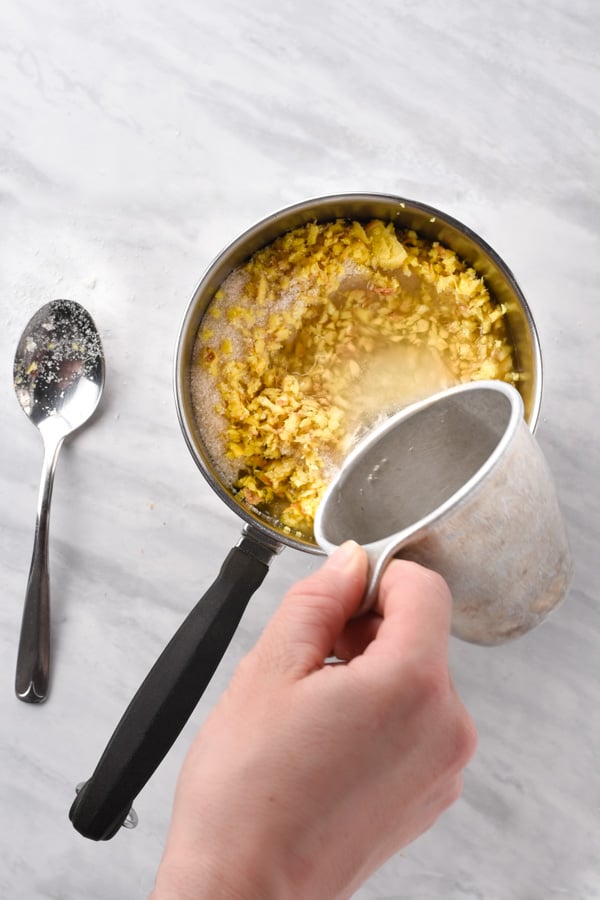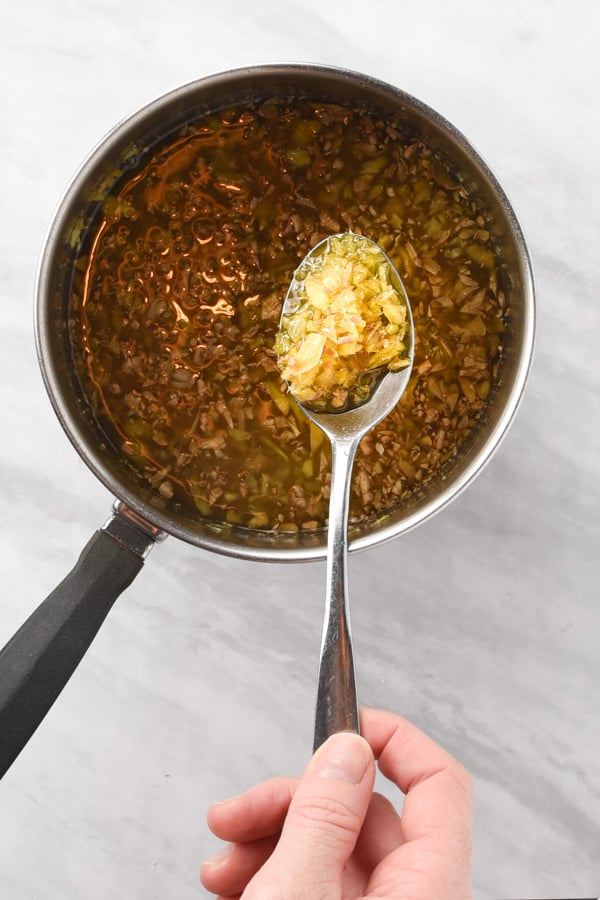 Ginger Simple Syrup Uses
When we think of any simple syrup, cocktails are first to come to mind as this is the most common way simple syrup is used. We'll dive into a few ginger syrup cocktail recipes in just a bit… However, there are plenty of other ginger syrup uses just waiting to come to life in your kitchen! Let's dish.
How we use ginger syrup:
To make ginger tea – add 1-2 tablespoons to a mug of hot water, maybe with a slice of lemon
Use on pancakes and waffles instead of maple syrup
Add to lemonade or soda water for a flavor boost
Add to stir-fry, ramen, or curry dishes
Add to iced coffee and smoothies
Use to make flavored icing and frosting
Add to rice or quinoa while cooking
Use to flavor homemade kombucha
Use as a glaze or marinade for protein
We're big fans of flavored simple syrups and creating new ways to use them around the house to add big flavor to our meals. If you think of any other ways, please let us know and we'll update this post!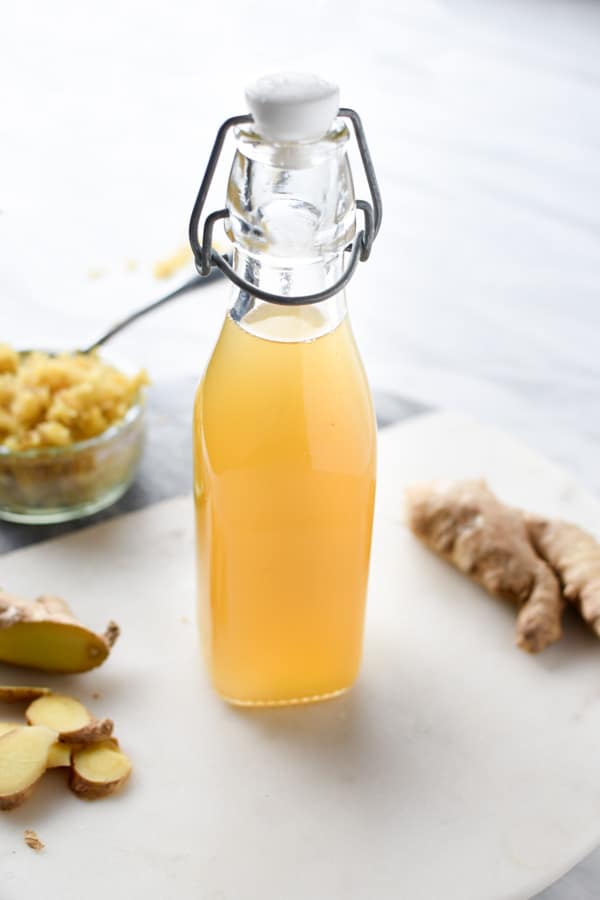 Ginger Syrup Cocktails
Ok the fun part! On to how to make cocktails with ginger syrup and a couple of our favorites! The following cocktails are classics with simple variations to include ginger syrup in place of other syrups or sweeteners while also adding to the overall profile of the drink with ginger flavor!
Our cocktail forecast is warm, spicy, and loaded with fresh ginger flavor!
#1 MOSCOW MULE:
If you find yourself out of ginger beer but have a craving for a moscow mule, you can use ginger syrup and soda water! Here's the drill:
2 ounces vodka
1 ounce ginger syrup
4 ounces soda water
Squeeze of fresh lime
Play around with the levels a bit to find your preference. If you like more ginger heat, add more ginger syrup! Or try it with a Mexican mule!
#2 LEMON DROP:
It's got a lovely ginger aroma and zippy lemon flavor. I'm not huge on flavored martinis, but this one tops the list! My husband gets the glory for this wonderful creation. We were brainstorming flavors and cocktails that would benefit from ginger simple syrup. This one does indeed!
2 ounces vodka
1 ounce ginger simple syrup
1.5 ounces fresh lemon juice
Add to a shaker with ice and shake this jewel up! Pour through a strainer and serve in a sugar rimmed glass.
#3 WHISKEY SMASH:
The whiskey smash is similar to a mint julep, but with added citrus. Quite frankly, the only way we make ours is with ginger simple syrup! Because nothing goes better with whiskey than ginger!
2 ounces whiskey
5-7 mint leaves
.5 ounce ginger simple syrup
1/4 lemon
Muddle the mint, lemon, and syrup together. Pour into an old fashioned glass and add whiskey, top with ice and garnish with fresh mint! Cheers
#4 BOURBON SOUR:
Hello bourbon our old friend, we've found a new way to sip you again! We love us a good whiskey sour; adding lemon and ginger to it gives a really unique taste– here's how to take it for a spin!
2 ounces bourbon
1 ounce ginger simple syrup
1 ounce fresh lemon juice
Shake this puppy up and strain over rocks in an old fashioned glass. Garnish with an orange slice, peel, or candied orange wheel!
#5 GIN BUCK:
Hello, you world-famous 3 ingredient cocktail, you! This is a gin and ginger ale cocktail that you can easily add ginger simple syrup to. Ginger ale is sweet but doesn't have much ginger heat… adding simple syrup will change that right up!
2 ounces gin
4 ounces ginger ale
1 ounce ginger simple syrup
Serve on the rocks. Alternatively, if you don't have ginger ale you can use ginger simple syrup and soda water to recreate this refreshing cocktail!
#6 ROSE SANGRIA:
Three cheers for sangria season! This rose sangria recipe is a fun and funky twist on the stagnant classic, showing off the flavors of gin and sangria. Swap the gin for whiskey or light rum.
1 bottle chilled rose
1/3 cup gin (or sub bourbon or light rum)
1/4 cup ginger simple syrup
1 cup strawberries, quartered
1 sumo mandarin, segmented; or 3-4 cuties
1 cup raspberries
Add everything to a serving pitcher and place it in the refrigerator to chill for 3-4 hours. Serve in a wine glass with mint or candied orange slices as a garnish! Salud to summer! Watch out– this stuff is dangerously good!
BONUS: Make Candied Ginger
What about all the ginger pieces you strained out of the syrup? Friends, these don't need to go to waste– this ginger can live a second life as homemade candied ginger! YES!
Candied ginger is incredibly easy to make; if you've made this ginger syrup you are halfway there. As you have already strained the ginger syrup, you'd simply need to simmer the ginger again in sugar water then strain and toss with sugar to coat.
Candied ginger is a killer cocktail garnish and tastes divine mixed into treats as it pairs fabulously with chocolate, vanilla, nuts, and fruits. If you make this ginger syrup as listed, you'll get about 1.5 cups of candied ginger pieces.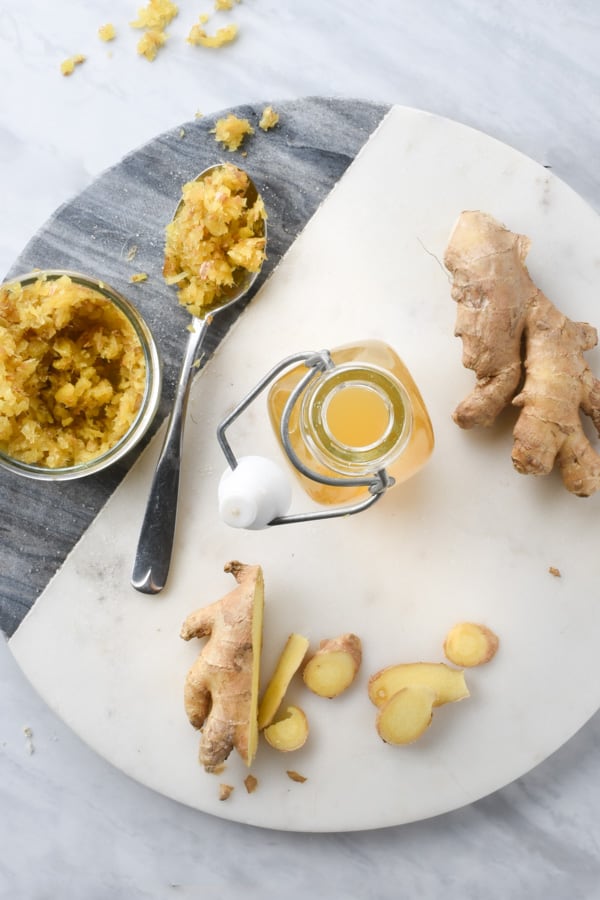 To turn those leftover ginger bits into delicious candied ginger:
Add the strained ginger back into a pot with 1/2 cup water and 1/2 cup sugar.
Heat over medium-low heat until simmering, which won't take long, then reduce heat and gently simmer for 10 minutes. Ensure this is a low simmer and not a full boil.
Strain the ginger through a fine sieve, using a spoon to press the ginger against the sieve to squeeze out as much liquid as possible.
Add to a bowl with 1/3 cup sugar and toss to coat all pieces in sugar crystals.
Spread into a thin layer on a large plate or baking sheet and leave out until fully dry ~usually 18-24 hours. Then toss with more sugar if needed and store in an airtight container!
We've made ginger syrup on many occasions, but only as we were testing this recipe did I take the plunge and candy the ginger. HELLOOO who am I? 'Candying' something sounds complicated, like you'll need thermometers, special spatulas, and maybe protective eye gear. Not at all.
Guys/Girls. Candied ginger is EASY and it is incredibly flavorful! As it was drying on the counter my hubs and I were walking by and nibbling on it all day.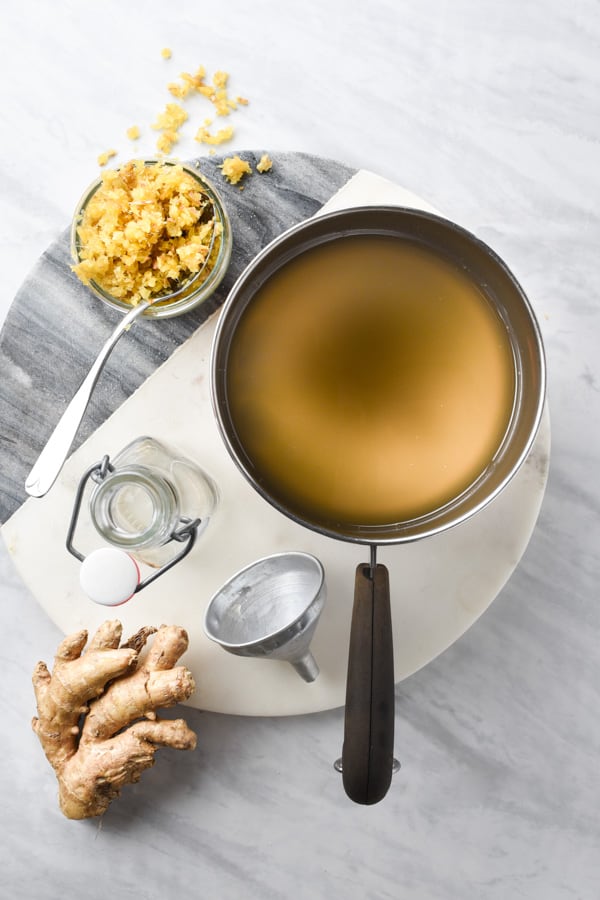 Print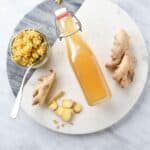 Ginger Syrup Recipe + Cocktails Ideas!
Author:

Prep Time:

5 minutes

Cook Time:

10 minutes

Total Time:

15 minutes

Yield:

~1 cup

Category:

Ginger Simple Syrup

Method:

Stovetop

Cuisine:

American
---
Description
Here's a step by step guide on making Ginger Syrup! This recipe for ginger simple syrup requires just 10 minutes of simmering on the stovetop to create a ginger syrup that delivers BIG flavor and heat for all your homemade cocktails!
---
100g

of fresh ginger, about

3/4 cup

of 1″ sized chunks or 3 finger-length pieces

1 cup

of sugar

1 cup

of water
---
Instructions
Prepare your ginger. You can peel the ginger or wash thoroughly and trim the 'armpit' sections off as dirt tends to hide in these nooks and crannies.
Cut ginger into 1-2″ sized chunks and add to a food processor. Run for 25-30 seconds until all ginger pieces are finely diced. You can dice by hand if you don't have a food processor.
Add diced ginger, 1 cup sugar, and 1 cup water to a small pot over medium heat and bring to a low boil.
Once boiling, reduce heat to low and simmer gently for 10 minutes, stirring occasionally.
After 10 minutes, pour the mixture through a fine sieve to separate the syrup from the ginger.
Keep the syrup stored in an air-tight container in the fridge for up to 2 weeks or 3 months in the freezer.
Give the syrup a shake or two prior to using once stored in the fridge as some settling will occur.
NOTE: You can use the spent diced ginger to make candied ginger! See post for details
---
Notes
** This does have a kick to it! To decrease the level of spice you can either blanch the ginger in water prior to making syrup or use half the amount of ginger. As this is a concentrate, we find the level of heat is quite nice when mixed into cocktails.
Keywords: Ginger Simple Syrup