This Orange Cauliflower recipe is a saucy/sweet/sour/ DELISH weeknight dinner that's a spin on the takeout favorite! Orange cauliflower is also vegan and keto. We made this a healthier orange sauce by adding turmeric into the mix because turmeric and cauliflower are an amazing combo!
If you're looking for a dinner recipe to dazzle your weeknight dinners, this is it! Orange cauliflower is a 30-minute meal from the first chop to final garnish that brings flavor to the table in a serious way.
Jump right to: How To Make It or our Keto Option!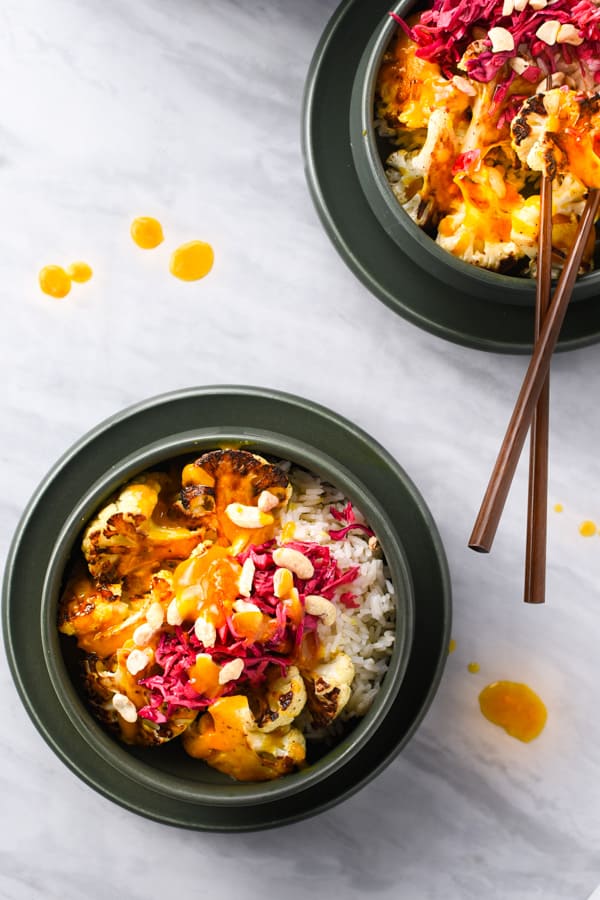 This Is A Healthier Orange Sauce With Turmeric!
Yes Yes YES y'all! Sneaking fresh or ground turmeric into this roasted cauliflower dish makes perfect sense… It adds to the brilliant orange color, turns up the flavor, and boosts the nutritional content– making you seriously triumphant in the 'what's for dinner' game!
If you're not a fan of the flavor of turmeric, feel free to leave it out. OR if you love turmeric and it's health bennies, add another 1-2 teaspoons! We have a lot of recipes that showcase this glowy orange spice– here is our list of turmeric recipes!
In addition to including turmeric, this recipe offers an option for using both fresh orange juice or store-bought orange juice as a base for the sauce.
How To Make Vegan Orange 'Chicken'
This dish is all about the SAWCE! Orange sauce is so addictingly satisfying because it's sweet and sour and tangy and umami all at the same time. The key to orange sauce is sweetness, yes I know we're all doing our best to be healthy but a sweet flavor is crucial for an amazing orange sauce on par with takeout.
First things first, we'll break down the cauliflower and get it roasting in a hot oven to pick up nice caramelization. While that cooks up there is ample time to make this simple pan sauce + any other garnishes and rice for serving.
Cornstarch makes this sauce quick and easy– thickens it up in a matter of minutes, guys. If you avoid corn you can absolutely simmer this in a cast iron pan to reduce and thicken it, it just takes about 15 minutes more.
Also, you can use fresh orange juice or bottled OJ. Fresh juice usually requires more added sugar/honey/maple syrup as bottled orange juice already has sugar added. Keep this in mind depending on which you use.
If you're using fresh oranges, which we highly recommend, we're also going to add the zest to the sauce for dialed-up orange flavor.
Related: My experience buying raw, organic turmeric online. Read it here!
How To Serve Orange Turmeric Cauliflower
One of the things we love about this turmeric cauliflower recipe is that you can prepare the sauce and other ingredients while the cauliflower is in the oven. We usually opt for building turmeric cauliflower bowls and adding piles of this sweet, saucy cauliflowery goodness on top.
If you want to serve this on rice with other vegetables you can add a second sheet pan in the oven with more veggies. Bell peppers, mushrooms, zucchini, and onions are all great choices!
How to build a Vegan Orange Cauliflower Bowl:
Start with a base of rice or quinoa, mixed greens or spinach, or sauteed squash & bell peppers
Add your sweet-sticky-delicious orange cauliflower
Load up on garnishes for flavor and color: cashews, sesame seeds, green onions, shredded cabbage, pickled jalapenos, chopped cilantro or basil, or more roasted veggies
The cauliflower bakes for about 15 minutes, giving you plenty of time to raid the fridge and prepare toppings for your bowls as the sauce simmers and the cauli bakes.
This recipe is great if you're in a cooking rut as it's flavor-forward and can be garnished up so appetizingly– perfect for both a fancy date night in OR a utility 'use up random refrigerator vegetables' night.
You can also make a double batch of the sauce and freeze half for later use, just defrost in the fridge and reheat over low heat, thinning with water as needed!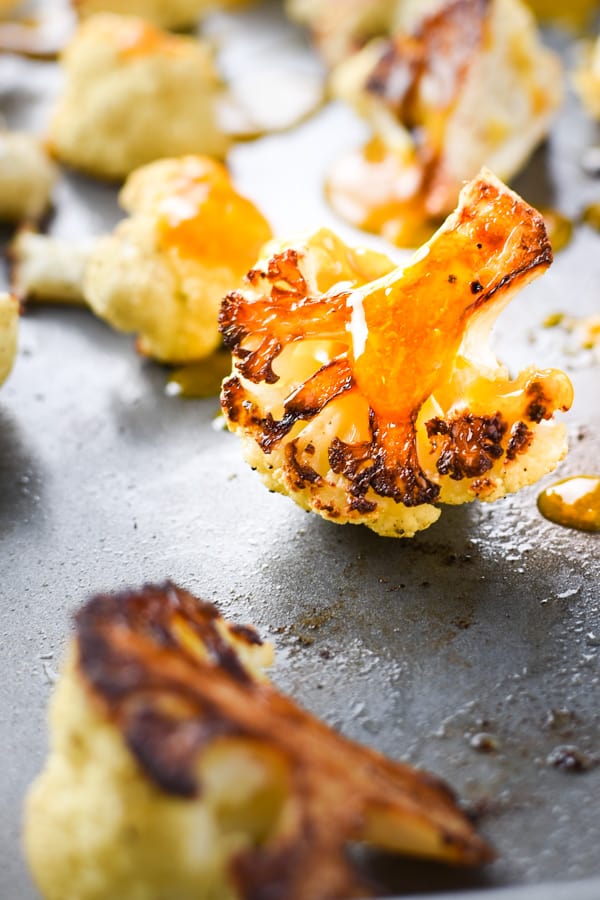 Keto Option
How on Earth is there a keto option for orange chicken? As oranges and orange juice both have large amounts of natural (and added!) sugars, they don't fall into the 'keto-friendly' foods list!
For the keto option, swap the orange juice for lemon juice + a keto sweetener. It's on a lot of Chinese restaurant menus and I LOVED it when I was a kiddo… it's orange sauce's partner in crime.
Lemon sauce is a tangy, sweet, tart glaze that is SO similar to orange sauce in all the ways we love! TRUST us, friends!
One last item you'll need to address is the corn starch– which is a keto no-no. Instead of using cornstarch we recommend simmering this sauce and reducing it down to a glaze.
A 10″-12″ cast iron skillet does a stand-up job of this as cast iron pans get very HOT and stay hot, expediting the reduction process! If you don't have a cast iron, simply use a wide & shallow pan vs a narrow & tall pan.
Here are the substitutions to make this recipe keto friendly:
Lemon juice instead of orange juice
Keto sweetener instead of sugar
No cornstarch slurry, simmer for 15 minutes to thicken
PS– for extra fat, you can drizzle some tahini on this when you serve it!
With these 3 alterations, you have yourself a delicious and easy vegan keto dinner recipe! You can use this sauce with cauliflower as detailed here OR with tofu, tempeh, or any protein of your choice.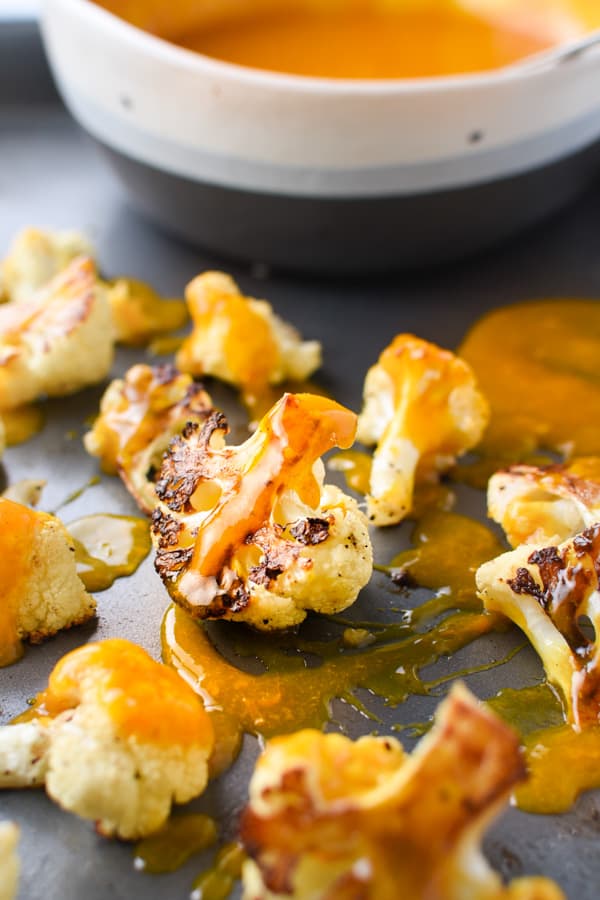 Print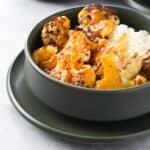 Orange Turmeric Cauliflower (Keto Option)
Author:

Adriana

Prep Time:

15 minutes

Cook Time:

25 minutes

Total Time:

30 minutes

Yield:

4

orange cauliflower bowls

1

x

Category:

Recipes

Method:

Oven

Cuisine:

Chinese
---
Description
Orange cauliflower is a weeknight meal sure to spark rave reviews from your loved ones– plus this sneaks some good-for-you turmeric in the mix! T-minus 30 minutes until your next delicious dinner.
Also: You can buy raw, organic turmeric online- here's the best on Amazon.
---
For the cauliflower:
1

medium head of cauliflower, chopped into equally sized 2-3″ pieces

1 tablespoon

olive oil 
salt and pepper to season
The sauce: (For keto option, see notes section below!)
1 cup

orange juice + the zest (

3

–

5

oranges depending on size, skip zesting if using bottled OJ)

3 tablespoons

rice vinegar

3 tablespoons

sweetener ( sugar, honey, or maple syrup)

1

" fresh ginger finely grated or

1 teaspoon

powdered ginger

2 teaspoons

soy sauce or coconut aminos

2 teaspoons

ground coriander

1 teaspoon

turmeric (more if you're up for it!)

2 tablespoons

sesame oil

2 tablespoons

cornstarch +

2 tablespoons

water to thicken
---
Instructions
Preheat the oven to 400F and prepare the cauliflower head. Remove the leaves and cut cauliflower into equally sized florets, about 2-3″ in size. Equally sized pieces help the cauliflower cook evenly. Toss the florets with 1 tablespoon oil and a pinch of salt and pepper in a mixing bowl.
Lay the cauliflower out in a single layer on a sheet pan, preferably with the flat knife-edge touching the pan for better browning. Roast for 15 minutes.
While the cauliflower is roasting: start cooking rice or quinoa or prepare a bed of greens to serve the cauliflower on.
For the sauce: If using fresh oranges, zest the oranges then juice them, straining the seeds. If using fresh ginger, peel the 1″ knob of ginger and grate it on a microplane.
Add the orange juice, zest, and ginger to a pot on the stove. Add vinegar, soy sauce, ground coriander, turmeric, sweetener, and sesame oil and stir to combine. 
Heat over medium heat until boiling. While the sauce is heating up, make the cornstarch slurry: stir 2 tablespoons cornstarch into 2 tablespoons water in a cup or small mixing bowl. Set aside.
When the sauce comes to a boil, reduce heat to low. Stir the corn starch slurry once more as it can separate, then add to the sauce stirring well to combine. The sauce will thicken within 1-2 minutes. Cover and turn off the heat.
When cauliflower is done, run a spatula underneath all florets to loosen them from the baking sheet. Drizzle half of the sauce over the cauliflower florets and gently mix to combine. This recipe makes about 1 cup of sauce, which may be more than you need based on the size of your cauliflower head and your preferred 'sauce' level.
Spoon your orange cauliflower over rice, quinoa, or mixed greens and top with other veggies/ pickled veggies, cashews, sesame seeds, or your preferred garnishes!
---
Notes
For the keto option:
1 cup lemon juice + the zest (4-6 lemons depending on size, skip zesting if using bottled juice)
3 tablespoons rice vinegar
5 tablespoons keto sweetener (or more to taste)
1″ fresh ginger finely grated or 1 teaspoon powdered ginger
2 teaspoons soy sauce or coconut aminos
2 teaspoons ground coriander
1 teaspoon turmeric 
2 tablespoons sesame oil
Add all ingredients to a shallow, 10-12″ pan, preferably a cast iron pan as this works well to reduce sauces. Heat the sauce to boiling, then reduce to a high simmer stirring occasionally. Watch the sauce closely– as it reduces down you'll need to lower the heat to maintain a simmer. It will take from 10-20 minutes to thicken appropriately.
** If you fall a bit short on orange juice from fresh oranges, juice and zest them and sub water for any remaining portion needed to reach 1 full cup.
** If using bottled orange juice you may not need as much sweetener as bottled orange juice usually has added sugar.
** If after thickening the sauce and a final taste you find you want to add more sweetener you can as long as it's a liquid sweetener so it will dissolve into the sauce.
Keywords: Orange Cauliflower, Turmeric Cauliflower