Adriana has published hundreds of recipes online and is a Board Certified Nutritionist. Read our recipe development process or more about Adriana.
Here's a vegan pancake mix recipe for those of you who eat pancakes on the regular and want to streamline the cooking process in the morning. We make pancakes several times per week and love having this mix around!
It's faster, fewer dishes to wash, and it's SO easy. The counters are less of a mess without having to measure all the dry ingredients and you could make this recipe as simple as just adding milk!
Let's make plant-based pancake mix!
(This post may contain affiliate links. That means I'll get a small commission on any sales made through those links. Read our full disclosure.)
How To Make Vegan Pancake Mix
Homemade vegan pancake mix has a few benefits over a storebought which is part of why we love making it! First, you control the ingredients– whether it's salt, sugar, or preservatives you're concerned about, with this recipe, it's all in your hands! Second, making your own is MUCH more affordable than purchasing a pre-made pancake mix. Lastly, you can make a substantially larger batch than you can purchase.
Pancake mixes vary in ingredients, however, the basics across most brands and recipes are: flour, leavening agent(s), salt, and sugar! That's all.
In this recipe, we'll use all-purpose flour, baking powder, baking soda, sugar, and salt in the mix. Add all ingredients to a large mixing bowl and mix very well to combine. Voila!
We recommend storing it in a large jar and labeling it. To make things real simple for other members of your household, add the basic pancake recipe to the jar as well. Then who knows, maybe someone will cook breakfast for you one morning 😉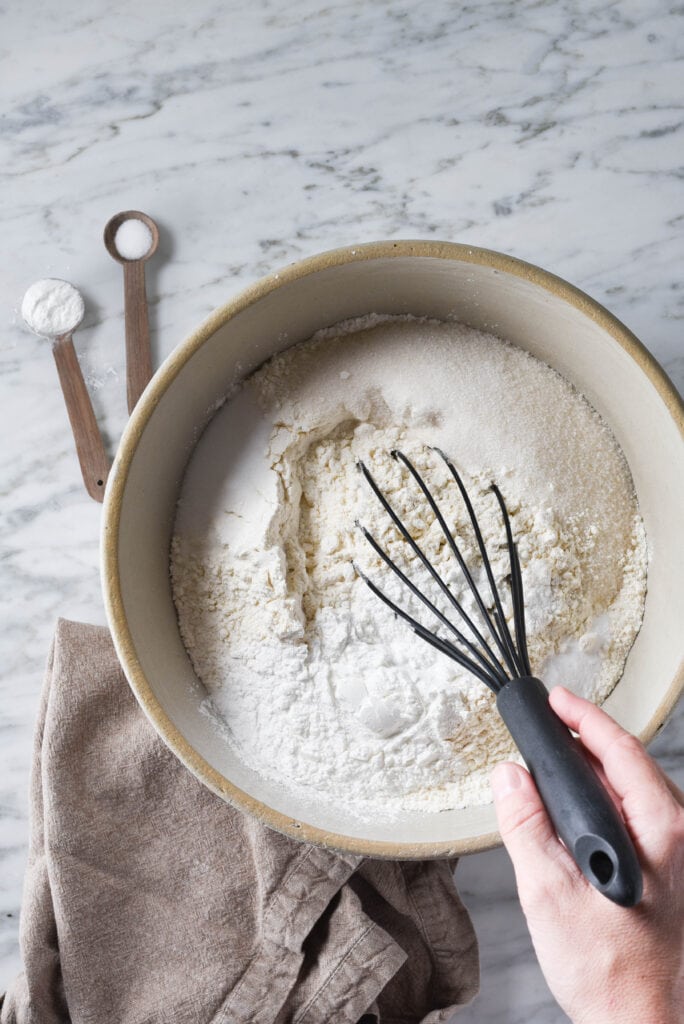 How To Use This Mix For Pancakes
Your dairy-free pancake mix is made and you're ready to go– here's our go-to ratio for making the best vegan pancakes!
1 cup vegan pancake mix
1 tablespoon neutral-flavored oil
3/4 cup – 1 cup milk
1 teaspoon vanilla extract
1 teaspoon lemon juice (or sub 1 teaspoon white or apple cider vinegar)
Add all wet ingredients to a mixing bowl and mix to combine. Measure and pour dry pancake mix on top of the wet ingredients and whisk until just combined– lumps are okay. Heat up your skillet or griddle over medium heat and let your batter rest. The batter will thicken as the baking powder and baking soda begin to bubble up.
Once the pan or griddle is hot, use a measuring cup to scoop 1/3 cup portions of batter on to cook. Cook for about 3 minutes on the first side, until the edges are matte and dry looking (not shiny like the center of the pancake) and there are a few holes (bubbles that have popped) on the surface. Cook for an additional 1-2 minutes on the second side.
Tips On The Amount Of Milk
The consistency of the batter in vegan pancakes, in any pancakes, is a big part of the final texture of the pancakes! As vegan pancakes don't have eggs they can end up slightly gummy sometimes. We think less milk (or other liquid) is a great remedy for this! Read on.
A thinner batter (more liquid) delivers a thinner pancake once cooked, especially in a batter without eggs. In comparison, a thicker batter (less liquid) delivers a thicker, taller, and more biscuity pancake. The thicker batter seems to help keep more carbon dioxide bubbles trapped within. This results in an airy, fluffy, not gummy pancake!
A thinner pancake batter is helpful in making perfectly circular pancakes as it will spread more, whereas a thicker batter won't spread much and will create imperfect-shaped pancakes.
Thinner pancakes will cook faster, thus are easier to cook at higher heat (medium-high). Thicker pancakes cook slower and are better served over medium heat.
For these reasons, we prefer 3/4 cup liquid and 1 cup pancake mix! Play around with the ratios over time to find the perfect pancake for your preferences!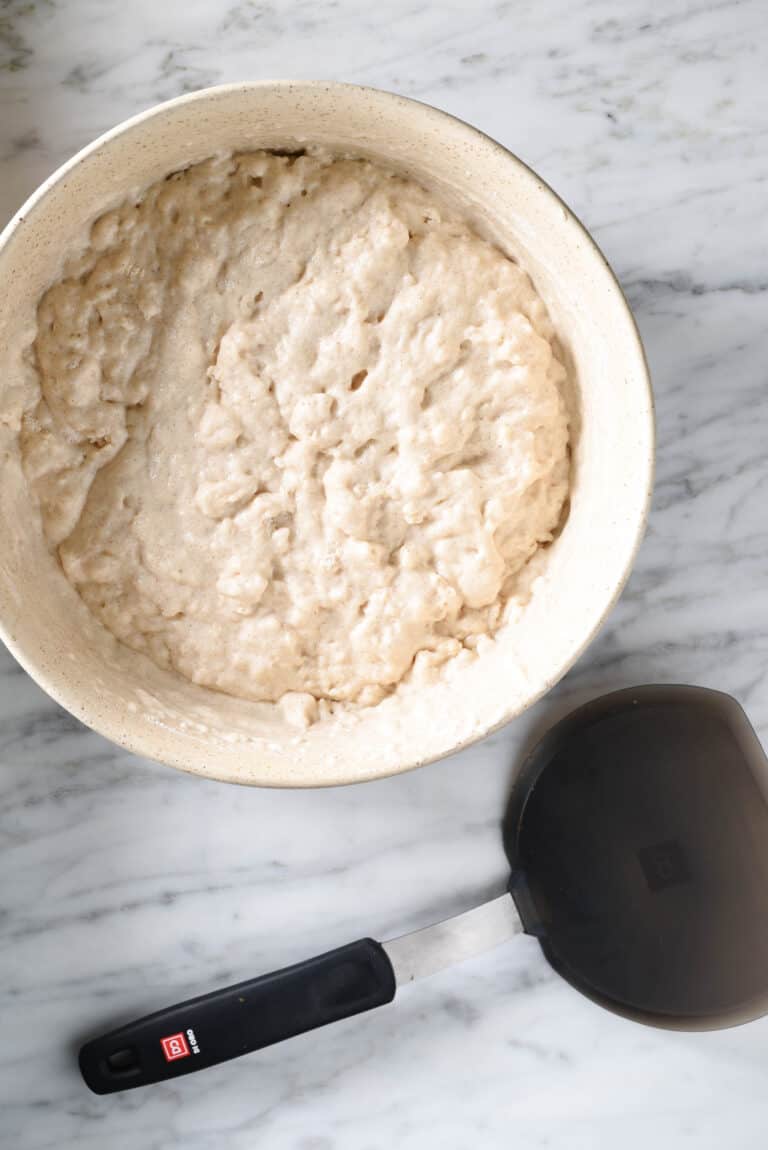 Variations on using dry pancake mix
While the base and utterly delicious recipe detailed above is what we recommend, we know some mornings are too hectic and some households have different ingredients on hand. Here are a few alternative ratios to use:
1 cup pancake mix, 1 cup yogurt, + milk or water to thin as needed- depending on the thickness of the yogurt. Omit vinegar or lemon juice if using yogurt!
1 cup pancake mix, 1 cup water or coconut water
1 cup pancake mix, 1/4 cup jam or jelly, 3/4 cup milk
1 cup pancake mix, 1/2 cup mashed banana, 1/4 cup milk
Tip For True Pancake Lovers: Use An Entire Bag Of Flour!
Pardon me? Turn an entire bag of flour into pancake mix? We vote yes! If your household consumes pancakes on the regular, save time and effort and simply buy an extra bag of flour to make a large batch of pancake mix! Our recipe is below.
Note: Most flour where we live is sold in 5lb bags at the grocery store which roughly equals 18 cups of flour. For those who are incredibly specific and bake by weight, keep in mind each brand of all-purpose flour lists a slightly different weight per cup on the nutrition information panel and it can vary by up to 10 grams per cup. This recipe is not scaled by exact weight, but by volume and basing a 5lb bag of flour at 18 cups!
5lb pancake mix recipe:
18 cups (entire 5lb bag of all-purpose flour)
1 cup sugar
3/4 cup (12 tablespoons) baking powder
6 teaspoons salt
3 teaspoons baking soda
FAQs About Vegan Pancake Mix
How many cups of pancake mix does this recipe make? This recipe makes approximately 20 cups of pancake mix.
How many pancakes does 1 cup of mix make? This depends on the size of your pancakes, but for 1/3 cup-sized pancakes, 1 cup of mix will make about 4-5 pancakes.
How long is DIY pancake mix good for? Homemade pancake mix is good for up to 6 months.
Print
Vegan Pancake Mix
Author:

Adriana

Prep Time:

10 minutes

Cook Time:

0 minutes

Total Time:

10 minutes

Yield:

8 cups

mix

1

x

Category:

Vegan Breakfast

Method:

Cold Prep

Diet:

Vegan
---
Description
Homemade vegan pancake mix is the perfect way to get breakfast on the table quickly in the morning. This recipe lists instructions for 2 different batch sizes of DIY pancake mix, how to make pancakes from a mix, and variations on the base recipe!
---
7.5 cups

all-purpose flour

3/4 cup

sugar

5 tablespoons

baking powder

2.5 teaspoons

salt

1.25 teaspoons

baking soda
---
Instructions
Measure and add all ingredients to a very large mixing bowl. Mix well using a large balloon whisk for several minutes until all ingredients are thoroughly combined.
Store in a large container and label.
Use within 6 months.
To Make Pancakes:
1 cup vegan pancake mix
1 tablespoon neutral-flavored oil
3/4 cup – 1 cup milk
1 teaspoon vanilla extract
1 teaspoon lemon juice (or sub 1 teaspoon white or apple cider vinegar)
Mix all wet ingredients into a bowl, then mix in the dry pancake mix. This helps to ensure there are no dry pockets of flour.
Mix until just combined, some lumps are ok. Ladle 1/3 cup portions onto a griddle or skillet over medium-low heat.
Cook for 2-3 minutes on the first side. Flip when the edges of the pancake look dry or matte. There may be small holes or bubbles around the edges as well. 
Cook on the second side for 1 more minute then remove.
See full tips & walkthrough on our vegan pancake post.
---
Notes
Every brand of flour lists slightly different weights per 1 cup on the bag, that is why this recipe only lists volume measurements.
To add mix-ins, use 1/2-1 cup per cup of pancake mix. 
Keywords: vegan pancake mix, homemade vegan pancake mix