Homemade strawberry syrup is a sweet and flavorful addition to drinks, pancakes, desserts, and more. It comes together in about 20 minutes and lasts for several weeks in the refrigerator. This syrup tastes best with fresh in-season strawberries at the peak of ripeness but frozen strawberries will work as well.
This recipe is versatile and will walk you through tips on how to customize strawberry syrup for your household preferences– thicker, thinner, rustic & chunky, or silky smooth. Once you learn the basics of making a syrup you can swap strawberries for many other fruits and berries.
*Cheers* Saturday Brunch just got fancy.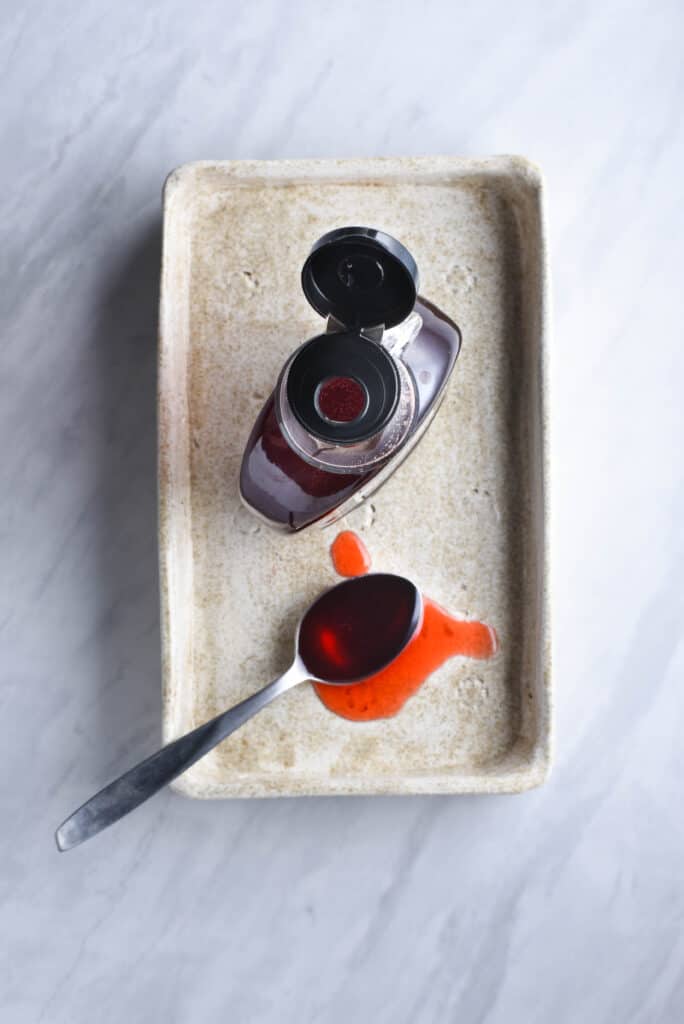 How To Make Strawberry Syrup
Making strawberry syrup, whether for pancakes & waffles or for drinks & cocktails, is a simple process in the kitchen.
You'll need 3 cups of whole strawberries or 1.5 cups quartered strawberries, sugar, water, and a pinch of salt to get going.
Wash and hull strawberries if using fresh. If using frozen strawberries, defrost overnight in a bowl in the fridge.
Simmer with sugar, water, and salt then gently stir and mash the berries to help them release all their juices.
Simmer to thicken (or use cornstarch, listed as an option in the recipe card)
Strain your syrup or leave it thick and chunky! For drinks, we like a silky, strained syrup but for pancakes, waffles, and desserts we're here for the chunk!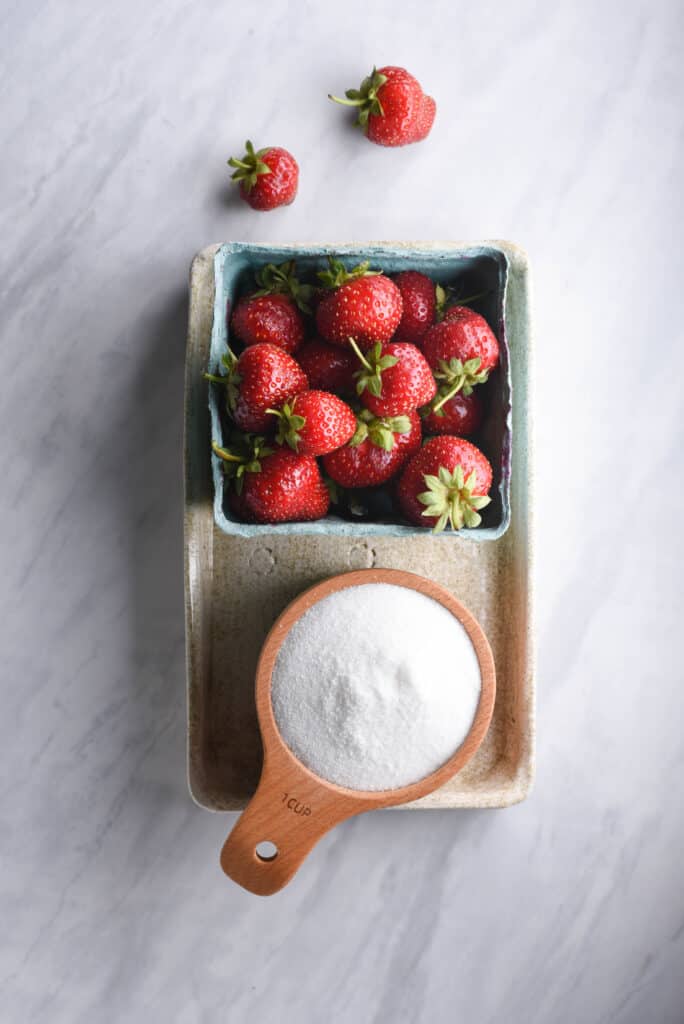 Related: Jalapeno simple syrup | Brown Sugar Syrup | Lavender Syrup | Raspberry Syrup
Strawberry Pancake Syrup
When we think of pancake syrup (mmmm pancakes) it's sweet, thick, and warm. It deliciously coats the surface of pancakes and pools on the plate for dipping as well. Excellent breakfast. Strawberry pancake syrup does this even better than the maple variety =)
Fresh pancakes with strawberry syrup is the ultimate late spring/early summer breakfast that is sure to be a hit with your family and friends.
Strawberry syrup also pairs wonderfully with butter and whipped cream, which we're all about for our pancakes at breakfast! Additionally for use as a breakfast syrup we don't strain this recipe, we leave the strawberry chunks suspended in the syrup for little bites of strawberry goodness.
The key to strawberry pancake syrup is thickening.
There are a few different ways to thicken a syrup and these methods yield different results. You can use cornstarch to thicken a syrup or you can simmer to evaporate liquid and thicken it.
Key points on thickening with cornstarch:
Cornstarch doesn't fair well for reheating, too much exposure to heat can actually reverse the thickening action!! This is why cornstarch is usually added toward the end of cooking! So, if you think you'll consume your syrup over a couple occasions, it may not be the best thickener.
Sauces & condiments thickened with cornstarch don't freeze well, the texture changes and is mushy or spongey once defrosted.
The flavor isn't as concentrated and strong in comparison to reducing- simmering the syrup for an additional 10-15 minutes.
The texture isn't as silky smooth… cornstarch is a starch, so it adds 'heft' to your syrup versus an ultra smooth syrup.
Both methods work well for this strawberry syrup! Cornstarch is best used when you're pressed for time and don't intend to have leftovers.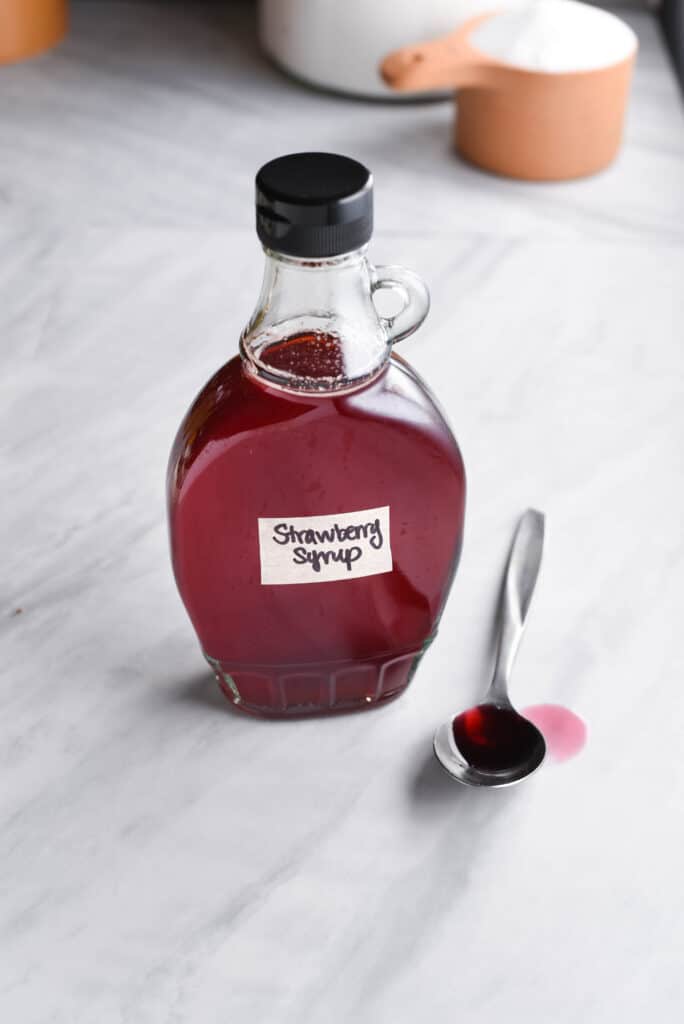 Strawberry Simple Syrup (For Drinks)
Syrups are perfection for sweetening and flavoring any beverage- especially cold beverages. Adding sugar to a cold beverage gets you grainy sips of sweetness in the last few swigs instead of an evenly smooth and sweetened drink. Strawberry syrup mixes in beautifully to beverages!
You can use strawberry simple syrup for cocktails, mocktails, lemonades, and iced teas and coffees. It also makes a lovely strawberry milk, a childhood favorite for many of us. It's a wonderful homemade concentrate to use!
To use strawberry syrup in beverages, start with 1 tablespoon of syrup per 8oz of liquid and adjust to your liking! Depending on the beverage, you'll likely need 1-3 tablespoons of syrup per 8oz of liquid.
Also for strawberry milk, lemonade, or cocktails that would typically use a store bought syrup, this recipe has the added benefit of natural ingredients– no thickeners, modified sugars, artificial colors, or preservatives added!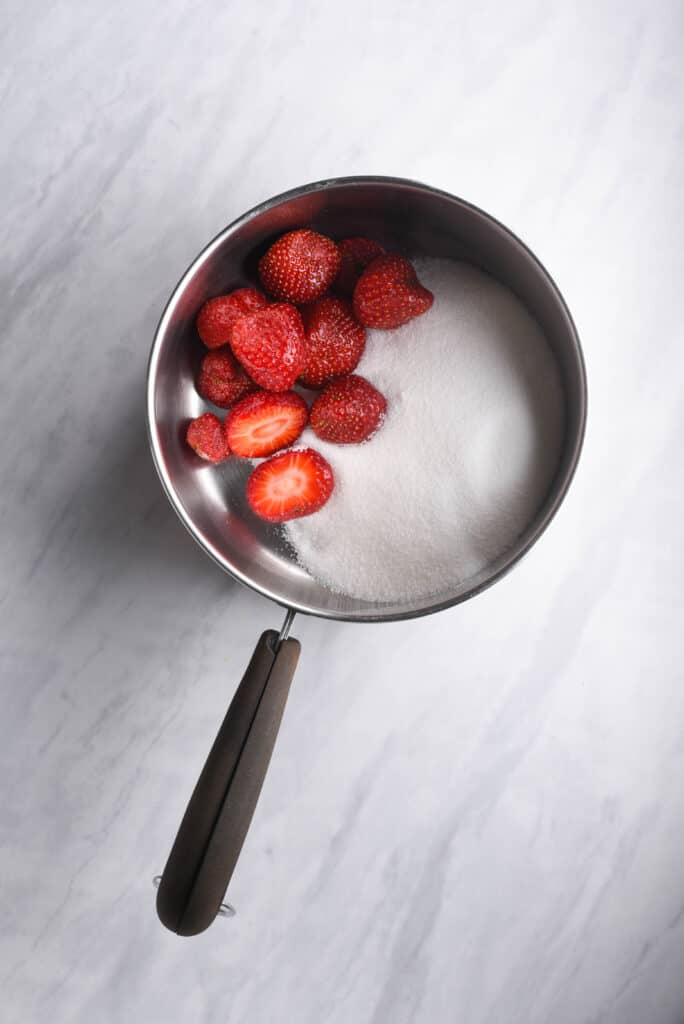 Strawberry Syrup For Desserts
This strawberry syrup recipe can be altered to use in a variety of desserts as well! It adds a big strawberry flavor to anything you add the syrup to– it can amp up strawberry shortcake, pavlova, frosting, cupcake/cake batter, pudding, chia pudding, and so much more.
Here are common desserts we see strawberry syrup used in:
For Cheesecake:

For a delicious summery strawberry cheesecake syrup, we recommend not straining the syrup with the strawberry pieces and not overly mashing the berries. This results in a nice fruit syrup with chunks of fruit for added texture and flavor. (And it looks so appetizing atop a cheesecake!)

For Cakes:

As you use a plain simple syrup to add sweetness and moisture to layer cakes, you can use strawberry syrup to do so as well! Simply ensure you strained and cooled the syrup, then brush on just as you would with plain sugar syrup.

For Ice Cream:

Simple syrup is a fantastic way to really dial up the flavor of homemade ice cream without adding too much liquid that will freeze hard and icy versus smooth & creamy. Double win!
How To Store
Strawberry syrup needs to be stored in an air tight container in the refrigerator. A pint size mason jar (16 oz.) is perfect as this recipe makes 10-12oz of syrup. Stored in the fridge, simple syrups can last up to 2-3 weeks!
Storing this in a flip top bottle or other container with a pour spout is easiest and creates less of a mess as you use it. That said, we usually use mason jars simply because we have so many of them!
You can also freeze simple syrup. Due to the sugar content it won't freeze solid but firm up into a gel-like texture. Strained strawberry syrup will keep for 2-3 months in the freezer!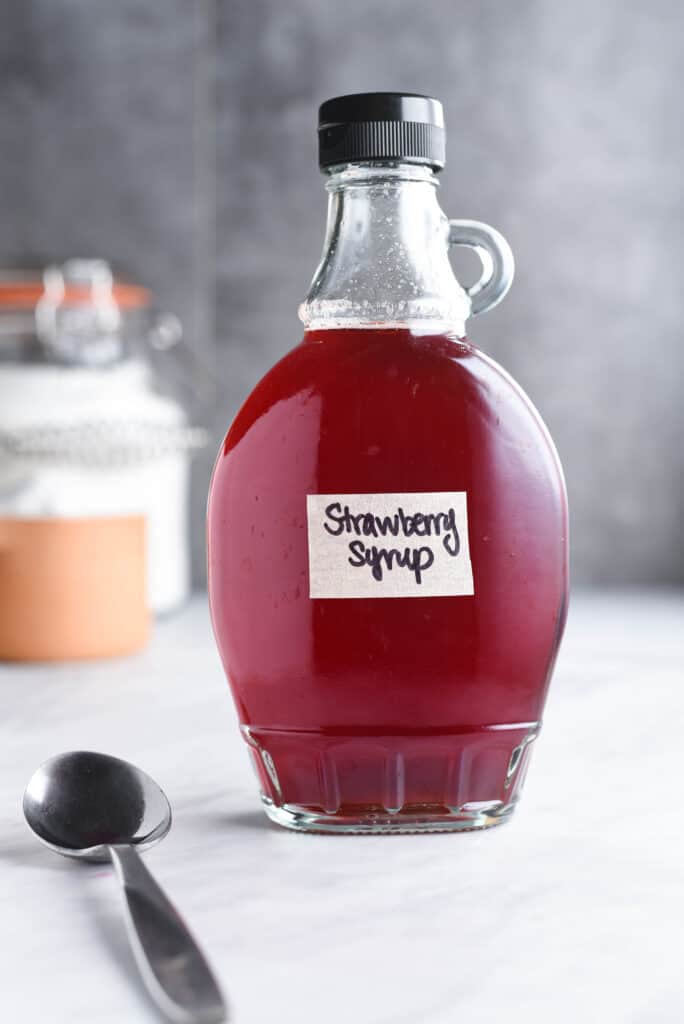 A Great Way To Use Extra Strawberries
Strawberry syrup is a lovely way to use up excess strawberries, mushy or overripe strawberries, or leftover strawberries from another recipe.
Whether you went strawberry picking or caught a great deal at the grocery store, if you have heaps of strawberries on hand this syrup is a great way to capture and preserve that fresh strawberry flavor for a few months.
Make a double or triple batch and pop it in the freezer for 2-3 months.
Variations & Substitutions
Add lemon Juice: Sub 1/4 cup of the water for fresh lemon juice for a bright citrusy punch.
Add vanilla extract: Stir in 2 teaspoons of vanilla extract once you remove from heat. If you are straining the syrup, add after straining.
Use orange juice instead of water: This adds more flavor and sweetness.
Go herbal: Try adding a small spring of rosemary, basil, or thyme to the syrup as you simmer it. Don't chop the herbs, keep whole so you can remove them after simmering.
Try another berry: Blueberries, raspberries, and blackberries will all work in this equation! The ripeness of the berry will determine how sweet the syrup is.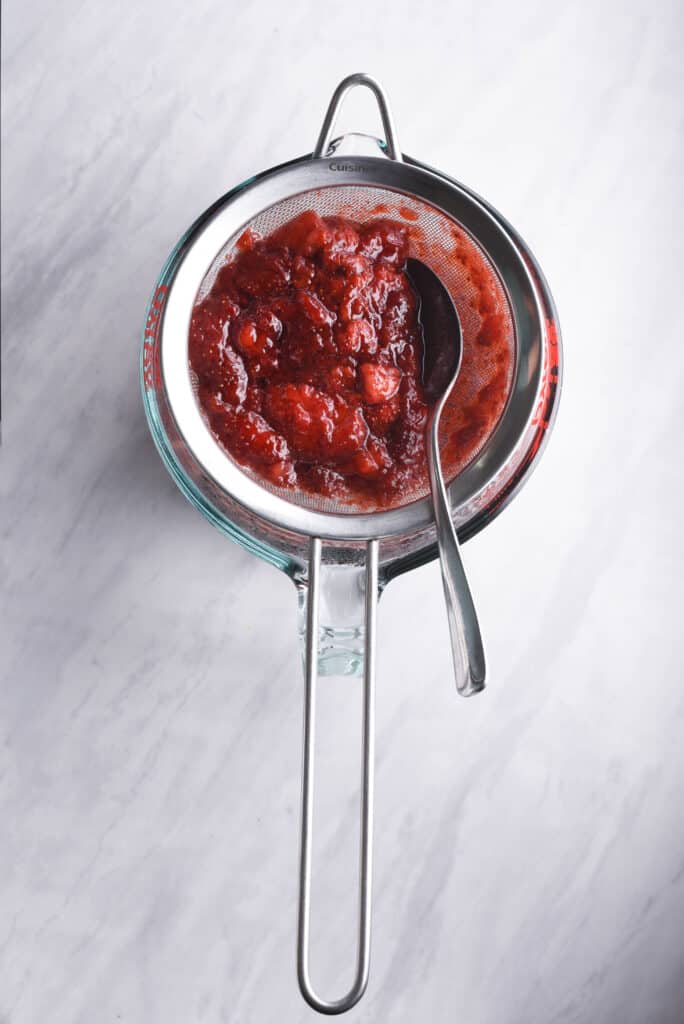 FAQs
Can you use frozen strawberries? You can use frozen strawberries to make strawberry syrup as long as you defrost them overnight in the fridge. However, fresh strawberries during peak season will deliver a far better taste and aroma than frozen. Using frozen strawberries is a great alternative in the cold months when access to fresh strawberries is limited.
Can you process the syrup in a blender? You can blend the syrup for a naturally thicker syrup but it will still have strawberry seeds and pulp present. For the silkiest syrup we prefer not to blend but strain the syrup with the chunky strawberry pieces as it's easier to pass through a sieve.
Can you reduce the amount of sugar used? Sugar is used to both sweeten and thicken the syrup so we don't recommend decreasing the amount of sugar. The syrup will be much thinner with less sugar.
Can you make a double batch of strawberry syrup? Yes, you can easily double or triple this recipe if you're feeding a large group or would like to have leftover syrup to freeze or store.
Print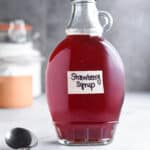 Strawberry Syrup
Author:

Adriana

Prep Time:

5

Cook Time:

15

Total Time:

20

Yield:

~1 cup

Category:

Syrups

Method:

Stovetop

Cuisine:

American
---
Description
This strawberry syrup recipe will walk you through how to make strawberry syrup for drinks, breakfast pancakes, lemonade, and cheesecake! It's also a great recipe to use up old strawberries.
---
3 cups

whole strawberries (or

1.5 cups

quartered)

1 cup

sugar

1 cup

water
pinch of salt (1/8 teaspoon)
---
Instructions
Wash and hull strawberries.
Add strawberries, 1 cup sugar, 1 cup water, and a pinch of salt to a small pot over medium heat, stirring occasionally until the mixture reaches a simmer.
Once simmering, use a fork or potato masher to gently mash the strawberries to help release more of their juices. A chunky texture is good, a few gentle mashes are all you need to slightly macerate the strawberries. Stir again after mashing
Allow the mixture to gently boil on medium heat for 10-15 minutes, stirring occasionally.
As the syrup thickens and reduces you may need to lower the heat to avoid burning. Keep a close eye on the syrup as it boils.
The syrup is ready when a spoon dipped into the mixture leaves a thick coating of syrup on the spoon.
While warm, the syrup will be runny when warm and thicken once cooled in the fridge.
If you are going to strain the syrup, it's easier to do so while it's warm. Pour the syrup through a fine mesh sieve to strain out strawberry pulp and seeds.
Strawberry syrup can be stored in the fridge for up to 2-3 weeks or in the freezer for 2-3 months! 
Alternatively, to reduce cook time and thicken with cornstarch:
Follow the recipe through step 4.
Combine 1 tablespoon cornstarch and 1 tablespoon cold water together, mixing well until fully incorporated to make a slurry.
Pour cornstarch slurry into the simmering strawberry syrup, stirring well to incorporate, and allow to boil for 1-2 minutes until thickened, stirring frequently. Do not over-boil or the cornstarch can lose its thickening properties.
---
Notes
If using frozen strawberries, the texture will be softer and you may not need to mash the berries. Use the defrosted strawberries AND their juices as the juices have a lot of flavor.
To warm syrup before using it, you can either microwave the syrup (if it is stored in a microwave safe container) or fill a large mixing bowl with very hot water and place the sealed container of syrup in it. Do this prior to making your pancakes and you'll have perfectly room temp/slightly warm syrup when your pancakes are ready! Give the syrup container a shake once or twice as it steeps in the hot water bath.
Keywords: Strawberry syrup, strawberry simple syrup
More Strawberry Recipes: