We are coming to you today with a masterpiece: Vegan Bechamel Sauce! Some might call it a creamy vegan sauce, a vegan pasta sauce, or a vegan white sauce; whatever you call it, this sauce is simply phenomenal! It's cozy and comforting and so incredibly versatile.
The basic vegan bechamel recipe requires about 15 minutes and 3 ingredients- the key to this recipe is the technique and timing. Once you have the art of the bechamel in your toolkit, you can expand on this recipe to make so many different sauces and creations.
It's SO easy and SO tasty.
(This post may contain affiliate links. That means I'll get a small commission on any sales made through those links.)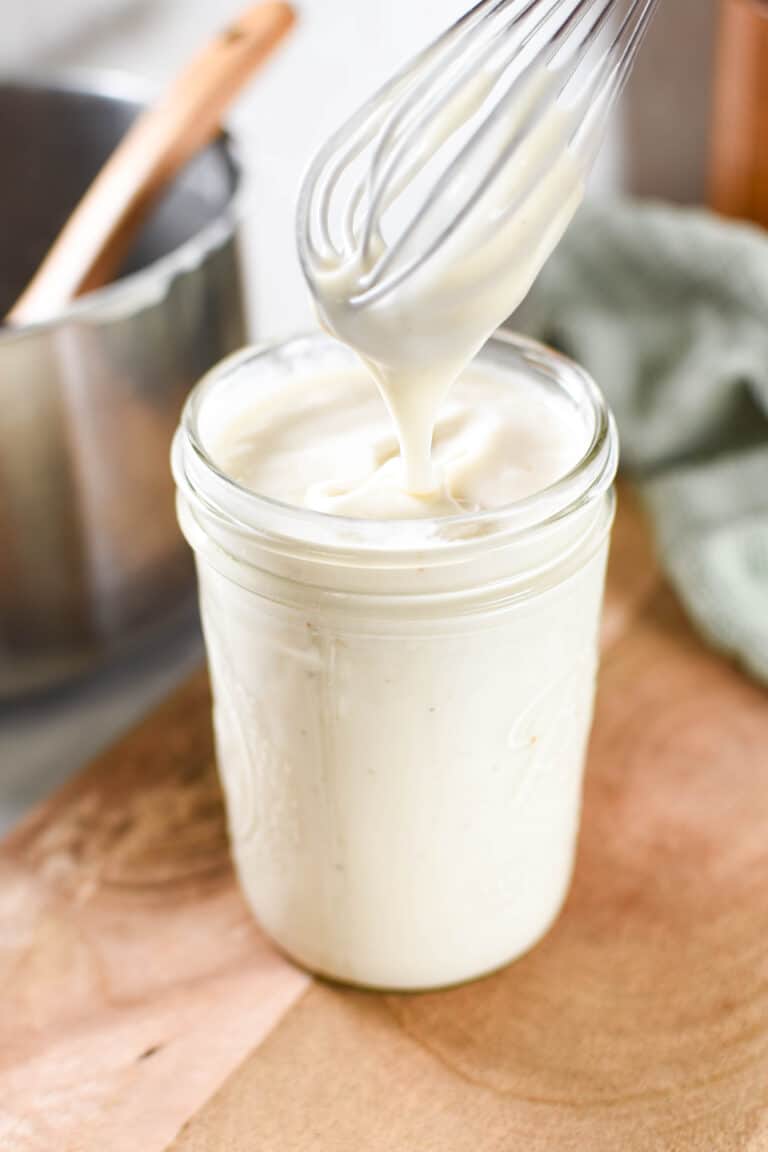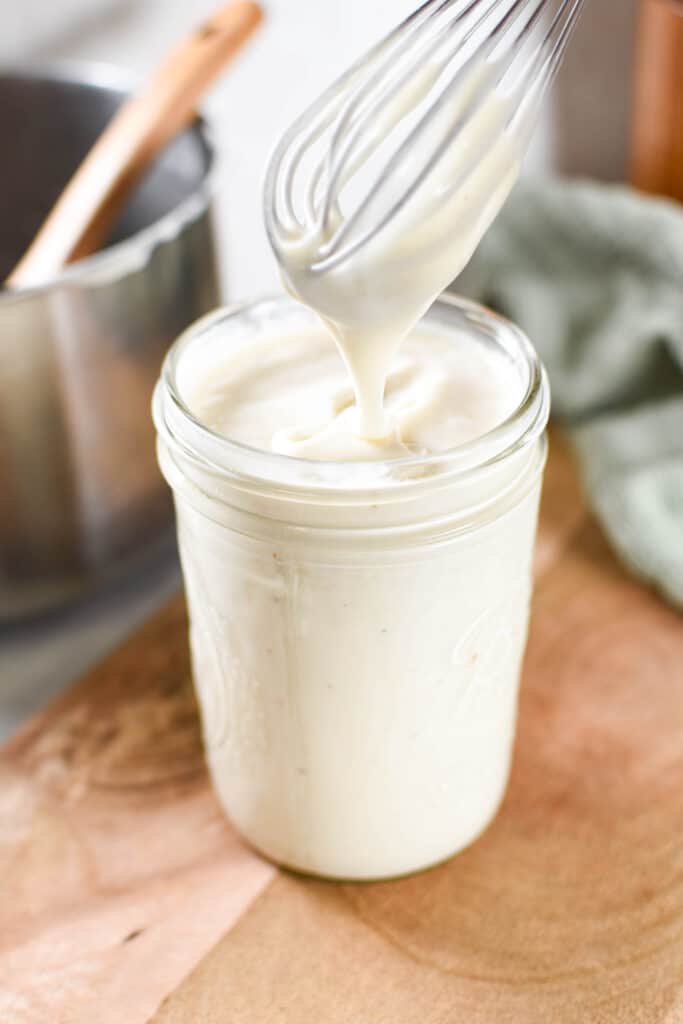 What Is Bechamel Sauce?
Bechamel is a foundational element of french cooking, it's one of the 5 mother sauces, and it's used to create thousands of recipes. If you've had homemade mac and cheese, gravy, scalloped potatoes, lasagna, or a croque monsieur, then you have experienced the wondrously satisfying effect bechamel sauce has on a dish.
To make a bechamel you only need 3 ingredients: fat (butter or oil), flour, and milk. A roux is made using equal parts butter and flour, then milk is added to transform the flour paste into a sauce. It sounds fancy and complex but it's actually simple and perfect. Again, 3 ingredients and 15 minutes!
The consistency of a bechamel can be adjusted by the amount of milk used, making it a highly versatile sauce. Furthermore, the flavor can be adjusted by adding in a wide variety of herbs, spices, vegetables, and ingredients.
You can't go wrong.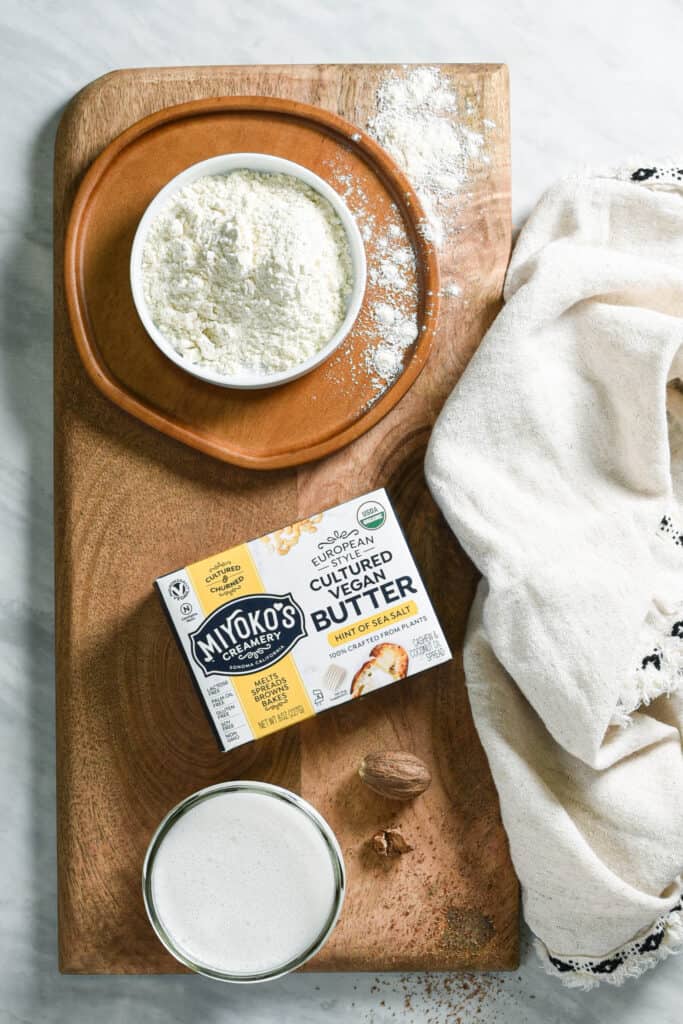 How to make a vegan bechamel sauce?
Veganizing a bechamel is very simple– we're going to use plant based options for the butter and milk. Most vegan cooks have dairy free butters and dairy free milks already at home in the fridge so you can likely whip this up without running to the store. This is a very quick vegan weeknight dinner recipe that we make on repeat!
Here are the steps to a delicious vegan bechamel sauce:
Melt butter in a pot (helpful for avoiding splashes while whisking)
Once butter is fully melted, add flour and whisk to fully combine
Cook this flour paste for 2-3 minutes, stirring frequently
Slowly add in milk in ⅓ cup increments and whisk to incorporate until all milk has been added
Continue to simmer until desired consistency is reached then season with salt/pepper & serve.
And there you have it! A creamy vegan pasta sauce in 10 minutes.
We'll be totally transparent: if this is one of your first few times making a bechamel it may take longer than 15 minutes as the cooking method may be new to you. You might spend time going back and forth between the recipe, whisking the bechamel, and double checking as you go. Regardless, it will come together quickly and, just like with any recipe or cooking method: the more you make it, the faster you'll become!
Storing A Vegan Bechamel
This sauce will keep for about 5 days in the refrigerator and can be used in so many ways! Bechamel or white sauce does form a skin on it as it cools, similar to gravy (as many gravies are made using this same technique!), so you'll need to whisk a bit to re-incorporate and melt the skin when you reheat the sauce.
You can freeze a bechamel but note it will likely separate when you defrost it. Bechamel sauce needs to slowly defrost overnight in the fridge and you'll need to whisk a bit as you reheat it to integrate the sauce back to a creamy state.
Tips On Making A Vegan Bechamel
Ok, let's arm you with some tips to make a vegan bechamel properly and quickly! We've this base bechamel recipe HUNDREDS of times and have absolutely picked up some tips along the way we want to offer up to you:
Tip 1: Use a pot instead of a pan as you will need to whisk, a lot. Splatters may happen, especially if you're frantic. (we've all been there) There may be times where you think the sauce is broken (it isn't) but you'll need to whisk a lot to ensure the sauce remains incorporated.

Tip 2: Use a long-handled whisk to help keep your hands from being too close to the cooking sauce and contact with steam.

Tip 3: Whisk the entire bottom of the pan: the round corners are sometimes neglected and can hold onto bits of the flour/butter paste. Ensure you are frequently whisking all along the edges of the pot for a smooth and silky sauce.

Tip 4: Thoroughly cook the flour/fat mixture: The roux (flour/fat mix) needs to cook for 3-5 minutes to cook the flour and cook out any raw flour taste. When the roux is ready it will appear a little puffy, bubbly, and will smell a bit toasty or nutty.

Tip 5: Adjust the heat: start on Medium-low heat and increase the heat to medium as you add milk. You don't want to burn your roux, which is small in volume BUT you want the milk to simmer quickly each time you add it to help cut down on the amount of time this recipe takes. Make your roux on a lower heat and turn the dial up as you add the milk.

Tip 6: Use cold milk: This is a classic rule in roux-making! To avoid clumps or curdling, cold milk should be added to the hot butter/flour mixture.

Tip 7: Add the milk in small increments: If you accidentally add too much milk, or all the milk, at once it's okay! The sauce isn't ruined and will still turn out– it will simply take much longer to simmer. We usually add 3 cups of milk in 4 increments, a bit at the beginning to form a paste, then about 1 cup portions each time.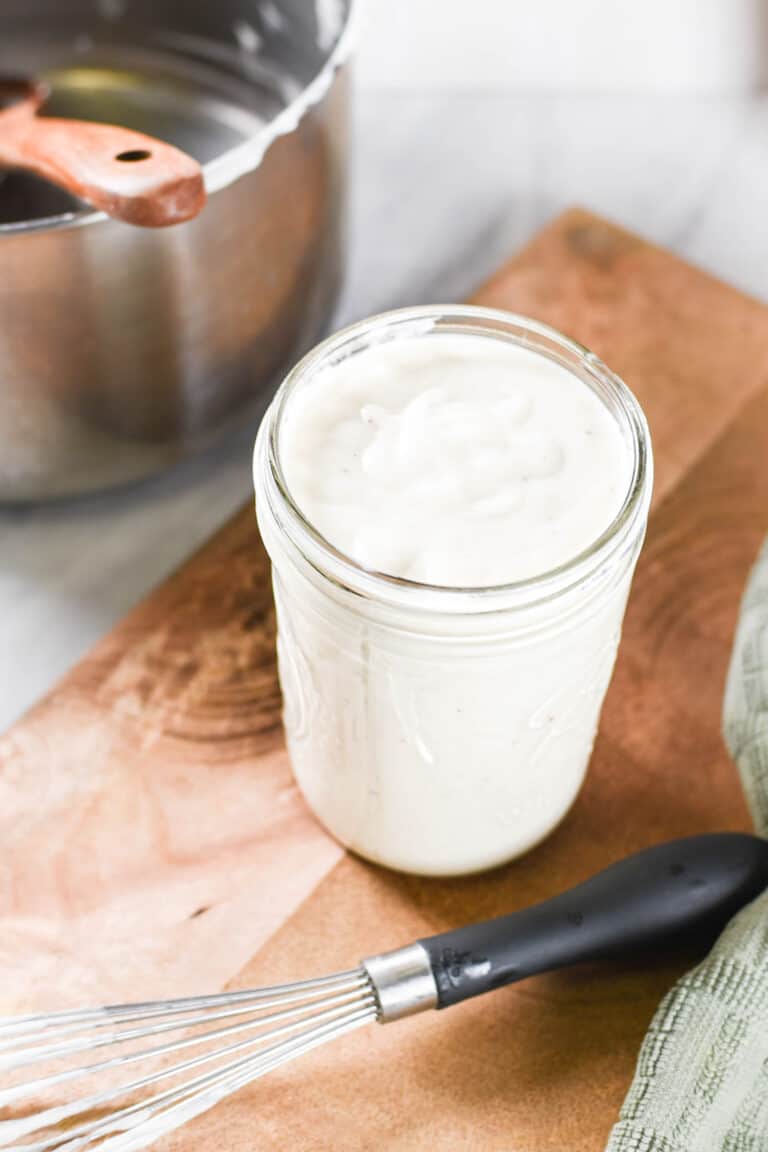 Variations To This Creamy Vegan Sauce
Alright, on to the fun stuff! Bechamel is a white sauce that is essentially a base canvas for any flavor profile you can imagine. Herby, citrusy, spicy, nutty, briny, tangy– you name it, bechamel can do it! Here are some fun variations we have used:
Add a head of roasted garlic
Add ¼ cup chopped sundried tomatoes
Add ¼ cup nutritional yeast for a cheesy flavor
Sub ¼ cup of the milk for white wine
Stir in 2 tablespoons or more of harissa paste
Add 1 tablespoon of mustard for a mustard cream sauce
A traditional bechamel sauce is finished by grating a small amount of fresh nutmeg into the sauce for complexity. If you have nutmeg at home, try a tiny ¼ teaspoon sprinkled into your finished sauce.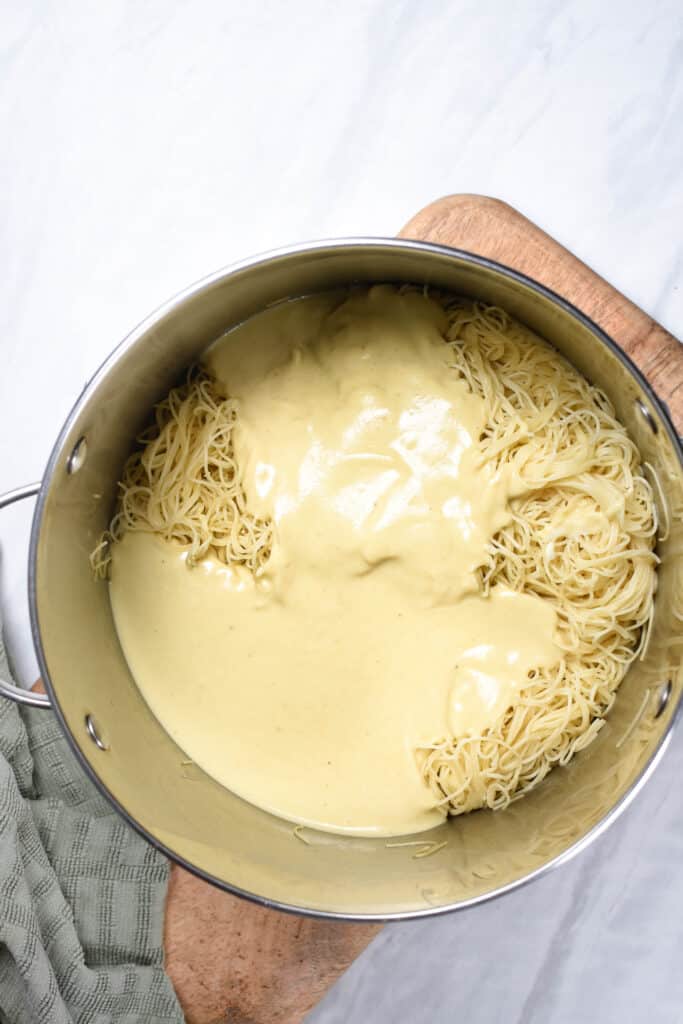 Which Vegan Milk To Use?
If you have some experience cooking with or consuming plant based milks, you probably know they are all not created equal. Some have stronger flavors than others, some are far creamier and have a higher fat content, some are darker in color, and some are very thin/watery.
As a bechamel is traditionally made with whole milk, it is a super rich and creamy sauce thanks to all that milk fat. For the closest vegan representation we strongly recommend using coconut milk or soy milk. Our favorite coconut milk is this one (Thai Kitchen tetra packs) as it is SUPER creamy but doesn't have any gums, fillers, or thickeners– just 2 ingredients, coconut & water!
If you are going to use a thinner plant milk with lower fat content, like almond, cashew, hemp, rice, or others, your sauce likely won't be as thick and creamy. Here's what to do:
Simmer for longer: You can simmer you finished bechamel for 10-15 minutes, stirring frequently so it doesn't stick or burn until it reaches your desired thickness and consistency. The drawback to this method is the total volume of sauce you'll get will also be lowered (ie maybe 1.5 cups vs. 2.5) and it takes additional time.
Make a bigger Roux: Instead of the additional simmer and the reduction in yield, you could plan ahead and opt for a larger roux, which gives you more thickening power. To do this, use 1/2 cup butter and 1/2 cup flour instead of 1/4 cup of each, still following all directions as written. The drawback to this method is the sauce might be too thick, depending on what milk you used, so you may need to add a splash of additional milk at the end of cooking to thin your sauce.
The best way to make a phenomenal bechamel sauce issssss to practice! If your house prefers almond milk, make a bechamel several times with almond milk and note the ratios that work best for you saucey preferences.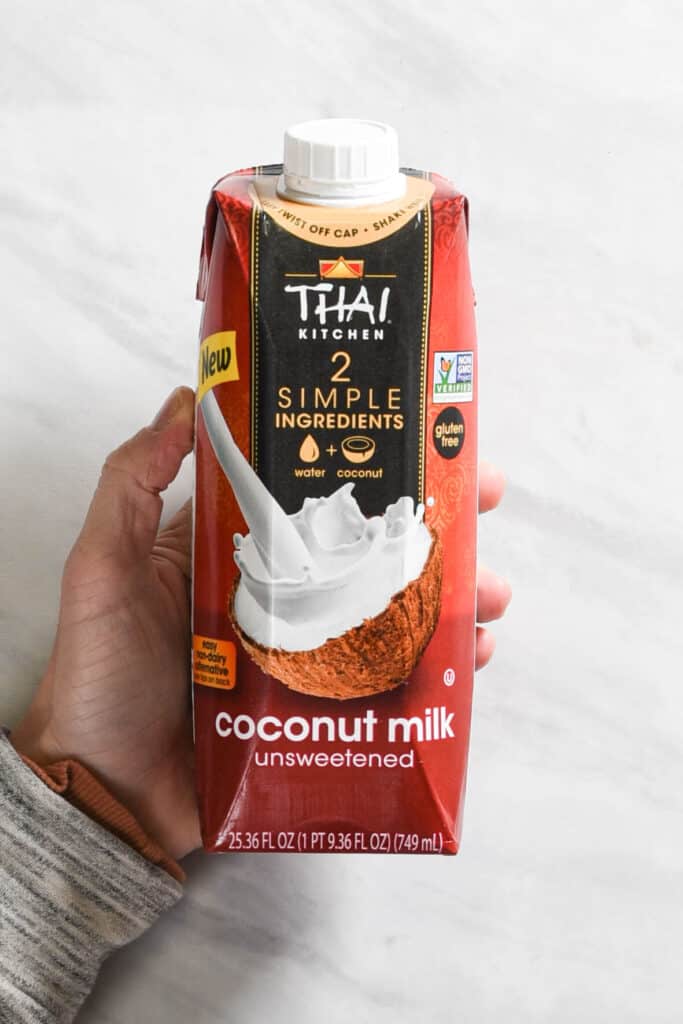 Vegan Bechamel FAQs
Can you use oil instead of butter in the roux? You can use oil and flour to create a roux, oil roux is easier to scorch than butter roux so you must watch very closely and whisk continuously while making an oil roux.
Can you freeze bechamel sauce? Yes, bechamel sauce stores well in the freezer. To use, defrost overnight in the refrigerator for best results and whisk when reheating to reincorporate all ingredients. The bechamel will appear separated and lumpy but with whisking will return to a creamy state.
Why is my bechamel sauce a darker color or grey color? Cooking a bechamel sauce in a cast iron pan can create an off-colored sauce so we don't recommend using a cast iron pan for this recipe. Stainless steel or non-stick cookware is best for a light bechamel sauce.
How much pasta is this recipe intended for? Most pasta sold in grocery stores is in 16oz packages, this recipe was designed to use the entire 16oz package for your convenience!
What is the difference between alfredo, bechamel, cream sauce, and white sauce? Alfredo sauce is made using cream and butter whereas bechamel is made using butter, flour, and milk. White sauce refers to bechamel and cream sauce refers to alfredo.
What type of noodles pair best with this sauce? Fettuccine, linguine, or spaghetti noodles– long thin noodles work best with cream sauces but any noodle will do.
Can you use gluten free flour to make a bechamel sauce? Gluten free flours work excellent in making bechamel sauce, no swaps or substitutions required!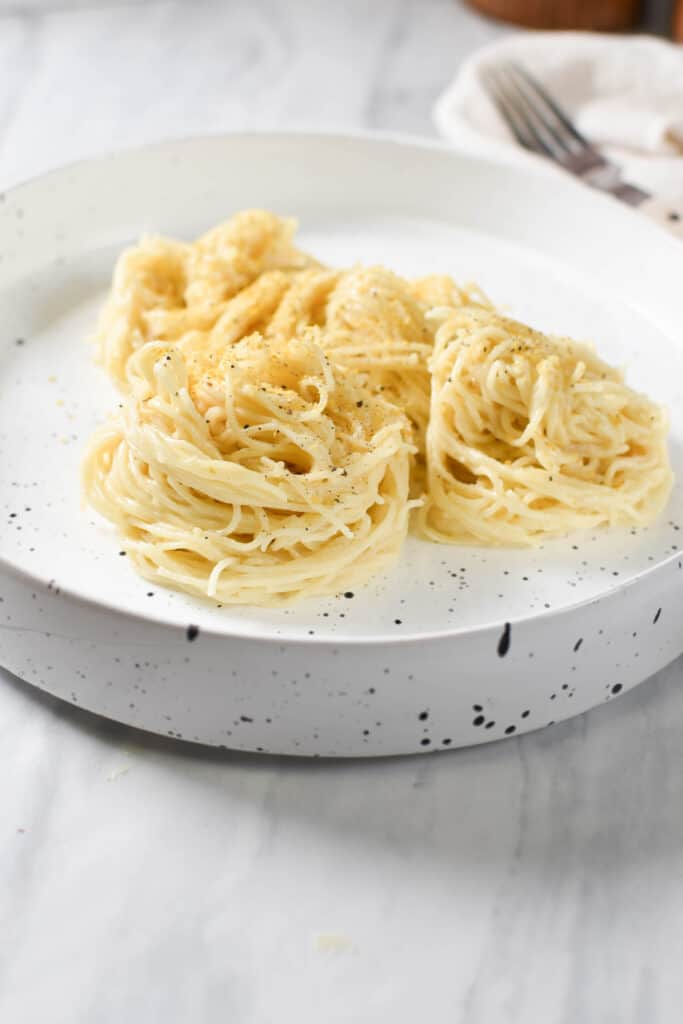 Print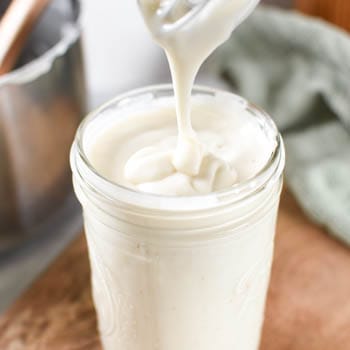 Vegan Bechamel Sauce
Author:

Adriana

Prep Time:

5 minutes

Cook Time:

15 minutes

Total Time:

20 minutes

Yield:

2.5 cups

1

x

Category:

sauces

Method:

stovetop

Cuisine:

american
---
Description
A vegan bechamel sauce is a foundational recipe that can be used in so many ways– aka vegan white sauce, this sauce is great for pasta, scalloped potatoes, macaroni and cheese, lasagna and more!
This recipe will walk you through the following:
How to make a bechamel sauce
Our top tips for making your first bechamel
How to store bechamel sauce
Our favorite plant milk to make this extra creamy
---
1/4 cup

flour

1/4 cup

vegan butter (or oil– see notes)

3 cups

thick & creamy plant based milk like canned coconut milk or soy milk. If using a thinner plant milk like almond, cashew, or a seed milk you may have to simmer this sauce for

10

–

15

minutes additional for it to thicken
salt and pepper, to taste
a pinch of fresh nutmeg (optional)
---
Instructions
Heat a high walled pan over low heat and add butter (or oil) to melt.
Once butter (or oil) is melted, add in the entire 1/4 cup flour and whisk to incorporate the mixture into a paste (called a roux). Cook this paste for 3-4 minutes. It will become a bit puffy and appearing to bubbling up and will smell a bit nutty or roasty as the raw flour cooks. Whisk occasionally, paying special attention to the sides of the pan.
After your roux is cooked, turn the heat up to medium low and add in about 1/2 cup of milk, whisking to form a very thick paste. 
Turn the heat up to medium and add in another 1/2 of milk, whisking aggressively to combine.
Once this is simmering, add in another 1 cup of milk and whisk until combined.
After the now very thick sauce is simmering again, add in the final 1 cup of milk and whisk to combine.
Season with salt, pepper, and a pinch of nutmeg and your bechamel is ready to use!

The bechamel is ready when it coats a spoon or spatula.
If you feel the sauce is too thick, add in additional liquid in 1/4 cup increments.
If you feel the sauce is too thin, let it simmer for an additional 5-10 minutes until it has thickened, whisking frequently.

This will form a skin as it cools, simply whisk again to dissolve the skin. Bechamel sauce will keep in the refrigerator for about 5 days.
---
Notes
A roux made with oil in our experience is easier to burn as the oil heats up faster than butter– whisk nonstop while cooking the flour/oil mixture and pay special attention to the corners of the pot. Begin at a lower heat and slowly increase the heat as you add milk.
Our favorite vegan milk for this recipe is the Thai Kitchen brand coconut milk sold in tetra packs– it is SO thick and it doesn't have gums, stabilizers, or thickeners! It's almost like a vegan half and half! You can purchase it here.
Vegam bechamel made with thinner milks with a lower fat content do work, however you need to make a larger roux (maybe 1/2 cup butter and 1/2 cup flour) or simmer the sauce for longer for it to reduce and thicken. If you simmer to thicken, the yield will be lower than 2.5 cups.
Once you have the process of making a bechamel sauce down, it comes together in about 10 minutes. The first few times you make this sauce it will likely take longer as it's a new kitchen technique! Take your time and whisk as much as you need to.