Turmeric wellness shots are an easy and delicious way to include a bit of turmeric in your diet every day. Turmeric has a long list of believed health benefits and anti-inflammatory properties and turmeric shots make it simple to eat turmeric every day!
This recipe for turmeric shots is incredibly versatile. It can be made in a blender or a juicer, you can use fresh or dried turmeric, and you can store this in the fridge or freezer. This recipe makes enough turmeric shots to last 1 person about a week– double or triple it if you need more.
We have a recipe for a big batch of turmeric juice as well if that's better suited for you!
(This post may contain affiliate links. That means I'll get a small commission on any sales made through those links. Read our full disclosure.)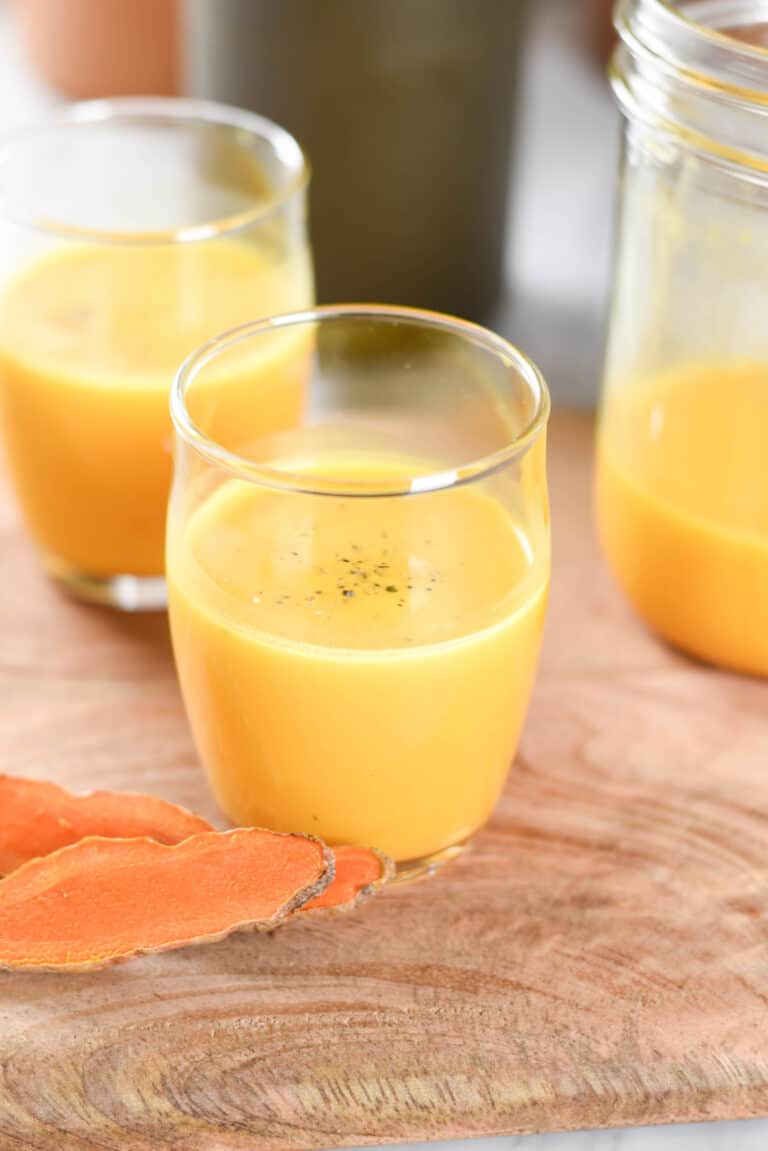 Benefits Of Turmeric
Curcumin is the active and beneficial ingredient found within turmeric that is being studied for its numerous reported health benefits. Turmeric root (Curcuma Longa) has been used in Ayurvedic medicine for thousands of years! The information provided below is all sourced from Healthline and is evidence-based.
Anti-Inflammatory: From arthritis to injury to cellular-level inflammation, inflammation can cause pain and long term chronic health conditions. Curcumin contains anti-inflammatory properties that may help repair damage and reduce inflammation.
Antioxidants: Curcumin contains high levels of antioxidants, may help to combat free radicals, and may increase the activity of other antioxidants in your body.
Heart health: Curcumin may lower or reverse many elements present in heart disease.
Brain health: Again, studies have shown that curcumin may have beneficial effects on the brain and brain tissue. Specifically certain proteins related to neuron lifecycle and activity.
Anti-cancer properties: Curcumin may help combat cancer in 3 main ways: kill off cancer cells, reduce the growth of blood vessels in tumors, and reduce cancer spreading throughout the body.
The above is a brief summary of the main health benefits of turmeric! You can see how this rhizome has become all the rage in the health, wellness, and healing space across the last decade.
Before beginning a turmeric regimen or incorporating high doses of turmeric into your diet, please consult your health professional. Turmeric can interfere with some medications and some health conditions– see more here from WebMD.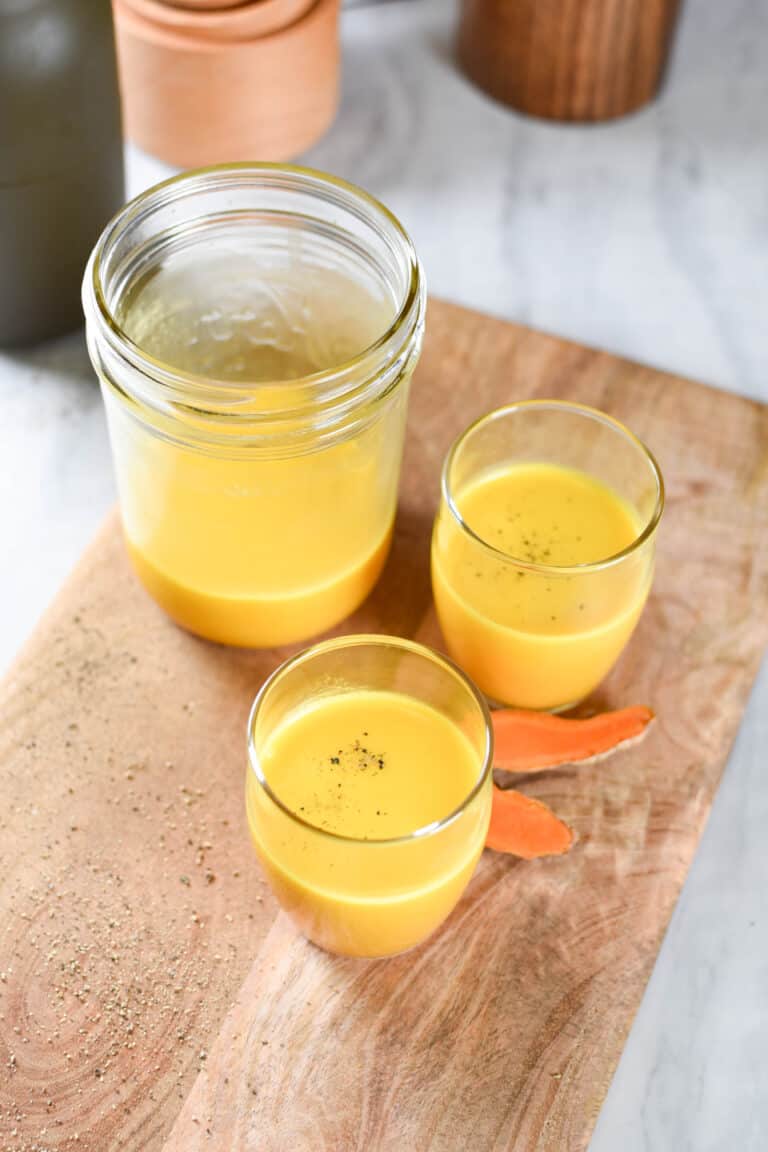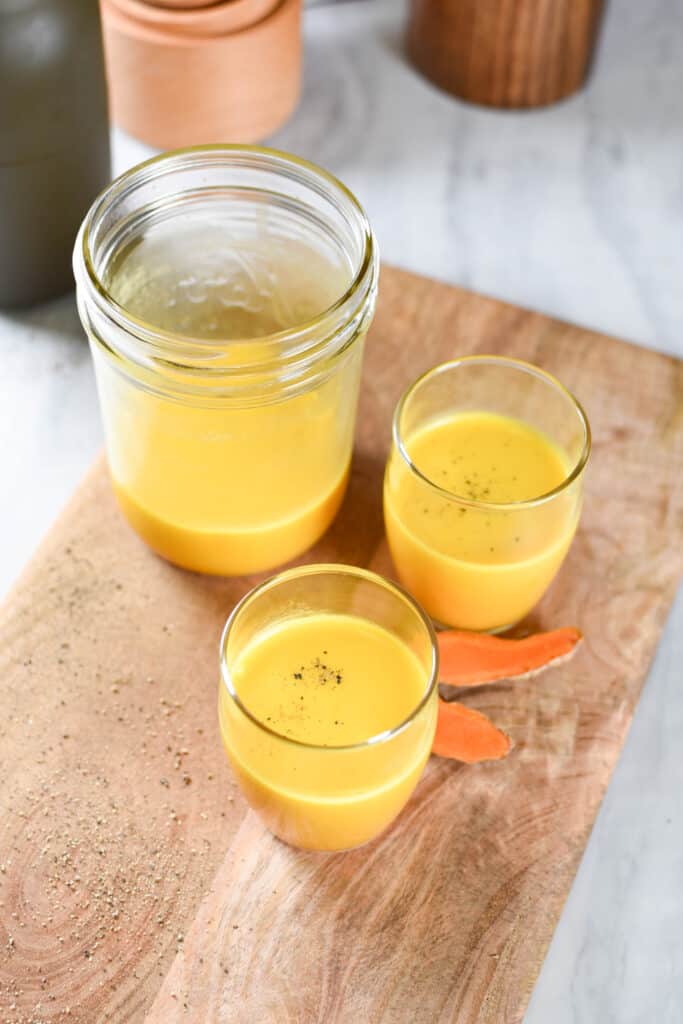 Benefits Of Other Ingredients In Turmeric Shots
We reviewed and tested numerous turmeric shots in developing this recipe as there are many big brands of turmeric shots available for purchase nowadays. Store bought turmeric shots are EXPENSIVE and are not nearly as fresh or potent as what you can make at home.
Some ingredients we included in this recipe are present to maximize the benefits of turmeric, and its curcumin compounds, while some ingredients are present to help balance the flavor profile and naturally sweeten these shots up.
Black Pepper: Pepperine is the active ingredient in black pepper that dramatically increases the absorption and bioavailability of curcumin. According to healthline, piperine increases the body's absorption of curcumin by up to 2,000%!
Coconut Milk: Many turmeric shot recipes, both sold by big brands and by other food bloggers include coconut water as a primary ingredient. However, the fats in coconut milk can help increase absorption similar to black pepper. Curcumin is fat soluble, so ingesting turmeric alongside a nice serving of healthy fats may help increase the amounts of curcumin your digestive tract absorbs. (SOURCE) You can use coconut water if you prefer, in the same amount, but coconut water does not have any fat.
Orange Juice: Turmeric and orange are a wonderful flavor duo– the orange helps to mellow out and naturally sweeten the strong flavors of the turmeric. Additionally, oranges have very high vitamin C content as well as a supply of minerals like calcium, potassium, and magnesium. If you don't have an orange you can substitute a lemon and add a sweetener, like honey. The orange in this recipe also helps provide liquid to facilitate smooth blending.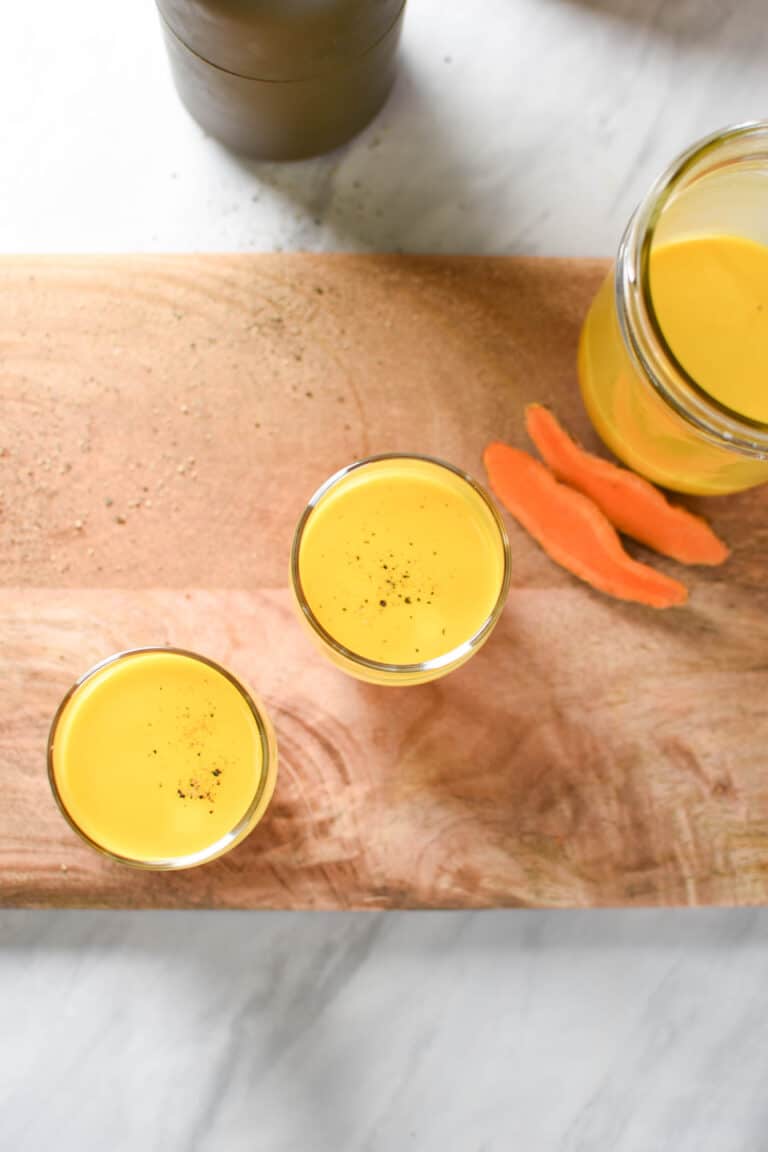 How To Make Turmeric Shots (Blender or Bullet Blender)
We have a juicer but we don't use it for making turmeric shots as they are so easy to make in a blender! To make turmeric shots in a blender or a bullet blender we recommend a nut milk bag or fine strainer for the silkiest, smoothest mouthfeel.
The steps:
Peel the orange and remove seeds if any are present. (Navel oranges are seedless) and add to blender cup.
Wash & scrub the turmeric (or peel it) and chop into 1"- 2" sized pieces and add to the blender.
Add the coconut milk and black pepper to the blender.
Blend to break down all ingredients for at least 1 minute. The juice will seem ready before then but really blend it up to ensure all the turmeric is pulverized.
Strain through a nutmilk bag and store in the fridge.
A word of caution on cooking, eating, and using fresh turmeric: it will stain countertops, cutting boards, tupperware, and your fingers and nails! Wearing gloves while processing turmeric will prevent this from happening.
The turmeric shots will separate in the fridge, with a thin layer of turmeric oil at the top and a thick layer of very fine sediment at the bottom. Before pouring and consuming your turmeric shots, shake very well to re-incorporate and ensure each shot has an equal amount of turmeric goodness!
How To Make Turmeric Shots (Juicer)
Making turmeric shots with a juicer is quick and easy as well, as you don't need to strain the pulp from the juice. Prepare your fruits by peeling and washing them then cut them into pieces small enough to fit inside the chute of your juicer.
Once the turmeric and the orange are juiced add them to a jar then add the coconut milk and black pepper and shake well to combine.
Use Ground Turmeric Instead Of Fresh
We realize fresh turmeric isn't widely available in all areas year round. In this case, ground turmeric is an option, or buying fresh turmeric root online is an option. (We have a full review on which online turmeric to buy). The health benefits of fresh turmeric shots are superior to using ground turmeric BUT ground turmeric will work.
If you are using ground turmeric for turmeric shots, use 1/4 cup ground turmeric and steep this in 1 cup hot water for 5-10 minutes, then strain to remove the powder. This will make a very concentrated turmeric tea. You could simply stir the ground turmeric into the water without straining but it leaves a very unpleasant texture.
We found that a coffee filter is a very easy way to separate the ground turmeric from the hot water. This leaves you with a silky smooth 'turmeric tea' that doesn't have any gritty or chalky residue. It will take some time to drain through the filter so be patient.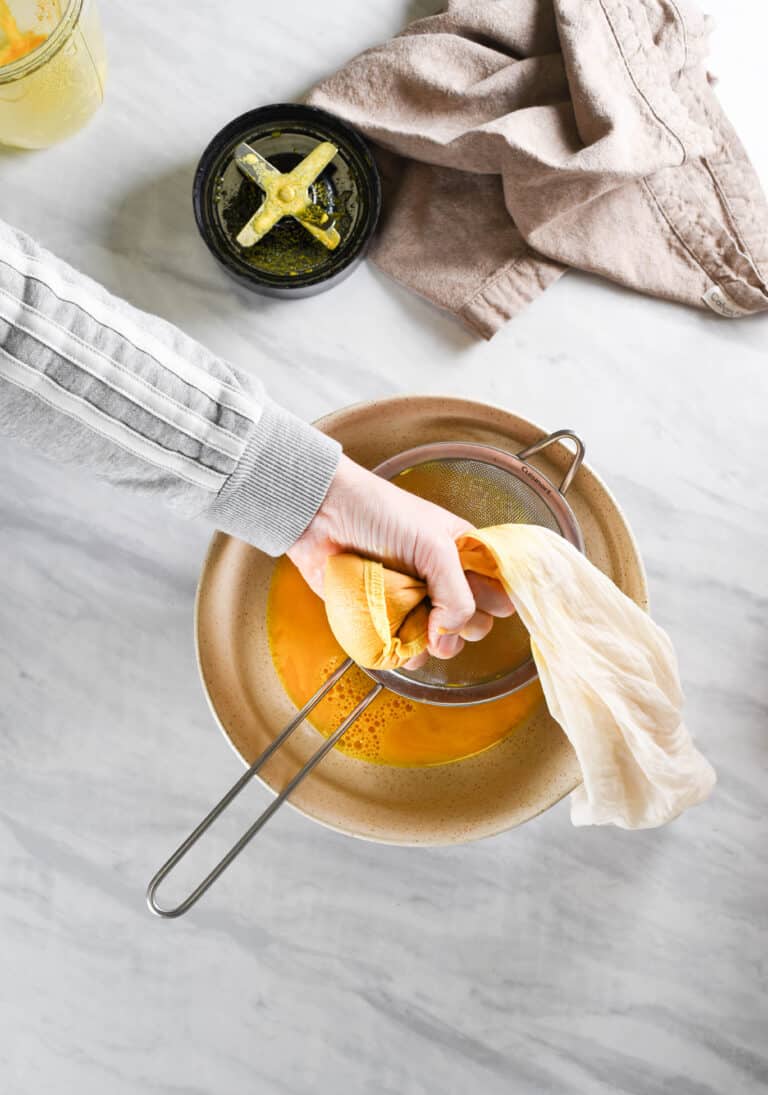 What Should A Serving Size Be?
Determining the serving size and amount of turmeric to consume each day per person is a great question and a difficult one to answer. The active curcuminoids found in turmeric are about 3% in spices whereas extracts may contain up to 90-95% curcuminoids. Most studies looking at the health benefits of turmeric are using 500-2,000mg of turmeric per day– in extract form. Also, long-term, high-dose effects of supplementing with turmeric have not been studied in depth. (SOURCE)
A peer reviewed study published in 2016 to the National Library of Medicine shared that the WHO (World Health Organization) stated 0–3 mg of curcumin per day per kg of body weight was an acceptable daily intake. (SOURCE) So for a 150lb person (about 68 kilograms) that's safely 200mg– in agreement with, but on the low end of, Healthline's recommended range.
So what does this all mean for turmeric shots? What does 200mg (.2 grams) of turmeric look like?
Ground Turmeric: just shy of ¼ teaspoon
Fresh Turmeric: a teeny, tiny sliver of fresh turmeric.
Also, referring back to Healthline, "For instance, the average Indian diet provides around 2,000–2,500 mg of turmeric (60–100 mg of curcumin) per day." Remember, turmeric and curcumin are not the same– 200 grams of turmeric reportedly only has 3% curcumin.
What does 2,000 mg (2 grams) of turmeric look like?
Ground Turmeric: 1.5 teaspoons or one heaping teaspoon
Fresh Turmeric: ½" long coin of ½" thick turmeric
This recipe contains 75 grams of fresh turmeric and yields 12, 1-ounce servings. Doing basic math (not submitting for nutritional testing) you could theorize that each shot contains about 6 grams of turmeric, or 6,000 milligrams.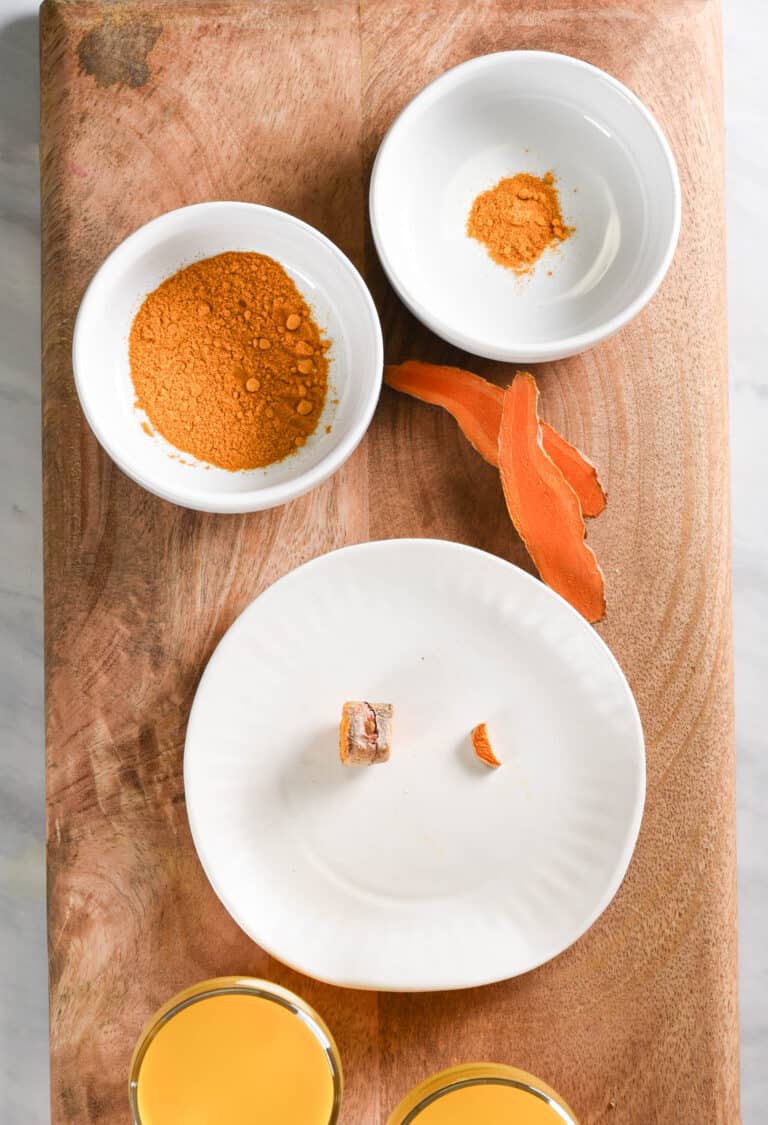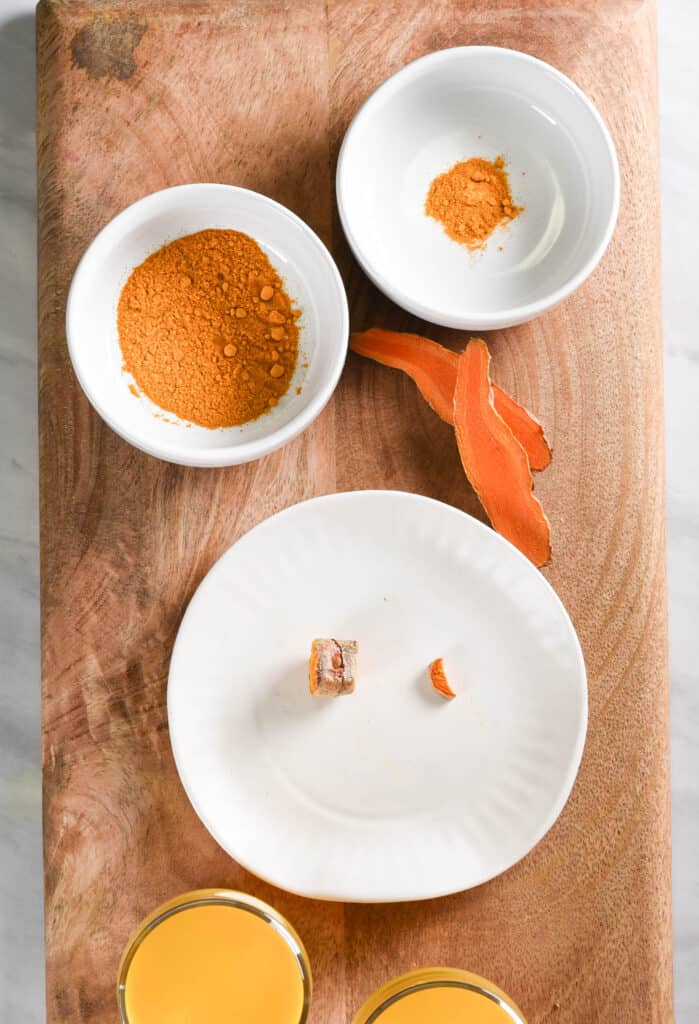 Note that depending on the freshness or your whole turmeric root or the brand of your dried turmeric powder, these measurements may vary. I measured this using my kitchen scale and the turmeric powder I had on hand at home.
Again, PLEASE conduct your own research and speak to your healthcare provider– these are simply resources and background information to get you started.
How To Store Turmeric Shots
Fresh turmeric shots will last 5-7 days in the refrigerator if stored in an airtight container. After storing, shake well to reincorporate all ingredients as separation does occur in the fridge.
To freeze turmeric shots, we recommend an ice cube tray so you can freeze individual shot portions to defrost to drink or use frozen in a smoothie. Once frozen in an ice cube tray, remove all the turmeric shot 'cubes' and store in a plastic bag or other container to limit exposure to air.
Variations To This Recipe
This recipe for turmeric shots is customizable and we like to think of it as a base for you to personalize for yourself. We drink this recipe as written very frequently! However, if other fruits are in season or we have an abundance of a certain fruit or vegetable in the kitchen, we'll mix it up! Changing up what you include in your turmeric shots is great for your health– by using different ingredients every few times you make it, your body receives different nutrients, vitamins, minerals, and antioxidants.
Here are some tasty variations to try:
Swap the OJ for pineapple, carrot, or lemon!
Add in some fresh ginger root.
Include local, raw honey to sweeten.
Add a handful of greens like kale, chard, or spinach.
Other Turmeric Recipes
If you're looking for ways to eat more turmeric everyday, we have lots of turmeric recipes to get the curcuminoids cranking. From turmeric rice to turmeric smoothies, we've got ideas on how you can work more turmeric into your diet. See all turmeric recipes here.
Print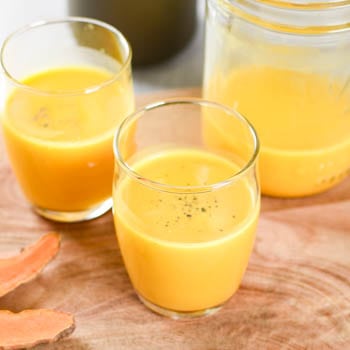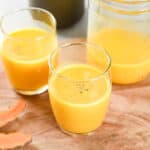 Turmeric Shots
Author:

Adriana

Prep Time:

15 minutes

Cook Time:

0 minutes

Total Time:

15 minutes

Yield:

1.5 cups

1

x

Category:

turmeric recipes

Method:

cold prep
---
Description
Turmeric shots are an amazing way to eat more turmeric everyday! These turmeric health shots contain loads of turmeric and are paired with black pepper and coconut milk to aid in absorption of the active compounds in turmeric root for maximum health benefits. This turmeric shot recipe makes 12, 1-ounce turmeric shots.
The recipe covers:
How to make turmeric shots from fresh or ground turmeric
The benefits of turmeric & of supporting ingredients
How much turmeric should you eat daily?
How to store these shots and/or alter the flavor
---
3

fingers of turmeric about 4″ long (

75 grams

, about

1/2 cup

of 1″ pieces) OR 1/4 cup ground turmeric

1 cup

full fat coconut milk

1/2 teaspoon

black pepper

1

small orange or 1 small lemon (about

1/4 cup

)
Optional Ingredients:
2

" fresh ginger root

1

–

2

tablespoons honey, to sweeten
---
Instructions
Using Fresh Turmeric Root:
Thoroughly wash & scrub your turmeric root or simply peel the turmeric.
Add the coconut milk, black pepper, orange, and turmeric root to a blender and blend for at least 1 full minute to completely breakdown all the turmeric.
Pour through a nutmilk bag or very fine mesh sieve to strain out the solids.
Serve immediately, and store remaining turmeric shots in the fridge for up to 6 days. Turmeric shots can also be poured into ice cub trays and frozen!
After storing, shake very well to combine as separation naturally occurs in the fridge.
Using Ground Turmeric:
Measure coconut milk and add to a small pot to warm, heating to a simmer. Remove from heat.
Add ground turmeric to the pot and stir to combine. Steep for 10 minutes. This will make a very strong 'turmeric tea'. You don't have to strain this but the texture of the turmeric shots is far smoother & silkier if you do. The turmeric powder leaves a chalky aftertaste if not strained.
Pour this mixture through a very fine weave nut milk bag to strain. Towards the end of straining, don't squeeze too hard or the turmeric powder will force its way through the nutmilk bag. Gently squeeze the last 1/4 cup or so through.
Add black pepper to your turmeric liquid and stir to combine. Serve immediately or store leftovers in the fridge for up to 6 days.
If using optional add-ins like orange, lemon, or ginger, juice the fruit and add to the turmeric liquid. If using ginger, use a microplane to finely grate the ginger then squeeze the juices from the pulp.
After storing in the fridge, shake very well to reincorporate all the turmeric as separation is natural.
---
Notes
The turmeric shots will separate in the fridge, with a thin layer of turmeric oil at the top and a thick layer of very fine sediment at the bottom. Before pouring and consuming your turmeric shots, shake very well to re-incorporate and ensure each shot has an equal amount of turmeric goodness!