An adrenal cocktail is a health supporting drink that consists of vitamin C, potassium, and sodium. This drink is intended to give your adrenal glands the support they need to overcome stress and function properly. The standard adrenal cocktail includes orange juice, coconut water, and a mineral salt, like Himalyan pink salt or sea salt, to provide the 3 key nutrients, however, there are many variations & ways to customize this adrenal tonic to best suit your needs.
We'll cover how to make an adrenal cocktail, what the ingredients intended purposes are, and side effects of adrenal cocktails. Here's to hormone health! Oh, and no, there is no alcohol present in an adrenal cocktail!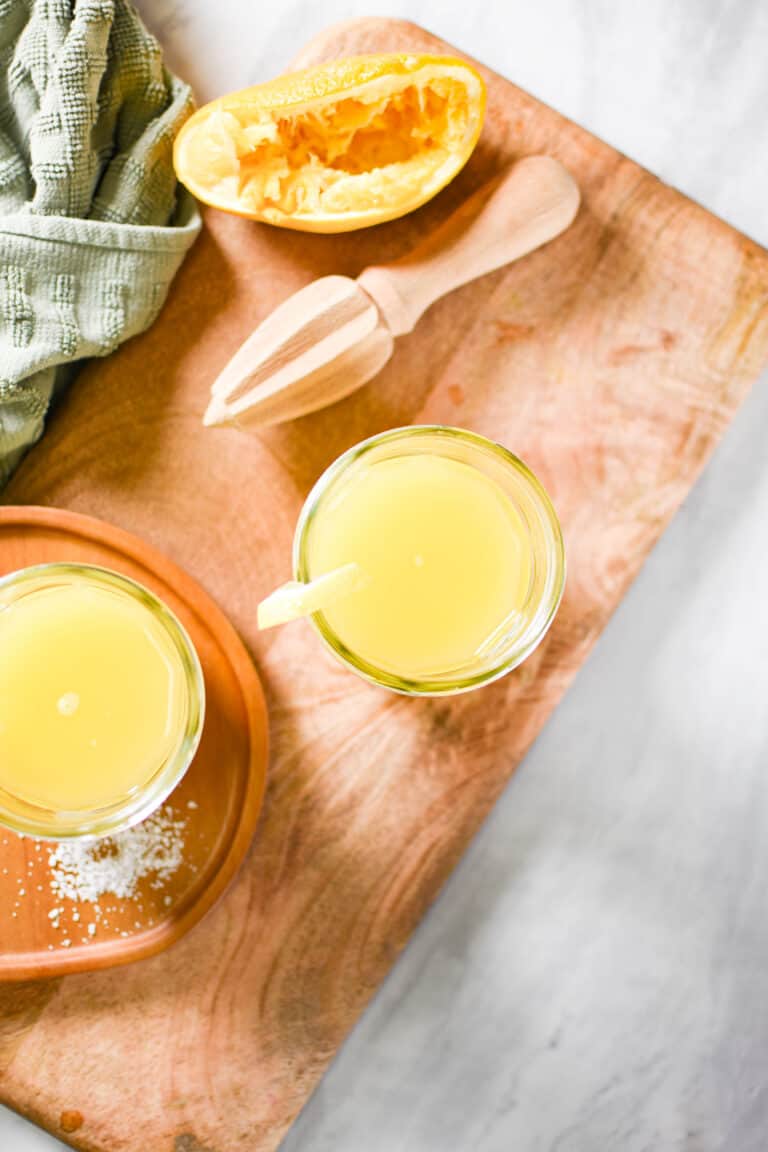 The Ingredients & What They Do
The adrenal cocktail dates back to as early as 2004 in some form, but began picking up popularity in 2017 after a widespread interview about Tony Robbins daily rituals that included his version of an adrenal cocktail. This helped put the adrenal cocktail on the map in mainstream natural health communities and here we are today, with its popularity really taking off in late 2021 as a natural remedy for hormone support.
Let's dive in a take a look at the 3 main ingredients & their benefits.
Orange Juice: Or any citrus, really- grapefruit juice and lemon juice are both widely used variations. The fresh citrus juice is present for a big boost of vitamin C. In addition to a boost of vitamin C, the natural sugars in orange juice provide simple carbohydrates for your body to use as energy quickly!
Coconut Water: Coconut water provides the potassium in adrenal cocktails. The FDA recommends 4700mg of potassium daily, which is an increase from the previous recommendation of 3500mg daily. The levels of potassium in different brands of coconut water vary, but you can expect 300-500mg of potassium per 8oz (1 cup) serving of coconut water.
Salt (Sea or Himalayan Pink): Salt provides the mineral.. Sodium! Sodium can serve as a support to the adrenals and kidneys if they are depleted and in need of replenishing. From prolonged periods of high adrenal response (aka fight or flight mode) the sodium levels in a person could become depeleted. However, most standard American diets are not lacking in sodium. (SOURCE)
Variations & Substitutions
We view adrenal cocktails as a great jumping off point for incorporating any sort of health tonic into your daily routine. If the philosophy behind adrenal cocktails has inspired you to include a daily dose of natural medicine into your diet, consider working with your healthcare professional to craft a "cocktail" that's right for you.
Here are the common variations, additions, and substitutions in adrenal cocktails!
Coconut Cream: Adding a few tablespoons of coconut cream (or organic heavy cream if you consume dairy) to your cocktail will help your body balance the sugars found in the orange juice and avoid spiking your blood sugar levels. Adrenal cocktails are sometimes referred to as 'creamsicles' and adding some form of cream does indeed make the taste reminiscent of a creamsicle.
Collagen Powder: Most collagen powders provide a substantial amount of protein which would function to stabilize blood sugar when consuming an adrenal cocktail, just as cream does. If you take a collagen powder supplement, you could easily mix it with an adrenal cocktail.
Cream of Tartar: Cream of tartar is a by product of the winemaking process, tartaric acid is found naturally in grapes and in the winemaking process this crusts up on the insides of wine barrels. One teaspoon of cream of tartar contains 11% DV of potassium or 495mg. (SOURCE)
Aloe Vera Juice: Aloe vera juice is touted as an alternative to coconut water as a potassium source on many recipes online, however, many brands of aloe vera juice we looked at had less than 15mg of potassium per cup… (and coconut water was at least 300mg– we'd say stick to cream of tartar if coconut milk isn't your thing!)
Vitamin C Powder: This is a supplement that can be used in place of orange juice to avoid the natural sugars in orange juice while still getting a big bump of vitamin C. Serving size & nutrition varies based on brand.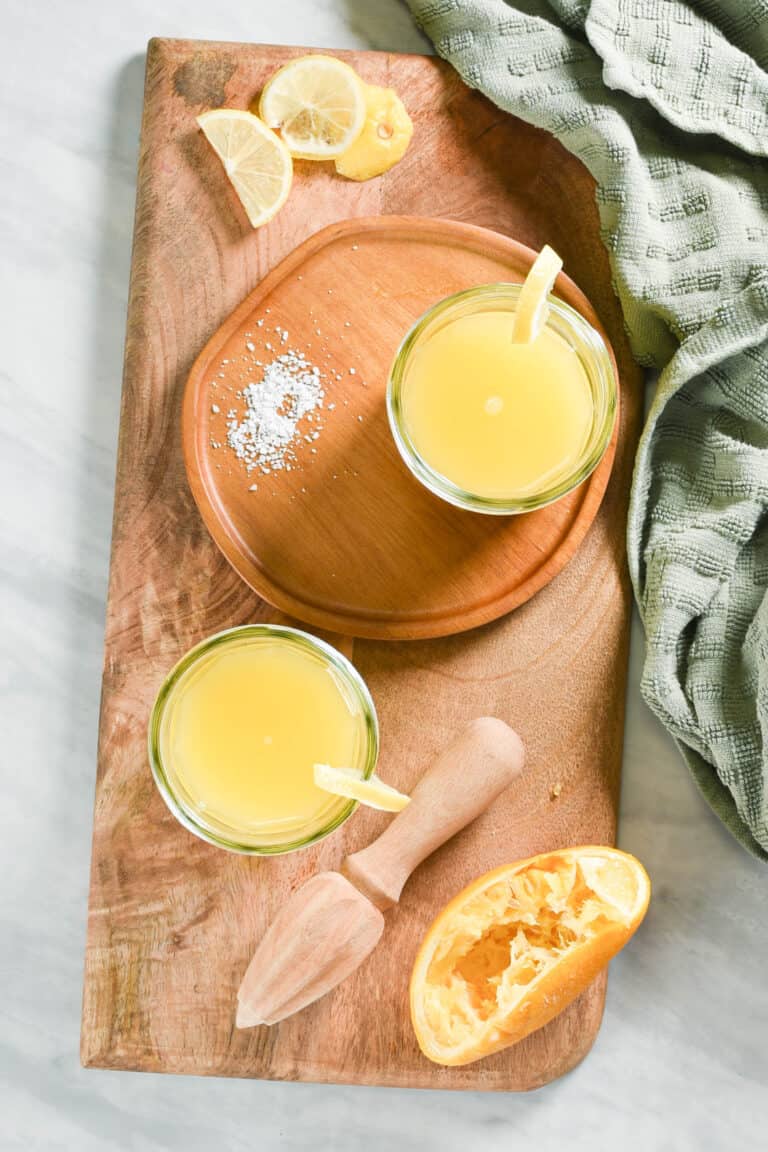 Our Personal Favorite Variations
Turmeric: Turmeric is a powerful anti-inflammatory and more evidence based research on its benefits is being released annually. Our turmeric shot recipe would be easy to add to an adrenal cocktail.
A shot of green juice: If you don't mind getting your blender out to juice the citrus for you, why not add a handful of dark leafy greens to your adrenal cocktail for an additional micronutrient boost? Yes, it will change the color and flavor profile but it won't take away any of the benefits!
Ginger: Ginger boasts heaps of health benefits and has immune-boosting properties. (And the flavor pairs excellently with citrus!) We have a recipe for ginger juice– you could easily add some to your adrenal cocktail or simply toss a ½" nub of ginger into your blender with the orange to break it down.
An iron supplement: If you naturally have low iron levels and take an iron supplement, consuming iron with vitamin C increases the absorption rates of non-heme iron. If you've already discussed supplementing iron with your healthcare provider, taking it with an adrenal cocktail will benefit you!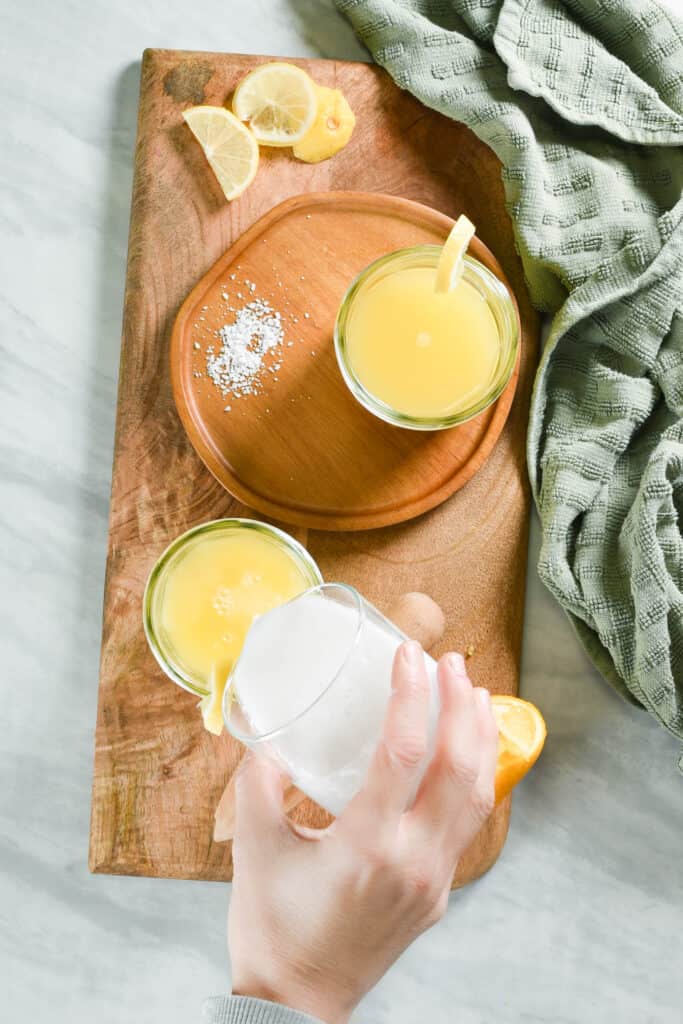 How To Make An Adrenal Cocktail
Making an adrenal cocktail is easy and you can batch-prep a few days worth of cocktails in one go. We use a blender to juice our citrus to ensure we're getting as much juice as possible, and using a blender makes it easy to add in other ingredients for nutritional boosts like turmeric, ginger, or dark leafy greens.
Here are the steps to crafting an adrenal cocktail:
Peel the citrus and cut into quarters
Add citrus quarters, coconut water, and a pinch of salt (if using) to the blender and blend for 30-60 seconds.
For a smooth and silky mouthfeel you can strain this through a nutmilk bag or tea towel to remove the orange pulp– which we usually do.
Pour into a jar for storage and add any powder supplements at this time.
Shake well before serving as juices will naturally separate in the fridge.
We add the coconut milk to individual glasses as a topper vs. mixing it in with the juice but you can do whatever works best for you!
As with any food, consuming this as fresh as possible is ideal, however a batch of adrenal cocktails will last up to 5 days in the refrigerator. If it's cool weather season and you'd prefer to have this as a tea, pour a serving and gently warm it on the stovetop for a few minutes.
You could use a bottled citrus juice if necessary– do check the label for added sugar, stabilizers, and preservatives. If you have the extra few minutes to blend and strain, reaching for a fresh orange is worth it!
What Are Adrenal Glands & How Does An Adrenal Cocktail Support Them?
Adrenal glands are a pair of organs that are part of the endocrine system; one is attached to the top of each kidney and they work together with the kidneys and endocrine system for several key homeostatic functions. Adrenal glands are responsible for 4-5 hormones, one of which is adrenaline (epinephrine).
"In response to acute stress, the body's sympathetic nervous system is activated due to the sudden release of hormones. The sympathetic nervous system stimulates the adrenal glands, triggering the release of catecholamines, which include adrenaline and noradrenaline." (SOURCE)
This 'fight or flight' mode prepares your body to go into overdrive and become ready to perform at peak performance if needed: increased blood pressure, heart rate, and breathing pace. However the stresses & demands of life today can cause anxiety, panic attacks, and other situations where your body may think it's under stress and cause this 'fight or flight' response that releases adrenaline– even if your aren't in a true flight or flight situation.
This potentially drains your body of "micronutrient concentrations" as the body is focused on survival and getting nutrients to your major organs (heart, lungs, big muscle groups). According to a 2019 study in The National Library Of Medicine, "overall, the bulk of evidence suggests stress can affect micronutrient concentrations, often leading to micronutrient depletion."
In summary, the adrenal cocktail is said to replenish these micronutrients for individuals who may be lacking and under severe stress; the electrolytes/essential minerals: sodium and potassium, and vitamin C which assists with the body's damage repair and healing mechanisms. Vitamin C is also a co-factor, (a helper, a catalyst) that takes part in over 15 enzymatic reactions. (SOURCE)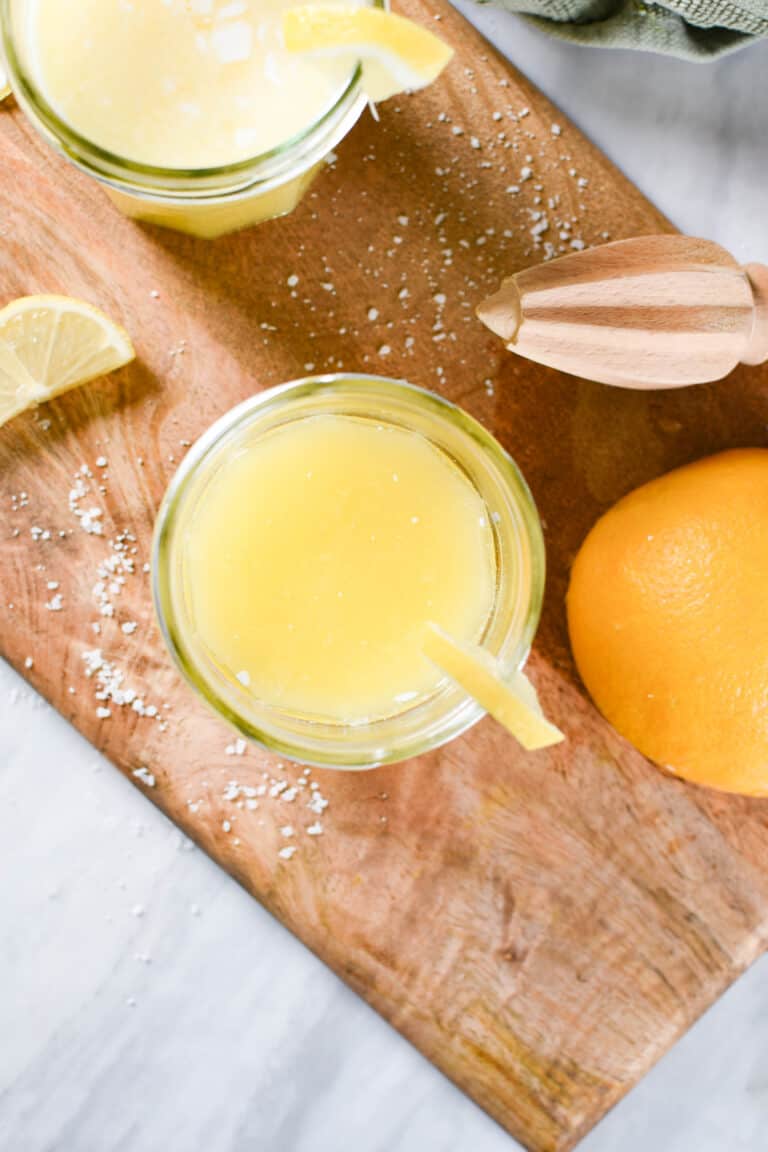 When To Drink An Adrenal Cocktail
This is a personal decision and really depends on your energy levels and patterns throughout the day. For me, it's beneficial in the early afternoon when I've been up for 9-10 hours already and I'm getting a first wave of 'phew, i'm tired'. It's usually between 1 and 3 pm and I don't set a strict time each day, I drink it when I feel fatigue setting in.
I usually consume equal parts adrenal cocktail and fat, as we said earlier: customize this for your health needs! For me, it's about 2 tablespoons of the cocktail and 2 tablespoons of coconut cream, more like an adrenal shot. Then I always add turmeric to my adrenal cocktails.
Most people experience a mid-morning slump and a post-lunch slowdown and this can be helpful in combatting those fatigue windows.
If you have a time of day that you're usually finding yourself feeling wiped out, realizing it's difficult to focus or you're easily distracted– that's the time to reach for an adrenal cocktail! If you add fat to an adrenal cocktail, this is a great snack for late morning or early afternoon.
Pairing an adrenal cocktail with a quick 10 minute walk is a great way to fight off the slump of sedentary life! Many of us are in front of computers for hours a day, a great recharge is to both provide your body useful nutrients and getup to take a quick walk.
Adrenal Cocktail Benefits
Good for late morning when you'd reach for another coffee or that dreaded post lunch slump.
May be beneficial for individuals who are regularly under high stress, thus may have depleted electrolyte and mineral levels.
Is a natural and whole-food based rebalancing of micronutrients in the body, specifically electrolytes and minerals.
May lead to a reduction in coffee, energy drink, or soda consumption if used as a replacement. Read: reduction in caffeine, artificial ingredients, and added sugars in the diet!
Side Effects Of Adrenal Cocktails
Blood sugar spike– The adrenal cocktail as described in many publications is, frankly, a sugary drink. It is natural sugars, but sugar nonetheless. Incorporating a healthy liquid fat into an adrenal cocktail can prevent insulin spiking.
Additional caloric intake if you're drinking this instead of water or black coffee, it's additional calories
Sodium can increase blood pressure and most Standard American Diets are not lacking in sodium
Depending on how you make it, it could be very supplement heavy vs whole food rich. Our bodies absorb nutrients best from whole foods versus supplements.
Adrenal Cocktail FAQs
How often do you drink adrenal cocktails? We recommend a whole-food version of an adrenal cocktail on an as-needed basis! If it's a whole food based adrenal tonic that's been cleared by your doctor, likely once per day is a great starting point.
What is a substitute for orange juice in an adrenal cocktail? You could substitute any citrus, or any food high in vitamin C. Grapefruit and lemon are great choices.
What is Tony Robbins' adrenal cocktail? The adrenal cocktail that Tony Robbins mentioned taking every morning during his 2017 interview was "An "adrenal support cocktail" composed of a shake made of greens powder, vitamin C, and antioxidants along with capsules of methylated B vitamins mixed with additional nutrients."
What nutrients do adrenal cocktails have? Sodium, potassium, and vitamin C are the primary focus of most adrenal cocktails. The sodium is provided through sea salt, the potassium via coconut water, and the vitamin C through the fresh orange juice.
Print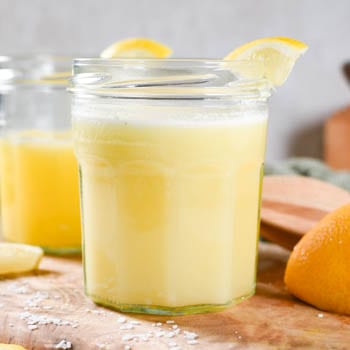 Adrenal Cocktail
Author:

Adriana

Prep Time:

10 minutes

Cook Time:

0 minutes

Total Time:

10 minutes

Yield:

1.25 cups

1

x

Category:

Drinks

Method:

Cold Prep

Cuisine:

American
---
Description
An adrenal cocktail is a delicious beverage targeted at replenishing 3 key nutrients (sodium, potassium, vitamin C) to help restore your adrenal glands and assist in hormone management.
This recipe will walk you through:
how to make an adrenal cocktail
the ingredients & their reported benefits
common variations & substitutions
how the adrenals work & how an adrenal cocktail can support them
benefits of adrenal cocktails
side effects of adrenal cocktails
adrenal cocktail FAQs
---
1/2 cup

(

4 oz

.) fresh squeezed orange juice, about 2 large oranges

1/2 cup

(

4 oz

.) coconut water, no sugar added

1/4 teaspoon

pink Himalayan or sea salt (these are mineral heavy salts)

1/4 cup

coconut cream
---
Instructions
Juice the citrus. You can do this by hand or by peeling and tossing in a blender then straining. If blending, add your salt to the blender as well.
Combine the fruit juice, coconut water, coconut cream, and salt in a jar and shake to combine.
This makes 2 servings, if unused, store the second serving in the refrigerator and shake well to combine before serving as the ingredients will naturally settle and separate.
This can be stored in the fridge for up to 5 days if you'd like to make a batch to last a few days.
---
Notes
The coconut cream (or dairy cream) is optional but it prevents a blood sugar spike, without the fat this adrenal tonic is a sugary drink– natural sugars, yes, but still sugars.
You can use bottled orange juice if needed, just check for a high quality organic orange juice with no added sugars and minimal preservatives, natural flavorings, and stabilizers.
Orange juice is the base in an adrenal cocktail but if you're looking for additional ways to cut sugar you could use lemon or grapefruit instead.
If you'd prefer to drink this as a warm beverage, you can gently warm this on the stovetop and consume warm!