Cranberry relish is a fresh, homemade spin on cranberry sauce and an interesting addition to your thanksgiving table. Homemade cranberry relish with orange and apple has a balanced sweet and tart flavor profile that compliments a variety of thanksgiving foods!
You can use this cranberry relish the same way you would use cranberry sauce! On turkey, on rolls, dessert, roasted veggies– the gamut of thanksgiving recipes could benefit from a spoonful of cranberry relish.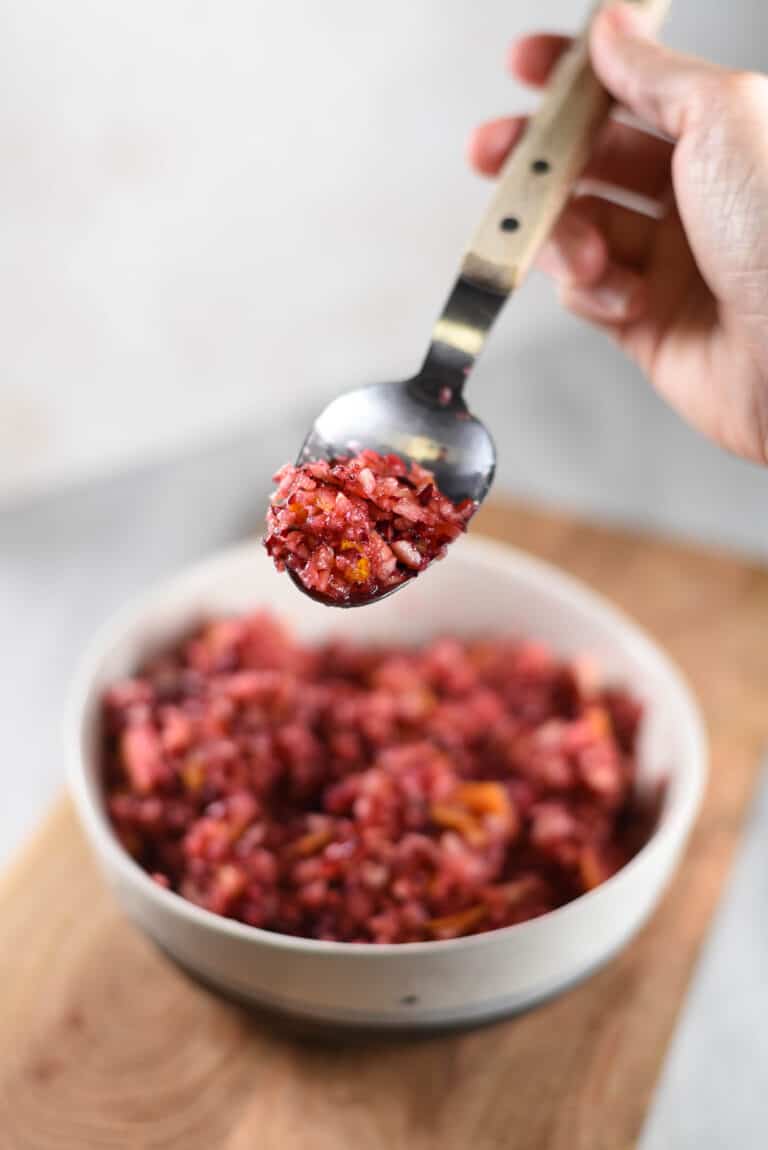 How To Make Cranberry Orange Relish
This recipe for homemade cranberry relish requires about 10 minutes and is best when prepared a day in advance– YES, a Thanksgiving recipe that is make-ahead friendly! For best results you'll need a food processor to finely chop and combine all ingredients for you.
By making this a day ahead of time, the raw sugar will have time to thicken and sweeten the juices released from the fruit and the lovely flavors of orange zest will permeate every bite. This is the best cranberry relish!
Here are the ingredients you'll need:
Cranberries: Fresh cranberries are needed for this cranberry relish! Frozen, thawed cranberries have a mushy texture and shed much of their water content. Fresh cranberries are sold in bags in the produce section in the fall near Thanksgiving.
Orange: A variety of orange that falls on the sweeter side of things will work best. Navel oranges are seedless, sweet, and widely available. Cara Cara oranges are sweet as well but they do have a few seeds inside. Either will work– or sub a different variety in a pinch, if using a variety with seeds, you'll need to deseed it.
Apple: Honeycrisp or Fuji apples are sweet and firm, and would work wonderfully in this recipe. However any apple variety, including green apples, will work.
Sugar: The recipe as written calls for plain sugar however you could substitute a sugar replacement, brown sugar, honey, or maple syrup all with varying amounts and flavors. White or cane sugars will only impart sweetness and won't add additional flavors but the above variations will.
Into a food processor the above ingredients will go (in phases) and several pulses later you'll have a fresh and easy cranberry relish!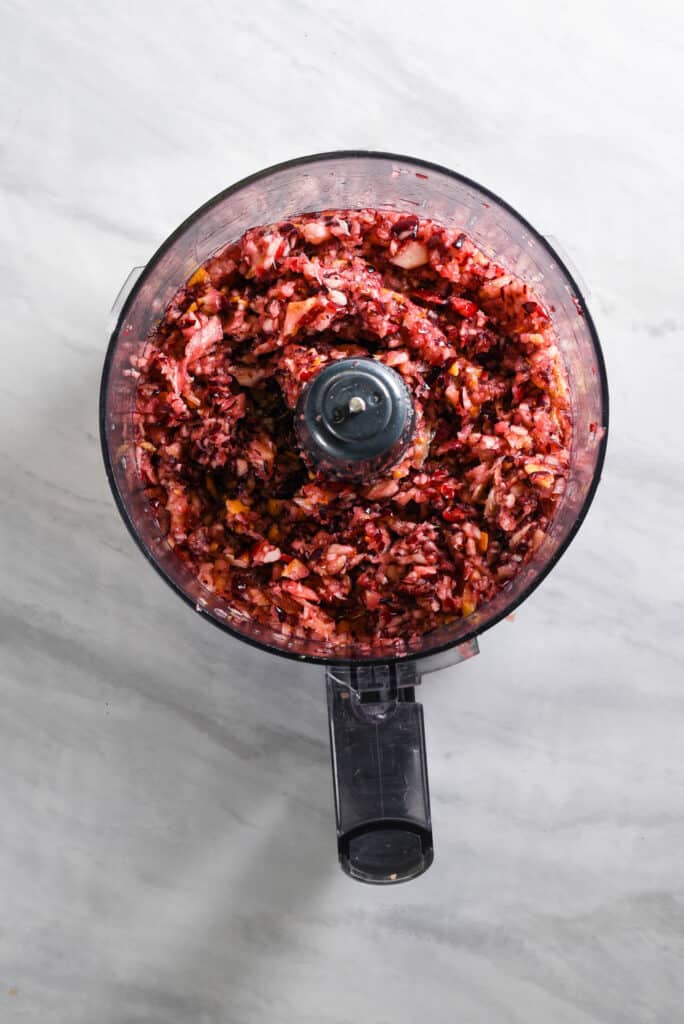 Cranberry Relish vs. Cranberry Sauce: What's the difference?
Think of cranberry relish as a raw cranberry condiment with a texture similar to finely chopped salsa. Where cranberry sauce usually has a syrupy or jelly-like consistency, cranberry relish is chunkier and has more texture. Cranberry relish isn't cooked and it isn't as sweet as cranberry sauce- the tart flavors of the raw cranberries are able to better shine through. Additionally, cranberry sauce is sometimes heated for serving whereas cranberry relish is served cold or room temperature only.
Should Cranberry Relish Have Nuts?
Some cranberry relish recipes do call for walnuts or pecans but they are optional. If you'd like to add nuts they should be lightly toasted to enhance their flavor and pulsed in the food processor. Nuts do add more heft to this relish and a savory undertone. We prefer the sweet, tart flavors of the fruit and a softer mouthfeel, which is why we have left nuts out of this recipe. Add them if you desire, about ¼ cup.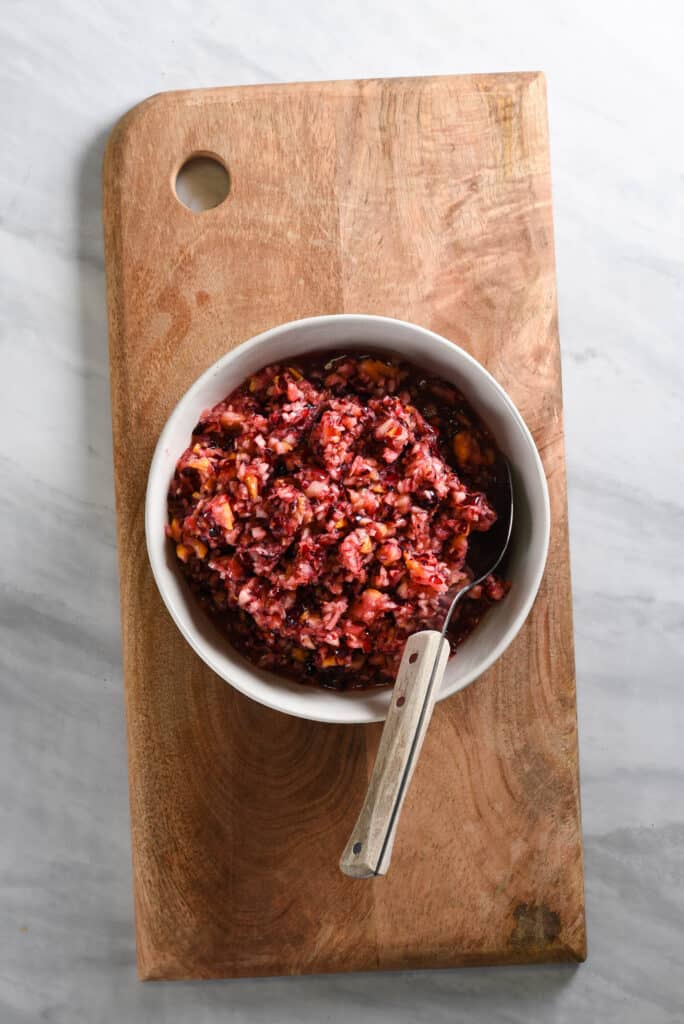 Should I Peel The Orange & Apple?
There is no need to peel any of the fruit used in this recipe! Orange rind has concentrated flavor and aroma that really brightens things up and adds a nice citrusy punch. The food processor will chop these fruits into such small pieces that the peels are not bothersome in the finished dish.
Additional Substitutions & Variations To Cranberry Relish:
If you know you're on team cranberry relish over cranberry sauce and you've made this delicious relish recipe several times, there are some tasty variations to try! Or if it's a hectic day of prep in the kitchen (hello, hosting at the holidays) and you're short on ingredients or if the store was out of an ingredient (very real the week of Thanksgiving), here are a few swaps you could make!
Pear: In place of an apple you could use a pear. Bosc, Bartlet, or Anjou all would work. Pear has a sweeter and slightly less tart flavor than apple that would be a lovely substitution!
Pineapple: Don't have an orange to spare? Toss in a cup of pineapple chunks (juices drained) in place of an orange.
Dried cranberries: Want to dial up the cranberry flavor even more? Add ¼ cup dried cranberries to the mix! Dried fruit has a concentrated flavor and is sweeter than fresh fruit!
Spices: Fresh ginger, cinnamon, black pepper, vanilla, nutmeg, or cardamom could all be added to this recipe for a flavor twist. Start small, then add more to taste.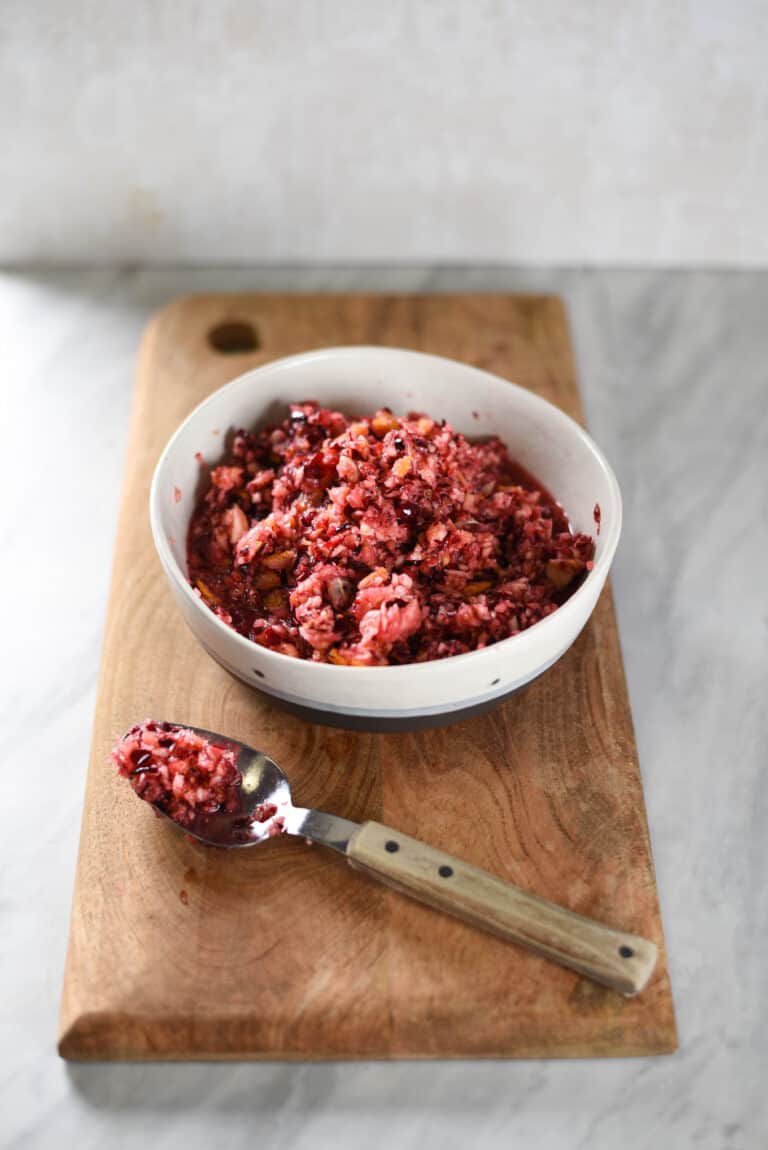 How To Store Cranberry Relish
Cranberry relish has a short shelf-life and should be eaten within 5 days for best results. The relish will become watery as the days progress and the fruit will become mushy from sitting in the liquid. Store cranberry relish in the refrigerator for up to 5 days.
Cranberry relish does not freeze well as the texture of the fruit softens a lot when defrosted and becomes mushy, plus the fruit sheds a lot of water. Freezing this creates a mushy, watery relish– instead we recommend using any leftovers up via our recommendations below!
How To Use Leftover Cranberry Relish:
Although most Thanksgiving tables need cranberry sauce of some kind– and we vote whole heartedly for this fresh cranberry relish– there is usually leftover cranberry topping. Here are some ideas on how you can use up and leftover cranberry relish over the holiday weekend.
Simmer on low for 10-15 minutes then press the mixture through a mesh strainer to make a cranberry syrup you can use to sweeten and flavor cocktails! (cranberry mimosa, sangria, moscow mule– the options are endless.)
Bake a post-holiday breakfast: Cranberry & Cream dutch baby, top your dutch baby with whipped cream or vanilla yogurt and this relish!
Use as a topping for pancakes or waffles. Additionally you can mix into frostings! (Easy cranberry cinnamon rolls, anyone?)
Use it as a marinade for protein.
Make cranberry butter- very freezer friendly.
Use it to make cranberry crumble bars.
Add it to smoothies or holiday flavored homemade popsicles.
Serve as a topping for desserts: ice cream, parfaits, cheesecake, pie.
Print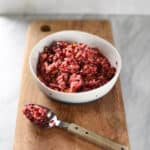 Delicious Cranberry Relish
Author:

Adriana

Prep Time:

10 minutes

Cook Time:

0 minutes

Total Time:

10 minutes

Yield:

2.5 cups

1

x

Category:

Sides

Method:

Cold prep
---
Description
Cranberry relish is a homemade cranberry topping that uses a few whole ingredients for a tart, sweet, and delicious addition to your Thanksgiving spread. This recipe will show you the following:
How to make cranberry relish
How to store it
Ingredient variations & substitutions
Cranberry relish vs Cranberry Sauce– what's the difference?
Ideas on how to use leftover cranberry relish
---
1

apple (sweeter variety of apple works best like Honeycrisp or Fiji)

1/2

navel orange (navel oranges are seedless, if using a different variety– deseed)

⅓ cup

sugar (or more depending on preference)

12 oz

bag of fresh cranberries
---
Instructions
Wash the cranberries and discard any berries that are spoiled.
Slice the apple into 6-8 pieces in order to remove the core and seeds.
Slice the orange in half and remove the main section of white pith (connecting tissue) that runs through the middle of the orange. If you are using a variety of orange with seeds, remove the seeds as well. (Navel oranges do not have seeds)
Add the orange to the food processor and pulse 10-15 times until it's finely chopped. Remove and set a aside in a mixing bowl.
Add cranberries, sugar, and apple to the food processor. Pulse until finely chopped, about 10-15 times.
Remove the cranberry mixture from the food processor and add to the bowl with the chopped orange. Stir well to incorporate.
Cover and store in the fridge until ready to use.
Serve cold from the refrigerator or allow to come to room temperature, if desired.
---
Notes
This is best when prepared at least 6 hours, or one day in advance.
We do not recommend freezing this cranberry relish as the fruit becomes mushy and sheds water. Instead we've included ideas on how to use up any leftovers.
Cranberry relish is a great alternative to cranberry sauce.
We recommend processing the orange first as it's difficult to finely chop when added at the same time as all other ingredients.