Capture the delicious flavor of blackberries by making your own blackberry simple syrup! Use this syrup to add big blackberry flavor to cocktails, beverages, pancakes, waffles, and desserts.
Homemade blackberry simple syrup comes together in about 15 minutes on the stovetop and lasts for several weeks in the fridge. It's a fabulous way to use up a lot of fresh blackberries before they spoil and it freezes very well!
Blackberry syrup is a delectable summertime treat!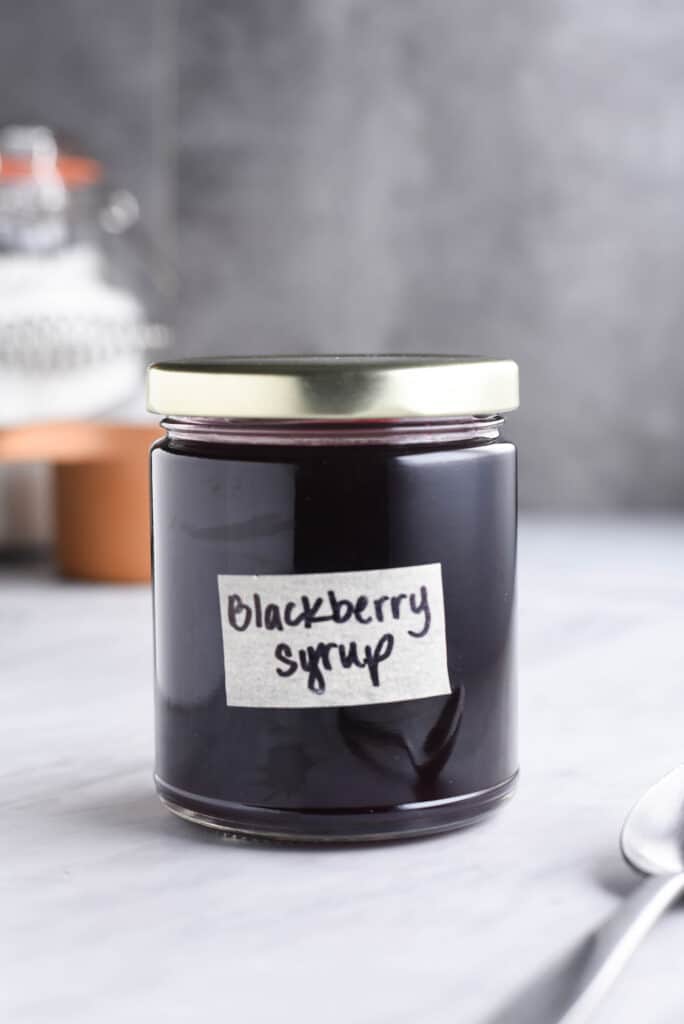 How To Make Blackberry Syrup
Homemade blackberry simple syrup only requires 3 ingredients- blackberries, sugar, and a pinch of salt (and water). If you have ever made a simple syrup before then you know the process! We're going to heat water and sugar together, to melt and liquify the sugar. The blackberries will simmer in this mixture and infuse the sugar syrup with big blackberry flavor. DELISH!
You'll need 1 cup of blackberries, sugar, water, and a pinch of salt to get going.
Wash and remove the tops of the fresh blackberries. If using frozen blackberries we recommend defrosting them in the fridge overnight, in a bowl to preserve the juices.
Heat the berries in a small pot with sugar, water, and salt then gently mash the berries as they begin to simmer to help release their juices.
There are many different varieties of blackberries, some can be almost 3″ long! If you have enormous blackberries, you may need to mash them up a bit more.
Continue to simmer the syrup for 5-15 minutes, depending on desired thickness. (Or use cornstarch to thicken for breakfast syrup– notes in recipe card). For blackberry drink syrup 5 minutes is all you need, simmer for that 15-minute mark for a thicker pancake and waffle syrup.
Strain your blackberry simple syrup and store it in a container in the fridge!
Blackberry Simple Syrup For Cocktails & Drinks
Syrups are the ideal method to sweeten beverages- especially cold beverages. When you add sugar to cold drinks, it doesn't mix in but sinks to the bottom leaving a gritty, unevenly sweetened, and sad drink. Blackberry syrup is a liquid sweetener so it perfectly mixes into beverages– it's great for coffee and tea in the morning.
Blackberry drink syrup can be used to make blackberry cocktails such as a blackberry margarita, blackberry lemonade, blackberry whiskey smash, blackberry martini, or a blackberry mojito!
If you are following a cocktail recipe that calls for plain simple syrup, use the same amount of blackberry simple syrup!
To use blackberry simple syrup in beverages, start with 1 tablespoon of syrup for every cup (8 oz) of liquid and adjust to your liking! Depending on the beverage, you'll likely need 1-3 tablespoons of syrup per 8oz of liquid.
Blackberry Syrup For Pancakes & Waffles
Sure, butter and maple syrup are iconic for pancakes, but a seasonal shift in summer to blackberry syrup slathered on your pancakes is so sweet and delicious! Pancake & waffle syrup (breakfast syrups) are oftentimes thicker than simple syrup and it's easy to thicken up this syrup.
Also, we recommend straining this through a mesh sieve to remove all the blackberry seeds and pulp before pouring it all over your pancakes. This step is optional, you can leave the blackberry seeds and fruit pulp present if you prefer.
How To Thicken Blackberry Syrup
You can thicken this syrup with cornstarch or you can simply simmer it for an additional 10 minutes to thicken it. The downside to simmering it for longer and thickening it is a lower yield. Something to keep in mind if you're feeding a big crew for breakfast– maybe make a double batch.
Key points on thickening with cornstarch:
Cornstarch doesn't fair well for reheating, too much exposure to heat can actually reverse the thickening action!! This is why cornstarch is usually added toward the end of cooking! So, if you think you'll consume your syrup over a couple of occasions, it may not be the best thickener.
Sauces & condiments containing cornstarch don't freeze well as the texture takes on a spongey characteristic upon defrosting.
The flavor isn't as bold compared to simply simmering for an extra 10 minutes.
The texture isn't as silky smooth… cornstarch is a starch, so it adds 'heft' to your syrup versus an ultra-smooth syrup.
Related Recipes: Blackberry Cobbler | Blackberry Muffins | Blackberry Flaxseed Jam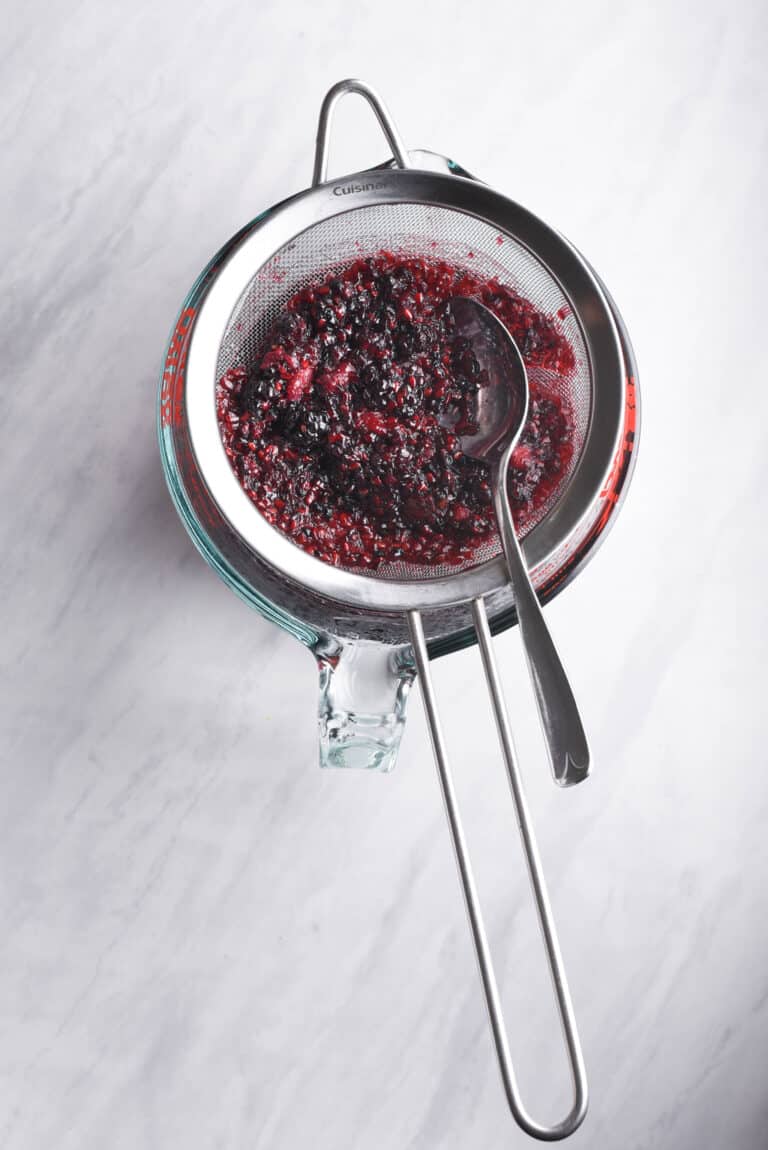 How To Store It
Blackberry syrup needs to be stored in the fridge and will last 2-3 weeks. This syrup also freezes well and will last 2-3 months in the freezer. A pint-size mason jar works perfectly as this recipe makes 10-12oz of syrup.
Storing this in a container with a pour spout is easiest and creates less of a mess as you use it. Especially if you are pouring the syrup as you make cocktails.
Variations
Alright, you're ready to take on homemade blackberry syrup, hooray! Depending on how you plan to use it, there may be some additional flavor combinations that could complement your syrup. A blackberry lavender latte anyone? Or a citrus flair like lemon might be just right to pair with blackberry margaritas!
Lemon Juice: Replace 1/4 cup of the water with fresh lemon juice.
Blackberry vanilla syrup: Stir in 2 teaspoons of vanilla extract after straining and shake/stir to combine.
Make a blackberry lavender syrup! Add 1 teaspoon of dried lavender buds to the syrup and strain out with the blackberry seeds and pulp.
Add a sprig of herbs to the syrup as it simmers: mint, basil, or thyme! Then simply remove the sprig as you strain the syrup.
Blueberries, raspberries, and strawberries could all be used in this syrup– the ripeness and sweetness of the berry will affect the final outcome of the syrup. Raspberries and blueberries tend to swing more tart than sweet, blackberries and strawberries are sweeter.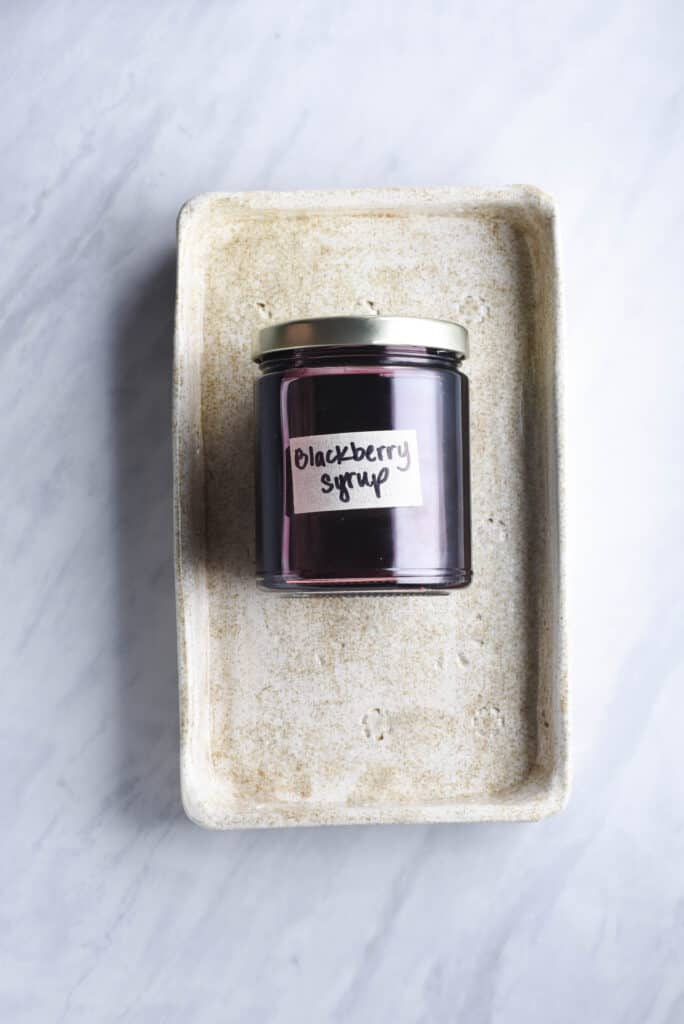 Blackberry Syrup FAQs
Can you use frozen blackberries? You can use frozen blackberries to make blackberry syrup as long as you defrost them overnight in the fridge. Use the berries and their juices to make the syrup.
Can you process the syrup in a blender? You can blend the syrup but the blackberry seeds will still be present, to remove the blackberry seeds you must strain the syrup through a fine mesh sieve.
Can you reduce the amount of sugar used? Blackberry syrup will be much thinner with less sugar so we don't recommend it.
Can you make a double batch of blackberry syrup? Yes, you can easily double or triple this recipe if you have heaps of blackberries. Freeze any syrup you won't use within a week or two.
Print
Best Blackberry Syrup
Author:

Adriana

Prep Time:

2 minutes

Cook Time:

10 minutes

Total Time:

12 minutes

Yield:

1.5 cups

1

x

Category:

Syrups

Method:

Stovetop

Cuisine:

American
---
Description
Blackberry simple syrup is the ingredient you need for fabulous summer cocktails with friends! It's SO easy to make, lasts for several weeks in the fridge, and is an amazing way to use up an abundance of blackberries!
---
1 cup

blackberries (fresh or frozen)

1 cup

sugar

3/4 cup

water
pinch of salt (1/8 teaspoon)
---
Instructions
Wash blackberries.
Add blackberries, 1 cup sugar, 3/4 cup water, and a pinch of salt to a small pot over medium heat, stirring occasionally until the mixture reaches a simmer.
Once simmering, use a fork or potato masher to gently mash the blackberries to help release more of their juices. A chunky texture is good, a few gentle mashes is all you need to slightly macerate the blackberries. Stir again after mashing
Allow the mixture to gently simmer for 5 minutes, stirring occasionally.
As the syrup thickens and reduces you may need to lower the heat to avoid burning or bubbling over. 
The syrup is ready when a spoon dipped into the mixture leaves a thick coating of syrup on the spoon.
While warm, the syrup will be very thin and will thicken once cooled in the fridge.
If you are going to strain the syrup, it's easier to do so while it's warm. Pour the syrup through a fine mesh sieve to strain out blackberry pulp and seeds.
Blackberry syrup can be stored in the fridge for 2-3 weeks or in the freezer for 2-3 months! 
Alternatively, to thicken with cornstarch: (For Pancakes & Waffles)
Follow the recipe through step 4.
Combine 1 tablespoon cornstarch and 1 tablespoon cold water together, mixing well until fully incorporated to make a slurry.
Pour cornstarch slurry into the simmering blackberry syrup, stirring well to incorporate, and allow to boil for 1-2 minutes until thickened, stirring frequently. Do not over-boil or the cornstarch can lose its thickening properties.
---
Notes
We don't recommend adding cornstarch if using blackberry syrup for drinks, but if you intend to use the syrup for breakfast goods like pancakes and waffles or as a dessert sauce.
For most cocktail applications, swap the amount of simple syrup for blackberry simple syrup equally. If you're trying to make a blackberry margarita and a standard margarita recipe calls for 1 ounce of simple syrup, 99% of the time you can swap that for a flavored simple syrup and have a flavored cocktail!
1 liquid ounce = 2 tablespoons– as most cocktail recipes measure simple syrup in ounces!
Keywords: Blackberry simple syrup, blackberry syrup