Adriana has published hundreds of recipes online and is a Board Certified Nutritionist. Read our recipe development process or more about Adriana.
Brown sugar simple syrup is a spin on the classic simple syrup that delivers a deeper, more complex flavor– requiring the same two ingredients, just sugar, and water! Brown sugar syrup can be used to create the Starbucks drink, the iced brown sugar shaken oat milk espresso. (Recipe in this post).
We'll detail tips and tricks on how to make and how store brown sugar syrup in this recipe. We'll give you some ideas for flavor variations and additions, and talk about how to make the new and quite delicious 'Iced Brown Sugar Oatmilk Shaken Espresso' from Starbucks.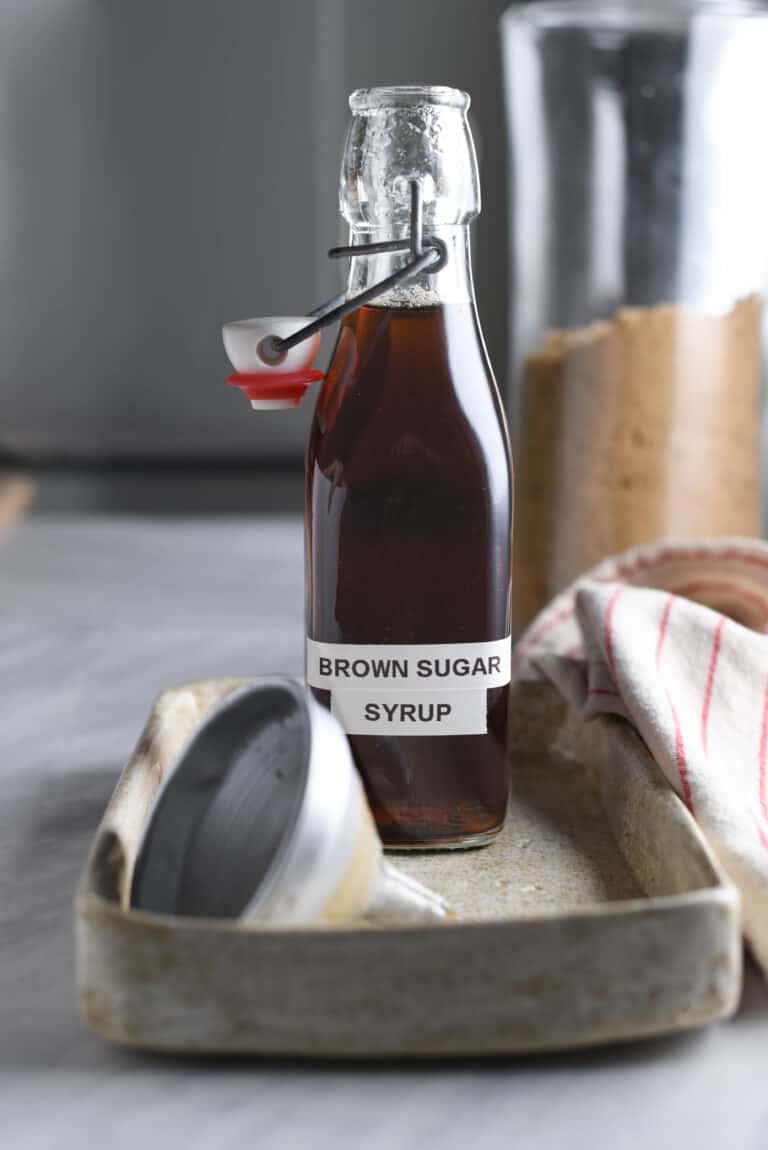 (This post may contain affiliate links. That means I'll get a small commission on any sales made through those links. Read our full disclosure.)
How To Make It
Homemade brown sugar syrup is a liquid sweetener that's suitable for all levels of home cooks to make and comes together in less than 10 minutes! You only need water, brown sugar, and a small pot to whip up a batch of this syrup. This recipe can easily be doubled or tripled if a liquid sweetener is something you use regularly.
It's simple to make brown sugar syrup: Measure and add sugar, water, and a pinch of salt to a small pot and bring to a simmer for 5 minutes, stirring occasionally to ensure all the brown sugar melts down into the liquid. The syrup will thicken as it cools.
Store in a container in the fridge and use as needed! This will last 2-3 weeks in the fridge and up to 3 months in the freezer.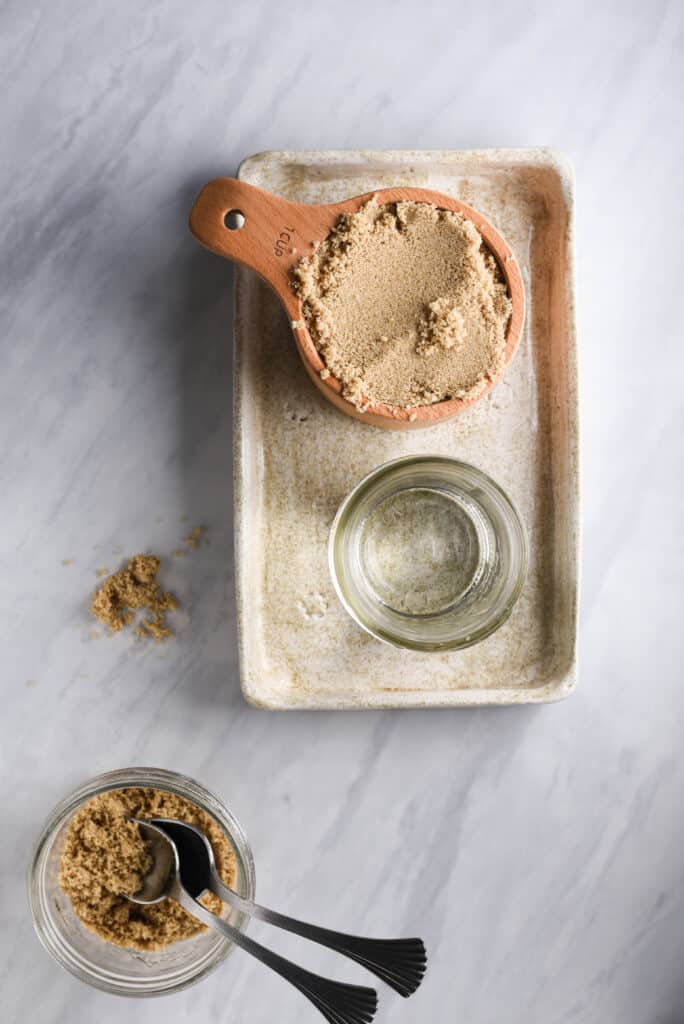 Which Brown Sugar To Use?
The flavor of brown sugar simple syrup is deeper, richer, and more complex than classic simple syrup. Brown sugar has notes of caramel, toffee, molasses, and coffee and those same subtle flavors carry through to brown sugar syrup! For this reason, brown sugar syrup pairs particularly well with coffee, chocolate, and vanilla-flavored drinks, coffees, and cocktails.
You can use light brown sugar or dark brown sugar to make this recipe; the difference between the two is simply the percentage of molasses present in the sugar. Dark brown sugar has a higher concentration of molasses and thus has a deeper, richer flavor. If we have dark brown sugar on hand, that's what we use to make this recipe.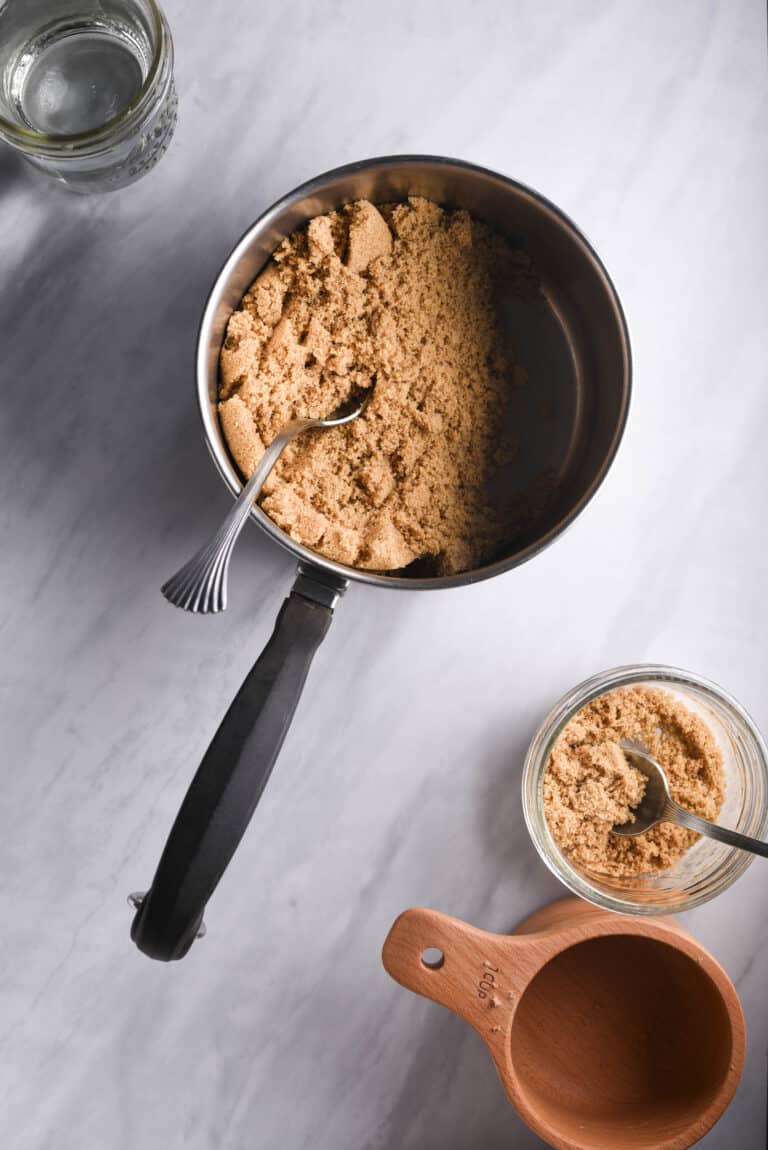 Starbucks Brown Sugar Syrup
Let's talk about brown sugar syrup for coffee. You can add this to your standard cup of joe in place of regular sugar as a liquid sweetener! Additionally, you can use this to make the ever-popular Starbucks drink, the Iced Brown Sugar Oatmilk Shaken Espresso!
You can purchase Starbucks brand brown sugar syrup online but it will run you between $60-$80 per liter! It's quite pricey considering it's easy to make your own.
Let's cover how to make this Starbucks iced coffee that's both incredibly popular and incredibly delicious!
Iced Brown Sugar Oatmilk Shaken Espresso
To make a copycat version of the brown sugar oat milk shaken espresso at home you'll need:
Oatmilk (about 1/4 cup)
Brown sugar syrup (2-3 tablespoons)
3 shots of espresso or 1/2 cup strong brewed coffee
Ice cubes
cinnamon
Place 3 shots of espresso or 1/2 cup of strongly brewed and cooled coffee, 2 tablespoons of brown sugar syrup, and 1 cup of ice into a shaker and shake vigorously until slightly foamy. Pour into a glass and add more ice if necessary. Top with 2-4 tablespoons (a heavy pour) of oat milk and a dusting of cinnamon!
*Note the Starbucks recipe for brown sugar syrup does not contain any vanilla but adding a vanilla flavor to this syrup only enhances the flavor. The Starbucks syrup does contain a 'natural flavor' which could be a vanilla flavoring agent. If you enjoy vanilla flavor you can add 1-2 tsp to this syrup. Or you could opt for a vanilla-flavored oat milk!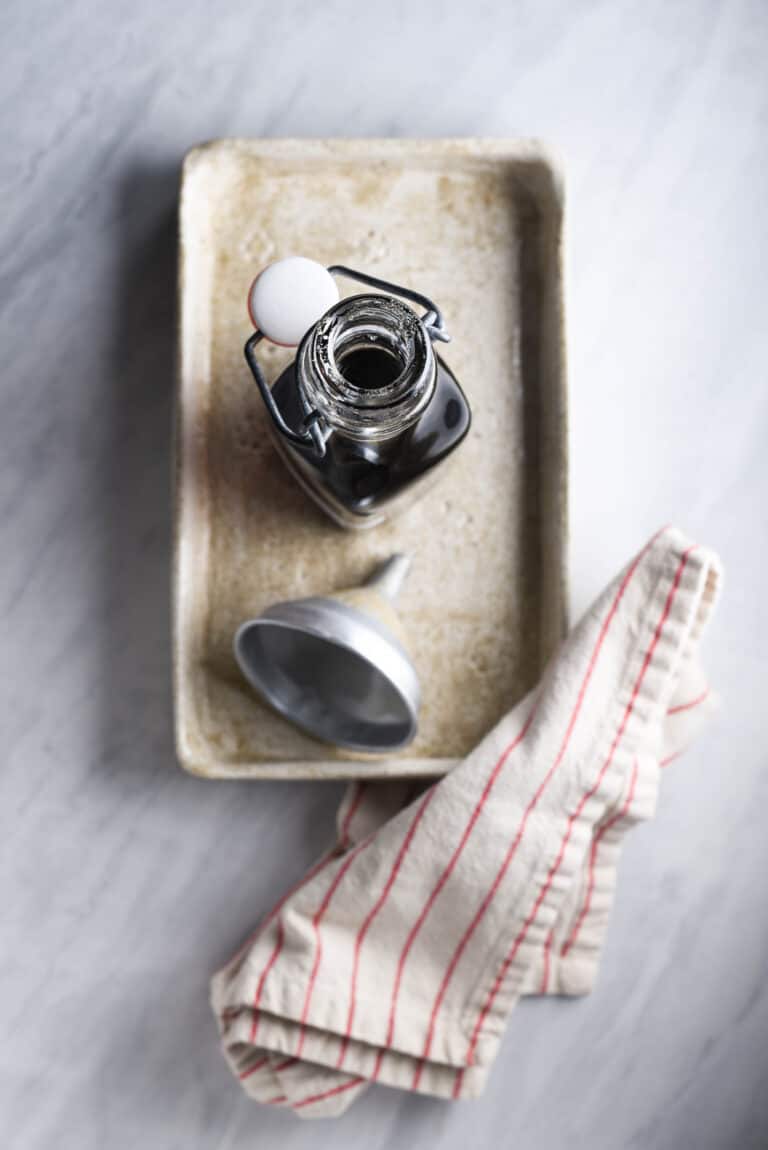 How to thicken brown sugar syrup?
When this syrup is still hot it will have a very thin consistency, but as it cools in the fridge it will thicken. For a thicker brown sugar syrup simmer on the stovetop for an additional 5-10 minutes or make a rich syrup– details below.
Boiling sugar is one step of the process in making candy so we don't recommend you heat the syrup to a rolling boil or that you simmer the syrup for more than 10 minutes. This can cause the syrup to harden to a soft caramel candy or even hard candy stage. A good simmer with small bubbles is all you need to thicken the syrup.
When you reduce and thicken the syrup, the final yield is lower so it's a good idea to make a double batch.
To make a rich syrup: Use 2 parts brown sugar to 1 part water. Dissolving 2 cups of brown sugar into 1 cup of water will make a much thicker syrup with a more concentrated flavor.
Brown Sugar Syrup Variations & Uses
As we touched on previously, you can use light or dark brown sugar to make this syrup… However, we have a few more tricks up our sleeve to enhance & embellish the flavor of this syrup! These variations are completely optional, the recipe as written works phenomenally, these options are for those who are feeling a bit extra.
Add 1 teaspoon of vanilla extract
Add 2 tablespoons of maple syrup
Add 2 tablespoons of honey
Add 1/4 of roasted hazelnuts(or other nuts) then strain after simmering
Brown sugar simple syrup can be used to sweeten and flavor both hot and cold beverages like coffee and tea, cocktails, mocktails, or smoothies. This syrup works well for desserts, too. If thickened up you could even use this on breakfast items like pancakes, waffles, or Dutch baby pancakes.
If you're into flavored coffees, teas, and cocktails, we'll leave these options here: Ginger syrup, jalapeno syrup, and blueberry syrup!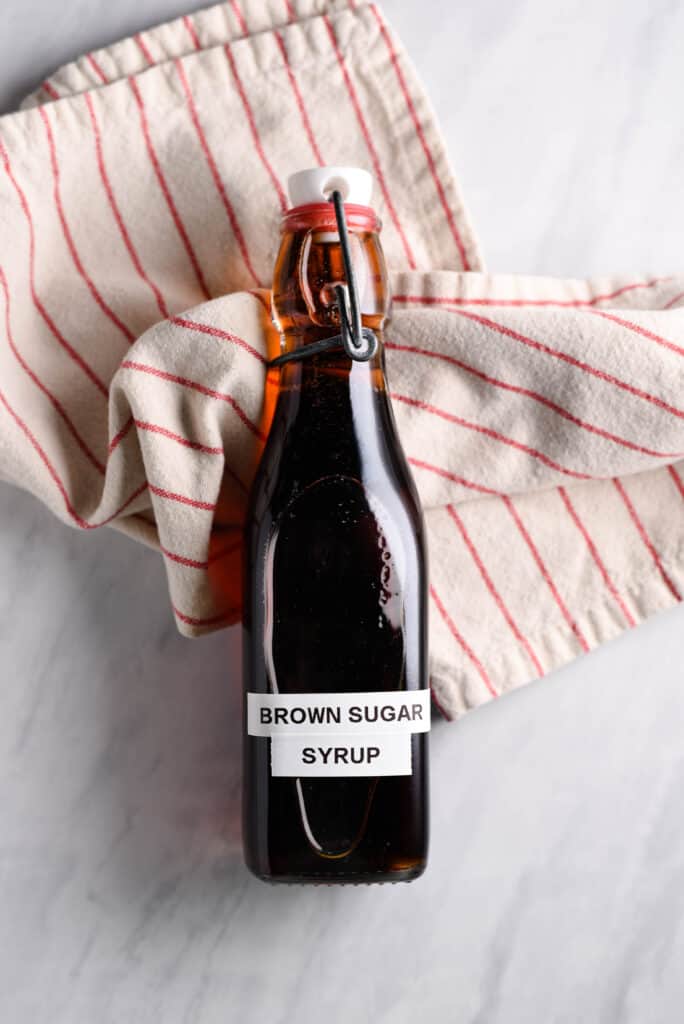 Frequently Asked Questions:
What is brown sugar syrup? Brown sugar syrup is a simple syrup that uses brown sugar in place of white sugar for a richer, caramel flavor. Starbucks has popular drinks that use this syrup and since, brown sugar syrup has become wildly popular to purchase and to make at home.
How long does homemade brown sugar syrup last? Brown sugar syrup will last 2-3 weeks in the fridge and up to 3 months in the freezer. The only ingredients are sugar and water so the syrup isn't very perishable although we do recommend keeping this in the fridge.
Can you make simple syrup from brown sugar? Yes, this recipe is exactly that. It's incredibly easy to make brown sugar syrup by swapping white sugar for light or dark brown sugar. Any coffee or cocktail recipe calling for regular simple syrup can also be made with brown sugar syrup. Use the same amount of brown sugar syrup that a recipe calls for.
Print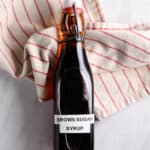 Brown Sugar Syrup
Author:

Adriana

Prep Time:

1 minute

Cook Time:

10 minutes

Total Time:

11 minutes

Yield:

~1 cup

Category:

Condiments

Method:

Stovetop

Cuisine:

American
---
Description
Make your own homemade brown sugar simple syrup to use in coffee, tea, and cocktails! This syrup is a stunner that's incredibly easy to make and will make your coffee drinks at home taste barista-level! Brown sugar syrup has a more complex flavor than standard simple syrup with notes of caramel, toffee, and coffee flavors.
Brown sugar syrup can also be used for cocktails in place of standard simple syrup.
---
1 cup

dark brown sugar (light or golden brown sugar works also)

1 cup

water
pinch salt
---
Instructions
Add all ingredients to a small pot and bring to a simmer over medium heat, stirring occasionally.
Simmer for 5 minutes then remove from heat and let cool. (For a thicker syrup, simmer 10-15 minutes)
Pour into a container to store and keep in the fridge for 2-3 weeks.
---
Notes
*For thicker brown sugar syrup, simmer for 15-20 minutes. Note that when you reduce and thicken the syrup the final yield will be lower, closer to 1/2 cup.
*This will keep in the freezer for up tp 3 months!
---
Nutrition
Serving Size:

1 tablespoon

Calories:

52

Sugar:

13.3g

Sodium:

22.6mg

Fat:

0

Saturated Fat:

0

Unsaturated Fat:

0

Trans Fat:

0

Carbohydrates:

13.5g

Fiber:

0g

Protein:

0

Cholesterol:

0
Keywords: Brown sugar syrup, starbucks recipe