Move over simple syrup, honey syrup is the floral and perfumey cousin we're discussing today! Honey simple syrup is an easy way to add flavor and sweetness to drinks and cocktails and it's a cinch to make. It's also divine drizzled over fresh fruit and yogurt bowls, ice cream, used as a cake syrup, stirred into coffee/tea, or any other application that you'd find yourself reaching for the honey!
By transforming honey into honey syrup, the honey stays in a silky-smooth, pourable consistency! This recipe is also a great way to use up that crystallized jar of honey in your pantry and restore it to a smooth luscious sweetener once again.
It's liquid honey and it's delicious.
How To Make It
To make honey syrup warm honey and water in a small pot, stirring occasionally, until the honey dissolves into the water. Making honey simple syrup is a way to thin honey if your honey is too thick to drizzle. This syrup delivers a highly usable liquid honey right at your fingertips!
You don't need to heat the mixture to a simmer or boil, in fact, there are beneficial compounds in raw honey that may deteriorate if heated for an extended period of time or temperature.
You can make honey syrup using either a 1:1 or 2:1 ratio of honey to water. Syrup made with 2 parts honey to 1 part water is a 'rich syrup' and will have a thicker consistency and mouthfeel.
As the sugar content is diluted when water is mixed with honey, this should be stored in the fridge for best results and used within about 3 weeks. Honey syrup can last longer than this when stored properly so use your best judgment to determine when it's expired. Simple syrup can develop mold or "off" smells that are clear signs it's time to say goodbye.
For an extended shelflife, store your honey syrup in the freezer! (3-6 months no problem!)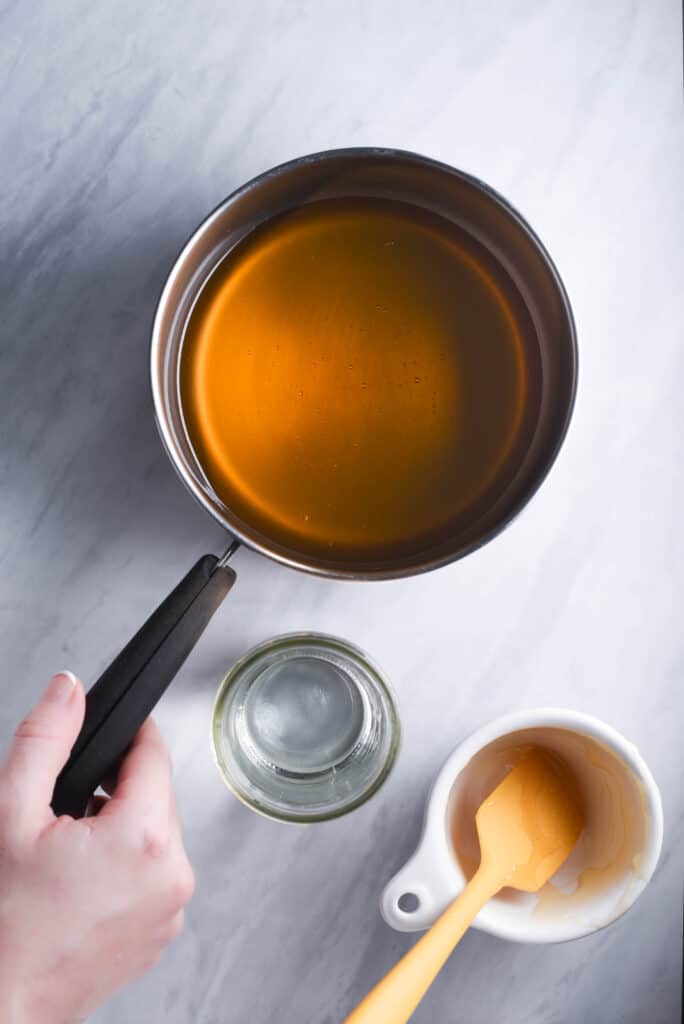 Different Kinds Of Honey Create Different Flavors
Honey comes in a wide variety of different flavors, origins, and purities. Any honey that you have at home will work for honey syrup but different kinds of honey will create different tasting syrups! 'Raw' honey is usually not pasteurized but simply filtered to remove any debris in comparison to 'regular' honey which is both pasteurized and filtered.
Many of the kinds of honey for sale at a big-box grocer will be regular, pasteurized honey and could have added sweeteners or stabilizers. For the best-tasting syrup, reach for the best-tasting honey! Raw honey has a much more robust flavor profile and aroma. You can purchase raw honey at a health food store or farmer's market if your local grocer doesn't stock any.
It's well worth it for the flavor alone but you may even reap some additional health benefits by using local, raw honey.
It's A Great Way To Use Crystallized Honey
Making honey syrup is a great way to salvage a jar of honey that has crystallized and return it to a smooth, pourable consistency. Once a jar of honey crystallizes it can develop a thick, grainy texture that is still good for spreading on toast or stirring into coffee but it loses the silky texture and pourable consistency.
If you use crystallized honey to make honey syrup the syrup won't re-crystallize and go grainy, it will stay in liquid form. Honey syrup does need to stay in the refrigerator as the sugar content is diluted in comparison to pure honey.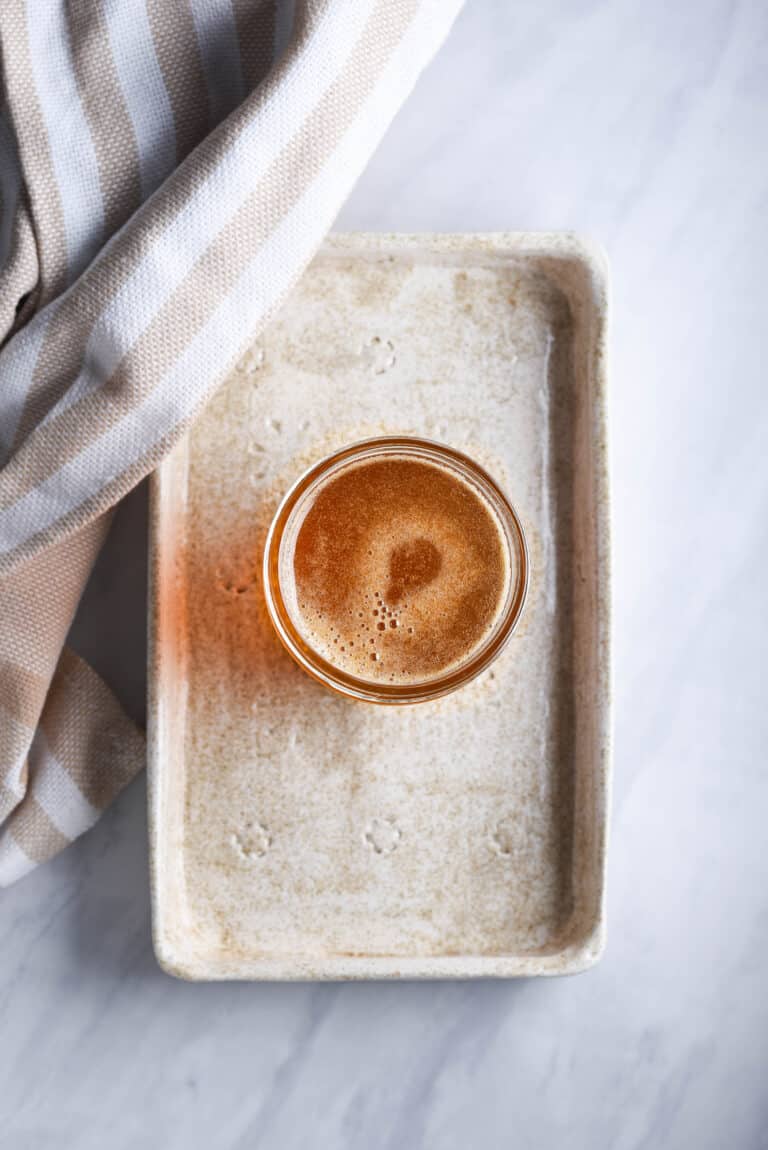 Honey Syrup For Cocktails
Honey Syrup is a great alternative to simple syrup and you can substitute honey syrup for simple syrup in any application. The flavor of honey syrup will change the final taste of the cocktail as honey has a more complex flavor compared to sugar. We've tested honey syrup in a variety of cocktails and have a few of our favorites listed below for you to try out.
Old Fashioned
2 oz whiskey
1 teaspoon honey syrup
2-3 dashes angostura bitters
large orange peel
Add the simple syrup and bitters to a glass and stir to combine. Top with ice cubes and stir again. Squeeze the orange peel over the ice cubes to release its oils then pour the whiskey in over the ice. Use the orange peel as a garnish by adding it to the glass and enjoy!
French 75
1 oz gin
1/2 oz lemon juice
1/2 oz honey syrup
3-4 oz champagne
Pour gin, lemon juice, and syrup into a cocktail shaker with ice and shake until frosty. Strain this into a champagne flute, add champagne and enjoy!
Whiskey Smash
2 oz whiskey
3/4 oz honey syrup
1/2 a lemon (2 wedges)
4-6 mint leaves
Muddle the lemon to release the juices. Add whiskey, syrup, and mint to a cocktail shaker and shake until frosty. Strain into a glass with ice and enjoy!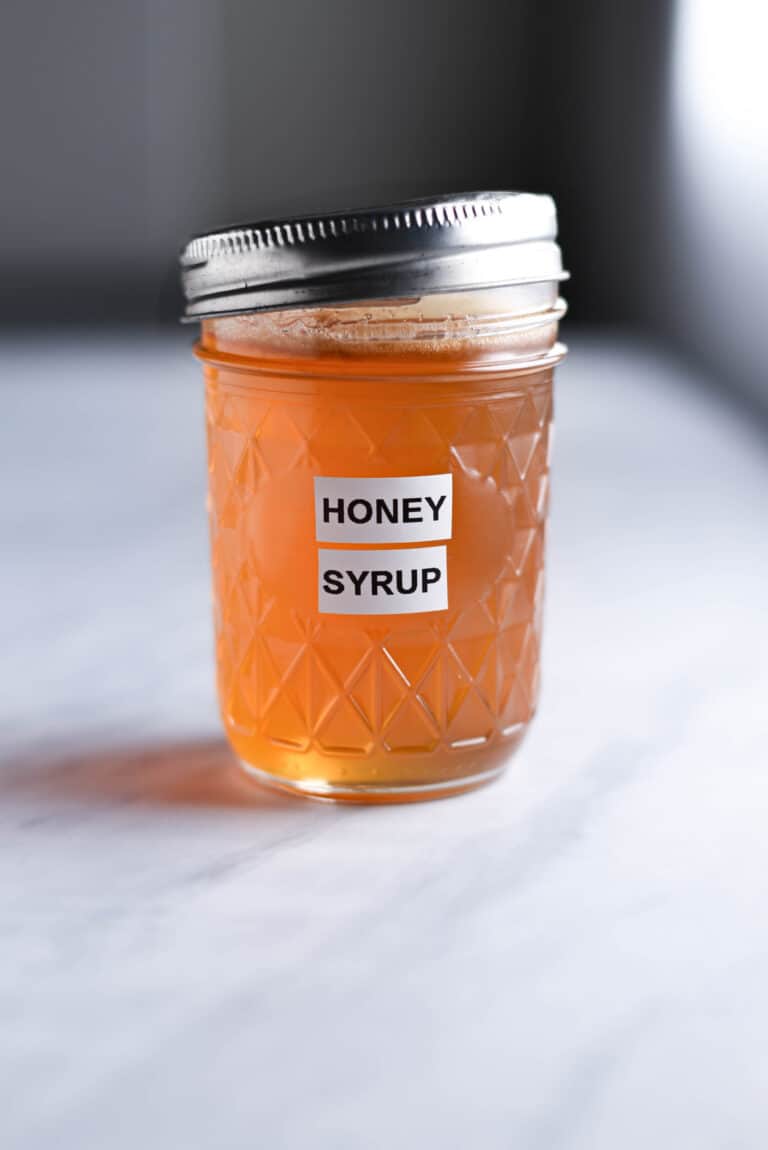 Print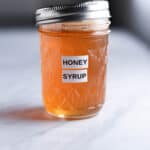 Honey Syrup
Author:

Adriana

Prep Time:

1 minute

Cook Time:

7 minutes

Total Time:

8 minutes

Yield:

1 cup

1

x

Category:

Condiments

Method:

Stovetop

Cuisine:

American
---
Description
Try this super simple honey syrup recipe to sweeten coffee, tea, and cocktails! Making honey syrup keeps honey in a pourable, usable format that compliments a variety of drinks, desserts, and treats in the kitchen.
---
1 cup

honey

1 cup

water
pinch salt
---
Instructions
Add honey, water, and a pinch of salt to a small pot over medium heat.
Bring to a simmer and simmer for 5 minutes, stirring occasionally, until the honey has dissolved.
Remove from heat and let cool then store in an airtight container in the fridge and use as needed.
---
Notes
For thicker honey syrup, simmer for 15 minutes or reduce the amount of what to 1/2 cup. Note this will only yield 1/2 cup of syrup.
Honey syrup will last up to 3 months if stored in the freezer.
---
Nutrition
Serving Size:

1 tablespoon

Calories:

64

Sugar:

17.4g

Sodium:

19.6mg

Fat:

0

Saturated Fat:

0

Unsaturated Fat:

0

Trans Fat:

0

Carbohydrates:

17.5g

Fiber:

0

Protein:

.1g

Cholesterol:

0