Adriana has published hundreds of recipes online and is a Board Certified Nutritionist. Read our recipe development process or more about Adriana.
Sweet, fluffy pancakes brimming with blueberry flavor and a hint of lemon- yes, this recipe is for vegan blueberry pancakes and they are delicious. This is the Saturday morning breakfast we want to wake up to. Use fresh or frozen blueberries, top with maple syrup or vegan honey, or simply slather them with butter.
These babies whip up even faster if you use a vegan pancake mix. You could even top them with blueberry syrup. Toss in some chocolate chips for a chocolate-covered blueberry feeling. No holds barred, this is your breakfast moment.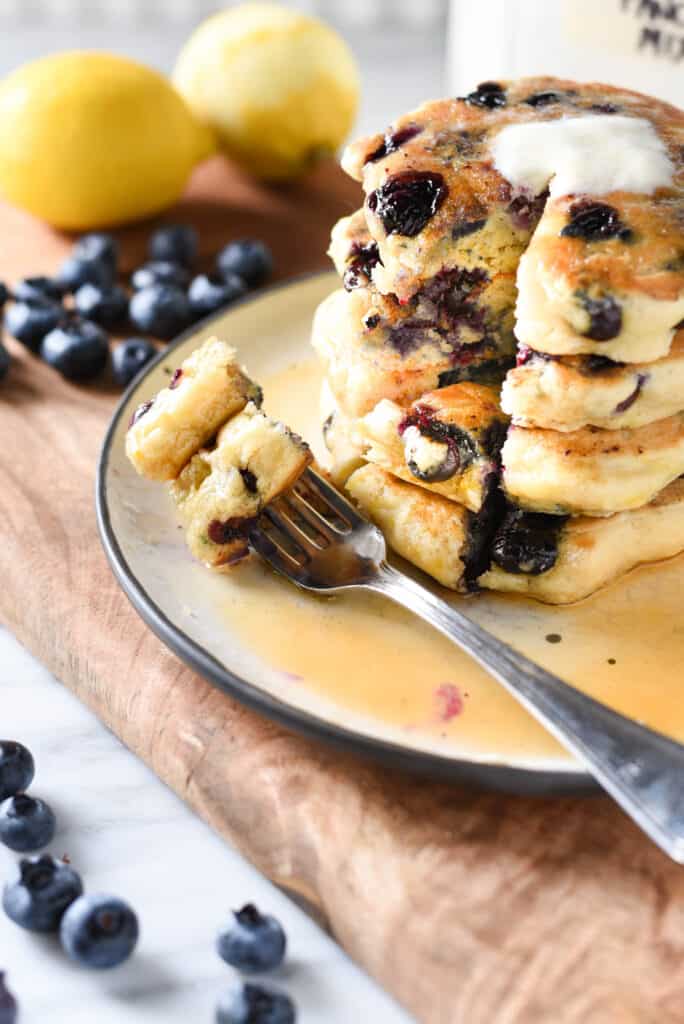 (This post may contain affiliate links. That means I'll get a small commission on any sales made through those links. Read our full disclosure.)
How To Make Vegan Blueberry Pancakes
Pancakes are a beloved breakfast food around our house. They are quick to prepare, highly customizable, and they're basically 'sweets' for breakfast. As this recipe is vegan, there are no eggs in the batter. Any plant-based milk or butter will work in this recipe, although coconut milk and soy milk produce the best results.
These vegan blueberry pancakes contain fresh blueberries, lemon zest, and lemon juice. The brightness of the lemon zest dials up the blueberry flavor. The lemon juice helps react with baking soda for extra tall and fluffy pancakes and it gives the pancakes a lemony zing.
Mix wet ingredients together in a medium-sized bowl with a whisk.
Add your dry ingredients and stir to combine.
Let the batter rest for 5 minutes while you heat your pan.
Pour batter into a greased, heated pan and cook 2-3 minutes, until the edges are dry. Flip and cook for an additional minute on the second side.
Remove from pan and serve with butter and syrup.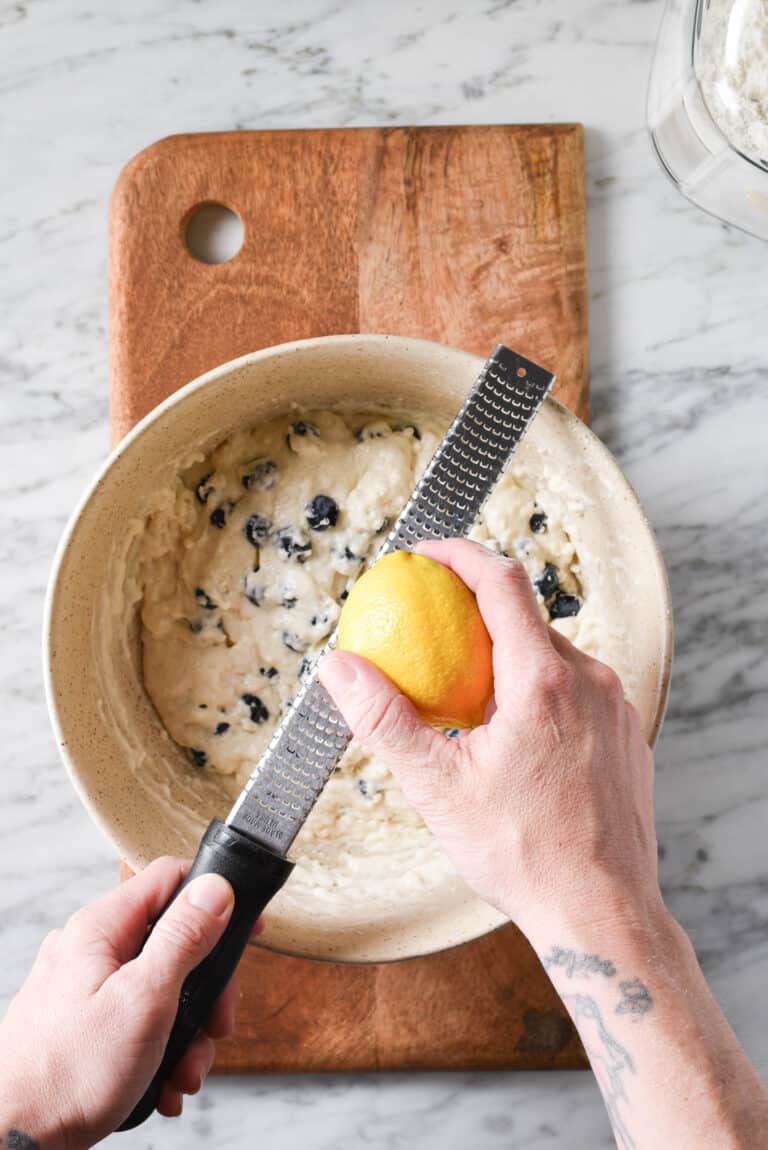 When To Add Blueberries To The Batter?
There are two options for adding blueberries to pancakes, which are highly debated among blueberry pancake enthusiasts- to the batter or to the pancake.
You can add the blueberries directly to the bowl of pancake batter and gently stir them in. This will evenly disperse blueberries throughout the pancakes and have blueberries visible on the top, bottom, and sidewalls of your pancakes. More blueberries will burst using this method and this leaves you with more little blueberry jam pockets vs more whole blueberries.
You can add blueberries to pancakes one by one after pouring batter on the griddle. This leaves the bottom side with blueberries and the top of the pancake without any blueberries peeking through. More blueberries remain whole using this method.
The photo below shows the difference– the blueberries in the bottom right pancake were added after the batter was poured, not mixed into the batter.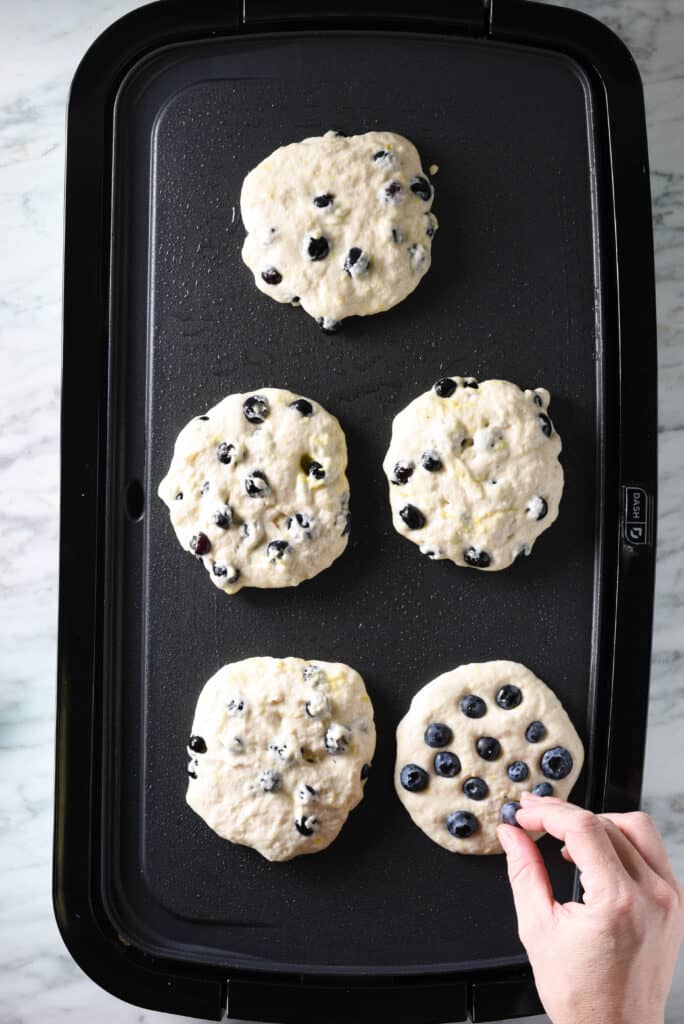 Related Recipes: Best Vegan Pancakes | Pistachio Muffins |
Tips On Making Vegan Blueberry Pancakes
Pancakes are one of life's simple pleasures that sometimes aren't so simple? There are thousands of blueberry pancake recipes online and they're all a bit different. It's easy for pancakes to turn out flat, gummy, or too dry on the interior. Here are some expert tips for success:
Enjoy the golden crispy edges and rings on pancakes? Be sure to generously coat the pan or griddle with vegan butter or oil. In our testing, we found butter works best to create little seary golden rings. It sticks to the pan much differently than oil.
If using frozen blueberries: The batter (and resulting pancakes) may have a purple hue, or streaks of purple here and there. Toss the berries with a bit of flour to coat before you add them to the pancake batter.
Flip the blueberry pancakes when the edges have a dry appearance and are no longer shiny. You may see some small holes (popped bubbles) on the surface of the pancakes, but you may not. Cook each side once. Don't smash down on the pancake after you flip.
Don't stir the batter after the initial mix! As soon as the wet ingredients hit the dry, the baking soda and baking powder get straight to work. You'll see the batter begin to bubble up and thicken almost immediately. All those little air bubbles and that fluff-giving lift will deflate with lots of stirring. Simply scoop your batter and leave it be 🙂
Variations
We think the combination of blueberries, lemon, and ultra-fluffy pancakes is lovely. However, we know over summertime you might be up to your ears in blueberries so if you have this recipe on repeat like we do, here are some variations to try.
Use any plant-based milk! We opt for coconut, soy, or cashew as that's what we have stocked in our pantry but ANY non-dairy milk will work!
Orange zest can be substituted for lemon zest.
Add 1/4 teaspoon of almond extract instead of vanilla extract.
Use lavender sugar in place of white sugar: Measure sugar into a bowl and add 1/2 teaspoon of dried lavender buds to it. Use your fingers to rub the lavender into the sugar repeatedly until the lavender is broken down into small bits. Let this sit while you prepare other ingredients. Blueberry + lavender = YUM.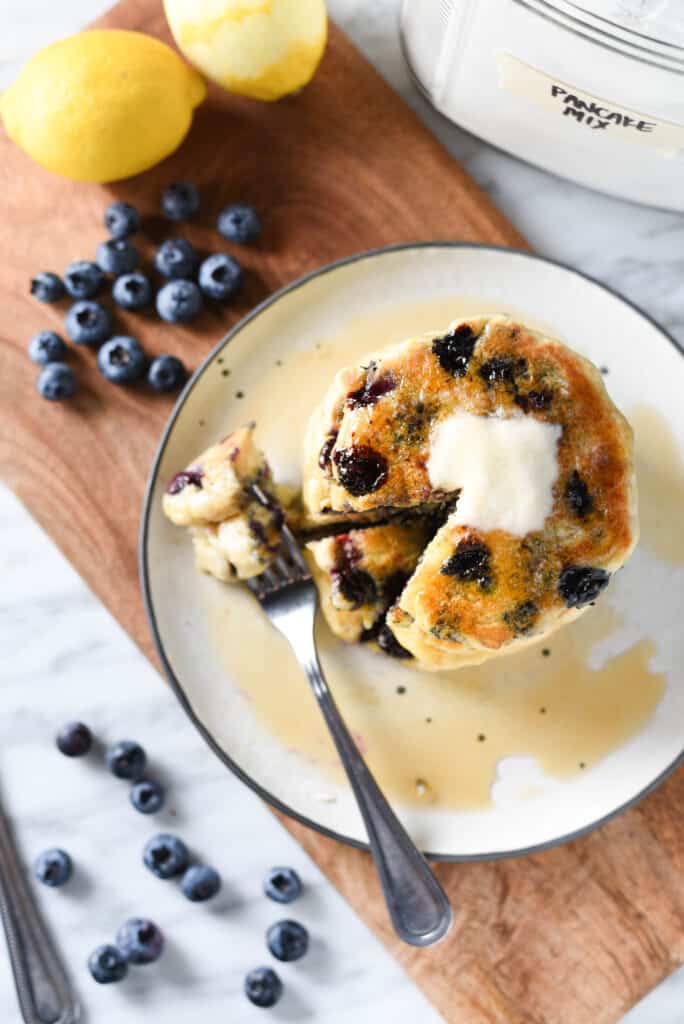 Vegan Blueberry Pancake FAQs
Why are my pancakes spreading too much? Too much liquid in pancake batter can lead to spreading and flat pancakes. Not to worry, if you notice the first couple of pancakes are too thin, simply add more flour 1 tablespoon at a time, stirring gently to incorporate.
How to freeze vegan blueberry pancakes? Pancakes freeze best when cooled to room temperature and stacked in between layers of parchment paper to prevent sticking. Place in a plastic bag or other freezer-safe container.
How to reheat pancakes? Pancakes can be reheated in a toaster on a low setting to warm (it may take a few times) or in a 350* oven on a sheet pan covered with foil for 5-7 minutes.
Can I use frozen blueberries? Yes, frozen blueberries will work. Don't defrost them, use them frozen. For best results, toss 1 cup of blueberries with 1 tablespoon of flour to coat before adding to the pancake batter. Using frozen blueberries tends to color or streak the batter purple but the pancakes still taste delicious.
Does another berry work instead of blueberry? Whole raspberries, chopped strawberries, or chopped blackberries work as well. Any berry, really. As long as the size isn't too big to prevent pancakes from holding together.
Print
Vegan Blueberry Pancakes
Author:

Adriana

Prep Time:

10 minutes

Cook Time:

10 minutes

Total Time:

20 minutes

Yield:

6

pancakes

1

x

Category:

Vegan Breakfast

Method:

Stovetop

Cuisine:

American

Diet:

Vegan
---
Description
Vegan blueberry pancakes have landed! These are a summer hit and a great weekend breakfast to make for the family. Tall, fluffy pancakes loaded with blueberries and topped with melty vegan butter and maple syrup.
Our vegan blueberry pancake recipe gives you all the tips and tricks you'll need for superb pancakes!
---
Wet:
1.25

–

1.5

cups non-dairy milk (less for tall, thick pancakes & more for pourable, 'soft' pancakes. See notes)

1 tablespoon

oil or

1

T melted vegan butter

1 teaspoon

vanilla extract

1 teaspoon

lemon juice (sub white or apple cider vinegar)

1 tablespoon

lemon zest (zest from

one

lemon)
Dry:
1.5 cups

all-purpose flour (scooped & leveled)

1 tablespoon

baking powder

2

–

3

tablespoons sugar

1/2 teaspoon

salt

1/4 teaspoon

baking soda

1 cup

blueberries (see notes if using frozen)
---
Instructions
Mix all wet ingredients together in a medium-sized mixing bowl.
Sift dry ingredients into wet and whisk several times until just incorporated. Then add blueberries and mix gently to disperse.
Heat up a pan or griddle over medium heat and optionally coat with butter or oil.
Pour batter into pan in whatever size you prefer (we like 1/3c portions) and cook 2-4 minutes on the first side. Flip when the edges are dry and there may be some holes or bubbles on the surface of the pancake. Lift up and edge and peek to check that the underside is brown.
Cook on the second side for about 1 minute and serve immediately.
Blueberry pancakes can be stored in the fridge for 3-4 days or in the freezer for 2-3 months. These are a great make-ahead breakfast.
---
Notes
If using frozen blueberries, toss the blueberries with 1 tablespoon of flour prior to adding to the batter. Frozen berries are more likely to streak or color the batter purple, but the pancakes are still delectable! Do not defrost.
Place pancakes on a wire rack instead of stacking on a plate after cooking if you want to keep those crispy edges crisp.
To reheat pancakes, toast 1-2 times on a low setting in your toaster. To reheat in the oven, warm pancakes on a sheet pan covered with foil in a 325* oven for 5-7 minutes.
Keywords: vegan blueberry pancakes