If you just finished up a batch of roasted garlic and you're wondering how to store it, how long it lasts, or if you can freeze roasted garlic– this one's for you! In many ways, roasted garlic is similar in nature to other roasted vegetables although there are a few special circumstances to be on the lookout for.
From storage in the fridge or freezer to preservation methods to extend the shelf life of roasted garlic, we've got you covered for all the delicious and safe ways to use this beloved allium vegetable.
Or learn how to make roasted garlic, then come on back for storage tips.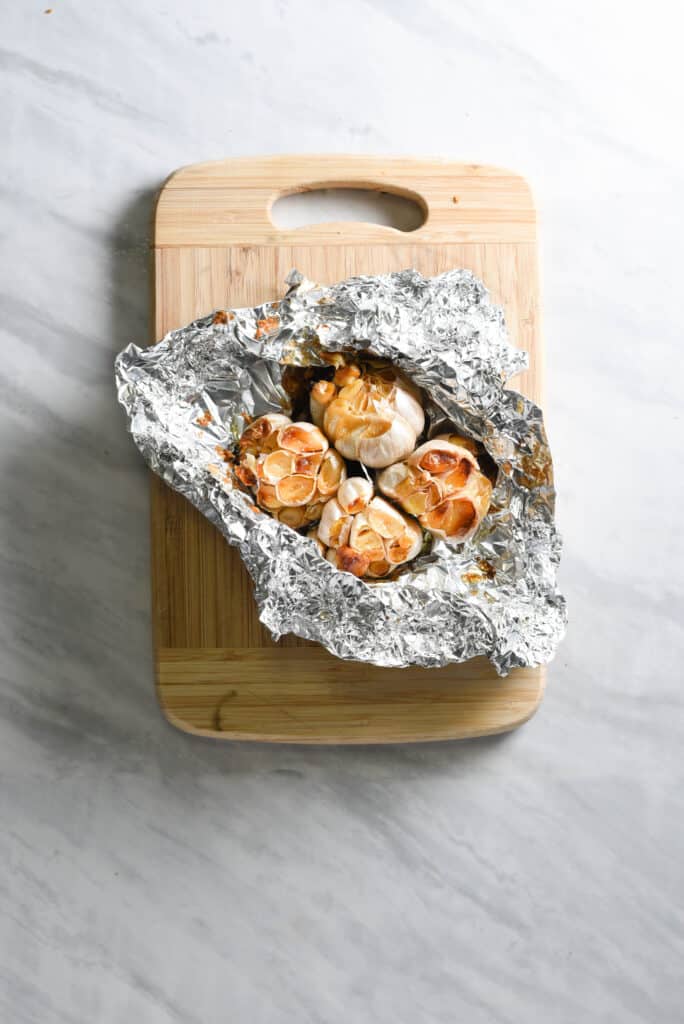 How long does roasted garlic last?
Roasted garlic lasts anywhere from 7 days all the way to 6 months, depending on processing, preservation, and storage. For maximum flavor, texture, aroma, and overall freshness we recommend consuming roasted garlic within 7 days but have tips below on how to extend the shelf life of roasted garlic.
How long does roasted garlic last in the refrigerator?
Roasted garlic will maintain its texture, taste, and aroma in the fridge for up to 7 days. While roasted cloves may still be safe to eat when stored for up to 2 weeks in the fridge, the taste and aroma simply aren't the same!
How long does roasted garlic last in the freezer?
Roasted garlic will last up to 3 months in the freezer when stored with minimal air contact, a small ziploc bag with air removed and double bagged, is the best option. After 3 months, the aroma and taste deteriorate significantly.
How to preserve roasted garlic?
The methods we would classify as 'preservation' aside from freezing would be to make roasted garlic infused oil, vinegar, or salt.
Roasted garlic oil: Roasted garlic oil is a preservation method with a risk of botulism. (Jump to the section on garlic and botulism to learn more) Yes, there are store bought garlic-infused oils however they have added ingredients for preservation and acidity!
We recommend ¼ cup roasted garlic cloves per 16oz bottle of olive oil and leave this to infuse for 24 hours (in the fridge) before straining out the cloves. You can adjust the quantity of garlic based on your taste preferences.
Once the oil has been infused with roasted garlic flavors and strained to remove the cloves, store in the freezer and use as needed. The oil will not freeze solid– you'll be able to scoop out oil as needed for cooking. This is the lowest risk method for at-home infused oil with garlic!
Roasted garlic vinegar: Add 6-8 cloves of roasted garlic to equal parts vinegar and water, leave together in the fridge overnight for flavors to infuse. The vinegar will be ready to use the following day and the cloves can remain in the vinegar as long as they are fully submerged. Store roasted garlic vinegar in the fridge for 6 months. NOTE: the garlic cloves may turn blue or green, this is normal and safe to eat.
Roasted garlic salt: For a salt infusion, you'll need to dehydrate the roasted cloves– this can be done in a small countertop dehydrator or in the oven at low temperatures. Once dehydrated, turn the garlic into a powder with a blender or food processor. Add 3 parts large flake sea salt (by volume) and pulse just a few times to incorporate. Ex: 1 tablespoon dried roasted garlic + 3 tablespoons large flake salt.
How To Store Roasted Garlic?
Roasted garlic can be prepared as whole roasted heads or individual roasted cloves, but regardless of the method used to roast the garlic we recommend storing roasted garlic with cloves separated from the head of garlic and removed from their papery skins.
If you'd like to keep the individual cloves intact, they are easier to separate from the head after they have been placed in the cool temps of the refrigerator.
If you're ok with a roasted garlic 'paste', you can simply squeeze the cloves out of the head of garlic after roasting, once it's cooled enough to handle.
Does roasted garlic need to be refrigerated? Yes, although roasted garlic is fully cooked it is a vegetable and will spoil if left at room temperature. For long-term, room-temperature garlic storage– keep garlic raw.
How to store roasted garlic in the refrigerator?
There are 2 primary methods of storing roasted garlic in the fridge– with or without oil. You can place cloves into a small container with a lid or plastic bag to store for about 7 days. The cloves may dry out ever so slightly without the oil however we don't store them in oil and they work just fine for our cooking applications. Additionally, you can top the cloves in the storage container with oil if you prefer a very smooth, buttery consistency or spreadable application. *See note on garlic & botulism below.
Can you freeze roasted garlic? You can freeze roasted garlic for up to 3 months without sacrificing taste or aroma. It is best to separate the individual cloves or roasted garlic from the head prior to freezing and freeze in an airtight container, like a small ziplock bag with the air removed.
Can you store roasted garlic in oil? Roasted garlic may be stored in oil if kept in the freezer. Garlic (raw or roasted) stored in oil can create an environment ideal for botulism toxin- a warm anaerobic environment. We've all seen decorative bottles of cooking oils with whole cloves in them– while visually appealing, this isn't safe to produce at home. (Read on about botulism below)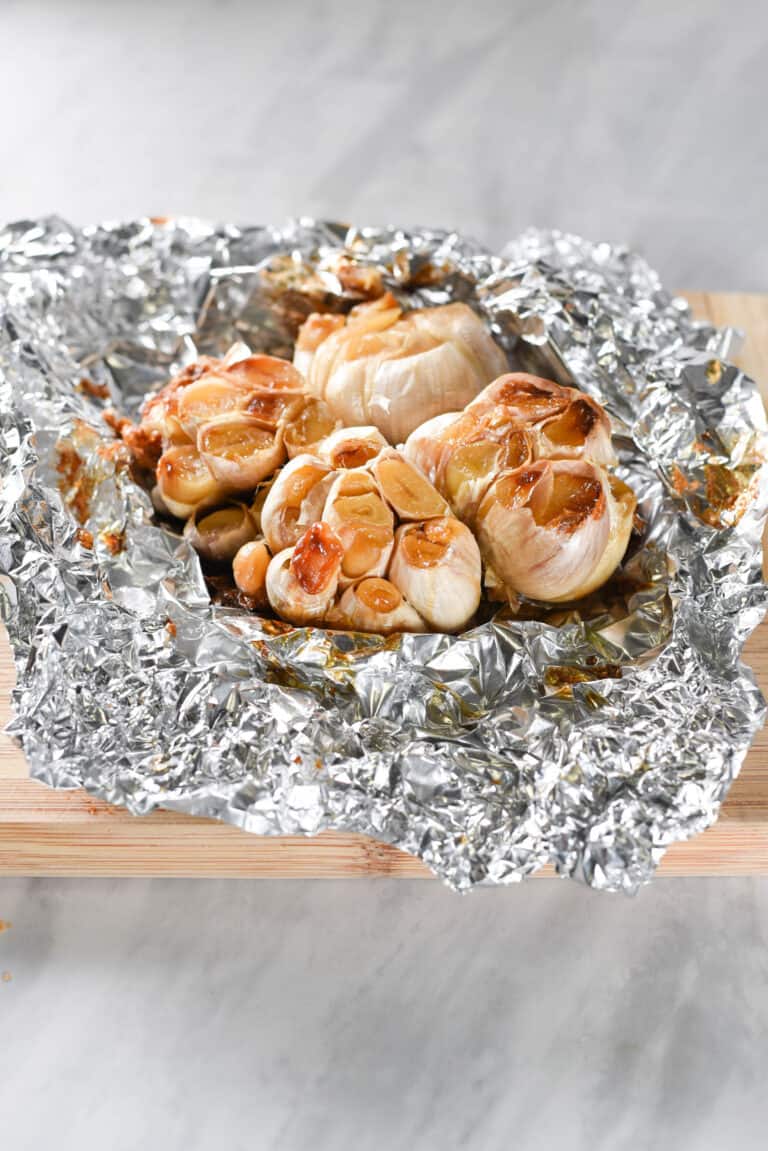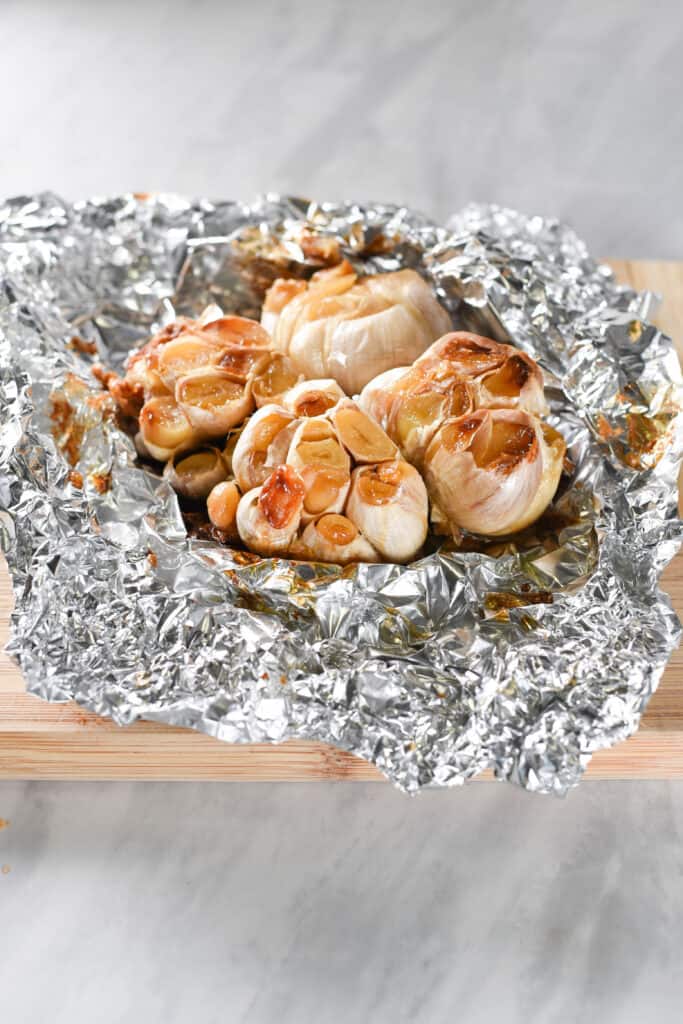 Roasted Garlic & Botulism
Garlic is a low acid food thus is susceptible to Clostridium botulinum toxin formation in the right conditions– which can be present in the home kitchen. These bacterial spores need an environment lacking oxygen and warm temperatures to produce the toxin– ex: if submerged in butter or oil and left at room temperature!
I'm no scientist so please see the below section for additional context and insight on the topic, from Caitlin Clark.
Caitlin Clark, Food Scientist & Ph.D candidate at Colorado State University. MS, Food Science and Technology 2019
"Roasted garlic can be stored in the fridge for up to two weeks, or in the freezer for no more than three months. As long as the garlic is properly stored in the fridge or freezer after roasting and is never held at room temperature, the risk of botulism is negligible.
However, if these products are improperly stored at room temperature, botulism is a very real and significant risk.
Garlic grows in soil, where it is exposed to the spores of clostridium botulinum, the organism that produces botulism toxin. It is nearly impossible to clean away all traces of soil from a bulb or clove of garlic.
The botulism toxin is the most potent biological toxin that has ever been found— frighteningly, it is also tasteless, odorless, and invisible. Worse still, it is heat stable, meaning that heat does not destroy the toxin. If botulism is in your food, cooking the food will not make it safe.
All of this may be enough to put you off garlic forever. However, when garlic is not submerged in oil there is no risk of botulism. That's because as long as the organism clostridium botulinum is exposed to oxygen, the spores remain inactive. Only in an anaerobic (oxygen-free) environment, such as submerged in a bottle of oil, can the spores spring to life and begin producing toxin.
Some intrepid home cooks have certainly thought that while fresh garlic in oil may be a bad idea, what could be the harm of roasted garlic in oil? Doesn't the roasting step kill all the C. botulinum and burn up all the spores? Unfortunately, it does not. Roasting may kill the vegetative cells and destroy some of the spores, but bacterial spores are built to withstand stressful conditions, such as very high temperatures. If even a single spore survives the roasting step (and it is likely to be more than just one!), when submerged in oil that spore can produce a harmful level of toxin.
Most products are protected from botulism by acidification. Since acidification will not work on an oil-based product, we must resort to using cold temperatures to slow the rate of toxin production, keeping it below safe levels during the shelf life of the product.
For this reason, all roasted garlic, garlic-in-oil, or strained garlic oil products must be stored in the refrigerator or freezer. "
—
An additional reference I'll include here is a CDC study on Botulism cases in the US. Although this toxin is something to take very seriously, there are very few cases in the US each year. Here is a National Botulism Survey conducted by the CDC showing there were only 242 cases of botulism in the US in 2018– and only 18 cases were from food!
We hope this helps you feel more confident about the storage and shelf-life of roasted garlic! Please don't hesitate to drop a comment below with any additional questions and check out our library of roasted garlic recipes below:
Roasted Garlic Butter
Roasted Garlic Bread
Creamy Garlic Sauce
Garlic Pizza