If you already know how to make roasted garlic and have a head or two in the fridge waiting to be used up, hopefully this list of our favorite ways to use roasted garlic will help you put that smooth, garlicky goodness on your dinner plate! This roundup includes a variety of recipes like garlic mashed potatoes, garlic hummus, roasted garlic pesto and more.
You can use roasted garlic across all meals of the day, for snacks, and for entertaining– think roasted garlic stuffed olives, roasted garlic cloves on your charcuterie board, and roasted garlic salt, all 3 are fabulous conversation starters and very unique ways to showcase the flavor of garlic!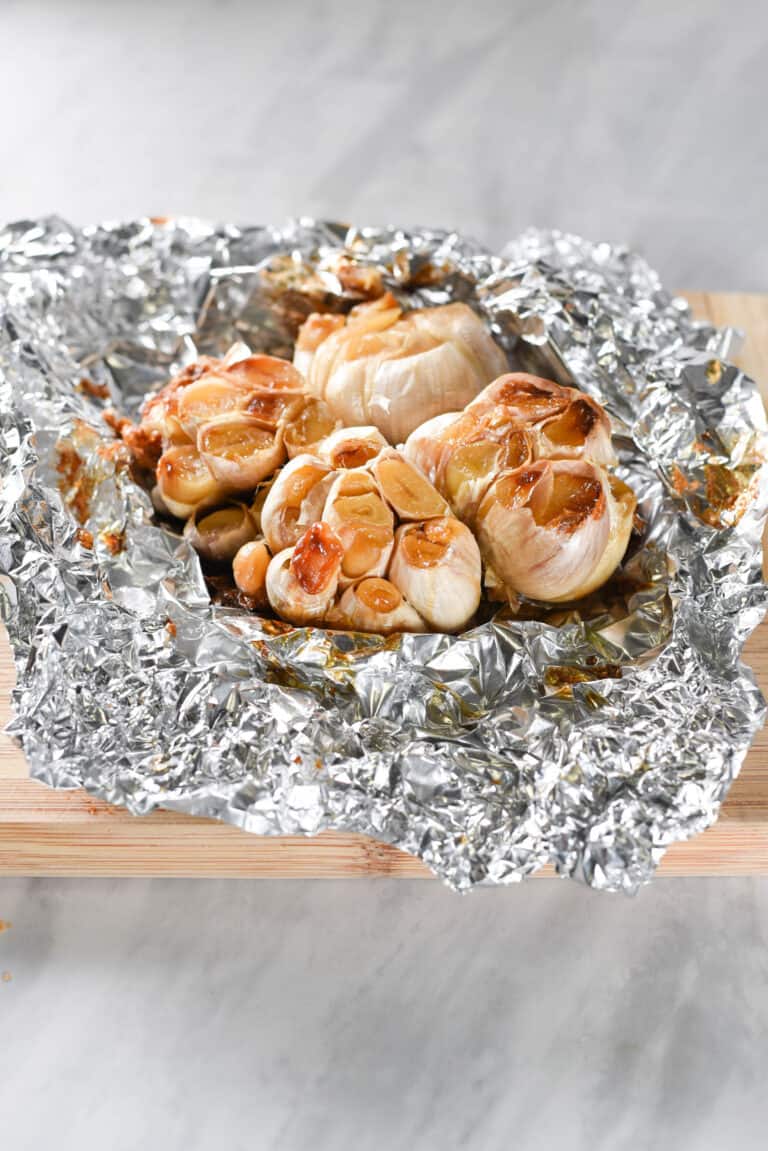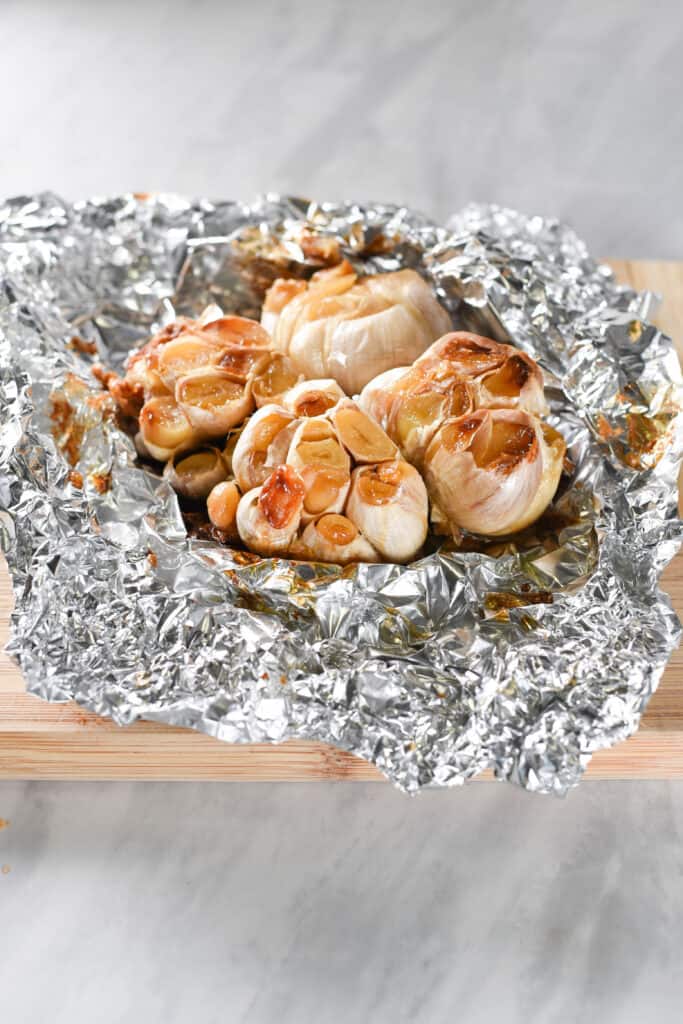 Without further ado, here's our list of 50+ ways to use up roasted garlic broken down by category… And in case you don't have your hands on any yet, read how to make roasted garlic.
Potato-related uses:
Crank up the flavor of your mashed potatoes by adding roasted garlic.
Make roasted garlic scalloped potatoes.
Use as a baked potato topper.
Mix roasted garlic and ketchup for french fry dipping sauce.
Make oven roasted potatoes using roasted garlic.
Pasta-related uses:
Make a creamy roasted garlic alfredo for pasta.
Add it to pesto to make roasted garlic pesto.
Amp up the flavor of homemade mac and cheese.
Create a roasted garlic ricotta to use in lasagna.
Add roasted garlic to risotto.
Pizza-related uses:
Mix with ranch for garlic ranch dipping sauce.
Rub cloves on pizza crust after baking for an infused crust.
Elevate the flavor of pizza sauce by adding roasted garlic as it simmers. (Roasted garlic marinara)
Add whole cloves of garlic to pizza– yes! It's delicious!
Condiment & Misc Sauce uses:
Use in bruschetta.
Make roasted garlic BBQ sauce.
Make clarified garlic butter for dipping seafood.
Use in chimichurri in place of raw garlic.
Make roasted garlic salt.
Make homemade garlic-herb cream cheese!
Bread uses:
If making savory waffles, add to the waffle batter.
Cut roasted garlic in with butter when making biscuits for garlic biscuits.
Use on focaccia bread.
Make a roasted garlic grilled cheese.
Use a few cloves when making any type of flatbread: Naan, pita, etc.
Make roasted garlic bread!
Quick & Easy Uses:
Eat a whole clove or 2 every morning for an immunity kick. 
Spread cloves on toast or wraps when making sandwiches.
Add roasted garlic paste to homemade salad dressings to thicken and to flavor.
Add whole roasted garlic cloves to a charcuterie board or mezze plate.
Toss in marinades for protein for additional flavor.
Add cloves to soups and stews in the winter.
Add cloves to olive oil and let steep in the fridge for 1 week, strain and you have roasted garlic olive oil.
Add to breakfast scrambles.
Make your own garlic-stuffed olives, roasted cloves making stuffing easy.
Make roasted garlic butter!
Use with vegetables:
Add to curries and stir fry.
Toss with roasted vegetables for a robust flavor.
Spread it all over corn on the cobb.
Add roasted garlic to homemade veggie broth.
Toss cloves with broccoli before roasting.
Make a roasted garlic paste and toss with asparagus before roasting.
Mexican-Inspired Uses:
Add to enchiladas.
Add to refried beans or Spanish rice.
Add cloves to nachos.
Add to jalapeno poppers.
Use in salsa.
Add to burritos and quesadillas.
Other uses for roasted garlic:
Add cloves to homemade meatloaf or meatballs.
Add roasted garlic to burger mix before cooking.
Toss a few cloves in while cooking rice.
Make garlic soup for a cozy fall meal.
Add cloves to chili.
Roasted garlic has an interesting texture as the cloves become so soft after roasting, this effects how you can use the roasted cloves. Some people simply squeeze the cloves out of their papery skins after roasting while others cool the garlic in the fridge then peel to have intact cloves of roasted garlic.
You can leave the cloves whole and they'll be soft and smushy, or you can easily turn the roasted cloves into a paste with a fork or a chef's knife! The choice is yours, depending on the application. For example, to add roasted garlic to a salad dressing you'll want to create a paste or zip your dressing together in a blender.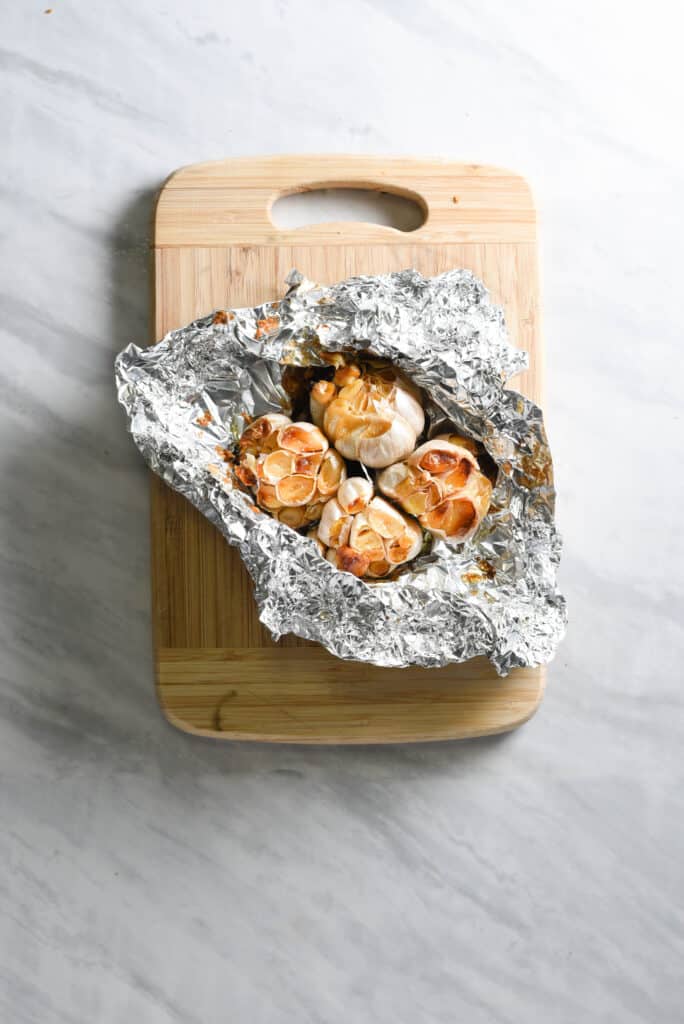 Phew, we did it. We think this is a comprehensive list of roasted garlic recipe ideas, from condiments and sauces to pasta, breads, appetizers and more. Roasted garlic adds such an amazing flavor to a wide variety of recipes, it just may take some time and creativity to incorporate more garlic into your diet. If you love roasted garlic, you may also want to check out how to safely store roasted garlic.
Do you use roasted garlic in a way we didn't mention here? Please let us know and we'll update this list to include your tips 🙂