We have a tasty and immune boosting spin on hummus today– roasted garlic hummus! This take on hummus is amazingly flavorful and a cinch to make and roasting the garlic delivers a smooth, mellow, nutty flavor. If you roast the garlic ahead of time this recipe takes just a few minutes to whip up.
Love hummus? Love garlic? Well then, you've got a fabulous way to put two whole heads of garlic to use! Garlic hummus is the next appetizer or snack you need to make 🙂
How To Make Roasted Garlic Hummus
First things first, you'll need roasted garlic. We love to roast garlic alongside something else we are already baking, i.e. if you're baking up a recipe for something else tonight you can roast your garlic simultaneously and it'll be ready for you to use in this hummus recipe! There is a section in this post about roasting garlic 🙂
The steps are easy!
Roast garlic that's been coated with olive oil in foil in the oven for about 45 minutes until it's soft & light brown in color.
Once garlic heads have cooled to the touch, remove and add to the food processor with all other ingredients.
Process for 1-2 minutes until everything is incorporated and hummus is smooth and creamy!
That's it! If you have already prepped the garlic beforehand, this recipe is quick to make.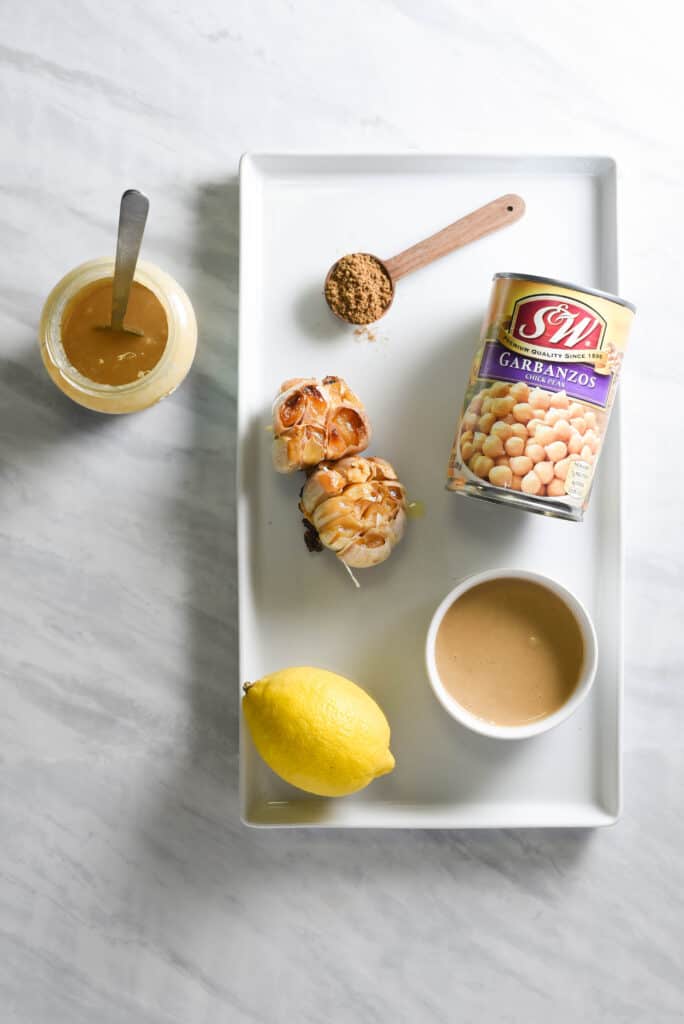 Tip: Use a Blender!
If you find your hummus is grainy there are likely two culprits: not enough liquid or not long enough blending power in the food processor. Try adding 1-2 tablespoons of water at a time and whirring in a high-powered blender like a Vitamix. This will usually do the trick! We used to always make hummus in a food processor but to break down the chickpea skins, the power of a blender reigns supreme.
You can see the difference in texture above– the hummus made in the food processor has a more grainy/gritty consistency than the hummus made in a high-powered blender. Vitamix for the win!
Storage & Use
Roasted garlic hummus will keep in the fridge for up to 7 days if left in an airtight container; you can freeze hummus for up to 3 months. We recommend freezing in an airtight container and defrosting slowly in the refrigerator in advance of use.
Use hummus as a dip served with bread, crackers, or vegetables.
Add it to salad dressings or sauces as a thickening agent and flavor boost.
Use it to make vegan sauces creamier.
Slather hummus on salads, grain bowls, wraps, or sandwiches.
Add a few scoops to a salad for a protein boost.
Spread on bagels, english muffins, or toast in place of cream cheese.
Mix hummus into warm rice for a creamy, sticky rice.
Add to pizza in place of a creamy cheese like ricotta.
Hummus is easy to use and easy to love! Over the years it has become a staple at gatherings across the country and is a pillar of vegetable forward eating. We hope you love these suggestions for additional ways to use up that roasted garlic hummus.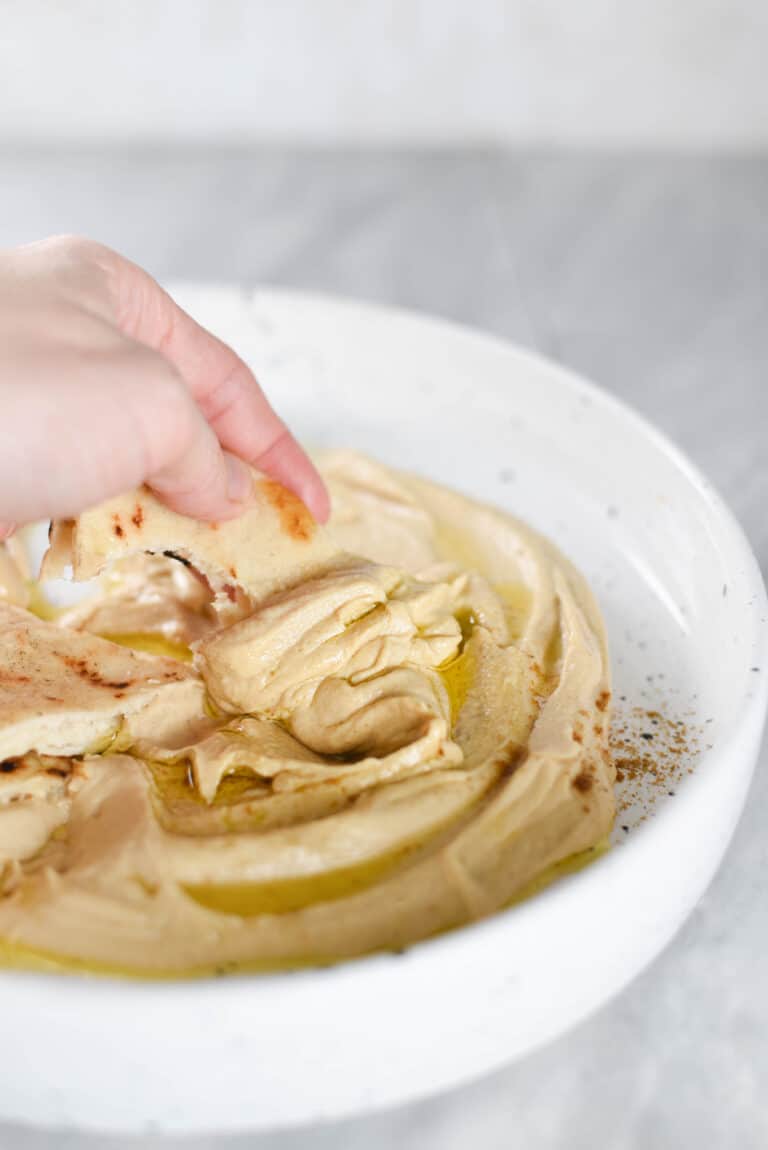 Flavor Variations & Garnishes
In addition to the lovely flavor profile already found in this roasted garlic hummus, here are a few spins you could try:
Add 1 tablespoon of fresh basil, thyme, or oregano for a herby note
Add lemon zest in addition to juice for a lemon-roasted garlic hummus
Add 1 tablespoon of sundried tomatoes for marinara inspired flavor
Add 1 tablespoon of kalamata olives for a tangy kick
And how to up your garnish game? Hummus is very commonly served as an appetizer for guests, inviting them to a meal and enticing them to begin eating. Make your hummus gorgeous and stand out with these garnish tips:
Top with a few whole cloves of roasted garlic, the flavor is so mellow, it works, trust us!
Sprinkle lightly with additional cumin
Drizzle olive oil atop your plated hummus
Add dukkah (seasoned pulverized nuts)
Top with finely chopped olives or capers– green, kalamata, or black
Add finely chopped fresh herbs like cilantro, parsley, or green onion
Just like that your roasted garlic hummus is elevated to an entirely new level and you're an entertaining superstar! You instaworthy. Anytime we serve this we always get asked "What is in this hummus?!" because it is sooo good and the flavor of the roasted garlic is so sweet and mellow. People LOVE this hummus.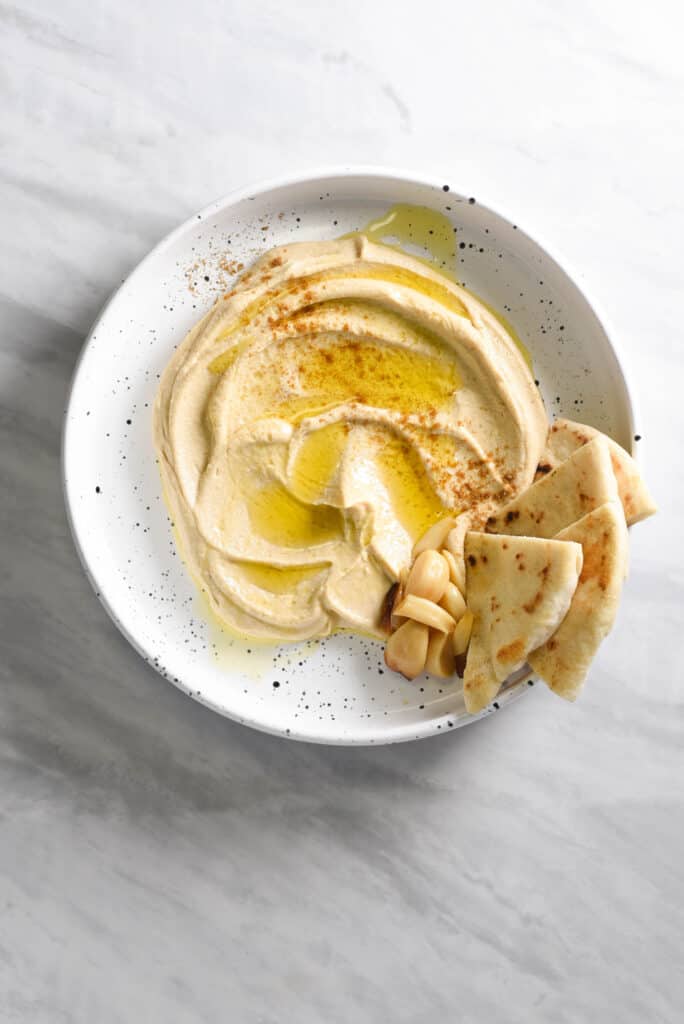 Roasting Garlic
As roasted garlic is the key component in this hummus recipe, we've got a walk-through on how to roast garlic! Read the entire breakdown here, breeze through the steps below, or watch the video to perfect your roasted garlic game.
How to roast garlic for this hummus:
Remove the papery skins cover the head of garlic
Slice the top ¼ of the garlic head off to expose the cloves. This is optional but makes it much easier to remove individual cloves after roasting.
Drizzle with olive oil & season with salt and pepper.
Wrap loosely with aluminum foil and bake at 400 for about 45 minutes.
Once the roasted garlic has cooled to room temp, you can easily squeeze the cloves out of their papery skins or peel the cloves to remove that delicious roasted garlic!
If you happen to roast a few extra heads of garlic, or you're a garlic LOVER like we are, we've got a list of all the ways to use up roasted garlic! Or give garlic butter, creamy garlic sauce, or roasted garlic pesto a try!
Print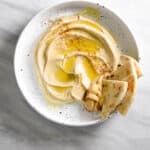 Easiest Roasted Garlic Hummus
Author:

Adriana

Prep Time:

10 minutes

Cook Time:

45 minutes

Total Time:

55 minutes

Yield:

2 cups

1

x

Method:

oven
---
Description
Hiiii hummus, it's me, garlic! Roasted garlic enlivens hummus in this delicious roasted garlic hummus perfect for an appetizer, a mezze plate, or afternoon snack!
---
1

–

15

ounce can garbanzo beans

2

heads of roasted garlic

1.5 teaspoon

cumin

1/4 cup

fresh lemon juice

1/4 cup

tahini

1/3 cup

water

1 teaspoon

salt

1 tablespoon

olive oil (optional but helps give a creamy mouthfeel)
---
Instructions
Prepare 2 heads of roasted garlic: Peel the papery skins surrounding the heads of garlic, trying to keep the cloves intact.
Cut the top 1/4 portion of the head off to expose the cloves, drizzle with olive oil, cover with aluminum foil and bake at 400 for 45 minutes. Full details on roasting garlic here.
Drain and rinse the chickpeas, then add them to the blender (or food processor if you don't have a blender) along with all other ingredients.
Blend for 1-2 whole minutes! YES, although ingredients will look pureed additional blending time helps achieve a creamier consistency hummus! Stop 1-2 times during blending and scrape down the sides of the blender with a spatula as needed.
---
Notes
** To avoid grainy or gritty hummus we recommend using a high-powered blender in place of a food processor. Additionally, add more liquid 1 tablespoon at a time to achieve the consistency you're after.
**Hummus will thicken as it cools in the refrigerator.
** See post for video on how to roast garlic ( 2 mins! )