Freezing fresh raspberries is an easy method to preserve their tart, delicious summer flavor for many months to come! In this guide on how to freeze raspberries, we'll walk you through everything you need to know to freeze AND use your frozen raspberries!
Raspberries have a pretty short shelf life in the fridge so if you have an abundance of them, freezing raspberries is an excellent way to store them.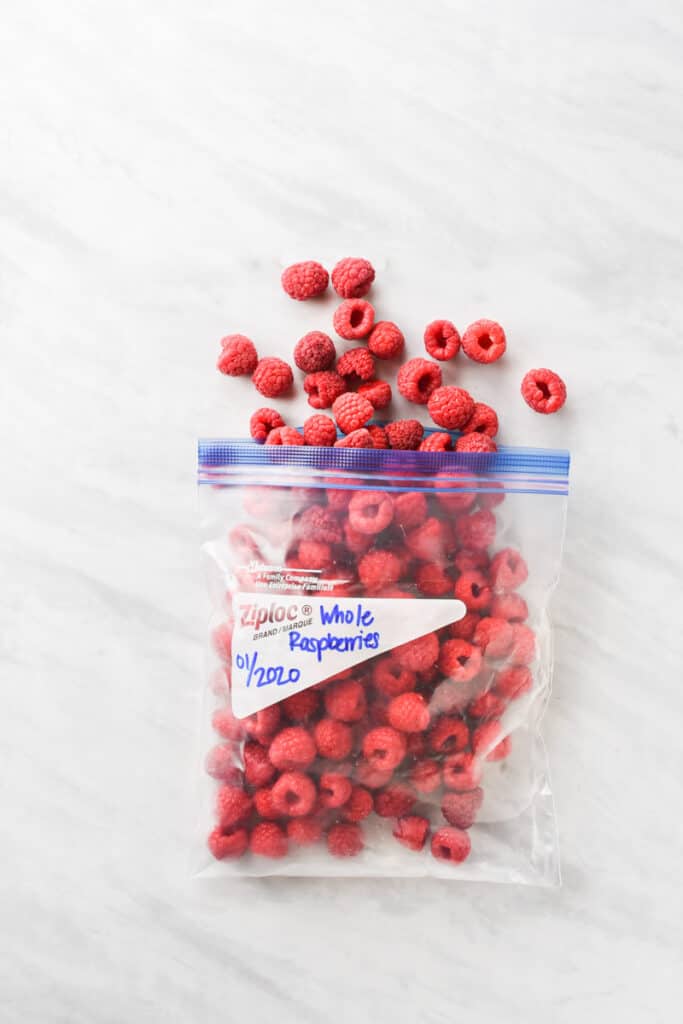 Steps To Freezing Fresh Raspberries
Freezing fresh raspberries is mostly a hands-off operation that will take you less than 15 minutes of real-time, depending on the number of raspberries you have to process. This method to preserve them works great if you happen to catch raspberries on sale, if you grow them, or if you live near a u-pick farm.
The basic steps of how to freeze raspberries:
Pick out and moldy or spoiled raspberries
GENTLY rinse raspberries in a colander or mesh strainer.
Let the berries dry, preferably air dry as they are so delicate and can break very easily.
Line a baking sheet with parchment paper and add the berries in a single layer, not touching.
Freeze for 4-6 hours then remove and store in your container of choice– freezer-safe container or plastic bag!
First things first, you'll want to sort through the berries and pluck out any that are moldy, rotten, or very soft/squishy. Before raspberries go off, their texture changes and they become very soft and mushy– you can freeze these, however, they will be even more mushy after freezing. We usually try and cook or use up and soft berries ASAP and only freeze the firm raspberries.
Next, give the raspberries a very gentle rinse in a colander, sieve, or fine mesh strainer. Raspberries are delicate and fragile– gently toss them under running water to rinse, then shake the colander to drain as much excess water as possible. Lay the raspberries on a few clean kitchen towels to air dry for 20-30 minutes. You can pat them dry with a towel as well, taking care not to smash them.
Line a baking sheet with parchment paper or a silpat mat, then add the dried raspberries to the baking sheet. Place inside the freezer and freeze for 4-6 hours or until firm. Use a spatula to loosen the berries from them sheet and store them in a container or plastic bag.
Frozen raspberries keep up to 1 year in the freezer!
Tips For Freezing Raspberries
The process for freezing raspberries is simple enough: rinse, dry, and freeze, but here are some tips we've learned make a big difference in how long the raspberries last and how good they taste!
#1 Ensure raspberries are DRY!
If there is any moisture left on the raspberries, this may cause them to loose a bit of their taste and become much softer after defrosting. I usually let them air dry on a towel, then shake them up a bit to ensure any upright berries aren't storing water.
#2 Limit exposure to air to prevent freezer burn!
Air exposure is part of what causes freezer burn, to prevent this use a container that can limit the amount of air exposure. IE if you only have about a cup of berries, don't freeze them in a gallon-sized bag.
Also, double bagging the raspberries or wrapping the bag or container that you store them in with plastic wrap can help reduce air contact.
#3 The texture of frozen berries is different than fresh!
YES. No matter how you freeze raspberries or how long they have been in the freezer, the consistency WILL change. Freezing foods changes the texture due to water molecules changing shape as they freeze and defrost. There isn't any way to prevent fruits from going soft after freezing! Simply plan to use them in different ways.
Frozen raspberries are great in muffins, scones, cobblers, galettes, and other baked goods.
You can also add them to smoothies, use them in sauces or icing, or use them to make jam/jelly!
#4 Don't defrost if using in baked goods!
For most baked goods, that will go into the oven and bake– keep the berries frozen! If you defrost the berries prior to folding into your batter, some liquid will be present and this can negatively affect the dough of your baked goods– it may throw off the liquid ingredient to dry ingredient ratios in your recipe.
For best results, use frozen berries without defrosting them and toss them in a bit of cornstarch to help thicken any juices that may form. Dust the raspberries in 1 tablespoon of cornstarch per every 1 cup of berries prior to adding them in the batter! If you avoid corn, you could use 1 tablespoon of flour to dust them instead.
For quick baking items like waffles and pancakes, or anything you're making on the stovetop, it is preferred to defrost them first.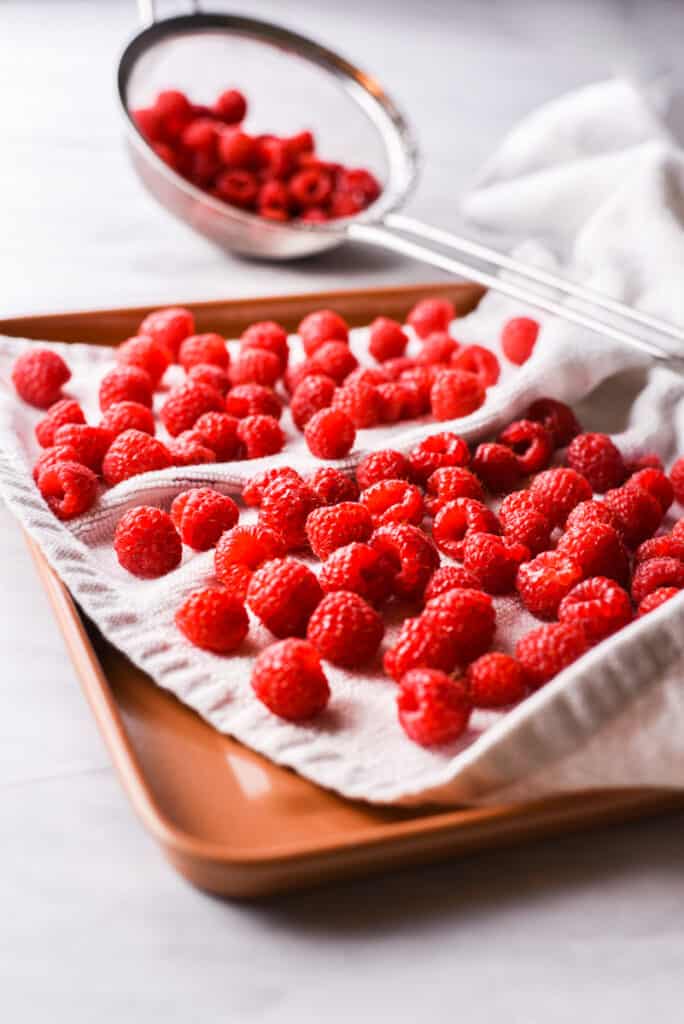 How Long Do Frozen Raspberries Last
If processed and stored properly, frozen raspberries will last up to 1 year in the freezer! As with all frozen foods, the sooner you use them the fresher they will taste.
Frozen raspberries don't spoil, we've just noticed pushing that 1-year mark they may be very freezer burned and have a bit of the dreaded 'freezer' taste.
If you have a vacuum sealer, you may be able to store frozen raspberries for up to 18 months.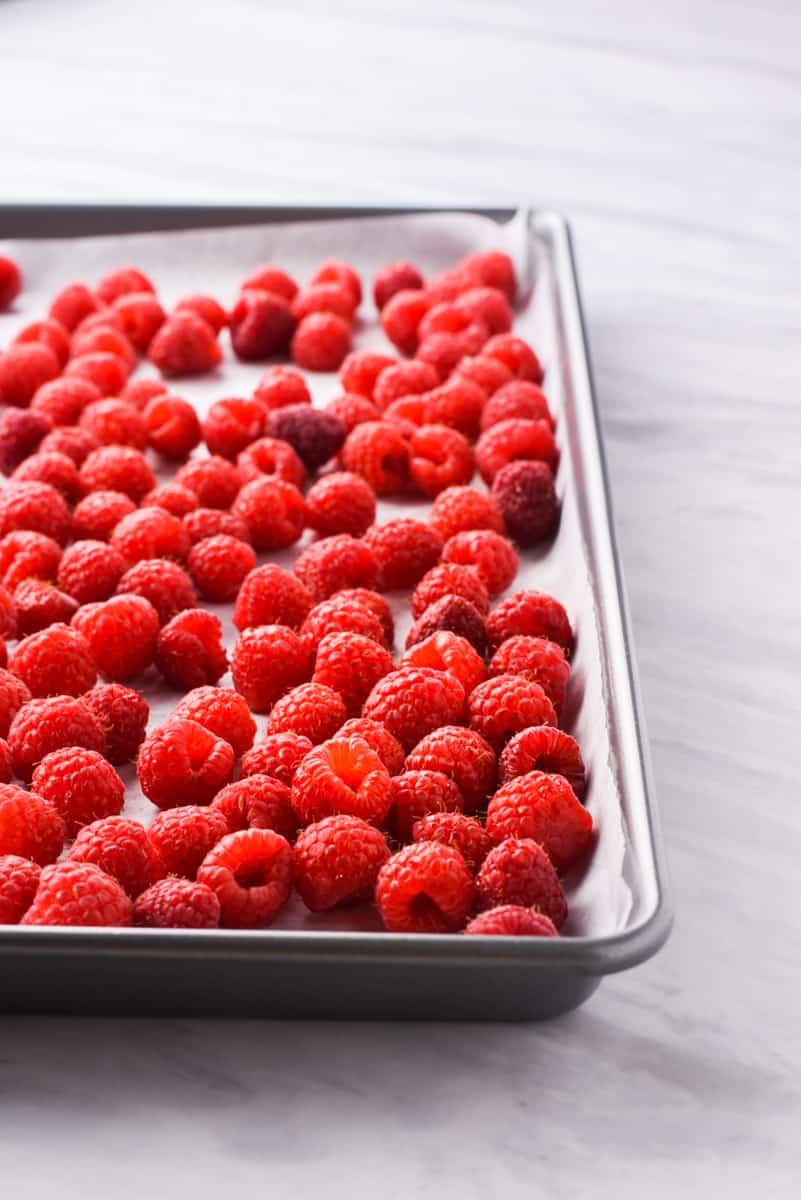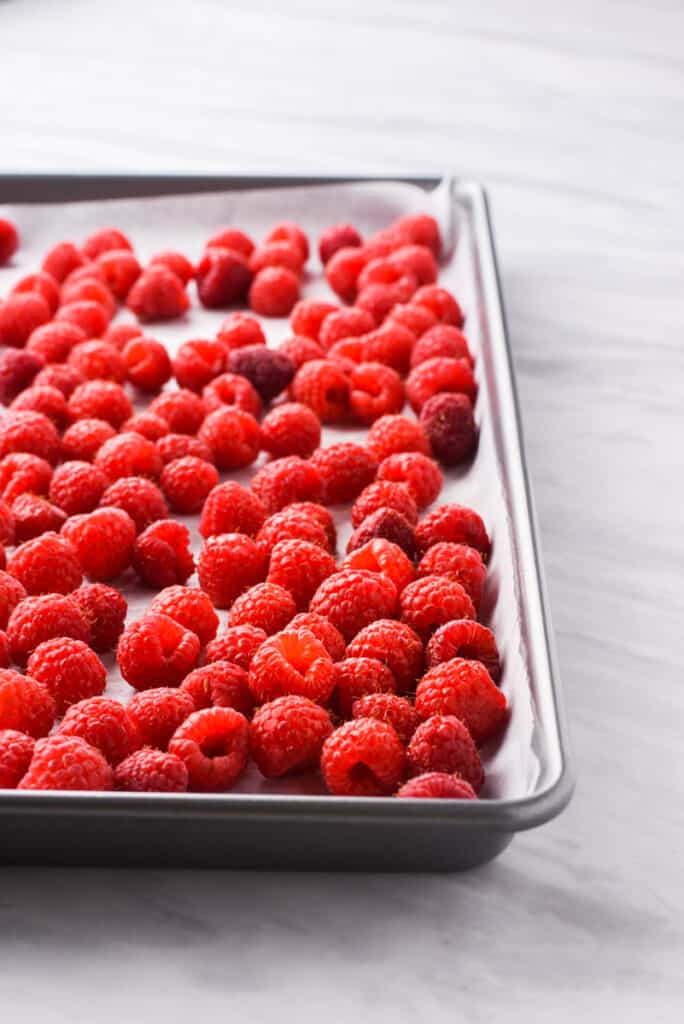 FAQs About How To Freeze Raspberries
Can you freeze raspberries whole? You can easily freeze raspberries whole, if you want you can also mash them with sugar prior to freezing.
Should you freeze raspberries mixed with sugar? It's not necessary but if you have a particularly underripe or tart batch of raspberries you can. We use 2 tablespoons of sugar per 1 cup of raspberries, depending on sweetness.
Do you wash raspberries before you freeze them? Yes, we recommend gently rinsing raspberries prior to freezing them.
Do raspberries freeze well? Raspberries last for 8-12 months in the freezer!
How do you store raspberries in the freezer? Frozen raspberries can be stored in a glass or plastic freezer-safe container or plastic bag.
How do you thaw frozen raspberries? Measure only the amount of raspberries that you need and defrost in the fridge for 4 hours or at room temperature for 45 minutes prior to using. For baked goods, keep raspberries frozen for best results.
How do you preserve fresh raspberries? You can preserve fresh raspberries by freezing, dehydrating, or canning– we find freezing the easiest method!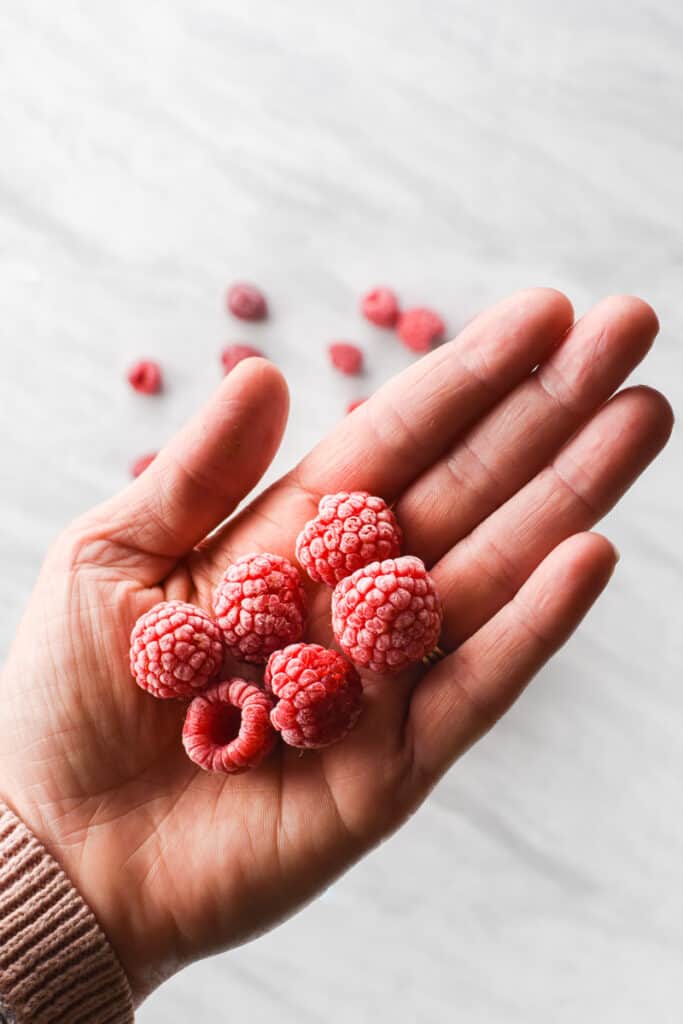 Print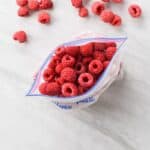 How To Freeze Raspberries
Author:

Adriana

Prep Time:

10 minutes

Total Time:

10 minutes

Yield:

4 cups

raspberries

1

x

Category:

Food prep

Method:

Freezer

Cuisine:

American
---
Description
How to freeze fresh raspberries? Can you freeze them whole? Do you have to wash them? How long do they last?! We'll answer all your top questions about freezing raspberries and storing them in your freezer long term!
---
---
Instructions
Inspect raspberries for any signs of mold, rot, or soft berries and remove those. 
Place raspberries into a colander, mesh strainer, or sieve and gently rinse under running water, shaking gently to agitate the raspberries as you rinse them.
After rinsing, gently shake the strainer again to remove as much excess water as possible from the raspberries. Extra water will cause the raspberries to develop an icy/ freezer burn layer and can negatively affect the taste and texture.
Lay a few kitchen towels out on top of each other and pour the raspberries onto the towels to dry. You can let them air dry for 20-30 minutes or gently pat them dry with a kitchen towel. 
Line a baking sheet with parchment paper and add rinsed and washed raspberries to the baking sheet in a single layer, preferably not touching one another. Place in the freezer for 4-6 hours.
Once frozen, use a spatula to loosen raspberries from the baking sheet and store in a freezer-safe container or plastic bag.
---
Notes
** Raspberries will keep for up to 1 year in the freezer. Double bagging the plastic bags may help prevent freezer burn!
** To use frozen raspberries in quick breads or quick-cooking items: For waffles, pancakes, or fast-cooked stovetop dishes, thaw raspberries for 30-45 minutes before use. To help thicken the juices that are present when you defrost raspberries, sprinkle 1 tablespoon of cornstarch on every 1 cup of frozen raspberries.
** To use frozen raspberries in baked goods like muffins, scones, and donuts: Keep the raspberries frozen, do not defrost prior to folding into the batter as this may throw off the liquid to dry ratios in the dough. Again, toss every 1 cup raspberries with 1 tablespoon cornstarch to help thicken juices as needed.
Keywords: How to freeze raspberries