Candied ginger is a sweet and spicy homemade ginger candy that's incredibly easy to make. This recipe will walk you through how to make candied ginger and how to use it once you've got it!
You'll only need fresh ginger, sugar, and water to make candied (crystalized) ginger that tastes far superior to the stuff you can buy in stores. We'll also help you one-up it… you could coat it with a dip or drizzle of melted chocolate.
Call it candied ginger, crystallized ginger, or ginger candy– they are all different names for the same thing!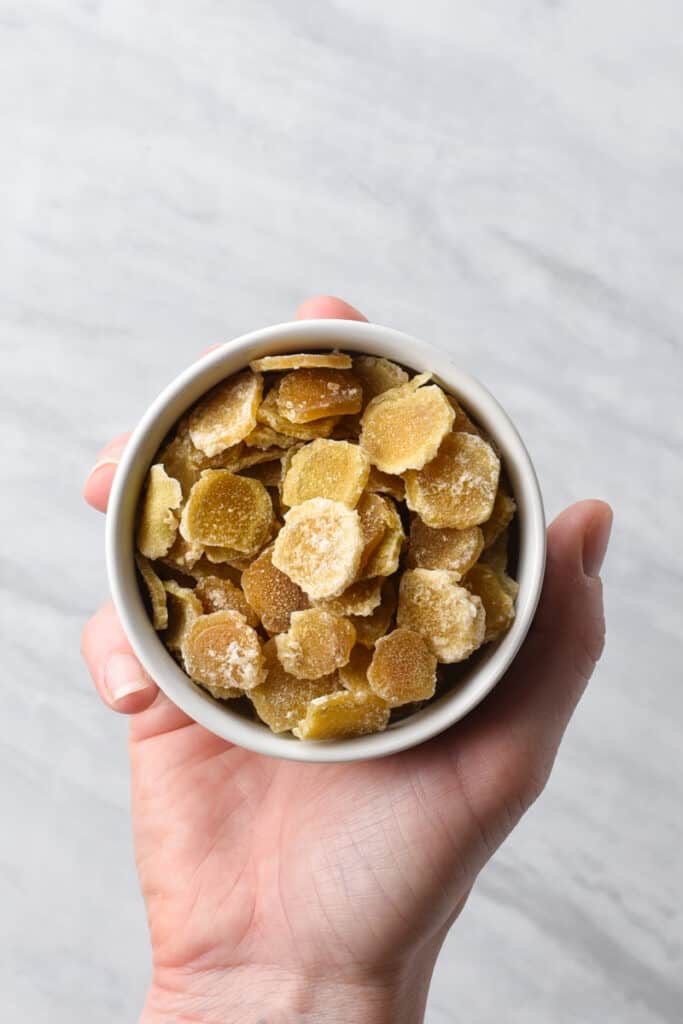 It's Homemade Ginger Candy
Why make your own ginger candy? You might be here because you love the storebought ginger chews, or you are in the midst of a fancy dessert and this is your garnish, or maybe you have some fresh ginger root on your counter that you need to use up.
Ginger candies have a variety of uses around the kitchen from cake decorations to cocktail garnishes and trail mix additions– candied ginger offers HUGE flavor to anything you add it to.
This doesn't only bring the flavor, it brings the health benefits as well! Ginger candy is a shining alternative for those of you who want or crave something sweet but are after nutritional value.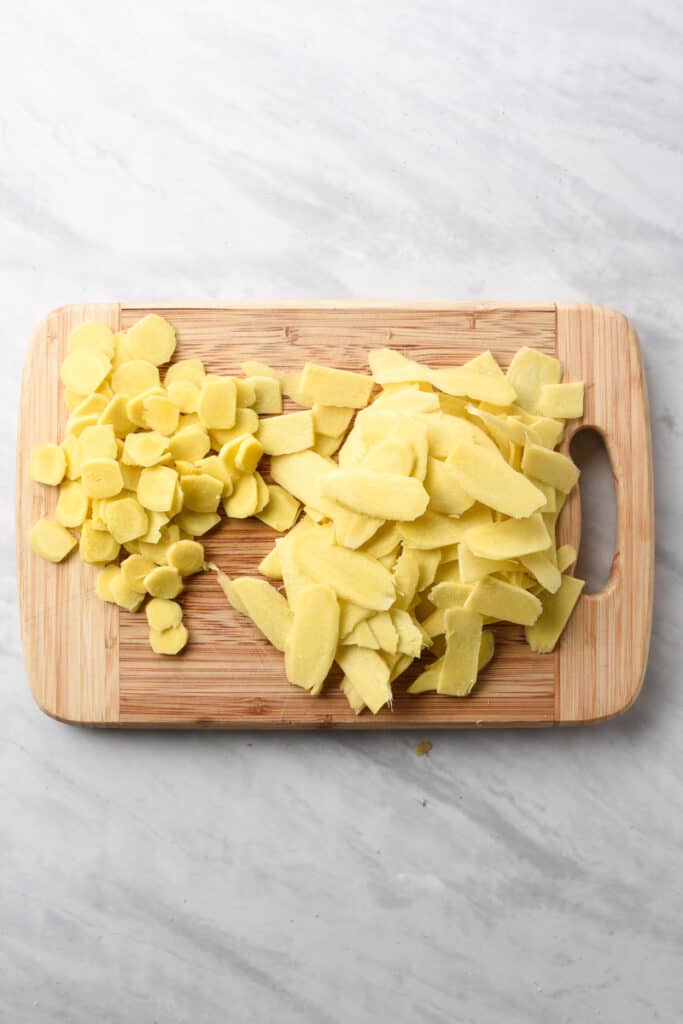 Candied Ginger Recipe
Let's talk about how to candy ginger. This is an easy 3ish step process that includes peeling & cutting the ginger, boiling in water, then boiling in sugar syrup. After completing these steps you'll simply need to wait for the ginger to cool and to dry prior to storing it.
You only need fresh ginger, water, and sugar to make candied ginger in your kitchen at home!
First: Prepare the ginger
Peel ginger pieces by using a spoon, scrape the side of the spoon back and forth across the papery ginger skin to peel it away.
Cut the ginger to your preference, keeping in mind the pieces will decrease in size during the candying process. You can do long lengthwise strips, small circular coins, matchstick shaped pieces, small 'nuggets' or squares similar to ginger chews sold in stores, or blitz the peeled ginger in a food processor for small ginger pieces.
PROTIP: Use a food processor with a slicing blade or a mandolin for perfect slices! Slices about 1/8″ thick will have a nice chewy texture- you can slice thinner if you prefer.
Second: Boil to soften
After you have your ginger peeled and chopped, add to a pot of water and bring to a boil. Boil for 10 minutes then strain and place back into the pot.
This first boil helps to soften the ginger. It also benefits the final flavor as it helps to remove some bitter notes.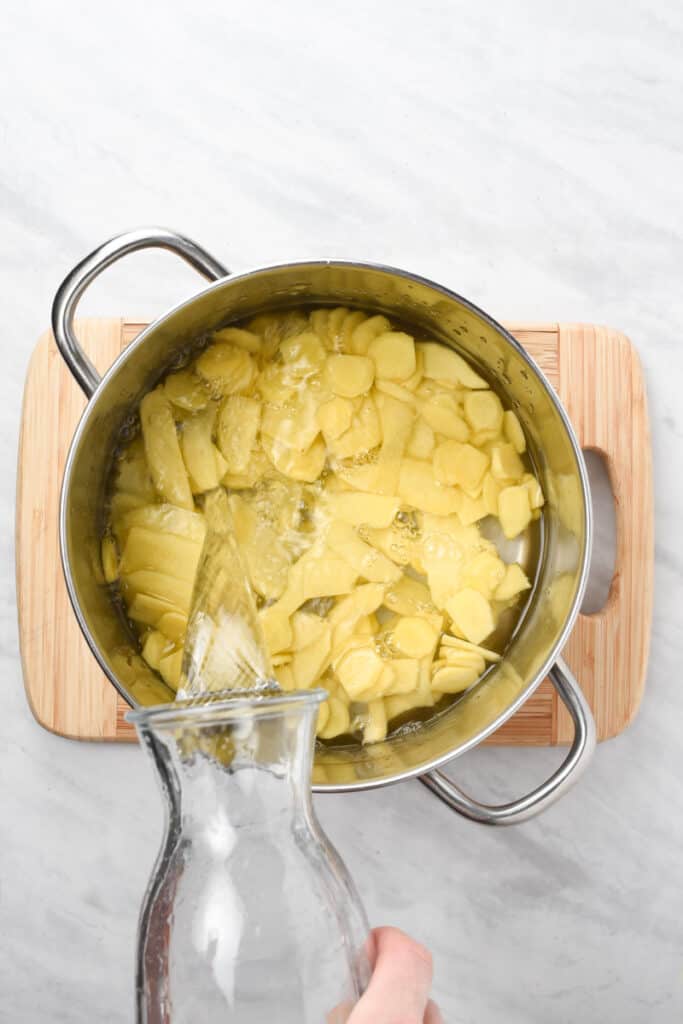 Third: Boil with sugar
Add equal parts water and sugar until the ginger is just submerged and boil for an additional 10-15 minutes. A pinch of salt, too.
The amount of water & sugar you need depends on the pot or pan you use to make candied ginger. To do this, add the boiled ginger to a pot then use a measuring cup to add water to the pot, counting how many cups you add. Once the ginger is covered in water, add equal parts sugar. Heat to boiling, then boil gently for 10-15 minutes.
A wide pot is preferable to a small pot; this way the ginger pieces are spread out across the heat source in a shallow layer vs. a small pot where the ginger pieces will be piled on top of each other and might be very deep.
ALSO: Keeping equal parts sugar and water (by volume) helps the ginger to candy correctly and not turn into hard candy, which is incredibly messy and very hard, not enjoyable to chew on. Stick to the 1:1 water to sugar ratio and you will be set!
Now, you can strain the sugary liquid into a container versus pouring it down the drain as this is GINGER SIMPLE SYRUP people! Use this to add flavor to a variety of things from cocktails, desserts, baked goods, and beverages!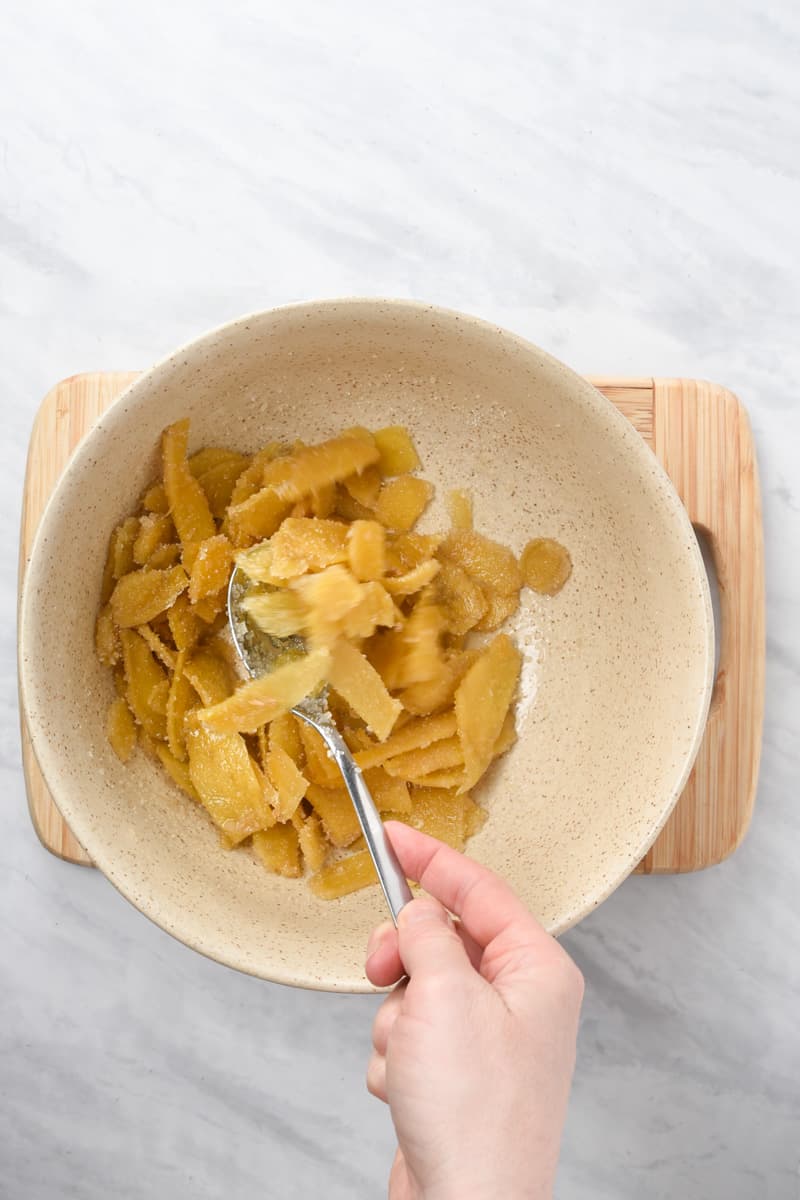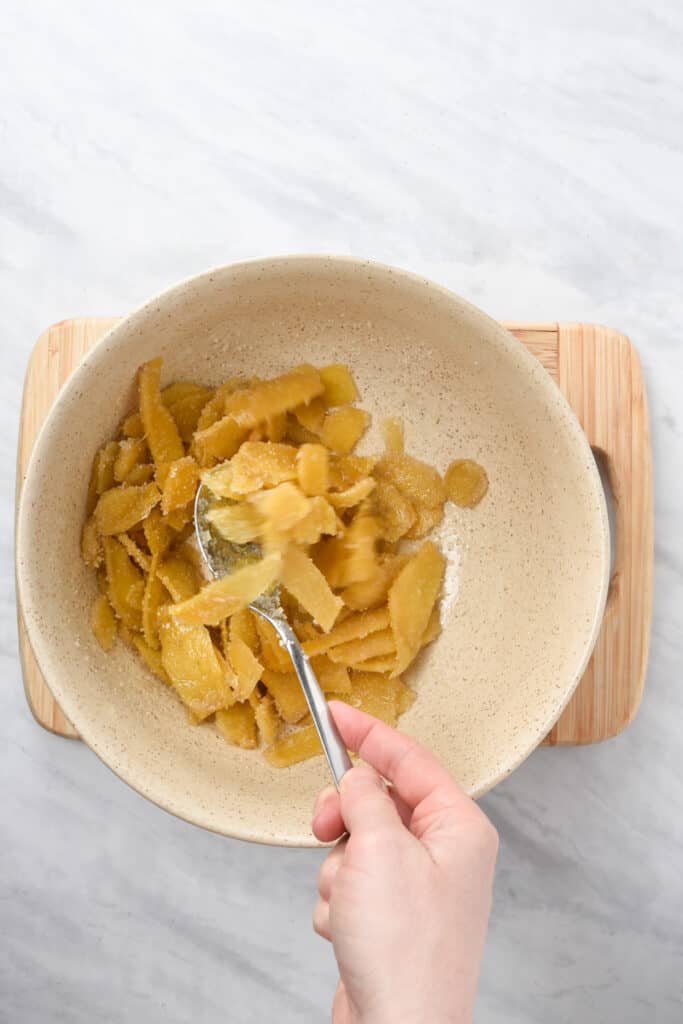 After pouring the sugary ginger mixture into a strainer, shake the strainer to separate as much of the sugar syrup as possible. Place the strained ginger into a mixing bowl and toss with 1/4 cup sugar. Use a spoon or spatula to coat all ginger pieces in sugar.
Place the ginger in a single layer on a piece of parchment paper or a baking sheet lined with a drying rack and leave to dry. This can take anywhere from 2 hours – 24 hours depending on the thickness of your ginger pieces.
You can also heat your oven to 200* then turn off the oven and add the candied ginger on a baking sheet, leave in there for about 4 hours. Be certain to turn off the oven!!
How to store candied ginger: Once your candied/crystalized ginger is fully dry and no longer tacky on the surface place it in an airtight container. We regularly eat candied ginger so we store it at room temperature in the pantry– where it will keep for up to 3 months.
For extended storage, place your container of ginger candy in the fridge where it can last up to 6 months. However, the texture won't be as soft and chewy when eaten cold straight from the fridge. Left at room temperature for several hours the candied ginger will warm and regain a lovely chewy texture!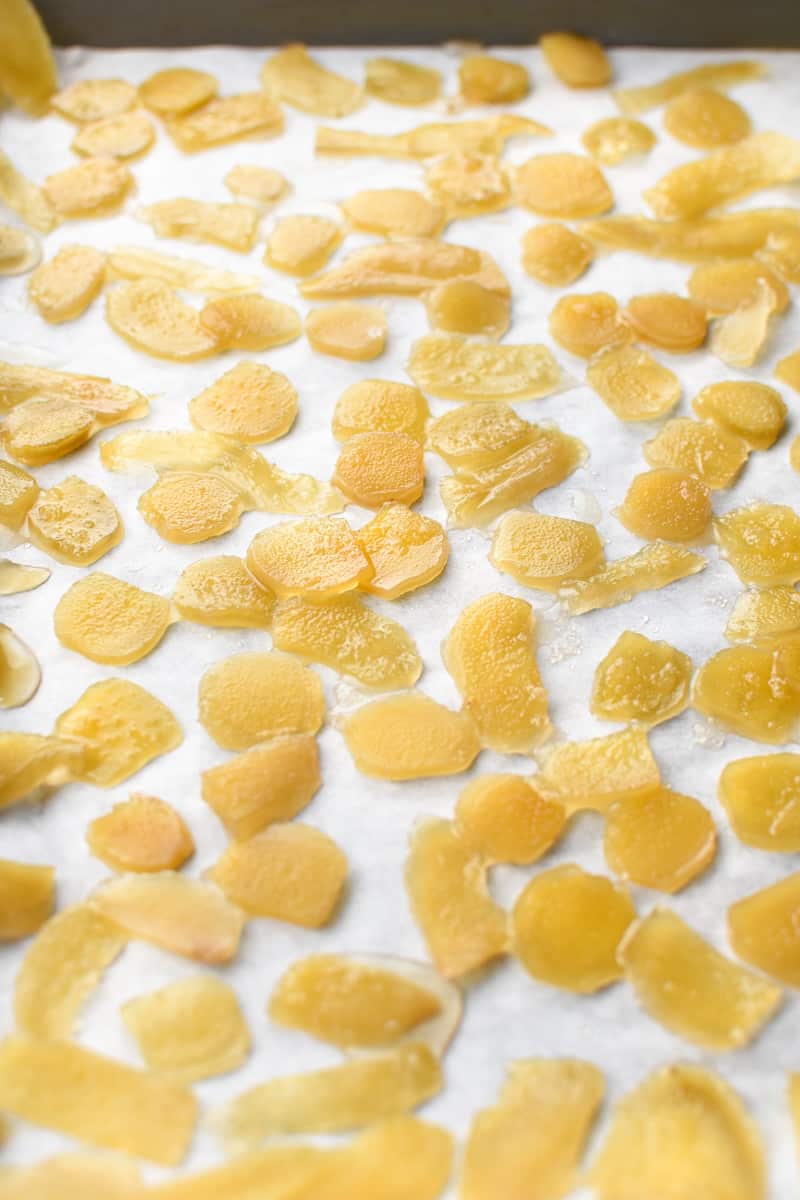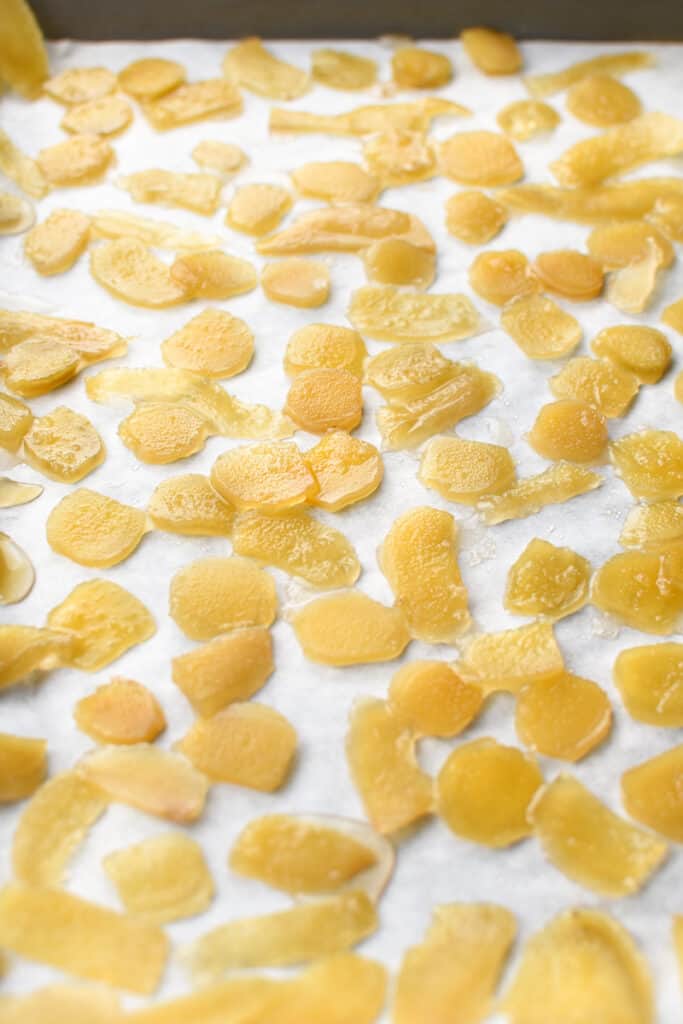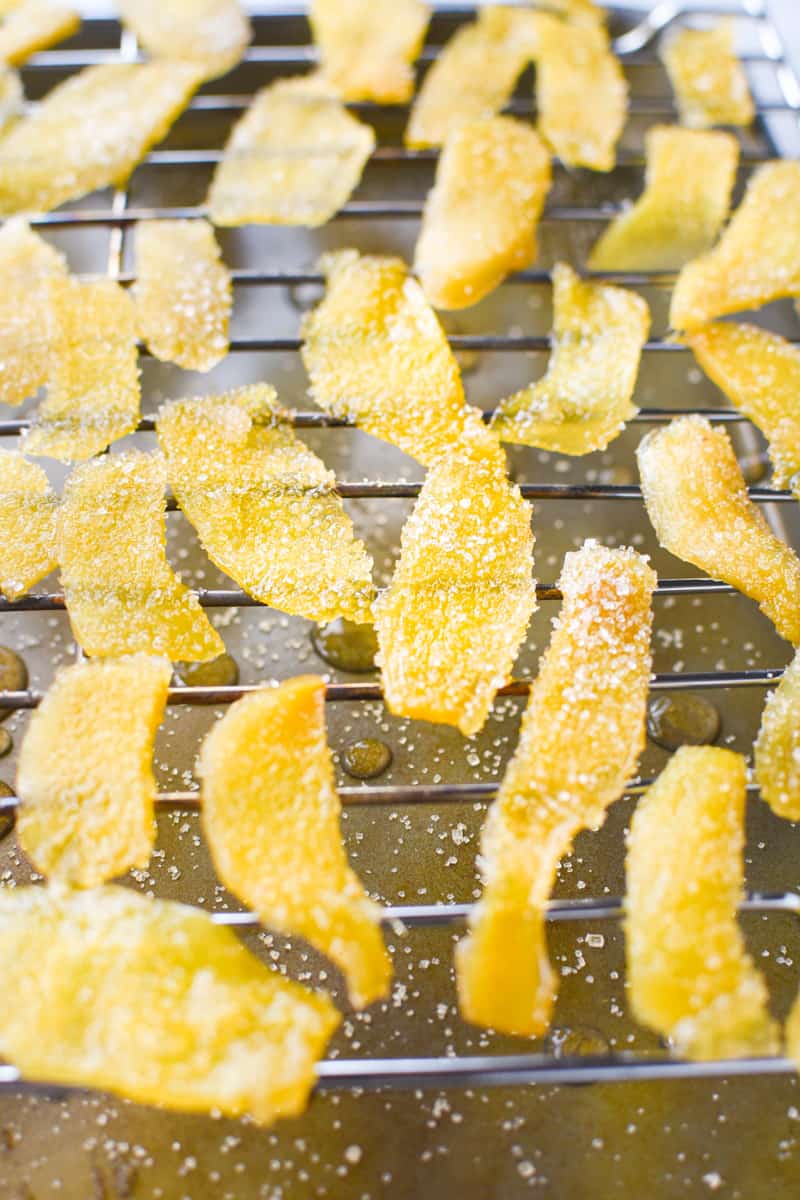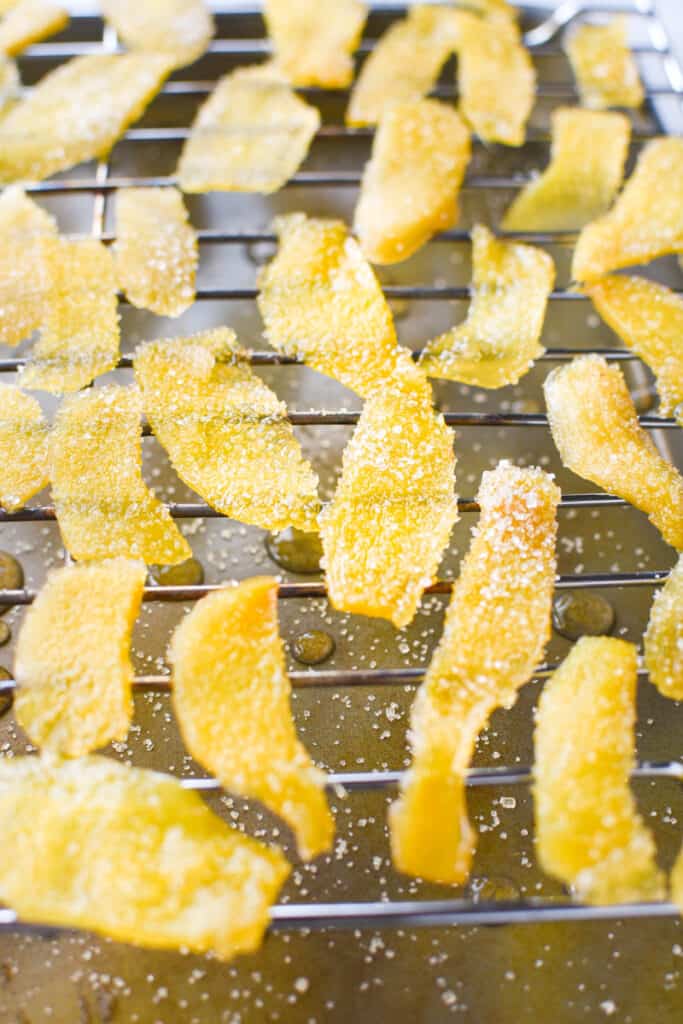 Tips For Making Crystalized Ginger
Crystallized ginger is such an easy form of preserving fresh ginger and extending its shelf life. Making your own is also far less expensive than buying the ginger chews at the store.
You can make candied/crystallized ginger with any amount of ginger. The amounts listed in this recipe are a starting point, once you're familiar with the process you can make much larger or smaller batches of candied ginger.
Here are some tips to making candied ginger:
I like to peel the ginger! You don't have to peel the papery skin off but if you leave it on you'll be able to notice the papery, stringy texture on the final crystallized ginger.
You can get creative with how you cut your ginger- you can do coins, long slices, finely diced ginger, or little chunks of ginger similar to the 'gin gins' you can buy at the store. The bigger the pieces, the longer they will take to dry.
Use white sugar, brown sugar, coconut sugar, or honey as the sweetener in this recipe. Different sugars will yield a slightly different final flavor.
Put a spin on the flavor by adding a pinch of cinnamon, a few springs of mint or basil, a dash of vanilla extract, lemon juice or lemon zest to the sugar syrup!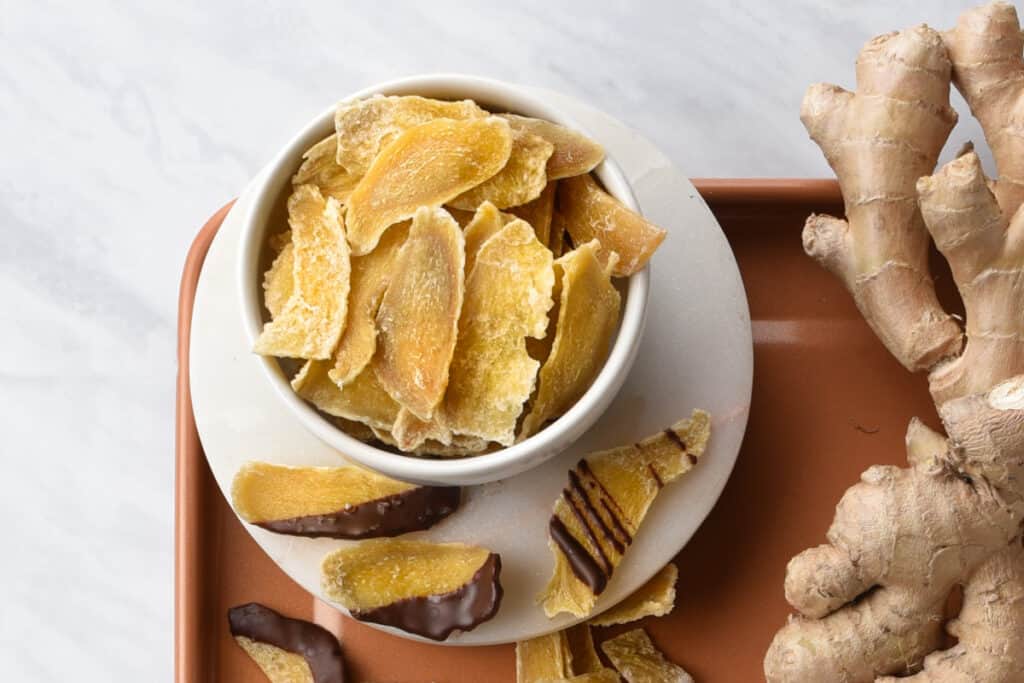 Candied Ginger Uses
There are a variety of creative ways to use candied ginger! It's a powerful home remedy for stomach issues and ailments but it's also loaded with flavor.
If you've got crystallized ginger sitting in your pantry here are a multitude of ways you can put it to work in the kitchen:
Use as a cocktail garnish
Garnish cakes, cheesecakes, and cupcakes with candied ginger pieces
Puree in a food processor and sift with a fine sieve or mesh strainer to use as a dusting or finishing sugar over baked goods
Add to homemade trail mix and granola bars
Candied ginger is amazing to add to everything pumpkin spice! Add to pumpkin scones, muffins, biscotti, and cookies for the perfect fall flavor boost
Add to curries or stir fry dishes in place of fresh ginger
Some folks use candied ginger as a natural remedy for seasickness, menstrual cramps, nausea, and morning sickness– in this case, simply eat a few pieces of candied ginger straight!
As you can see, there are numerous ways to use candied ginger! This a is phenomenal way to preserve and store fresh ginger for an extended period of time. It's also incredibly convenient to have ginger ready in usable form– no peeling, chopping, or zesting required.
Fresh candied ginger will keep for up to 3 months at room temperature and 6 months in the fridge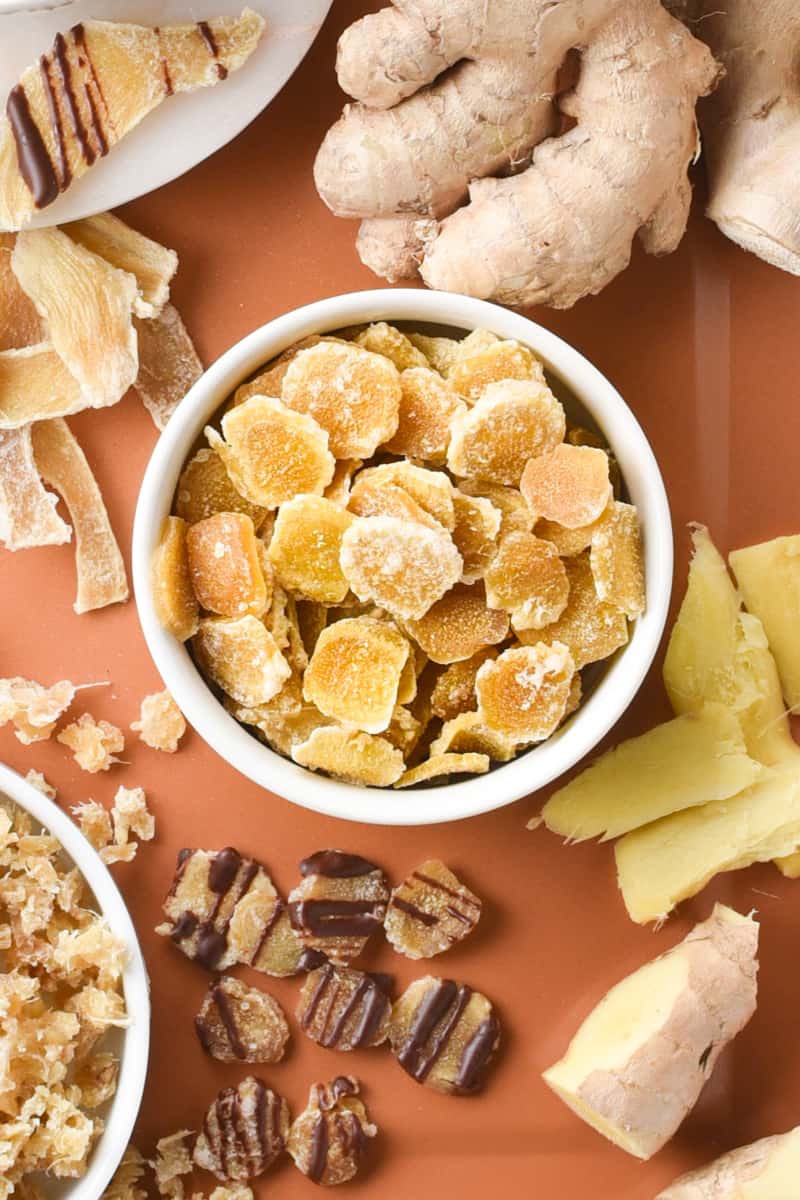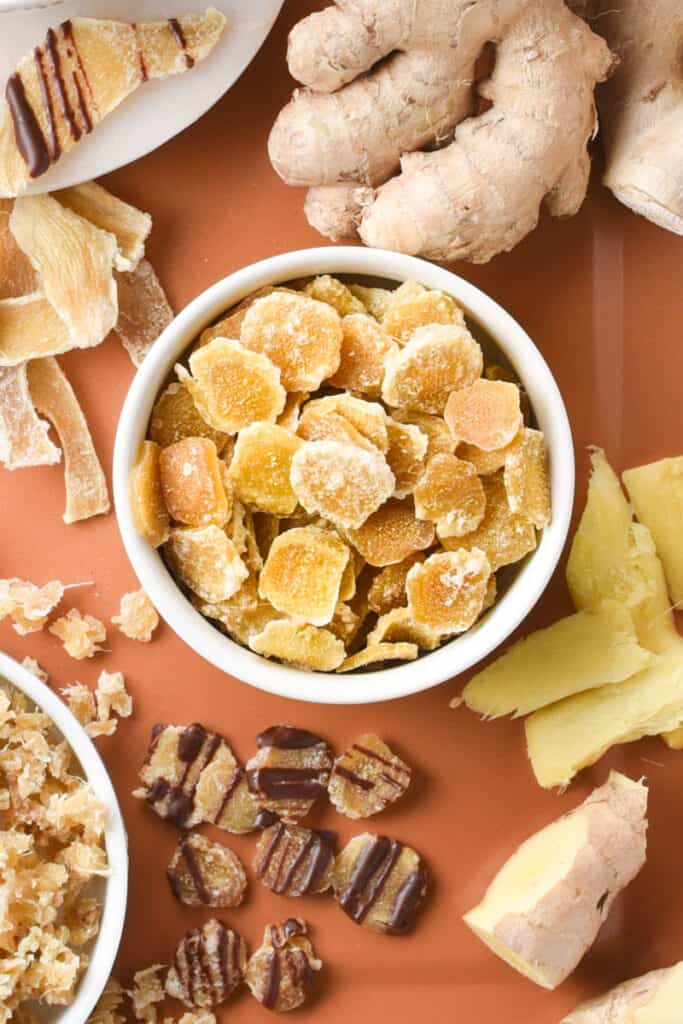 FAQs About Candied Ginger:
What is candied ginger? Candied Ginger is fresh ginger that has been boiled in sugar and water then strained and dried. It's a chewy, sweet, and spicy natural ginger candy.
What are candied ginger health benefits? Ginger is widely believed to help with a variety of stomach ailments– from nausea to seasickness to PMS and more.
What's the difference between candied ginger vs crystallized ginger? There seems to be mixed opinion about this on the web– some think candied ginger and crystallized ginger are the same while others think crystallized ginger has been tossed with sugar after cooking and candied ginger has not.
How to store candied ginger? Store candied ginger in an air-tight container away from heat & light for up to 3 months. For extended storage for up to 6 months, keep in the fridge.
How long does candied ginger last? 3 months at room temperature and 6 months if refrigerated!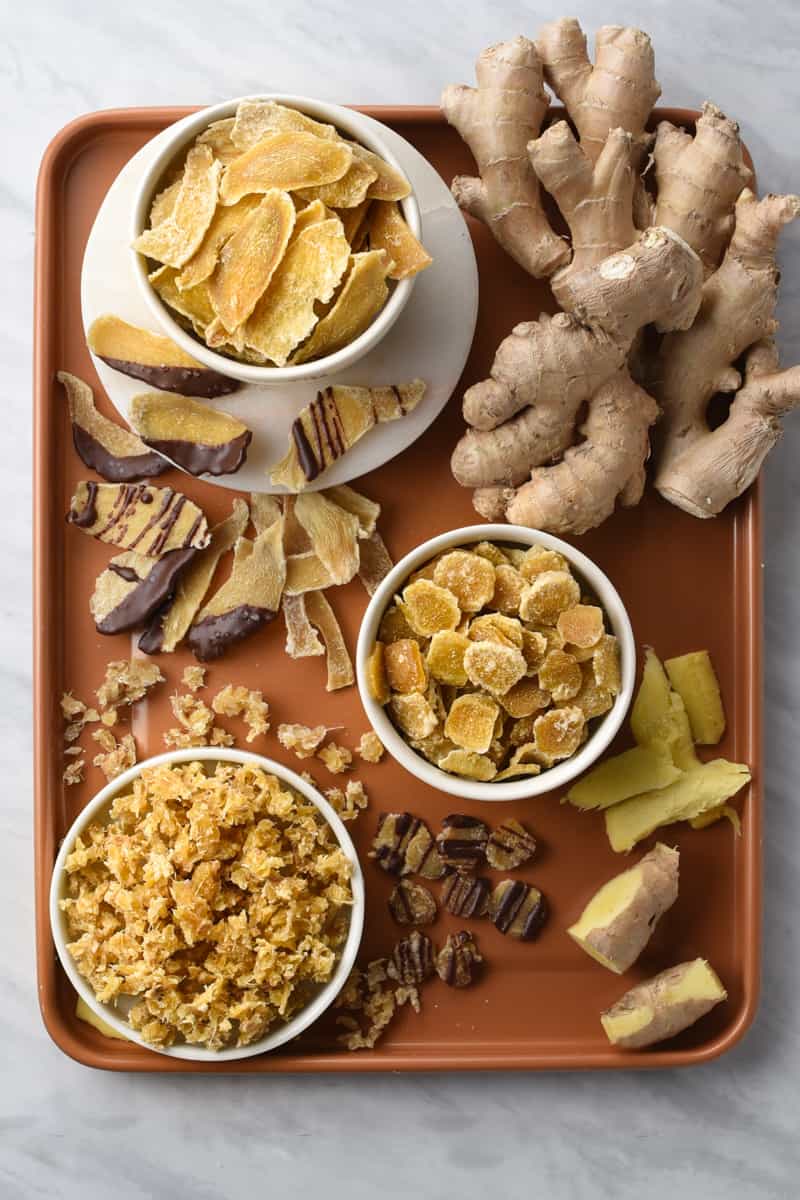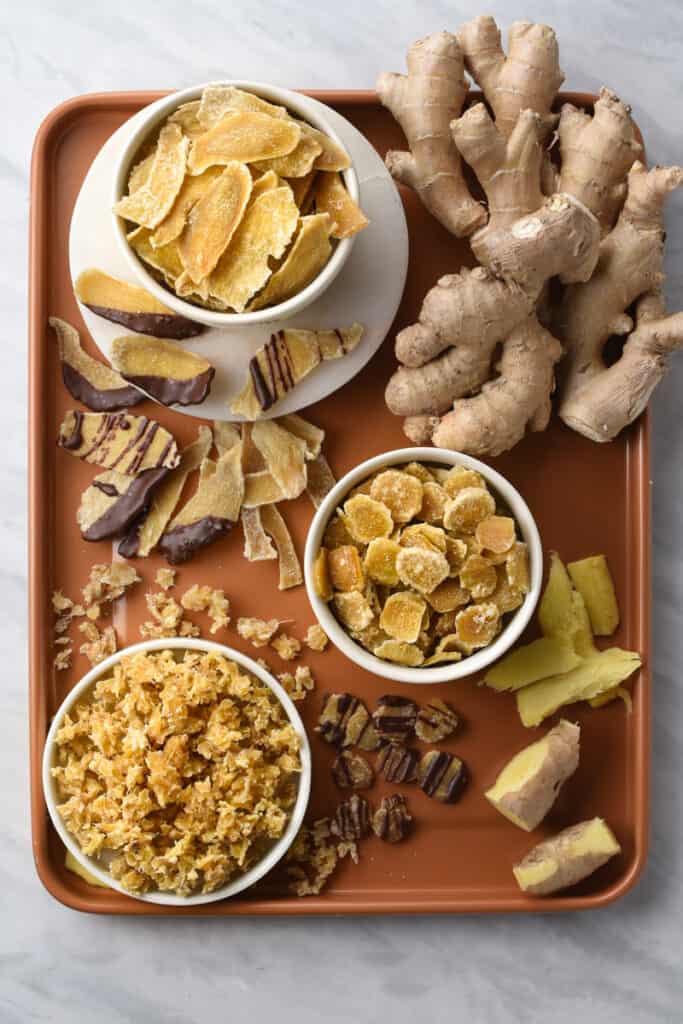 Print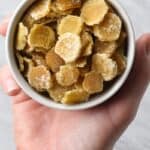 Foolproof Candied Ginger
Author:

Adriana

Prep Time:

15 minutes

Cook Time:

25 minutes

Total Time:

40 minutes

Yield:

1 cup

candied ginger

1

x

Category:

Condiments

Method:

Stovetop

Cuisine:

American
---
Description
Candied ginger is surprisingly easy to make at home and tastes phenomenal compared to the store-bought variety! We'll walk you through everything you need to know to master making ginger candy at home!
---
1 cup

fresh ginger: sliced or chopped

1/2 cup

sugar (more or less as needed)

1/2 cup

water (more or less as needed)
pinch of salt
---
Instructions
Peel fresh ginger root by using a spoon to scrape the papery skin off. You can leave the skin on however it does negatively affect the final taste and texture.
Cut the ginger into the shape and size you like: long lengthwise slices, round ginger coins, matchsticks, or little ginger nuggets- it's up to you. 
Add cut and peeled ginger to a pot of water (enough to fully submerge the ginger) and bring it to a boil. Boil for 10 minutes then drain and return the ginger to the pot.
Next, add water to the ginger pieces in the pot until the water is deep enough to just barely cover the ginger, taking care to measure how much water you add– you'll add equal parts sugar!!! Very important!!! Add a small pinch of salt.
Next, add the same amount of sugar to the pot and stir to combine. Heat over medium until it comes to a boil. Boil gently for 15 minutes. Ensure you have a low boil and do watch the mixture because as the sugar melts and a syrup forms, you'll need to slightly reduce the heat to maintain a low boil.
After 15 minutes, pour through a strainer to separate any syrup from the ginger pieces. This syrup is liquid gold, it's a ginger simple syrup, so we always strain into a mixing bowl versus down the drain! 
Once you have your ginger separated, shimmy the strainer side to side to ensure you've separated as much syrup as possible. Add 1/4 cup sugar to the ginger pieces and stir to coat.
Place the candied ginger in a single layer on a piece of parchment paper or on a baking sheet with a drying rack and leave at room temperature for 4-24 hours to dry. The amount of time it takes to dry depends on how thick you ginger pieces are, the thicker they are the longer they will take to dry.
Once fully dry store in an air-tight container away from light and heat for up to 3 months!
---
Notes
** Up to 1/8″ slices work best for candied ginger. If you prefer your candied ginger on the chewier side don't go paper-thin with your slices, a little thickness helps with a chewy texture.
** You can candy any amount of fresh ginger, we simply use these measurements as a guide. Just be certain to measure the amount of water needed to barely cover the ginger in the second boil and add equal parts sugar. A large batch will require a longer 2nd boil and is finished when the liquid is a syrupy consistency.
**A wide, deep pot works better than a small pot for candying ginger. A wide-bottomed pot allows better heat distribution and the ginger pieces are better spread out.
Keywords: Candied Ginger, Crystallized Ginger