Adriana has published hundreds of recipes online and is a Board Certified Nutritionist. Read our recipe development process or more about Adriana.
Basil simple syrup is a phenomenal liquid sweetener perfect for flavoring summer cocktails! Basil has a softly herbal, sweet flavor and aroma that adds a lovely touch to drinks. Fresh herbs brighten and lighten things up!
If you've never made an herb-infused simple syrup before, we highly suggest you give it a try. It's a 3 ingredient recipe that comes together in less than 15 minutes. What do you have to lose?!
Also: basil-infused syrup is a great way to use up a lot of fresh basil! If your summer garden is thriving, make up a batch of this basil syrup 🙂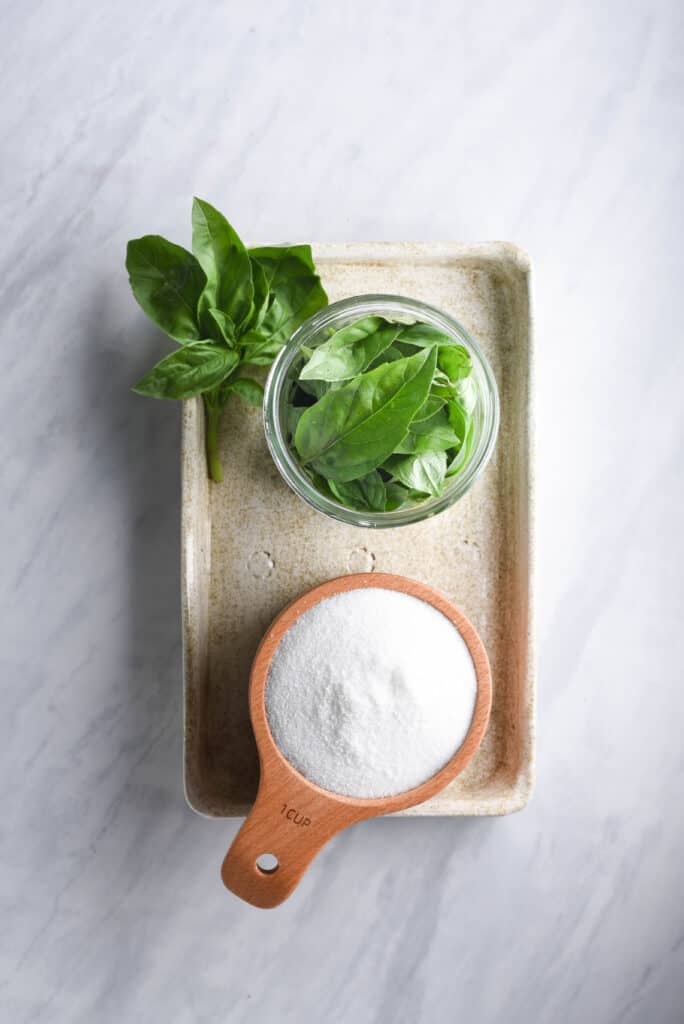 (This post may contain affiliate links. That means I'll get a small commission on any sales made through those links. Read our full disclosure.)
How To Make Basil Simple Syrup
Making basil simple syrup couldn't be easier– likely all you need to shop for is high-quality, fresh basil! To make herb-infused simple syrups you need to dissolve sugar in water and simmer with fresh herbs to release their flavor and aroma.
Bring the sugar, water, and fresh basil to a simmer in a small pot over medium-low heat. Once simmering, reduce heat to maintain a low simmer and simmer for 5 minutes. Then strain and get to tending bar!
There are 2 commonly used forms of simple syrup: 'simple syrup' as a 1:1 ratio of sugar to water and 'rich syrup' as a 2:1 ratio of sugar to water. Rich syrup is sweeter and requires less syrup to craft a well-balanced drink; it's more concentrated.
If you're making a rich basil syrup, we recommend increasing the amount of basil you use. Most recipes that call for rich syrup instead of simple syrup use less syrup, 1/2 ounce instead of 1 ounce for example. So the basil syrup needs to be much more concentrated to carry the flavors over. Very well-written info about rich syrup here.
| | | | |
| --- | --- | --- | --- |
| | Sugar | Water | Basil |
| Standard Simple Syrup | 1 cup | 1 cup | 1 cup |
| Rich Simple Syrup | 2 cups | 1 cup | 1.5 cup |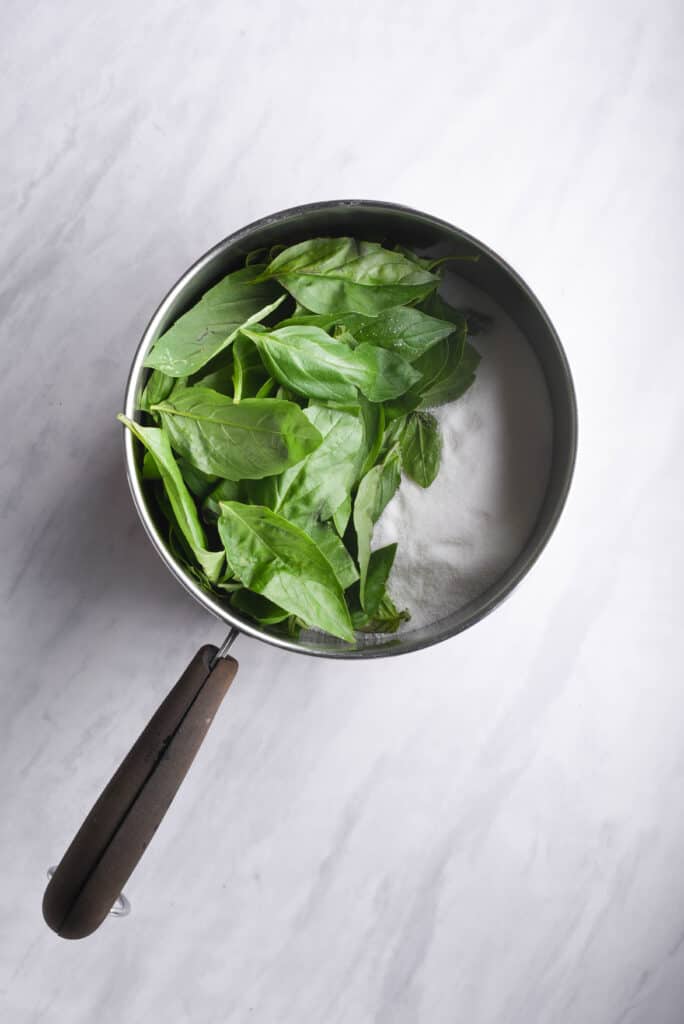 Basil Simple Syrup Cocktails
Any cocktail that calls for simple syrup can be turned into a basil-infused cocktail by using basil simple syrup in place of standard simple syrup. However, think of the other flavors in the cocktail and how basil will fit into the mix.
Basil simple syrup works well primarily with light-colored spirits: vodka, gin, light rum, and tequila. It's also delicious with whiskey. Many cocktail recipes using basil syrup are popular in the summertime when it's hot out as basil is soothing and refreshing when used in cocktails.
These cocktail types could all be 'basilified':
Margaritas
Old Fashioneds
Smashes
Sours
Juleps
Mojitos
Gimlets
Collins
Basil Syrup Variations
Let your creativity go wild with different flavor combinations or varieties of basil, this recipe is easy to adjust based on season or what you have on hand. Basil-strawberry syrup is phenomenal. Basil-grapefruit is another stunning combination.
Basil is fantastic paired with the following:
Tropical fruits like pineapple and mango.
Summer fruits: strawberries, blueberries, blackberries, peaches, and cherries.
Citrus: Basil and lemon are the perfect match and part of why pesto is delicious! Grapefruit, orange, and lime also work with basil.
Vanilla: Basil can work in desserts when paired with vanilla.
Spice! Some varieties of basil are 'sweet basil' and have sweet undertones, these types of basil stand up well to spice and heat. Like Genovese sweet basil.
Different varieties of basil to consider:
Sweet Basil: This is widely available at grocery stores nationwide. It's bright green, sweet and perfumey. Sweet basil has great flavor and aroma. It makes a wonderful basil syrup.
Genovese Basil: This variety of basil has BIG flavor. Genovese basil tastes similar to the sweet basil varieties available but with a stronger, deeper flavor. Genovese basil has a complex flavor profile and hints of anise (licorice), mint, and pepper.
Thai Basil: Thai basil is less sweet and has more clove-heavy notes, more cinnamon notes, and an overall 'warmer' aroma and taste. Thai basil leaves are smaller than sweet or Genovese basil, and the leaves of Thai basil are thicker. The flavors of Thai basil are more resilient also; they hold up well to heat.
Dark Opal Basil (Purple basil): This is less sweet-smelling and tasting, and we think it's prone to tasting bitter. Purple basil syrup may have a bit of a greyish color.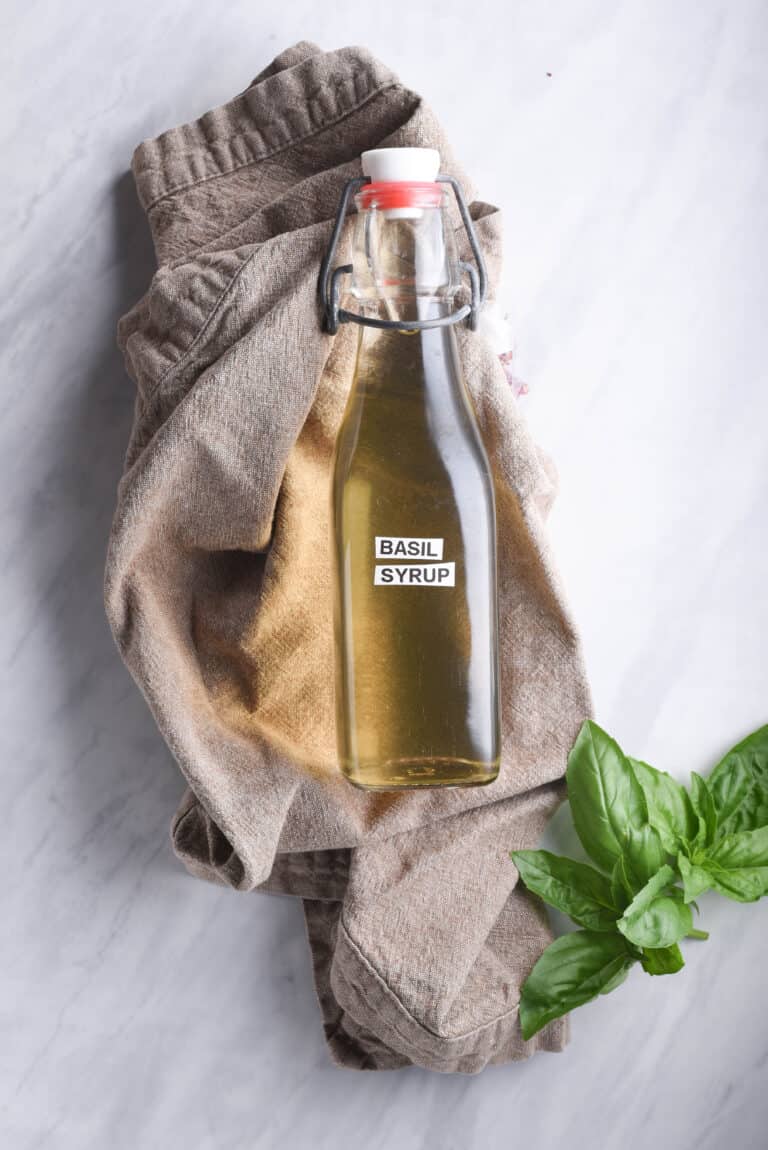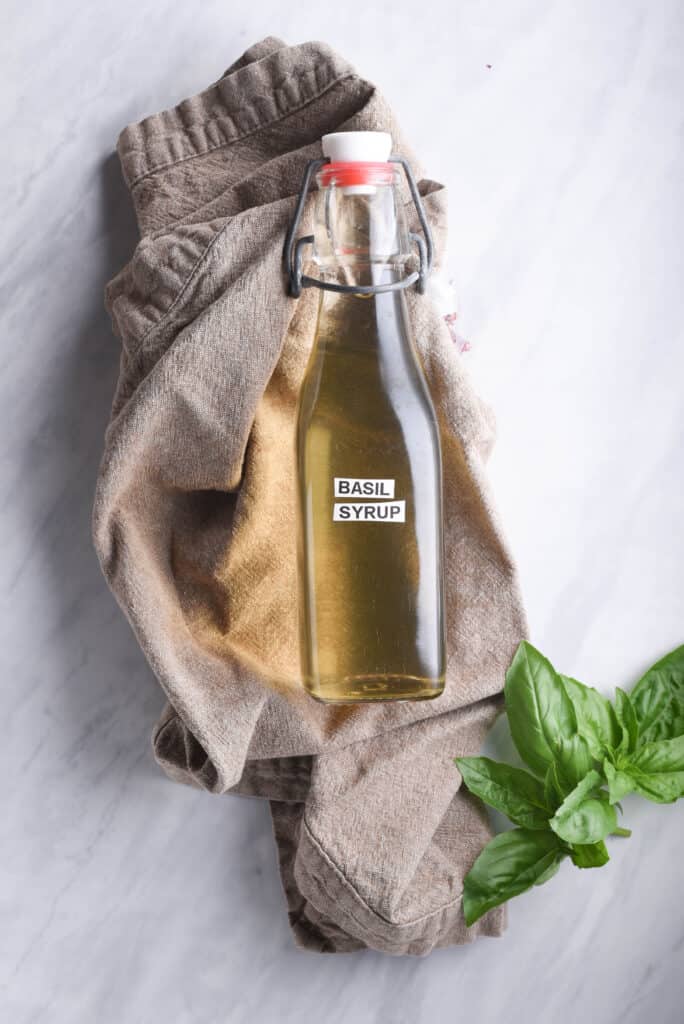 Related Recipes: Lavender Syrup | Brown Sugar Syrup | Ginger Syrup
More Uses For Basil Syrup
Basil syrup can be used for more creations than cocktails! If you've made a batch and need to use up the leftovers, here are some ideas how to put it to work in your kitchen.
Beverages:

Lattes, steamers, coffee, tea, iced tea, lemonade, and flavored sodas.

Cocktails & Mocktails:

Swap basil syrup for simple syrup 1:1 in cocktail recipes, or mix with sparkling water, ginger beer, or tonic water for an easy herby mocktail!
Brush pizza crust with basil syrup when it's fresh out of the oven for big flavor in those final bites!
Drizzle over ice cream!
Use basil syrup in place of standard syrup for pancakes, waffles, or Dutch baby pancakes topped with fruit for an interesting spin on breakfast.
Parfaits & Yogurts: Things like chia pudding, flaxseed pudding, or a yogurt parfait can all be sweetened with basil syrup instead of other sweeteners!

Add it to a marinade:

Leftover basil syrup can add flavor to marinades.
Toss freshly made popcorn with basil syrup and salt.
Use it to sweeten homemade jams and jellies.
Add to boiling water with lemon and make your own sweetened basil tea!
If cooking a curry, peanut noodles, or other dish that calls for sugar to balance out the sauce– basil syrup can work in place of sugar. Many curries are highlighted by the flavor of basil and basil syrup is a great way to do it!
FAQs About Basil Syrup
Can I use old basil to make this recipe? Basil syrup is best with fresh, firm basil leaves as they have a stronger flavor and aroma. Wilting leaves or leaves with black spots on them aren't as pungent and flavorful.
Why isn't my basil syrup green? If you take an extra step and blanch the basil prior to making this syrup, the syrup will be more green in color. Add basil to a pot of boiling water for 10 seconds, then immediately submerge in a bowl of ice water (an ice bath). Then make the recipe as detailed.
Can you use coconut sugar for this recipe? While you can make simple syrups with any type of sugar, we recommend sticking to a lighter sugar with a neutral flavor profile. Basil is a delicate flavor and can fall backstage to a stronger sugar like brown or coconut sugar!
Print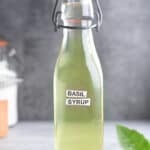 Basil Simple Syrup
Author:

Adriana

Prep Time:

5 minutes

Cook Time:

7 minutes

Total Time:

12 minutes

Yield:

1.25 cups

1

x

Category:

Syrups

Method:

Stovetop
---
Description
Basil simple syrup is an herb-infused cocktail syrup perfect to celebrate hot summer days. The herbaceous flavor and sweet aroma of fresh basil lighten up beverages and help with digestion!
This recipe details how to make basil syrup, variations, suggested cocktails to use it in, and other ways to use leftover syrup.
---
1 cup

lightly packed fresh basil leaves, stems removed

1 cup

sugar

1 cup

water
---
Instructions
Wash basil and remove all stems.
Add sugar, water, and basil to a small pot over medium-low heat and bring to a simmer.
Gently simmer for 5 minutes on low heat.
Strain and store in the fridge!
---
Notes
Dried basil does not work in this recipe, you must use fresh basil. Any variety of fresh basil will work.
If you simmer the syrup for too long, the basil flavor may become bitter and the syrup may become dark. It doesn't take much heat to infuse basil flavor into the syrup!
Most cocktails or beverages calling for simple syrup will use 1-2 tablespoons per drink. This recipe yields just over 1 cup of basil syrup, enough for 8-16 cocktails depending on the drink!
Basil syrup will keep in the fridge for 2-3 weeks or in the freezer for 2-3 months.
For a brighter green basil syrup, blanch the basil prior to using.
Keywords: Basil simple syrup, basil syrup