Xylitol simple syrup couldn't be easier to make- it's 2 ingredients and about 10 minutes of your time! If you are on a keto or sugar-free diet having a simple syrup readily available in your refrigerator will really help make life and meals easier- as well as keep cravings in check!
I originally started making this to use in my morning coffee but I now use it in SO many ways while I'm cooking. It can be used for everything from breakfast coffees & oatmeals to making a sweet chili sauce for dinner and sweetening up your dessert!
Let's get started!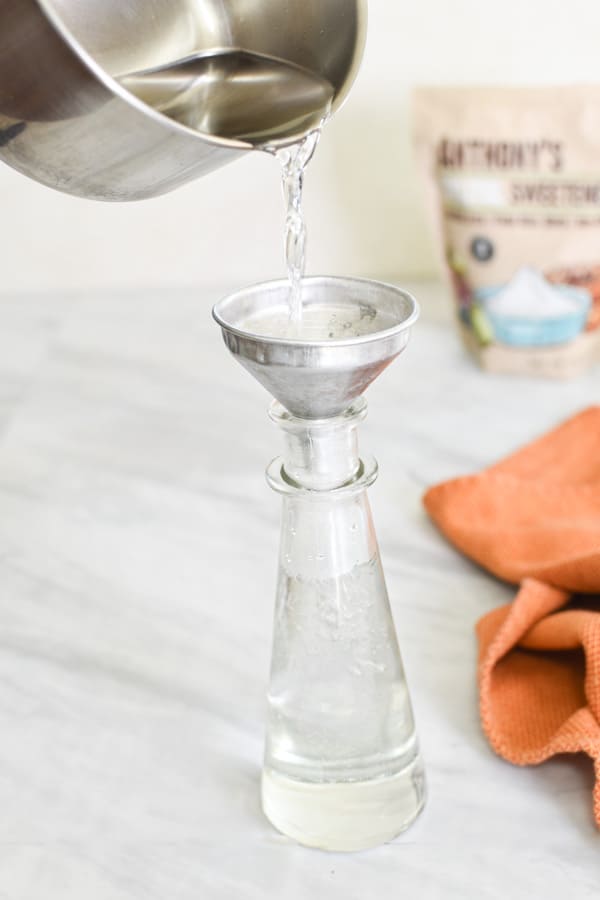 It's an easy keto simple syrup
This keto simple syrup is incredibly easy to make and opens up a world of possibilities and uses in the kitchen. You only need 2 ingredients to make keto simple syrup: xylitol and water!
Traditional simple syrup is a liquid sweetener made by dissolving sugar in water at a 1:1 or 1:2 ratio. We're going to follow these same steps but by dissolving xylitol in water instead of sugar.
Based on the sweetness of xylitol I have found a 1 part water to 1.5 part xylitol ratio have an appropriate sweet level. If you think the syrup is too sweet you can use a 1:1 xylitol to water ratio- or to make it sweeter use a 2:1 xylitol to water ratio.
1.5 cups of xylitol dissolved into 1 cup of water is our preferred keto syrup! This is easy to do on the stovetop and lasts 1-2 weeks in the fridge.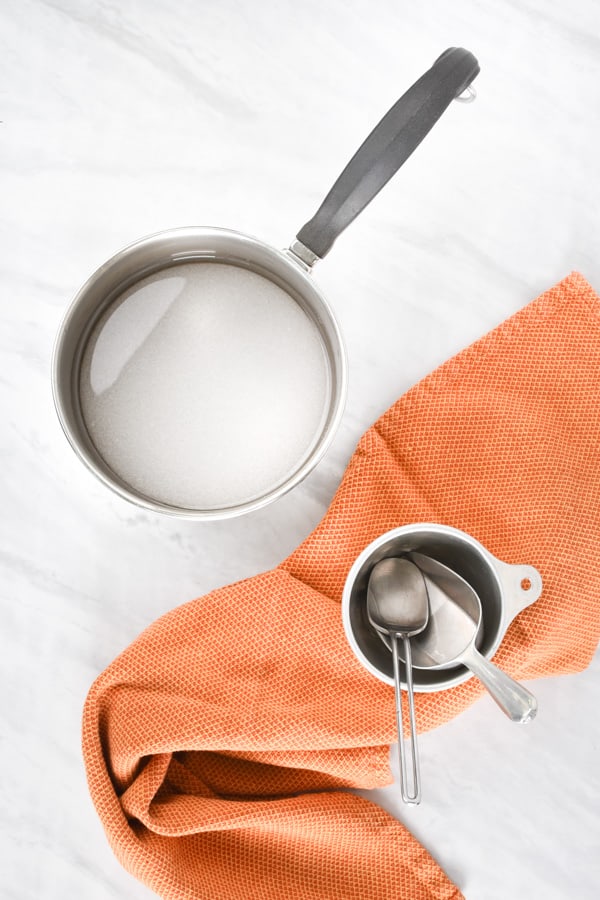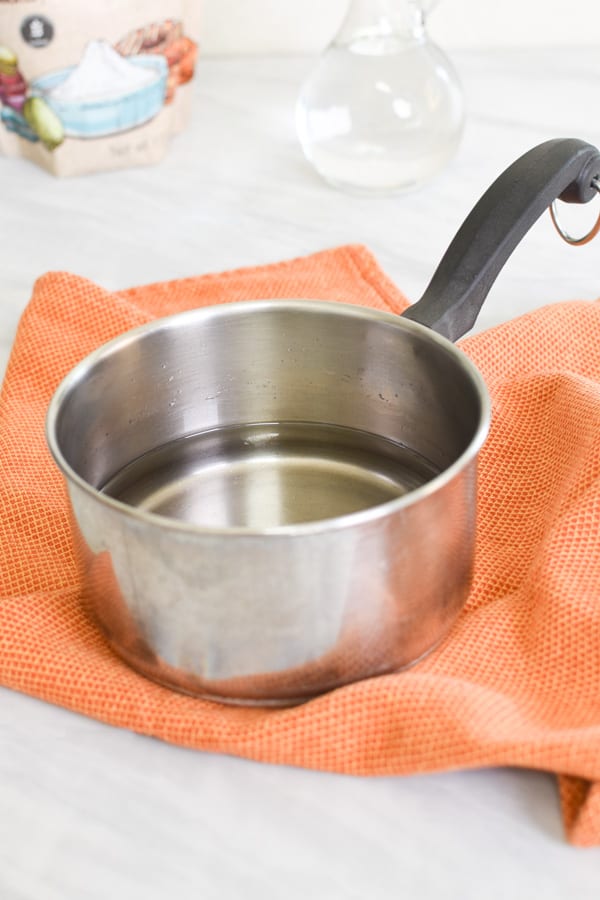 Prevent xylitol liquid sweetener from crystallizing
As I was researching this recipe and xylitol, in general, I saw a lot of comments saying "Oh no! My xylitol syrup crystallized- what happened?!" I make this on a weekly basis and 70% of the time I don't run into any issues.
The other 30%- well, this is caused by the xylitol liquid sweetener coming in contact with regular ol' granulated xylitol. What?
Yes, if you make a picture-perfect batch of this simple syrup and sprinkle a teency, eency amount of granulated xylitol on the syrup, the syrup will gradually begin to turn into crystals. (See photo below)
Question: What gives?! Of course, we aren't going to intentionally put granulated xylitol back in the syrup, so how can this happen?
Answer: Usually the sides of the pot, the utensil you used to stir (don't stir!!), or the container you are storing it in has granulated xylitol on it that will seed the syrup to crystallize.
The method to prepare this syrup is similar to making caramel. If a perfect caramel sauce comes into contact with sugar granules, the entire batch can become grainy.
Here's how to keep your syrup crystal-free:
Place the xylitol and water in the pot gently. When pouring water into the pot it's really easy to splash a few xylitol granules onto the sides/edges of the pot. They won't properly dissolve and may come into contact with the syrup as your pour it out of the pan and into a storage container!
Make sure you are using a clean container to store the syrup– with no traces of granulated or powdered xylitol!
Don't stir the xylitol as it's dissolving! This is a hands-off and watch operation, no touchy touchy! Just like with making caramel, stirring can cause some crystals to stick on the sides of the pot and not dissolve properly.
Place a lid on the pot and simmer covered. Once the xylitol has dissolved, cover and simmer for 1 minute. By covering the pot steam and condensation are created. The condensation will help pull any hiding xylitol crystals on the edges of the pot back into the syrup and ensure they are fully dissolved!
In the photo below you can see an example of xylitol syrup that is recrystallizing compared to pure, liquid syrup on the right.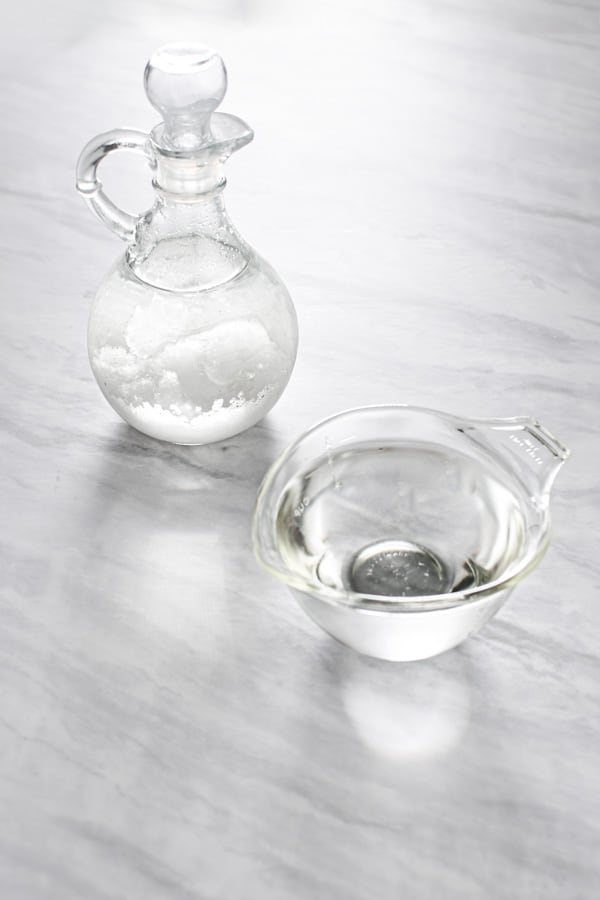 Sugar-free simple syrup uses
Alright! You're well on your way to having an easy, inexpensive sugar-free simple syrup- now what? What are common and easy uses for this syrup?This is something we pretty much always have on hand in the fridge; here's how we use it around our house!
We use this to sweeten our morning brew:
It's a xylitol coffee syrup! Whether you are drinking hot coffee or iced coffee, xylitol syrup will dissolve right into your cuppa. You can use this to sweeten hot or iced teas as well.
This is great for sugar-free or keto cocktails:
Many cocktail recipes call for simple syrup or a sweetener of some kind. In margaritas it's triple sec, in mojitos/ flavored martinis it's simple syrup, in old fashioneds it may be a sugar cube muddled with other ingredients. Regardless of the cocktail you need to sweeten, you can use xylitol simple syrup to do so!
Use this sugar-free syrup to sweeten other beverages:
Homemade lemonade, fruit juices, smoothies, and mocktails all require a touch of sweetness to balance flavors and you can use this syrup to accomplish that.
Use for keto or sugar-free sauces:
Many curry recipes, glazes, and Asian-inspired sauces have a complex and amazing flavor due to sweet and heat in perfect harmony. Things like wings, orange chicken, sweet chili sauce, teriyaki sauce, Thai curries, and hoisin sauces all have sweet-salty-tangy flavors mingling together. Simply because you are following a sugar-free or keto diet doesn't mean you need to miss out on the fun. This liquid sweetener has savory applications as well!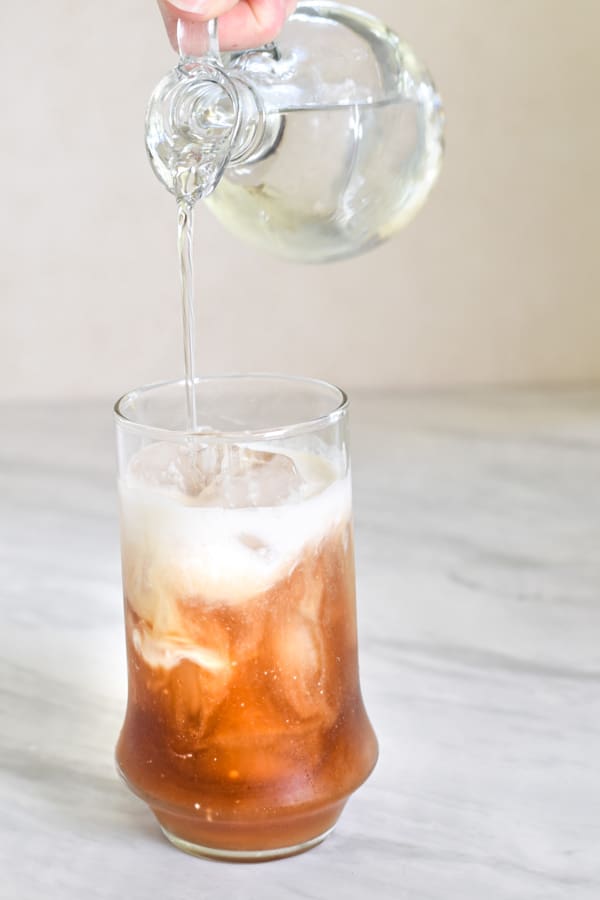 Xylitol from birch or corn?
Xylitol is a sugar alcohol most commonly produced from birch trees or from corn/corn cobs. I have tested this recipe with both birch xylitol and corn xylitol and it works with either variety.
We usually opt for and purchase a USA grown birch tree xylitol- it's easy to find online or in your local health foods store.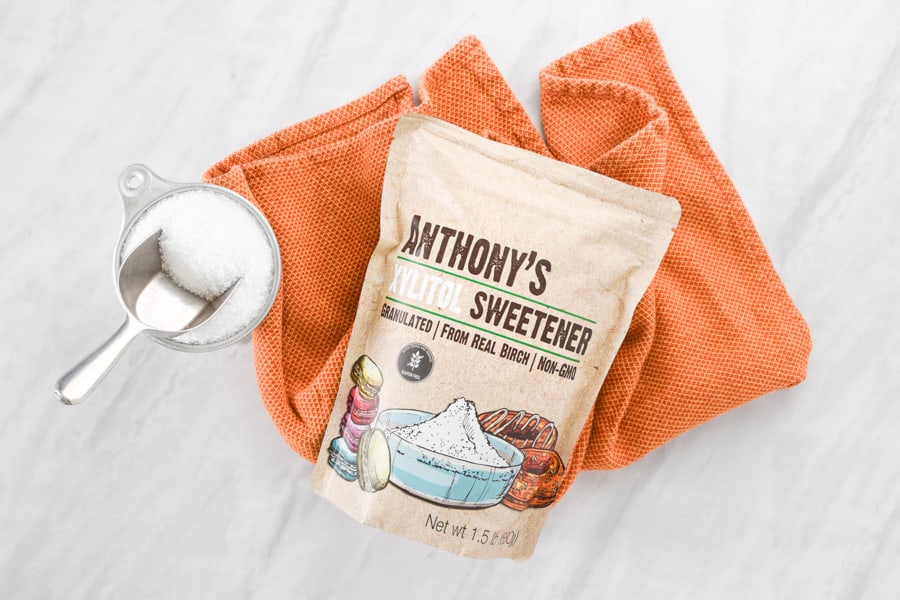 NOTE: Xylitol is not safe for dogs and should not be consumed by dogs!
We use xylitol with caution as we have doggos in the house and don't want anything bad to happen to them! Xylitol interferes with the normal functions of the pancreas in dogs and can cause an immediate insulin spike and blood sugar drop, potentially leading to liver failure and other ailments. Read more from the source here.
Please ensure you store xylitol away from the reach of your pets and ensure you don't share any human food with them that may contain xylitol!
Print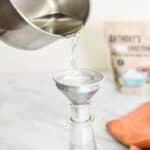 Xylitol Simple Syrup
Author:

Adriana

Prep Time:

15 minutes

Total Time:

15 minutes

Yield:

~1 cup

Category:

xylitol syrup

Method:

stovetop

Cuisine:

keto
---
Description
Xylitol simple syrup is a sugar-free and keto liquid sweetener that is easy to make at home and easy to use in a variety of ways! Xylitol syrup works well across all your favorite desserts,  beverages like coffee, tea, and cocktails, and in smoothies.
---
1.5 cups

granulated xylitol

1 cup

water
---
Instructions
Measure and place xylitol into a small pot. 
Measure and gently pour water into the pot as well being careful not to splash the water and xylitol grains up onto the sides of the pot. If there are ANY xylitol crystals that don't dissolve, they will trigger the rest of the liquid xylitol to recrystallize! (Similar to making caramel)
Simmer on medium heat until all the xylitol has dissolved into a liquid state- about 4-5 minutes.**You don't need to stir, as with making caramel- stirring can cause some grains/crystals to get stuck to the sidewalls of the pot and may recrystallize later. I recomend avoiding stirring this simple syrup!
Once all xylitol is in liquid form, reduce heat to medium low and simmer for 1 minute to reduce and thicken to syrup. Be sure to watch the pot while making the xylitol syrup as it can overflow if you don't reduce the heat, just like regular simple syrup!
Pour into a clean container that does not have any granulated xylitol reside in it.
Cover and keep in the fridge up to 10 days.
---
Notes
**Xylitol is not safe for dogs; keep xylitol products and foods away from dogs!!!***
** Tips to help prevent recrystallizing:
Don't stir the xylitol as it is dissolving in the liquid.
Once the xylitol has all dissolved you can place a lid of the pot and simmer, covered, for 1 minute. This is similar to making caramel; placing a lid on will cause steam and condensation to build up in the pot, all the sides will become coated with a layer of condensation and any stray xylitol granules will fall back into solution!
Keywords: xylitol simple syrup