Adriana has published hundreds of recipes online and is a Board Certified Nutritionist. Read our recipe development process or more about Adriana.
Crispy, fluffy, buttery vegan waffles are the perfect weekend breakfast! Whether you are hosting a brunch with friends, meal prepping a week of breakfast, or looking for breakfast ideas for your kiddos– these vegan waffles will fit the bill.
The vegan waffle batter comes together in a snap, requiring just 6 common ingredients and about 20 minutes, depending on your waffle maker! Top these with vegan butter, syrup, whipped cream, fruit compote, or make the savory favorite vegan chicken and waffles.
Regardless of how you top them, the base recipe will deliver waffles that are perfectly crisptey crunchety on the outside and light and fluffy on the inside!
(This post may contain affiliate links. That means I'll get a small commission on any sales made through those links. Read our full disclosure.)
How To Make Fluffy Vegan Waffles
The beauty of a big plate of waffles dripping with syrup and melted butter is the texture combination–crispy outsides and light, fluffy insides! Although these waffles are plant-based and do not contain eggs, they are still incredibly fluffy on the inside! We owe this fluffiness to baking powder.
Waffles and pancakes are great for breakfast as they both use pantry staples as the ingredient base: flour, sugar, baking powder/baking soda, and salt. Plus some milk and oil and you're in business.
Here's all you need for vegan waffles:
Flour: All-purpose flour is recommended. Bread flour will work as well.
Baking Powder
Sugar: Any type of sugar: white, cane, brown, coconut sugar, or alternative sweeteners.
Salt
Non-dairy milk: We use coconut, cashew, and soy on the regular.
Oil: A neutral-flavored oil is best, like avocado or canola.
Vanilla Extract: Get the good stuff, it really makes all the difference!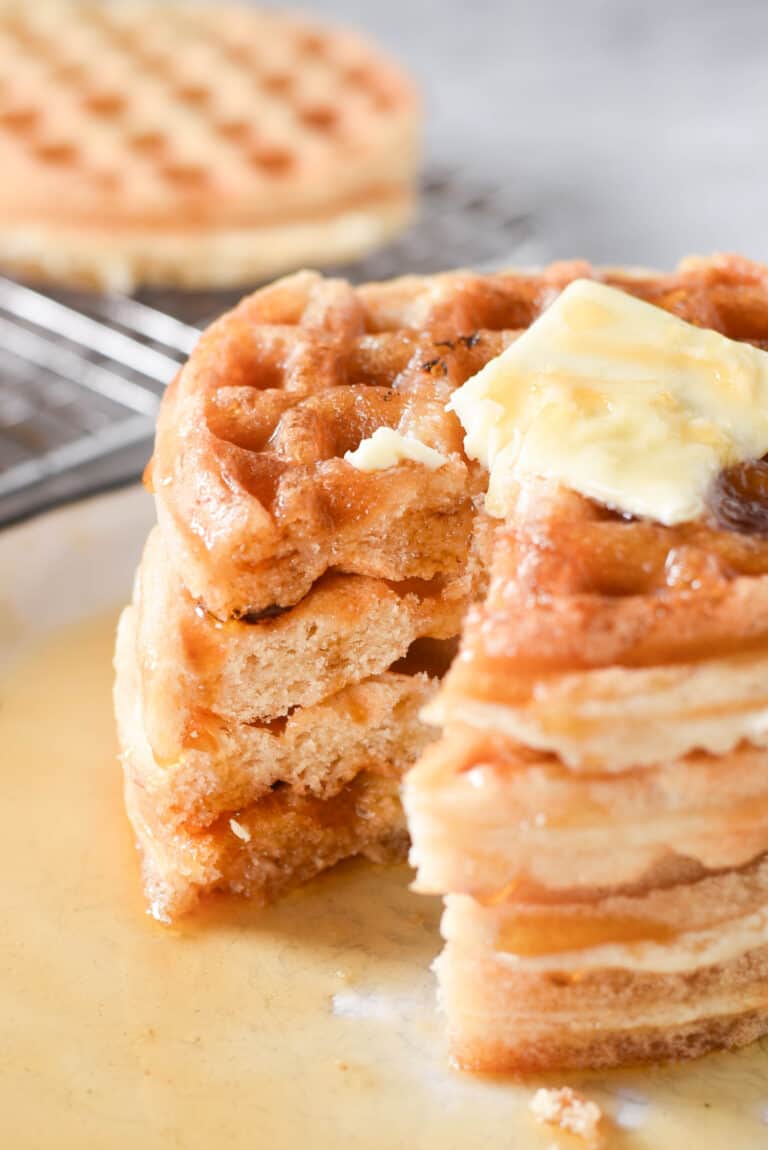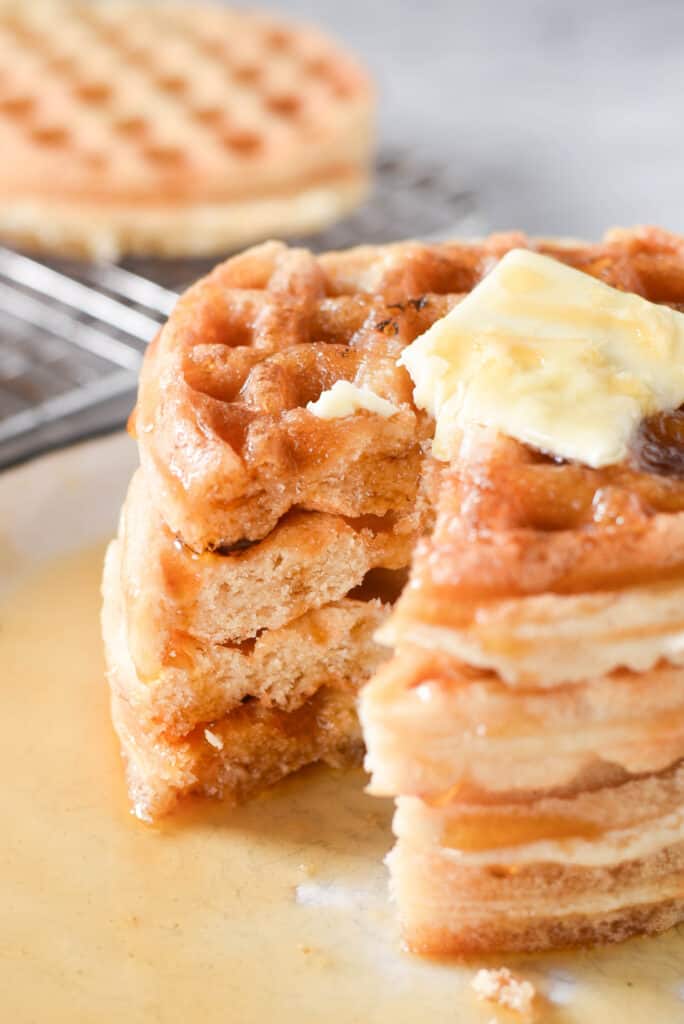 The Perfect Batter
Waffles are considered 'quick breads' as they use baking powder or baking soda for leavening and these leavening agents are key to the batter. Waffle batter shouldn't be mixed until just before cooking it, however, you can measure wet and dry ingredients separately and mix when you're ready to cook.
Our pro tips for waffle batter:
Don't overmix! Combine the batter until there are no dry patches of flour, little lumps are ok. As soon as baking powder comes into contact with liquid, the leavening work begins! If you mix the batter for too long you'll be removing air bubbles from the batter. Mix gently and let it sit!
Let your batter rest for about 5 minutes. Fire up your waffle iron as soon as your batter is mixed.
It's helpful to know how much batter your machine needs, then use a measuring spoon to scoop that perfect amount into the center of your waffle iron. Do not stir the batter as you scoop it for each waffle. (Again, keep the bubbles!) Read more on waffle iron capacity here.
The consistency of waffle batter should be thicker than pancake batter. It should be pourable but very thick.
Vegan Waffle Mix-ins
How to make amazing waffles even more delicious? Flavor them with your favorite mix-ins. Anything you'd think to add to pancakes, you can add to a waffle. Chocolate chips, fresh or frozen berries, bananas, nut butter, and chopped nuts all work great.
For every 1 cup of flour, we recommend 1/2-3/4 cup of mix-ins.
Keep in mind when you add mix-ins to waffle batter your waffles will stick to the waffle iron a bit more and you'll likely need to give your waffle iron a good clean after using. Chocolate and fruit get especially sugary, sticky, and caramelized to the waffle irons but are oh-so-tasty!
To thoroughly clean your waffle iron: let it cool until it's just warm to the touch and wipe down with a damp cloth, getting in all those honeycombed nooks and crannies. For extra stuck-on bits, wrap a wooden utensil (like a spoon, spatula, or chopstick) wrapped in the cloth to remove it. You can also scrub gently with a sponge.
Meal Prepping Vegan Waffles
Waffles are a great breakfast to meal prep! You can store leftovers in the refrigerator or freezer and they reheat quickly. Waffles work great in both sweet and savory applications– waffle breakfast sandwiches, waffle toasts, etc. If you're looking for a high-protein vegan breakfast, add protein powder to your waffle batter.
Here are our tips for making waffles for meal prep:
When cooking up a big batch of waffles, place the waffles on a wire rack to cool off instead of stacking them on a plate or sheet pan. This helps them stay crunchy.
Let the waffles cool completely then store them in a plastic bag or storage container. Waffles won't stick together if they are fully cooled before storing.
Reheat in the toaster by toasting on a low setting 1-2 times or place on a sheet pan in a preheated 350* oven for 5-7 minutes.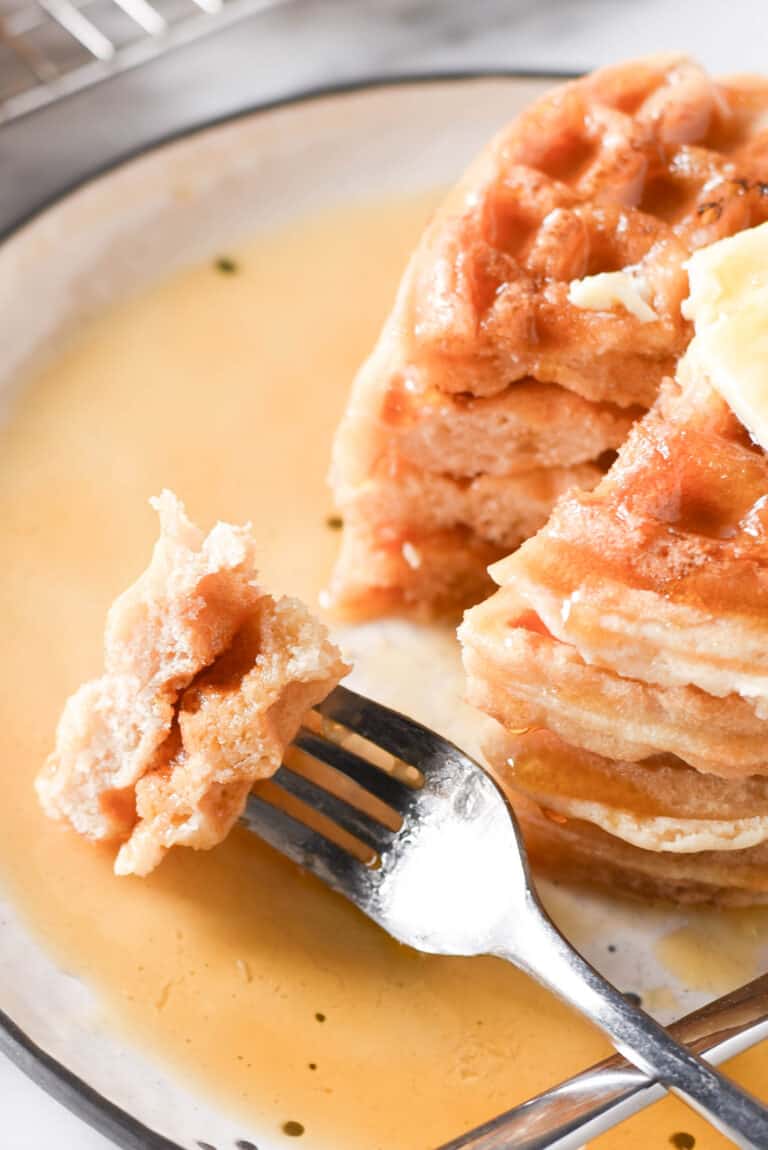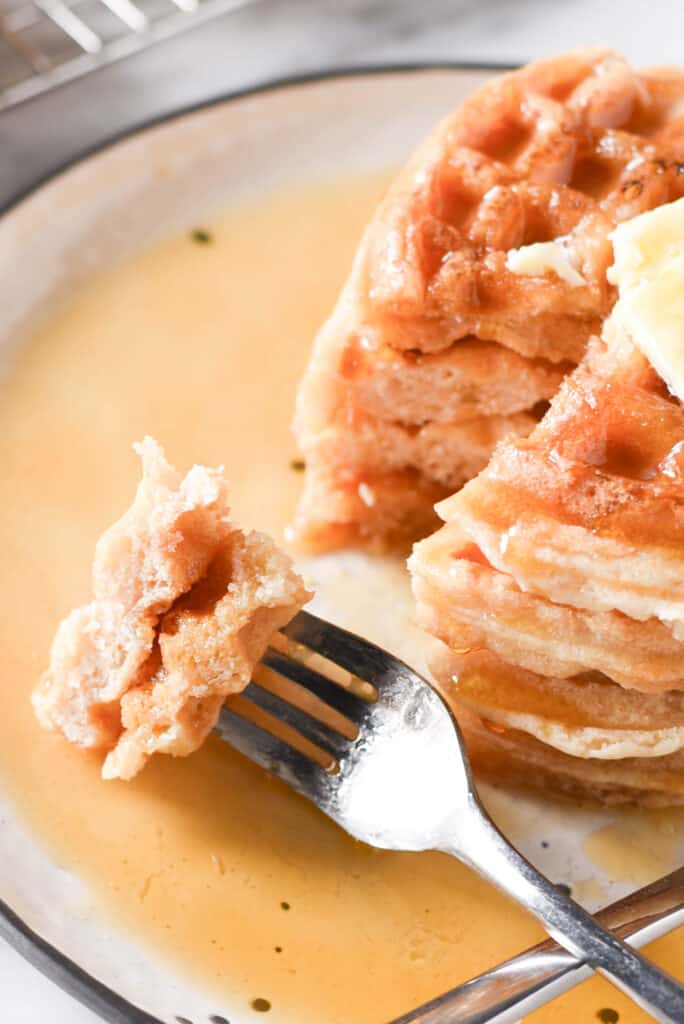 Different Waffle Irons
A waffle isn't just a waffle; there are numerous types of waffles (American, Belgian, Leige) and even more styles of waffle makers. Different waffle irons have different shapes, capacities, and temperatures. With this in mind, it's hard to say how many waffles a recipe will yield or the correct cooking mode.
For large, Belgian-style waffles, this recipe makes about 2 full waffles, with maybe another 1-2 sections. Many Belgian waffle makers require a heaping 1 cup or more of batter!
For standard circular American waffle makers (aka Eggo lookalikes), this recipe makes 8-10 waffles as most machines call for less than 1/4 cup per waffle.
And some mini-machines only need 2 tablespoons of waffle batter per waffle.
You can easily look up your waffle maker instruction guide online to find the recommended amount of batter for perfect waffles, every time!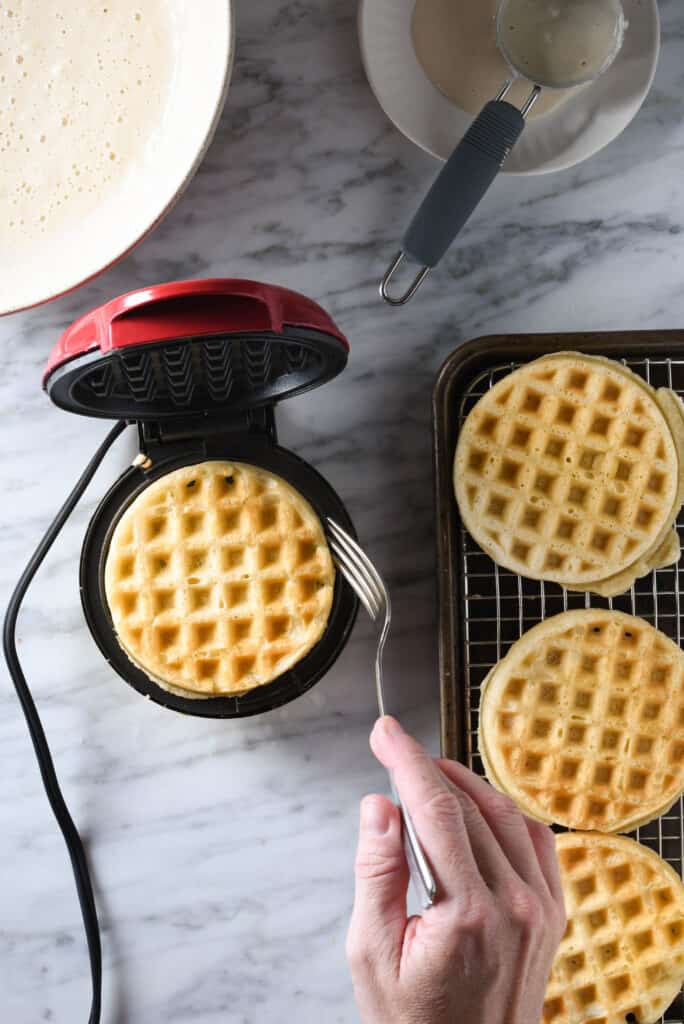 FAQs About Vegan Waffles
Can you use pancake mix to make waffles? You can use pancake mix to make waffles, but waffle batter typically contains more fat (oil or melted butter) and more sugar than pancake batter. However, if you compare the two (pancakes and waffles) on the iconic Bisquick website, you'll see the recipe for pancakes and waffles is identical!
How to make crispy waffles? Adding oil or melted butter to waffle batter is what helps the exterior of the waffles get nice and crispy in the waffle iron!
How to prevent waffles from sticking? We have 2 great tips to prevent waffles from sticking: ensure there is enough fat in the batter (either oil or melted butter) and that your waffle iron is pre-heated! If proper technique is used, you may not even need non-stick spray on your waffle maker. We don't use non-stick spray or oil of any kind when using our waffle maker.
How to get waffles to spread across the entire waffle maker? For your waffle maker to make full, complete waffles you need to add a sufficient amount of batter to your waffle maker. The amount varies by brand and type of waffle, as Belgian waffles are larger than American waffles. If you read your manufacturer guide for your machine it will likely detail a volume measurement perfect for your machine ranging from 1/4 cup for mini waffle makers up to 1 heaping cup for full-sized Belgians!
How long to cook vegan waffles? This depends on your waffle maker, batter consistency, and the size of your waffles! Start in the mid-range of heat settings and turn the heat up from there for your desired crispiness!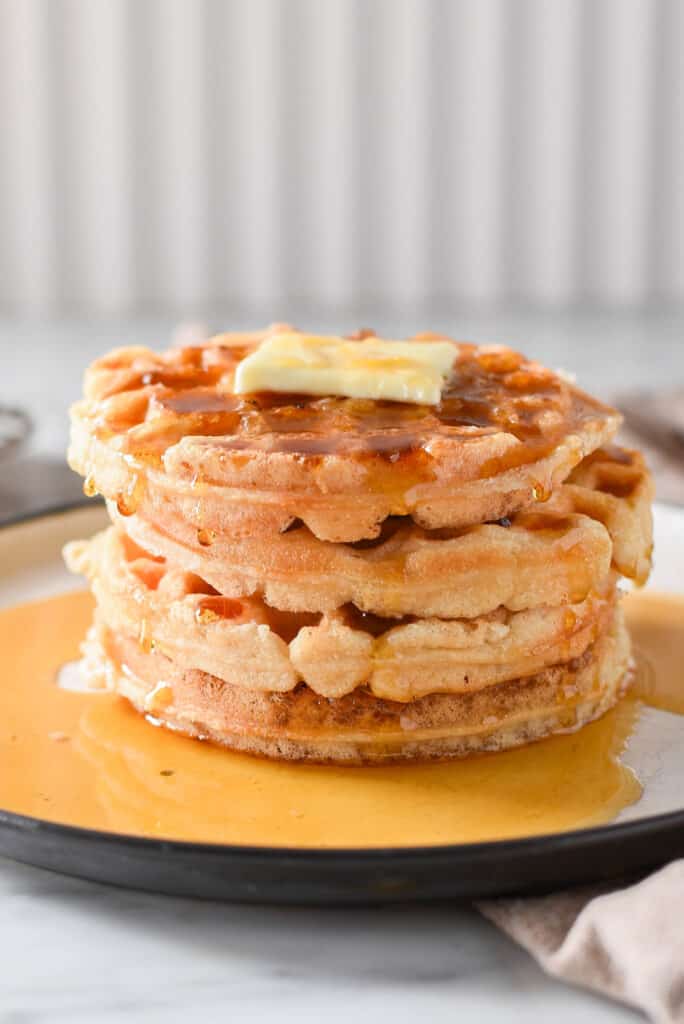 Print
Best Vegan Waffles
Author:

Adriana

Prep Time:

10 minutes

Cook Time:

15 minutes

Total Time:

25 minutes

Yield:

8

waffles

1

x

Category:

Vegan Breakfast

Method:

Stovetop

Cuisine:

American

Diet:

Vegan
---
Description
These are the best vegan waffles- big, crunchy, fluffy, and covered in honeycomb pockets just waiting to be doused in butter and syrup! This vegan waffle batter comes together in under five minutes and uses common ingredients.
---
Wet:
3/4 cup

non-dairy milk

1 teaspoon

vanilla extract

1/4 cup

neutral oil or melted vegan butter
Dry:
1 cup

all-purpose flour

2 tablespoons

sugar

2 teaspoons

baking powder

1/2 teaspoon

salt
---
Instructions
Measure all wet ingredients into a mixing bowl and whisk to combine. (Milk, oil, vanilla)
Measure all dry ingredients into a sieve or sifter and add to the wet ingredients. (Flour, baking powder, salt, sugar) Adding the dry to the wet helps prevent dry pockets of flour. 
Mix with a whisk until just combined, lumps are ok. Don't overmix the batter, it will bubble and thicken and we don't want to deflate all the air in the batter!
Heat your waffle iron to medium heat, or your desired setting. 
Use a measuring cup to pour the appropriate amount of batter into the center of your waffle iron and close the lid. If you don't know, start with 1/3 cup and see how it goes. (Some waffle irons use as little as 2 tablespoons of batter, while others use as much as 1 cup per waffle).
Don't open the waffle iron early– wait for the beep that it's done and that there is no longer any steam escaping from the waffle iron.
Remove and enjoy! 
To keep waffles warm, place on a wire cooling rack and keep in a 150-200* oven until you are ready to eat. The rack ensures the outsides of the waffle remain crispy; if you stack the waffles the outsides will become soft.
---
Notes
If using mix-ins like berries or chocolate chips, the waffles are more likely to stick. The key to cleaning your waffle maker is not to let it fully cool off and that sticky stuff harden! Use a damp cloth to wipe all the nooks and crannies as soon as your waffle maker has cooled enough to touch.
If adding mix-ins to the batter, we recommend 1/2-3/4 cup of mix-ins per 1 cup of flour!
Most waffle irons have a non-stick coating so avoid using a metal utensil to remove waffles to keep the coating intact.
If you read your machine's manufacturer guidelines, it will specify how much batter is ideal. (Easy to look this up online, Google your "waffle maker + manufacturer guide" and you'll find it!