Adriana has published hundreds of recipes online and is a Board Certified Nutritionist. Read our recipe development process or more about Adriana.
Vegan banana pancakes are an effortless 1 bowl breakfast that tastes so sweetly tropical. It's a great recipe to make when you have a couple of over-ripe bananas lying around or when you're in the mood for something different.
Light, crispy, and banana-y, these vegan banana pancakes are excellent with butter and maple syrup. Pair them with vegan sausage or a tofu scramble for a healthy start to your day.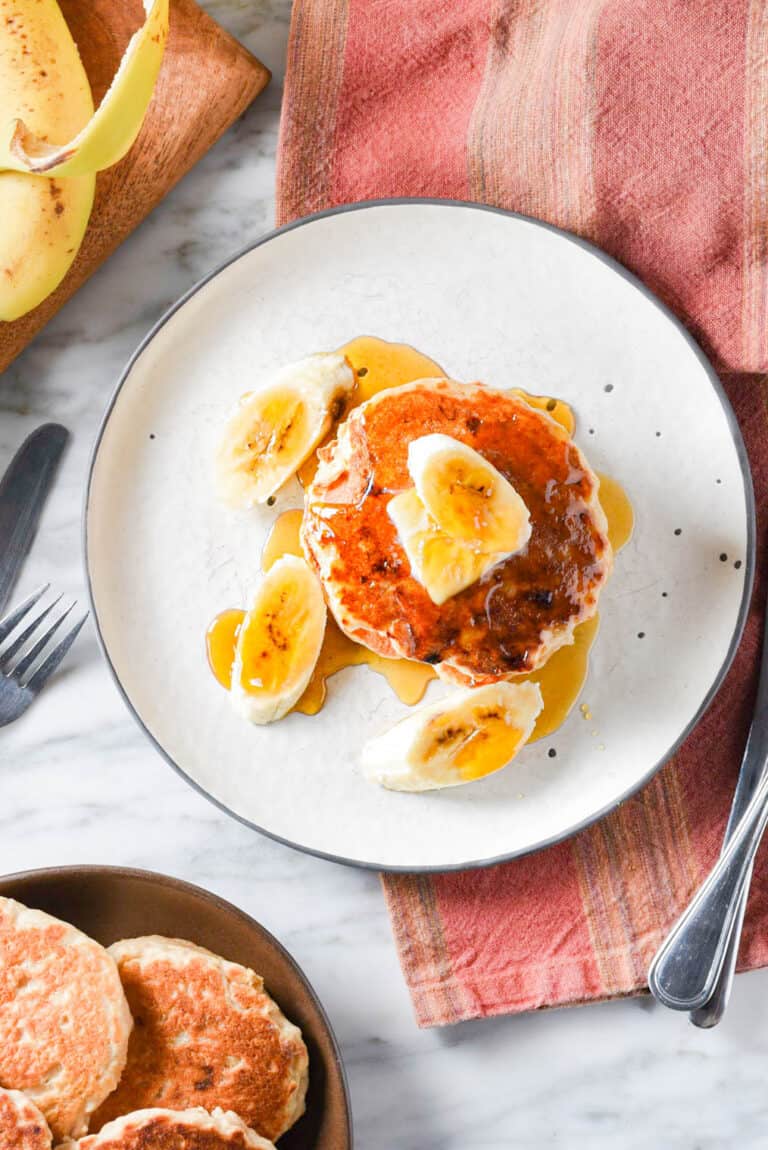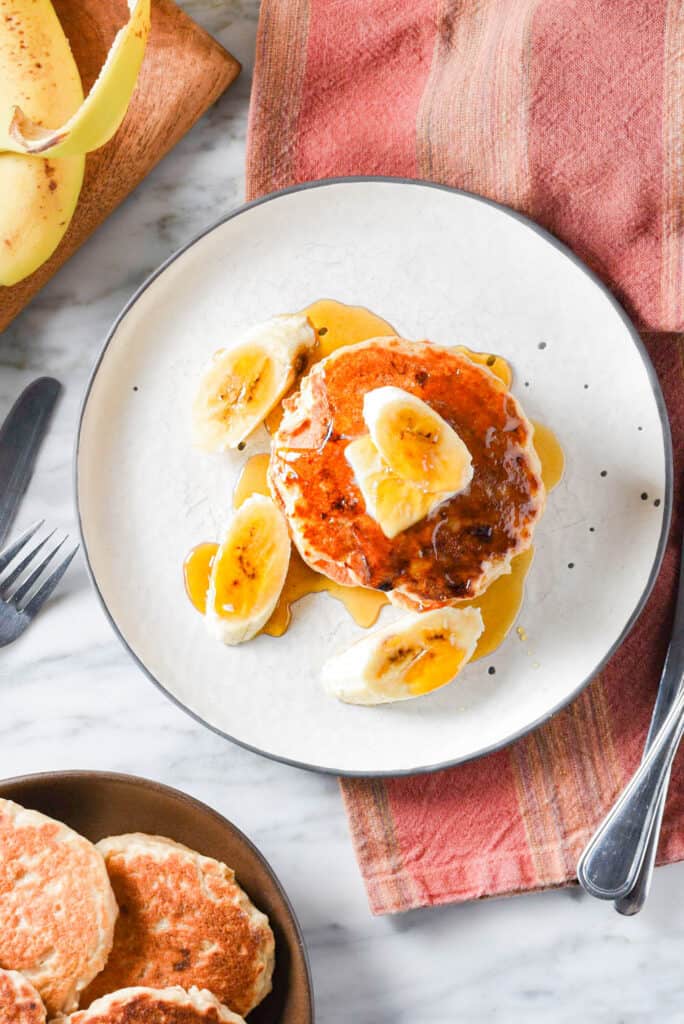 (This post may contain affiliate links. That means I'll get a small commission on any sales made through those links. Read our full disclosure.)
Vegan Banana Pancake Ingredients
Pancakes are a dream because we all have the ingredients to make them at home already. Plus, they use up bananas that are on their way out… vegan banana pancakes are a win-win. Basic vegan pancakes are about 5 ingredients, with variations and spices or flavorings adding a few more.
Flour: All-purpose is the pancake go-to for us, but we've swapped in bread flour in a pinch.
Sugar: Cane sugar, white sugar, brown sugar– any sugar will work.
Baking Powder: The best leavener for pancakes as it's double-acting– once when mixed with wet ingredients and twice when it hits a hot pan.
Cinnamon and/or Nutmeg: Optional spices that enhance the banana flavor profile.
Salt: Necessary to meld and heighten all the flavors together.
Milk: Soy or coconut are recommended however any plant-based milk or even cow's milk will work.
Oil or Melted Butter: In the batter, these help make pancakes tender and light. In the pan, these help make pancake edges crispy and golden brown!
Alternatively, you can use a pre-packaged pancake mix of course!
Perfect Pancake Batter
If you've tried any of our other vegan pancake recipes, you know we use the lesser-common technique of wet first, then dry into the mixing bowl. This aligns perfectly with banana pancakes because you'll need to mash them up.
We chose to add all wet ingredients to a mixing bowl and then sift in the dry so the batter is less likely to have dry pockets of flour stuck to the bottom of the bowl. For the lightest, airiest pancakes it is true how all the cooks tell you 'Don't overmix' and 'Lumps are okay'. A few spins of the whisk are all you need if you add the dry to the wet.
Pancake batter should be thick if you're after thick, tall pancakes. As the baking powder works its magic, the batter will start to appear clumpy kind of like cottage cheese.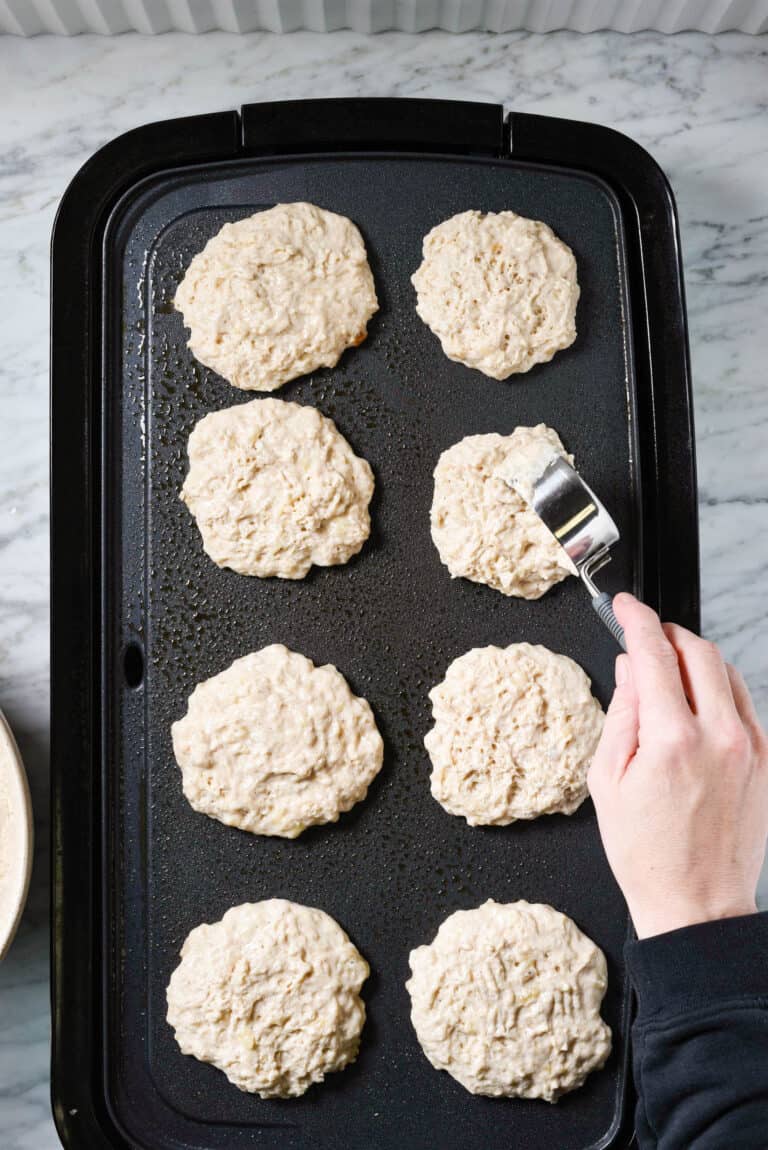 When To Flip Vegan Banana Pancakes
Knowing the right time to flip pancakes can feel like a major mystery. Especially with that first pancake 🙂 We do have some tips and signs to watch for to help you feel confident that it's time to flip.
Watch the edges: The sides of the pancake will cook up before the middle so keep a close eye here. The perimeter of the pancakes will start to set and dry out. It won't look wet and shiny like the center of the pancake.
Watch the bottom: As the pancakes start cooking up and the edges are setting, you can use a spatula to peek and look at the bottom for deep golden brown coloring. The amount of sugar and baking soda used can have an effect on browning so even if the top looks ready, it doesn't hurt to double-check and look for adequate browning before beginning to flip a batch of pancakes.
Look for bubbles & holes: Bubbles are a great thing and they signal that your baking powder/baking soda is doing their job! These leaveners create carbon dioxide in the batter and the heat creates steam which pushes that trapped CO2 up and out, causing bubbles. The golden rule is bubbles on the surface mean the pancake is still cooking, but holes- which are popped bubbles- mean it's ready for a flip. Now, depending on how thick your batter is, you may not see many bubbles or holes and that's okay.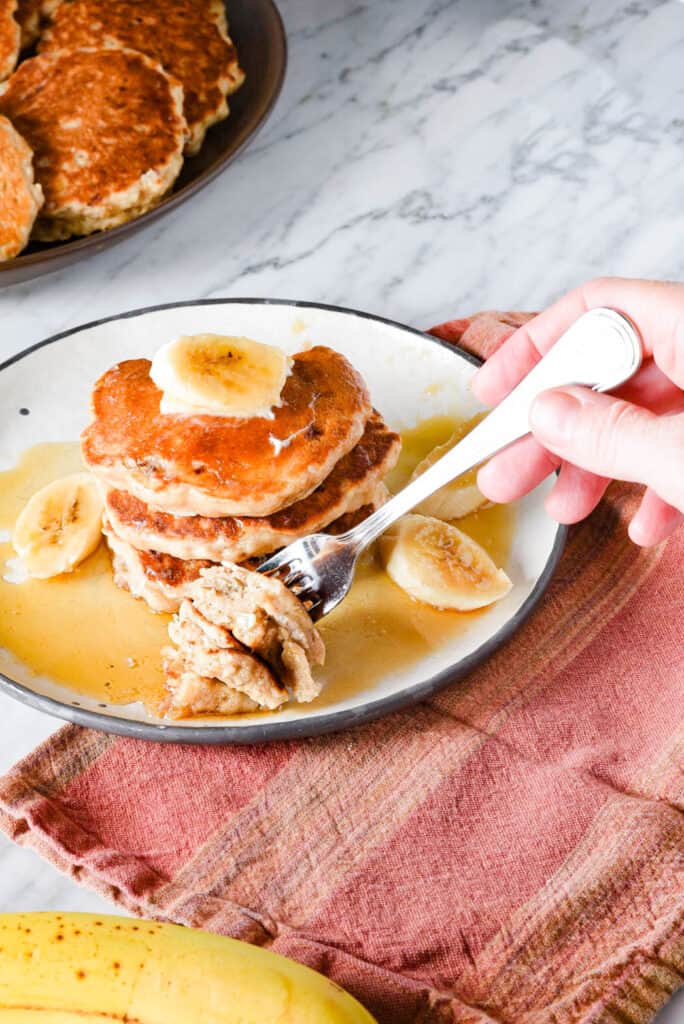 Variations To This Recipe
Vegan banana pancakes remind us of banana bread- think of all the variations in banana bread! These pancakes are easy to go full chef on with flavors and mix-ins. Chopped macadamia nuts add another tropical element and a wonderful crunch. Chocolate chips and banana baked goods are perfect partners in crime. Shredded coconut + banana is another delicious combo. Mixing in some peanut butter or nutmeg is a great idea as well.
Brown sugar is great instead of white sugar for those caramelly, molassesy undertones. Whipped cream and additional sliced bananas on top are heavenly. Or a drizzle of caramel?
Any finely chopped nuts will give you flavor and crunch. The texture of chopped walnuts is perfect in pancakes. You could add any nut butter to the batter. And, you can add any berry for a banana-berry pancake… banana blueberry pancakes?
Just keep the mix-ins to 1/2-1 cup total to help the pancakes stay together. Too many additions and the pancakes tend to fall apart during flipping and eating. (But they still taste great).
Storage, Meal Prep, & Reheating
Pancakes are awesome for meal prep, especially if you have a large griddle and can make a ton at once. If we're making a big batch of pancakes for the next few days we let them cool on a wire rack after cooking. You can stack them up on a plate but the condensation on the underside turns them pretty soft and when they're really soft they are more likely to stick when stacked.
You can layer parchment between them but we don't usually, they stick a bit but still separate. Stack them up and store them in a zippy bag or other storage container and place them in the fridge or freezer.
To reheat just a couple, toast on low in the toaster 1-2 times until warmed through, for frozen pancakes too. To reheat a bunch use the oven. Place on a sheet pan in a 350* oven and cover loosely with foil. Pancakes will be piping hot in about 5-7 minutes.
You could also use pancakes as bread if you meal prep breakfast sandwiches. Oh yes. If you get tired of the standard ol pancake and you have stacks in the fridge, whip up some vegan breakfast sandwiches with banana pancakes as the bread.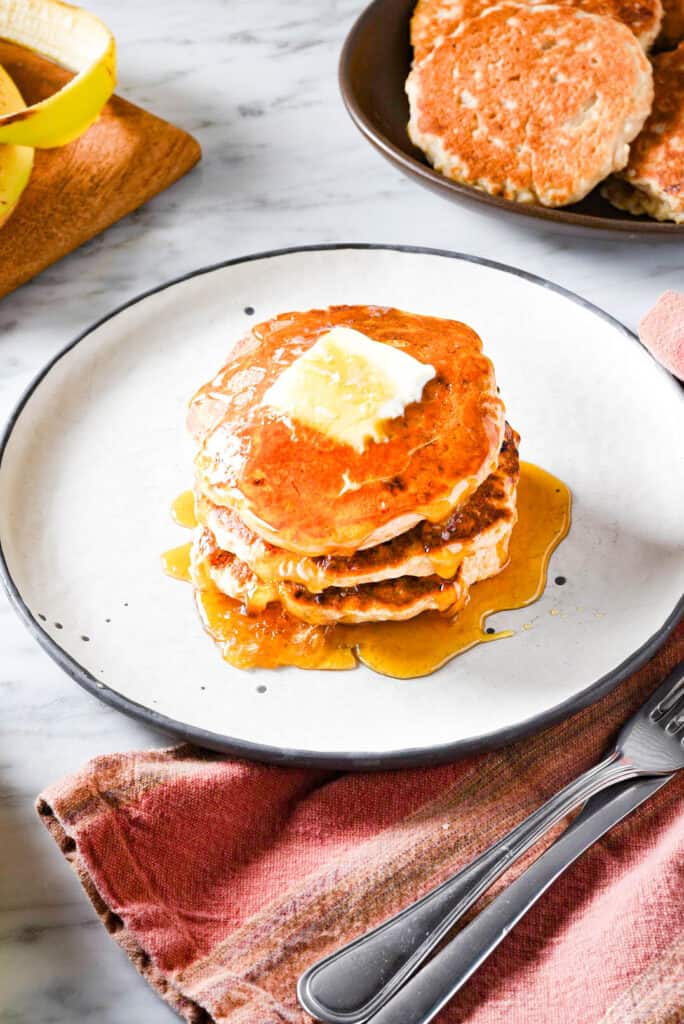 Vegan Banana Pancake FAQs
Which non-dairy milk is best for making vegan pancakes? Soy or coconut milk both have good levels of fat that help imitate dairy milk (which has fat) and eggs (which have fat). Any non-dairy milk will do but we reach for coconut or soy 90% of the time.
Why are my banana pancakes mushy? Roughly mashed-up bananas mixed into pancakes will have big pieces of banana present and this can seem like the pancake is mushy or undercooked, when it's just the banana pieces. If you don't like this, mash the heck out of your bananas.
Can you make this recipe oil-free? You can omit the oil in the batter and cook in a dry non-stick skillet or use melted vegan butter. Oil helps give the pancakes a soft and tender texture on the interior. Cooking the pancakes in oil or melted butter results in a better texture, but it's not required if you are avoiding oil.
Print
Vegan Banana Pancakes
Author:

Adriana

Prep Time:

5 minutes

Cook Time:

15 minutes

Total Time:

20 minutes

Yield:

8

pancakes

1

x

Category:

Vegan Breakfast

Method:

Stovetop

Cuisine:

American

Diet:

Vegan
---
Description
Vegan banana pancakes are an easy 1-bowl breakfast that cook up fluffy and delicious. The next time you have a few ripe bananas ready to use up, put this vegan banana pancake recipe to work for you.
---
Wet:
1 cup

non-dairy milk 

3/4 cup

mashed banana (

2

–

3

medium bananas)

1 tablespoon

oil

1 teaspoon

vanilla extract

1/2 teaspoon

almond extract
Dry:
1.5 cups

all-purpose flour (scooped & leveled)

3 teaspoons

baking powder

1 teaspoon

cinnamon

1/4 teaspoon

nutmeg

2 tablespoons

sugar

1/2 teaspoon

salt
---
Instructions
Mash bananas in a medium-sized mixing bowl with a fork or potato masher. We like them really mashed up until they get creamy but you can leave them chunky.
Combine all wet ingredients and whisk to combine.
Add the dry ingredients to a sieve and sift into the wet ingredients. If you don't have a sieve you can sprinkle & spread all dry ingredients on top of the wet.
Whisk the dry ingredients into the wet until the batter is JUST mixed– small lumps are okay. 
Let the batter rest and thicken for 5-10 minutes as you pre-heat your skillet or griddle to medium heat.
Coat the skillet well with vegan butter or spray oil then pour the batter into the skillet using a measuring cup and spatula.

1/4 cup makes 8-9 silver dollar-sized pancakes.
1/3 cup makes 5-6 adult-sized pancakes that are easy to flip. 
1/2 cup makes 3-4 big, restaurant-style pancakes that may be more challenging to cook & flip.

Cook the pancakes on the first side for 3-4 minutes. When ready to flip you'll notice a few small 'holes' on the surface and the edges will appear cooked, taking on a dry, matte appearance.
Flip and cook for an additional 1-2 minutes. 
Serve immediately. Or place pancakes on a wire rack until ready to serve as this prevents condensation and soft undersides. Pancakes can be kept warm in a preheated 150* oven.
---
Notes
Cooking pancakes in vegan butter resulted in more even browning and those delectable crispy brown rings around the pancakes in comparison to oil. You can use either or even omit entirely.
To get crispy pancakes and crispy brown rings around the edges you need a lot of butter swimming around on the skillet or griddle. The edges of the pancakes will fry in the butter. 
Our general rule for cooking pancakes is 3 minutes on the first side and 1 minute on the second. That first pancake doesn't always have to be a flop– adjust the cooking temperature based on the consistency of your batter and set a timer for the first few pancakes!!!
If you are using a cast iron skillet, you may need to lower the heat after your first couple of pancakes if your pancakes are cooking too fast.
Keywords: vegan banana pancakes