Vegan pumpkin scones are a sophisticated pastry perfectly suited for slow mornings with hot beverages. This recipe for pumpkin spice scones will walk you through everything you need to know to replicate those coffee shop status scones in your home kitchen.
Of course, no pumpkin scone is complete without a drizzle of icing– icing bursting with warm fall flavors of pumpkin pie spice. We'll also provide an option for a pumpkin maple icing. Regardless of how you ice and slice them, we're about 45 minutes away from decadent sweets for breakfast
Let the countdown begin.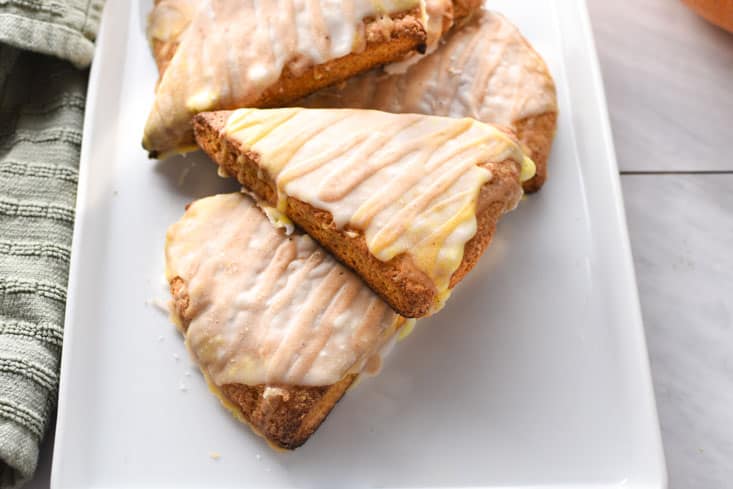 Why We Love Pumpkin Spice Scones
There's something that sets pumpkin spice scones apart from other fall pastries. We're sorry, but anything pumpkin flavored wearing a layer of sweet icing waiting to take a plunge in your mug of hot coffee takes the cake. Real talk.
Pumpkin scones aren't as common as the standard muffin or quickbread, but the texture of scones is unmatched across the realm of breakfast pastries. Equally crumbly, moist, and flavorful, pumpkin scones are sure to delight your friends and family.
So let's make them.
How To Make Pumpkin Spice Scones
Scones are a form of quickbread (they don't require yeast to rise) that come in a variety of flavors with common add ins like dried fruit and nuts. Scones commonly in pastry cases at coffee shops alongside muffins, cookies, and biscotti but making pumpkin scones is different than other pastries.
Working with scone dough is similar to making a biscuit or pie dough, you need to cut cold butter into the dried flour mixture and you want the batter to remain cold. Scones aren't flaky, but they are crumbly. The batter should be cohesive, but shouldn't be overworked.
What's important to keep in mind here is that perfect pumpkin scones are imperfect. This is a rough, rugged dough with imperfections to adore.
So how to do it?
Similar to baking other pumpkin-flavored treats, start by mixing the dry ingredients together. Next cube and cut in cold butter using a fork, pastry cutter, or by taking everything for a spin in a food processor. Lastly, add in a splash of milk and pumpkin puree and we're off to the races.
After a quick squeeze with a rolling pin, cut scones into your desired shape or rounds, triangles, or other creative license and pop in a 350-degree oven.
While not required but highly recommended, let the scones cool completely then bathe in a pumpkin spice or pumpkin maple icing prior to enjoying. Perfection.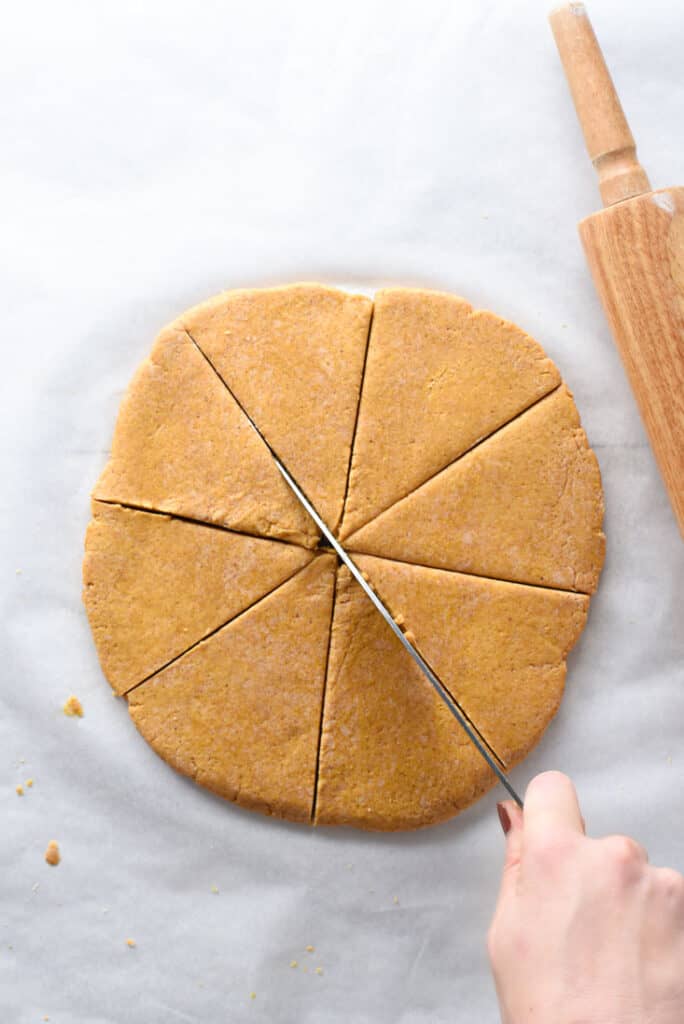 Variations To This Recipe:
A great pumpkin scone alone can be just what you need on a chilly fall morning– however, there are additional steps to match those coffee shop scones! First and foremost, icing these pumpkin scones is very much a suggested move.
A standard powdered sugar icing is delicious; powdered sugar and milk. You could add vanilla or almond extract to this.
Or maple icing! Pumpkin + maple are phenomenal together. Powdered sugar + maple syrup will make this dream a reality.
You can add pumpkin pie spice to the icing for a spiced icing.
You can add a touch of pumpkin puree to the icing for a pumpkin-flavored icing.
Additionally, you can add 1/2 cup of chocolate chips to the dough for pumpkin chocolate chip scones.
You girls. You guys. There are options galore here!
Vegan Copycat Starbucks Pumpkin Scones
Inquiring minds want to know: are these vegan pumpkin scones similar to Starbucks pumpkin scones? We're close, but we excitedly aren't the same. These vegan pumpkin scones are definitely not as sweet (read: healthy) as the Sbux variety.
The ingredient list is similar and the flavor is similar however in veganizing this recipe there are texture and flavor differences in comparison to the Starbucks pumpkin scone.
To get those sbux pumpkin scone vibes, you'll want to ice the vegan pumpkin scones with a layer of plain icing, then drizzle a pumpkin spice icing over top. Winning combo. Instructions for the icings are in the recipe card.
Are we close? You tell us.
Recipe
Print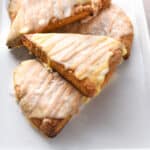 Vegan Pumpkin Scones
Author:

Adriana

Prep Time:

15 minutes

Cook Time:

15 minutes

Total Time:

30 minutes

Yield:

8

scones

1

x

Category:

Vegan Pumpkin Scones

Method:

Oven

Cuisine:

Fall

Diet:

Vegan
---
Description
Say hello to pumpkin spice season with homemade Vegan Pumpkin Scones! These pumpkin scones taste so close to the favorites you get at your local coffee shop!
---
2 cups

flour

1 teaspoon

salt

1/4 cup

brown sugar

1/4 cup

white sugar

2 teaspoons

baking powder

3 teaspoons

pumpkin pie spice

1/2 cup

pumpkin puree

1/2 cup

very cold vegan butter

2 teaspoons

vanilla extract
---
Instructions
Add all dry ingredients to a food processor and pulse to combine. Alternatively, you can add to a mixing bowl and combine.
Cut very cold vegan butter into small 1/2″ cubes and pulse in the food processor until the texture is a sandy meal. If using a mixing bowl, use a fork or pastry cutter to shred the butter into the dry ingredients.
Add pumpkin puree and combine until mixture comes together as a dough.
Roll out the scone dough on a floured surface or between two pieces of parchment paper. Roll the scone dough into a 9″ disc.
Cut the disc into 8 equal shaped triangles and place them on a cookie sheet in the fridge.
Preheat the oven to 400 degrees with the rack in the center position. Bake the scones for 13-16 minutes until golden brown and a toothpick inserted comes out clean.
If icing, wait until scones COMPLETLY cool, then make the icing.

For standard vanilla icing: 1 cup powdered sugar, 1/2 teaspoon vanilla extract, and 2-4 teaspoons of milk or water. Stir to combine. Add more liquid in 1 teaspoon intervals to thin the icing as needed.
For pumpkin spice icing: 1 cup powdered sugar, 1 teaspoon pumpkin spice, and 2-4 teaspoons milk or water. Stire to combine. You could add 2-3 teaspoons of pumpkin puree for more color! Add more liquid in 1 teaspoon intervals to thin the icing as needed.
---
Notes
Ensure the vegan butter is very cold for a crumbly scone texture! You can measure the amount needed and pop in the freezer for 30 minutes prior to assembling the scones dough.
---
Nutrition
Calories:

233

Sugar:

15g

Sodium:

407mg

Fat:

6g

Saturated Fat:

1.1g

Unsaturated Fat:

0g

Trans Fat:

0g

Carbohydrates:

41g

Fiber:

1.4g

Protein:

3.6g

Cholesterol:

0mg
Keywords: Vegan Pumpkin Scones