Cucumber juice is a refreshing and healthy veggie juice that comes together in less than 5 minutes' time! Cucumber juice is the perfect juice for hot summer days when you need a hydrating, cooling boost.
This cuke juice recipe can easily be made in a blender, bullet blender, or juicer and is really versatile– use it as a base and add in other veggies or those healthy dark, leafy greens we all need more of!
Let's get to it!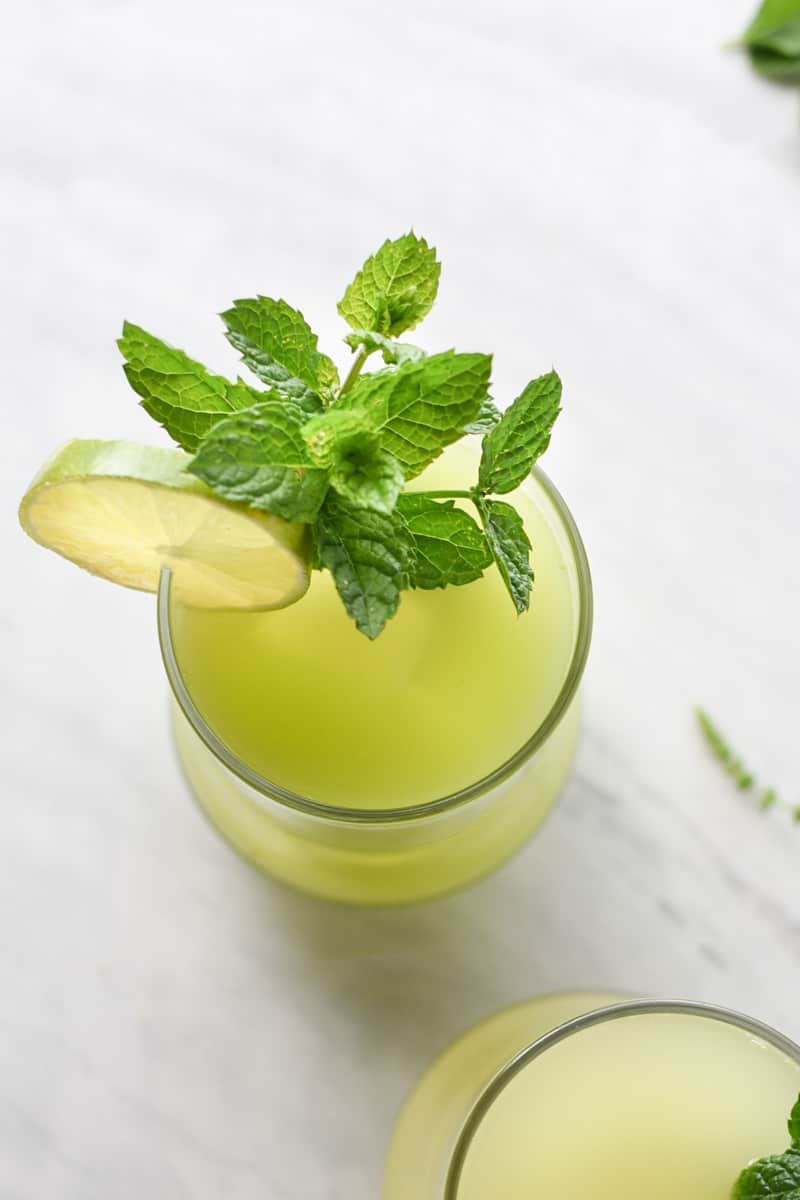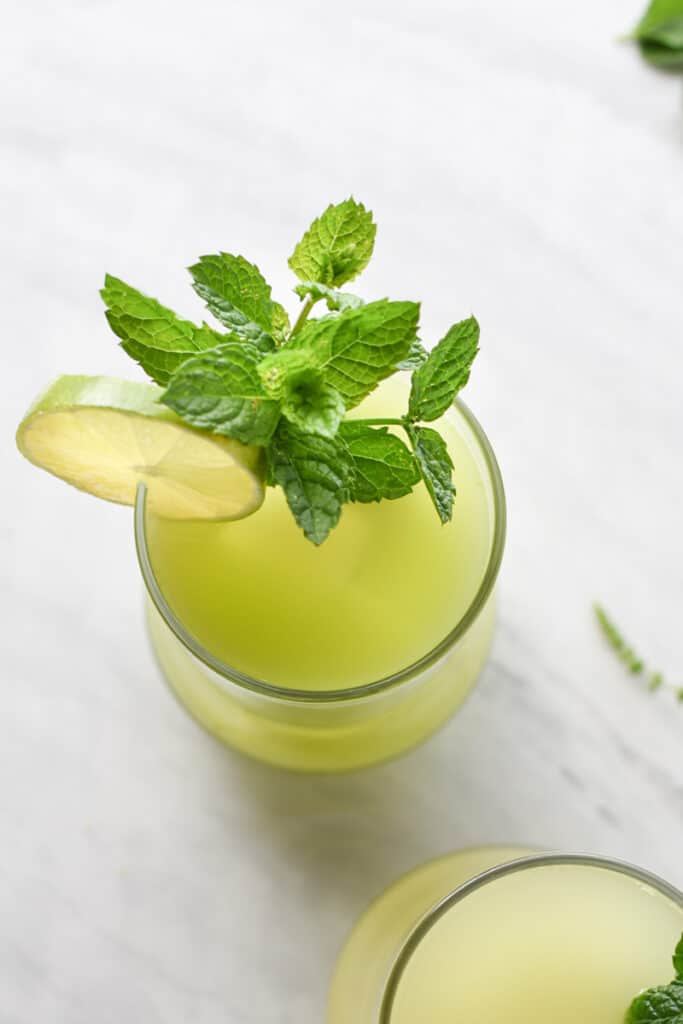 Cucumber Juice Benefits
Cucumbers offer vitamins, minerals, and fiber and they are low fat, low calorie, and low carbohydrate vegetables! (Cucumbers are a keto-friendly food!) They also contain anti-oxidant properties which may help fight against free radicals, support weight loss, and help regulate blood sugar. (source)
Cucumbers have very high water content in comparison to many other vegetables which may help you stay hydrated during these warmer summer months. Also, it's their high water content that makes cucumbers a great candidate for healthy juice recipes!!
For example. A green juice requires an enormous amount of kale or spinach alone to produce an entire glass of juice. If you use a cucumber as the base and add a handful of greens you'll quickly make a full serving of juice with a more balanced & enjoyable flavor profile.
How To Make Cucumber Juice:
Alright, 5 minute countdown begins now! You can easily make your own cucumber juice at home in the morning before you dash out the front door to head to work!
You only need 1 cucumber, 1 lime or lemon, and 1 cup of water to make a healthy veggie juice! We prefer using 2 limes for bigger, bolder flavor but you do you!
To make this cucumber juice recipe you need to wash the cucumber and limes (if you plan on using the zest!).
Cut the ends of the cucumber off (1/2″ or so) and cut into 2-3″ pieces.
Zest the lime, then juice it.
Blend the cucumber & lime together with 1 cup of water.
Stain & enjoy!
This recipe works in any blender- even a bullet blender (like a NutriBullet or Nutri Ninja) or in a juicer, so you most likely have the tools. We love our NutriBullet for early morning smoothies and juices, this recipe will fit in a Nutribullet perfectly!
Then to strain cucumber juice you can use a sieve / mesh strainer for a juice with pulp, or pour the mixture through a nut milk bag / cheesecloth for a silky, pulp-free juice.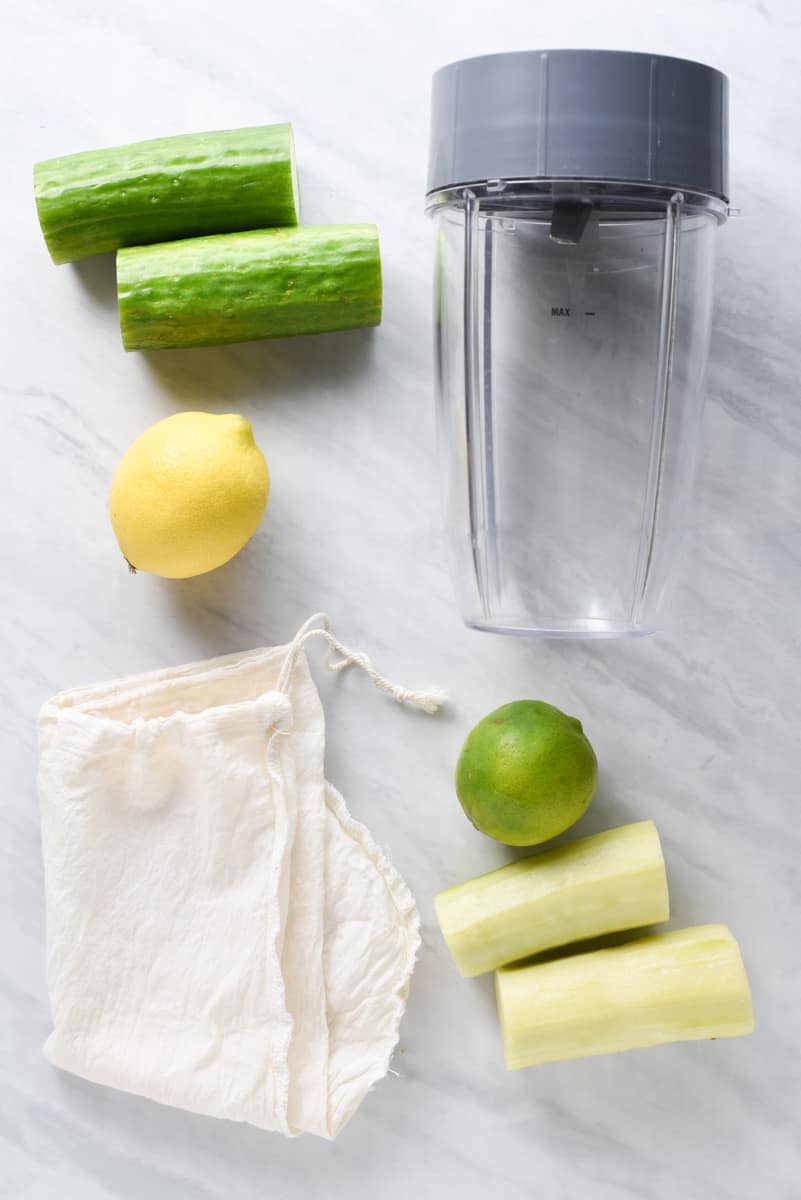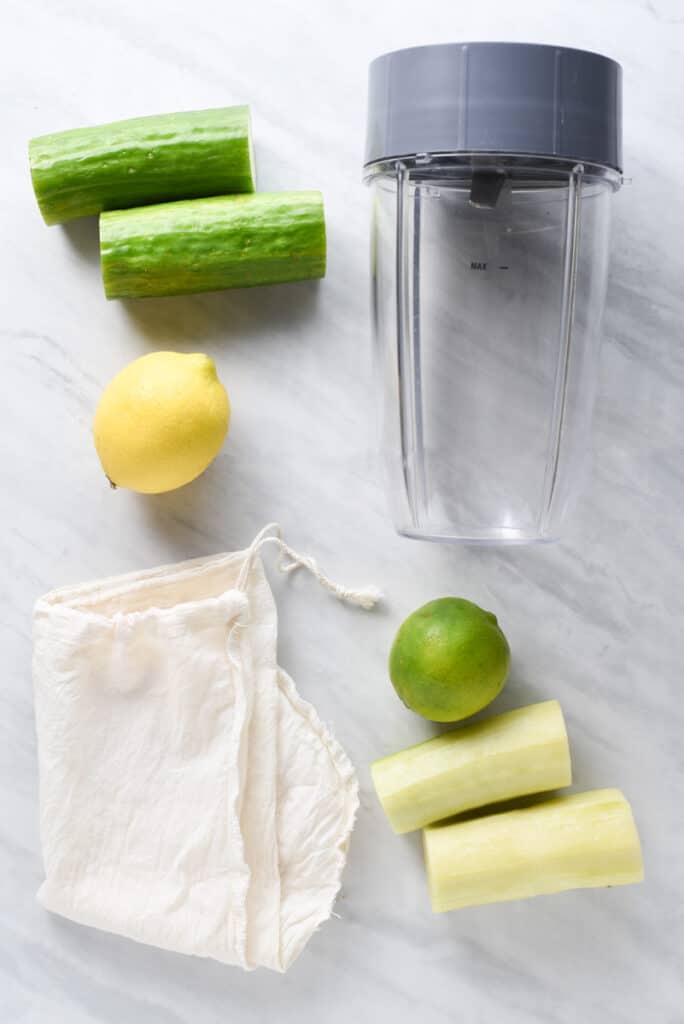 To Peel Or Not To Peel The Cucumbers?
This is completely up to you! If you are sensitive to bitter flavors or if you are using the standard 'slicing' cucumbers, you may choose to peel them, however, it's not necessary. Cucumbers are quick and easy to peel so it doesn't affect the recipe much either way.
Leaving the skin on gives the juice an even prettier greenish hue. Plus, the cucumber skin adds more vitamins and minerals to the mix– go big or go home right? (source)
Cucumber Juice Variations
Like we've said many times in this post, cucumber juice is a fantastic base to add other veggies to. Cucumber have high water content and a mild flavor that pairs well with other fruits and vegetables. Here are several variations to cucumber juice that we've tried and loved:
Add an inch or two of fresh ginger for heat and zing!
Swap the lime juice & zest for lemon.
Peel and slice a few carrots
Use up the celery in your fridge before it goes limp– chop and add a stalk or two for a peppery bite!
Up your daily intake of dark leafy greens like kale, collard, or spinach by tossing a handful of fresh or frozen greens to your cucumber juice.
For natural sweetness, blend with an apple or an orange- or some frozen mango or pineapple.
Add a tablespoon of honey, maple syrup, or add a date to increase the sweetness.
ProTip: Cucumber juice makes an excellent healthy and flavorful cocktail mixer! Gin and cucumber go together like two peas in a pod. Vodka works awesome as well. You can even go wild and make a cucumber margarita– which is the ultimate cocktail to cure the hot summer heat!
English Cucumber vs. 'Regular' Cucumbers
Have you noticed the grocery store usually stocks two different cucumber varieties– one wrapped in plastic and one naked in the produce bins. What's the difference?
English cucumbers are the variety that come wrapped in plastic and they tend to be more expensive. The skin of English cucumbers has a bumpy appearance, and it's softer. They are less bitter and have a more concentrated 'cucumber' flavor if you know what I mean.
Regular cucumbers, or slicing cucumbers, are larger in size and have larger seeds than the English cukes. Slicer cukes have smooth skin that's thicker and more fibrous. Either type of cucumber will work just fine! There is slightly better flavor and silkiness in English cucumber juice vs. slicing cucumber juice but it's minimal.
More info here on the different types of cucumbers.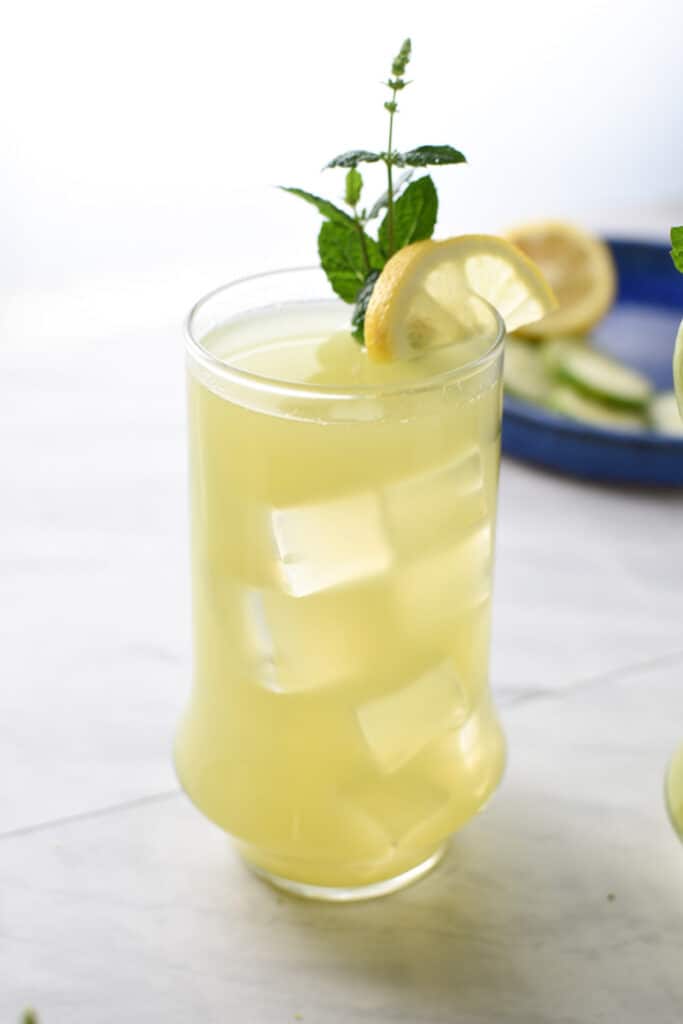 Print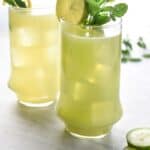 Cucumber Juice
Author:

Adriana

Prep Time:

5 minutes

Total Time:

5 minutes

Yield:

1 3/4 cup

1

x

Category:

Juice

Method:

Blender

Cuisine:

American

Diet:

Low Calorie
---
Description
Cucumber juice is a cooling and refreshing veggie juice you can easily make in a blender, juicer, or bullet blender! This recipe for cucumber juice comes together in less than 5 minutes and makes 2 servings of cuke juice!
---
1

cucumber

1 cup

water

2

limes, zested and juiced
---
Instructions
Wash the cucumber and the limes. Chop off the ends of the cucumber and cut the cucumber into 3-4″ sections. Add to blender. You can peel the cucumber if you like, but the cucumber skin increases the vitamin and mineral content, so we leave it on! (It also makes this juice a nice green color!)
Zest the lime, then juice the lime adding both the lime juice and zest to your blender.
Pour 1 cup water into your blender and blend for 30-60 seconds until no large chunks remain.
Pour through a nut milk bag, clean dish towel, or cheesecloth to strain for a silky smooth cucumber juice. You can pour through a mesh strainer for a 'pulpy' cucumber juice.
This recipe makes 1.5- 2 cups of cucumber juice, depending on the size you purchase– enough for 2 medium glasses or 1 large serving.
---
Notes
If you keep your limes, cucumbers, and water in the fridge your cucumber juice will be nice and cold to drink.
You can add a few leaves of basil or mint to change the flavor. You can also swap out the lime for lemon.
This will keep in the fridge for 24 hours, but fresh juices are best consumed as soon as possible, within an hour of making.
---
Nutrition
Serving Size:

3/4 cup

Calories:

34

Sugar:

3.3

Sodium:

8.6

Fat:

.2

Saturated Fat:

0

Unsaturated Fat:

0

Trans Fat:

0

Carbohydrates:

9.2

Fiber:

.9

Protein:

1.2

Cholesterol:

0