If the color of this gorgeous pickled red cabbage doesn't inspire you to make it consider the following: cabbage is packed with nutritional benefits, this recipe is for quick pickled cabbage (read: QUICK to make), and pickled cabbage is a versatile garnish!
This pickled cabbage comes together in less than 30 minutes and will last for 4-6 weeks in the fridge. Use this as a bright and friendly garnish on scrambles, stir fry dishes, tacos, and more!
And finally, if you're not already convinced that you need a jar of pickled cabbage on the condiment shelf of your fridge ASAP, we want to let you know you can shred all the cabbage quickly and easily in your food processor. This is a winner and we're so excited to share it with you all!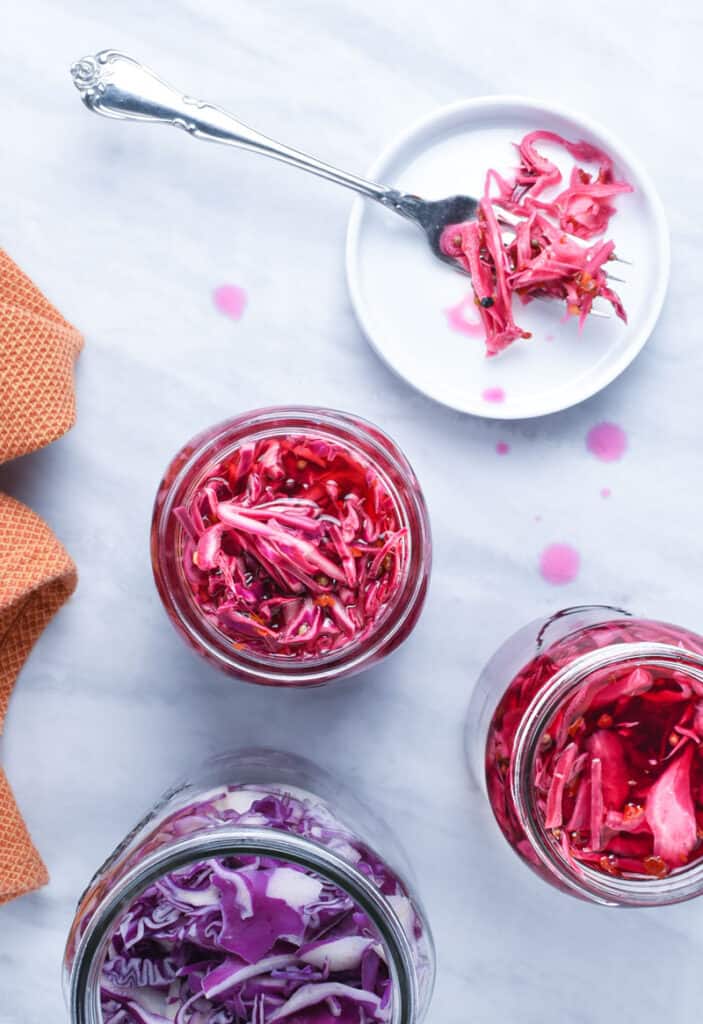 Steps To Make Pickled Cabbage:
Making pickled cabbage at home is exceptionally easy and extends the shelf life of a head of cabbage tremendously. We often reach for this on taco night when we don't feel like making a fresh batch of slaw. Yep, this is a shortcut staple and we are proud of it!
The gist of this operation is: shred your desired amount of cabbage, create a vinegar brine (fancy word for boil vinegar, sugar, and spices together), and pack everything into glass jars. You garnish game is now on point.
Let's dish on the tips & tricks we learned along the way…
Shredding The Cabbage:
This can be done a variety of ways including by hand with a knife, using a mandolin, or via food processor! We went for the latter to make easy work of this task — It's FAST & hands off– also, if you doubt your knife skills this works amazing!
Food Processor: To use your FP, simply swap the S-blade for the shredding disc (pictured below) and feed cabbage pieces through the chute. The only drawback to this approach is the cabbage will be in pretty small pieces (sub 1″) and you still need to chop the cabbage into chunks that fit into the feed chute on your food processor.
Mandolin: A mandolin also makes quick work of this task, if you have one. Depending on the size of your mandolin you'll most likely need to chop the head of cabbage into 4 quarters. The only drawback to this is to watch your fingers as mandolins are SHARP!!!
Using a knife: A kitchen knife is all you really need to shred the cabbage! You can slice the cabbage fine or coarse based on your preferences (as pictured below, left is chunky, right is finely sliced). If you've got the knife skills and the desire to avoid washing any appliances, this is the method for you!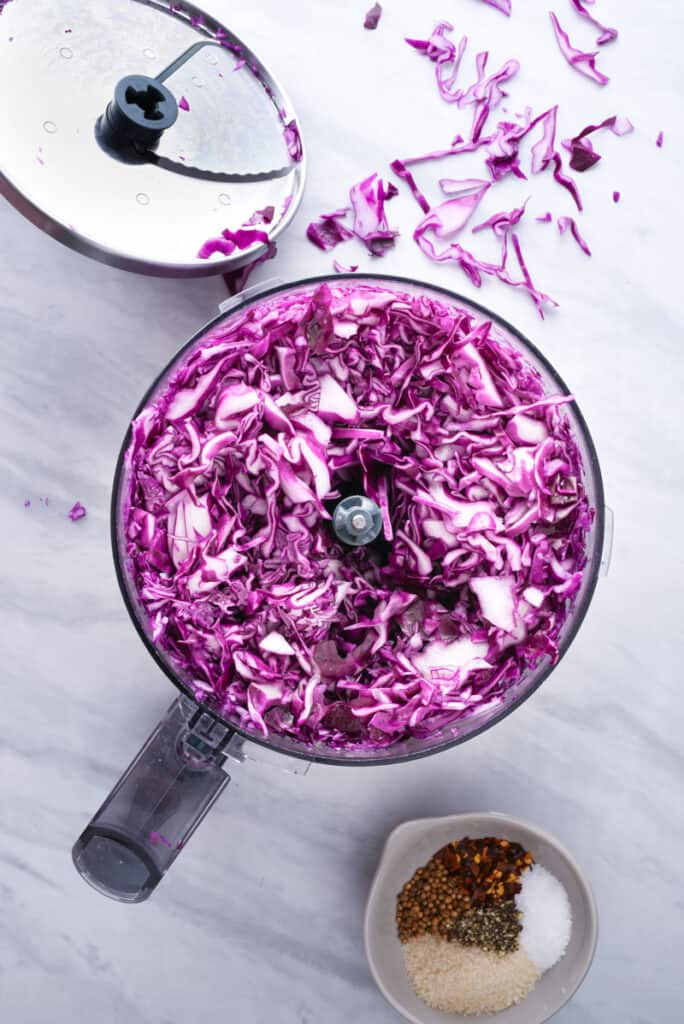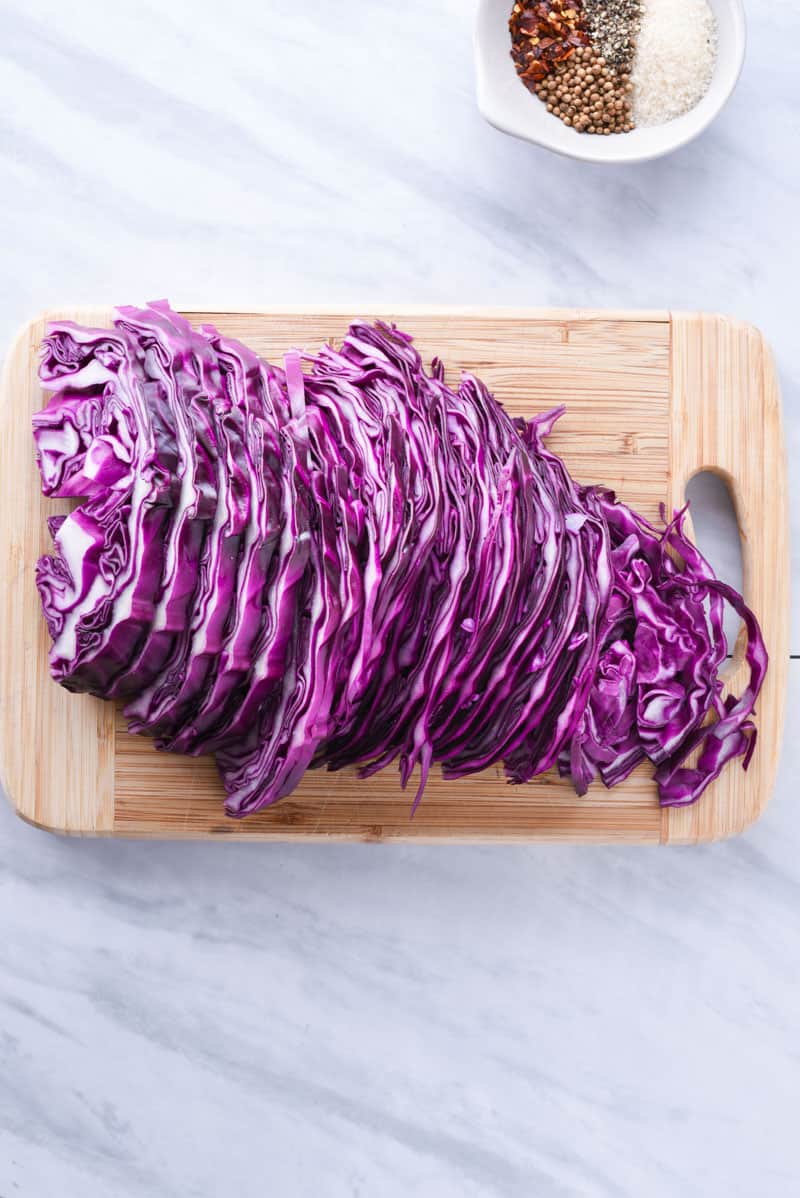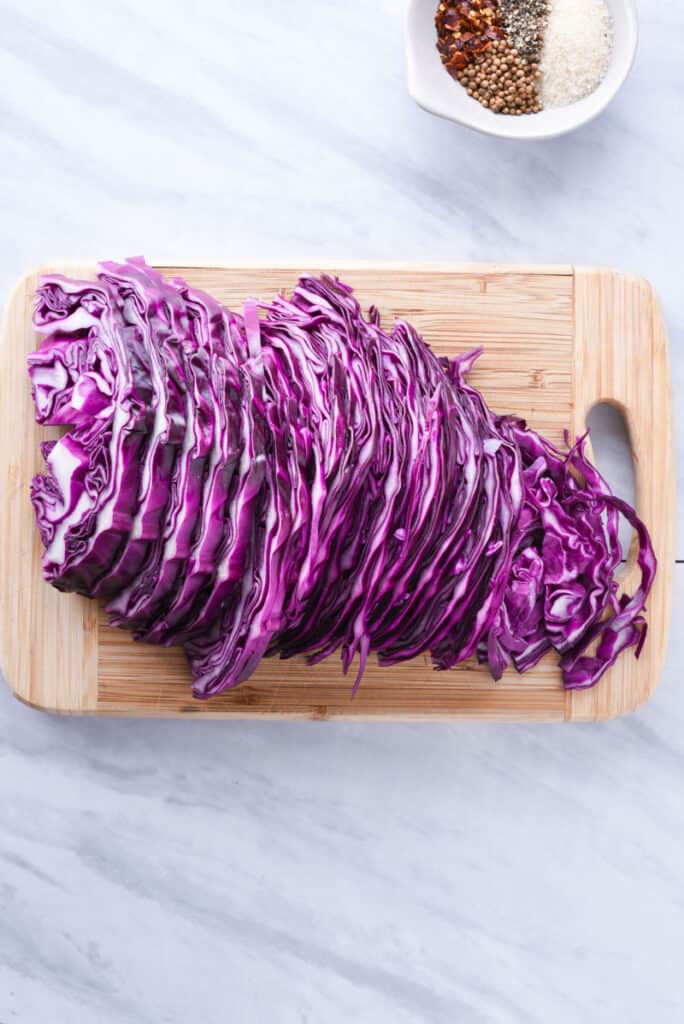 A 2 pound head of cabbage will yield approximately 2-quart jars (or 4-pint jars) of pickled cabbage, depending on how tightly you pack the jars. We bought a 4 pound head of cabbage and ate half fresh in a salad, then pickled the other 2 lbs!
Keep in mind you can make pickled cabbage with red, purple, green, or white cabbage! Any type of cabbage will work very well for quick-pickled cabbage.
Making A Vinegar Brine For Quick-Pickled Cabbage
Alright. If you've ever made a recipe for quick pickled veggies before, you've probably used trusty Apple Cider Vinegar– a probiotic powerhouse when used 'with the mother'. While ACV has an honored place in our pantry, we acknowledge that is has a SHARP bite and flavor.
There is another way… Another way we're quite fond of, actually— Use Different Kinds Of Vinegar For Different Flavors!
YES! Our favorite vinegar to use is champagne vinegar as it has a mellow, comforting flavor and isn't as aggressively acidic. White vinegar has that ultra-tang-pucker you envision pickled things to have. Cider vinegar is sharply acidic, surprisingly so is rice vinegar. Use whichever vinegar you have on hand or personally enjoy!
Now, if you're canning pickled goods, you have math and science to take into the equation as not all of these varieties of vinegar are 5% acidity. BUT my friends, this is refrigerator pickled cabbage so a 4% acid level is just fine.
As for the sugar– yes, please add it, it rounds out the flavor profile and softens the acid of the vinegar and bitterness of the cabbage. For keto, you can use an alternative sweetener like erythritol or monk fruit!
As for the spices– get creative, we gave a basic blend and appropriate salt level for 2 lbs of cabbage but riffing is highly encouraged. Want heat? Add more chili flakes or sliced jalapenos! Want big peppery flavor? You know just what to do. Prefer something herby? Add dill, fennel, or caraway!
These jars are yours for the making.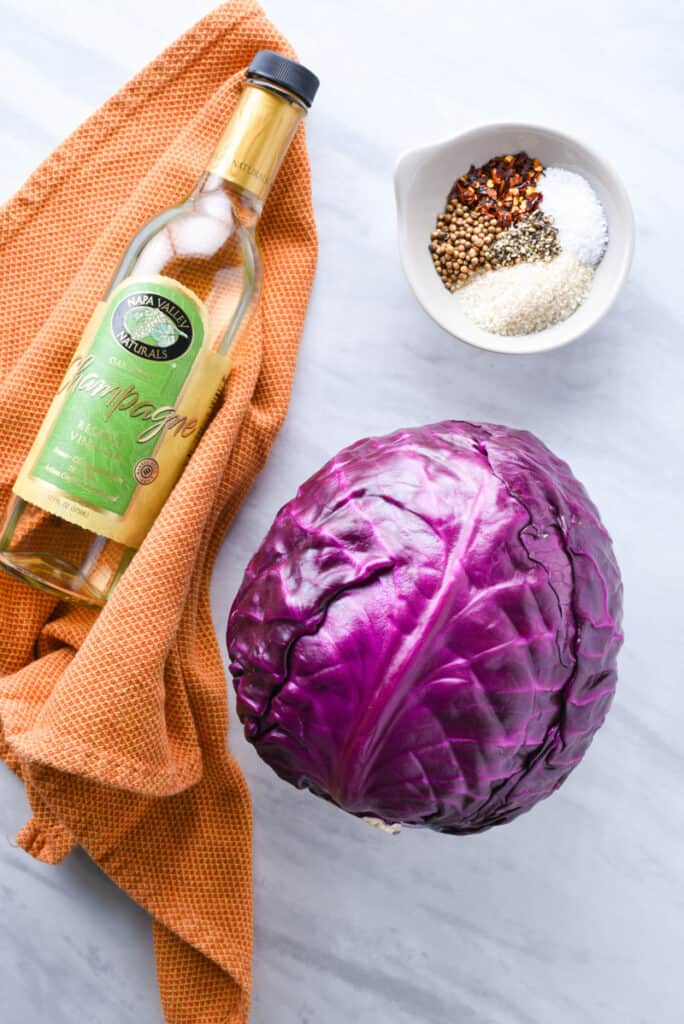 How To Use Quick Pickled Cabbage
On to the good stuff! Now you've got several jars of this beaming, bright pink veggie in the fridge–but how to use pickled cabbage? Friends, gather 'round for stories of how we empty our jars of pickled cabbage in no time.
How to use pickled cabbage:
Add to breakfast scrambles or dishes like chilaquiles & huevos rancheros
Top nachos and tacos with pickled cabbage
Set out on a snack or charcuterie board for a tangy pop to go along with bread and crackers
Add as a garnish to stir fry, curry, ramen or noodle bowls
Place a spoonful or two atop a bowl of soup
Use as part of the base blend for a salad
Add to sandwiches, burgers, or anything on a bun
Spoon pickled cabbage on top of chili
Pickled cabbage is a tangy, crunchy texture and color pop that livens up a wide variety of foods and flavors!
It's One Of Our Favorite Red Cabbage Recipes!
Pickled Cabbage is a healthy red cabbage recipe that we love and make on a regular basis. Not only is red/ purple cabbage versatile to use in the kitchen, but it's also loaded with health benefits!
Did you know a serving of red cabbage packs nearly as much vitamin C as a serving of orange? Purple cabbage also offers significant anti-oxidant benefits plus minerals and compounds necessary for bone health. (Source)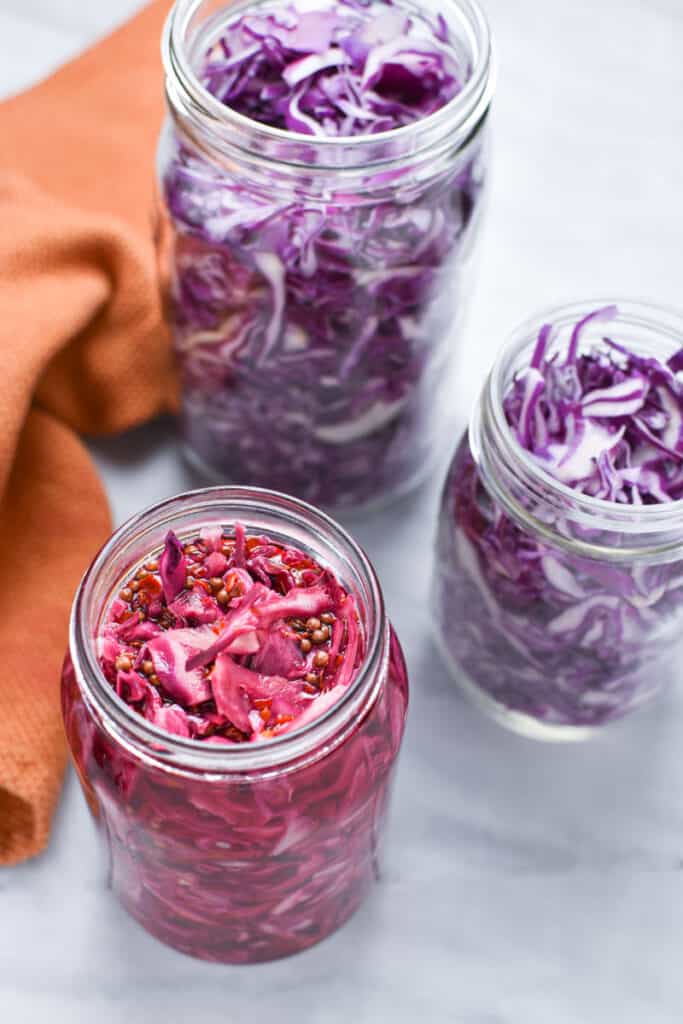 FAQs About Pickled Cabbage
Is pickled cabbage and sauerkraut the same thing? Sauerkraut is cabbage that undergoes a lactic acid fermentation; the natural bacteria on the surface of the cabbage ferments and 'sours' the cabbage over time in an environment devoid of oxygen. Pickled cabbage, also called quick-pickled or refrigerator pickled, uses a hot vinegar & sugar brine to soften and acidify the cabbage.
Does pickled cabbage have probiotics? If you use a vinegar 'with the mother' which is an active probiotic colony, those probiotic organisms may proliferate in pickled cabbage slowly over time. For probiotic pickled cabbage, try making sauerkraut!
What do you eat pickled cabbage with? Pickled cabbage can be used to garnish a variety of foods including scrambles, noodle bowls, tacos, nachos, soup, sandwiches, charcuterie boards, stir fry, and salad!
How long is pickled cabbage good for? Pickled cabbage will last in the fridge for 4-6 weeks.
Can you make pickled cabbage without sugar? While you don't need sugar to make pickled cabbage, the addition of sugar rounds of the flavor profile of pickled cabbage so we recommend adding it.
Why does cabbage turn pink when adding vinegar to it? Here's the science according to Science-Sparks, "Red cabbage contains a chemical called anthocyanin. This changes colour depending on the acidity of its environment. It turns a pink/red colour in the presence of an acid, is purple when neutral and when added to an alkaline substance turns blue or green."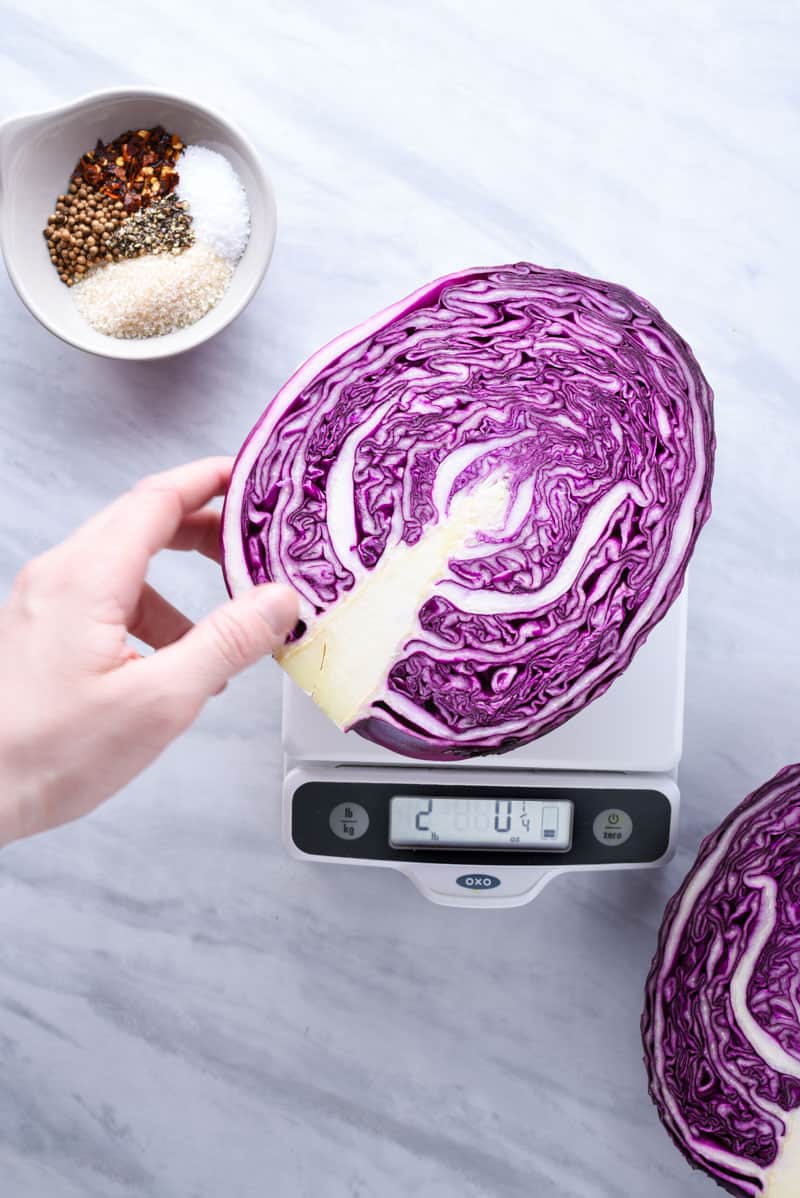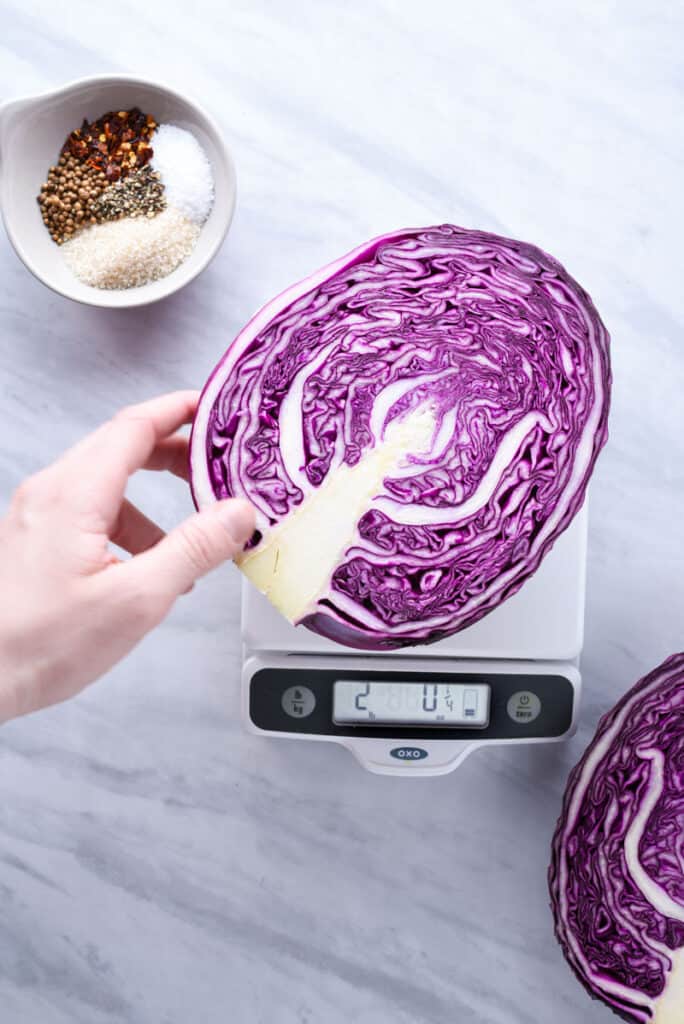 Print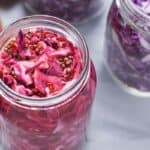 Crunchy, Tangy Pickled Red Cabbage
Author:

Adriana

Prep Time:

25 minutes

Cook Time:

5 minutes

Total Time:

30 minutes

Yield:

8 cups

1

x

Category:

Condiments

Method:

Stovetop

Cuisine:

American
---
Description
Pickled Cabbage is an addictingly tangy, salty, sweet, and crunchy vegetable garnish to amp up the flavor and texture of your meals! This is a straightforward recipe for pickled red cabbage that makes 2 jars– feel free to sub white or green cabbage as well! Happy pickling!
---
2

lbs. red cabbage (About

9 cups

shredded cabbage)

3 cups

vinegar

2 cups

water

2 tablespoons

salt (for 2lbs use

6

–

8

teaspoons salt, to preference!)

3 tablespoons

sugar

1 tablespoon

chili flakes

1 tablespoon

black peppercorns

1 tablespoon

whole coriander seed
---
Instructions
Remove the outer leaves of the cabbage and discard. Shred the 2lbs of cabbage coarsely or finely (based on your liking) using a knife, mandolin, or food processor with a shredding disc. We used a food processor and set the shredding disc thickness to #3. The 2-pound cabbage perfectly filled a 9-cup food processor basin.
Prepare the vinegar brine. Add vinegar, water, and remaining ingredients to a small pot and heat until the sugar and salt are dissolved.
Using 2- quart-sized jars or 4- pint-sized jars, distribute the shredded cabbage equally into the jars. Pour the hot vinegar brine over the jars until the cabbage is submerged in the brine. If you fall a little short on brine, you can simply top off with additional vinegar.
Place lids on the jars and store them in the fridge for 4-6 weeks. Pickled cabbage can be eaten right away but is best after it has chilled for several hours.
---
Notes
** For keto you can sub sugar with an alternative sweetener like erythritol or monk fruit.
** See full post for ways to use pickled red cabbage! It's a truly versatile garnish.
** To extend the shelf life, be sure not to double dip a utensil back into the jar… We're looking at you, sneaky snackers!!
Keywords: Pickled Cabbage