Adriana has published hundreds of recipes online and is a Board Certified Nutritionist. Read our recipe development process or more about Adriana.
Vegan scalloped potatoes are a classic comfort food! This recipe for dairy-free scalloped potatoes is perfect: soft layers of buttery potatoes coated in a creamy, savory sauce baked up together, making your house smell amazing.
After reading this recipe for vegan scalloped potatoes and our techniques & tips, you're sure to have an amazing batch of scalloped potatoes to serve at your holiday gathering or for your family on a cold winter night.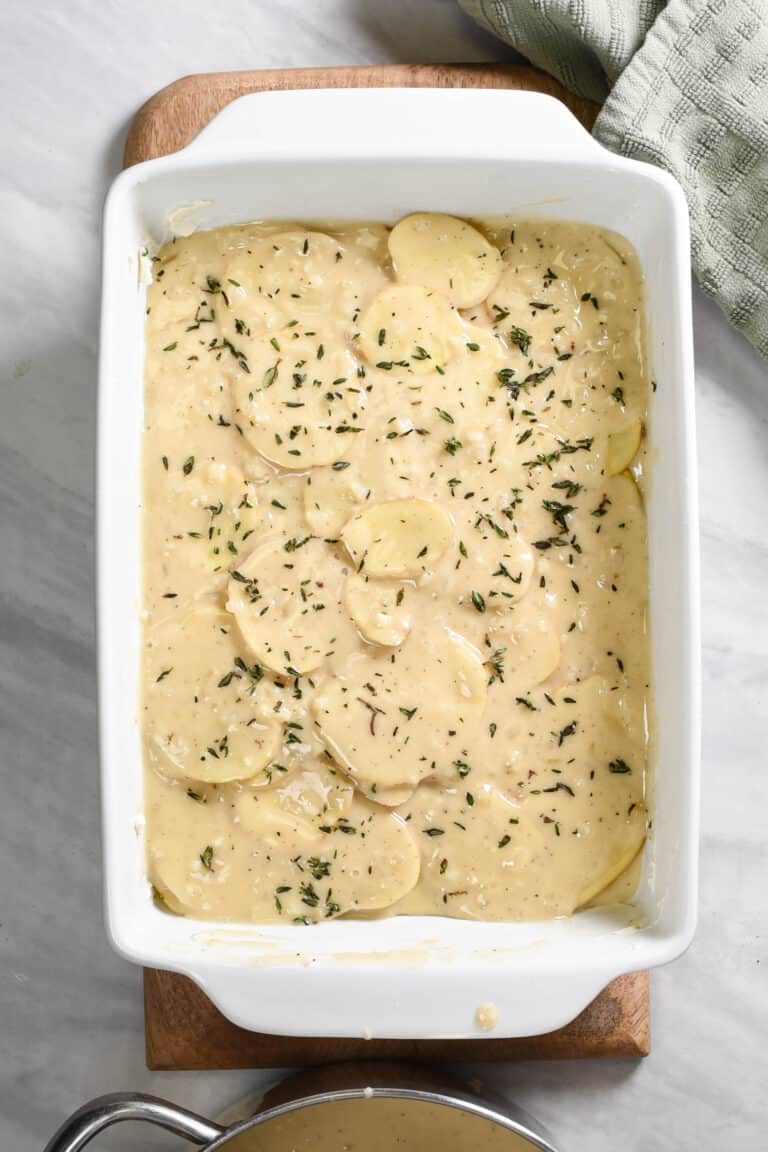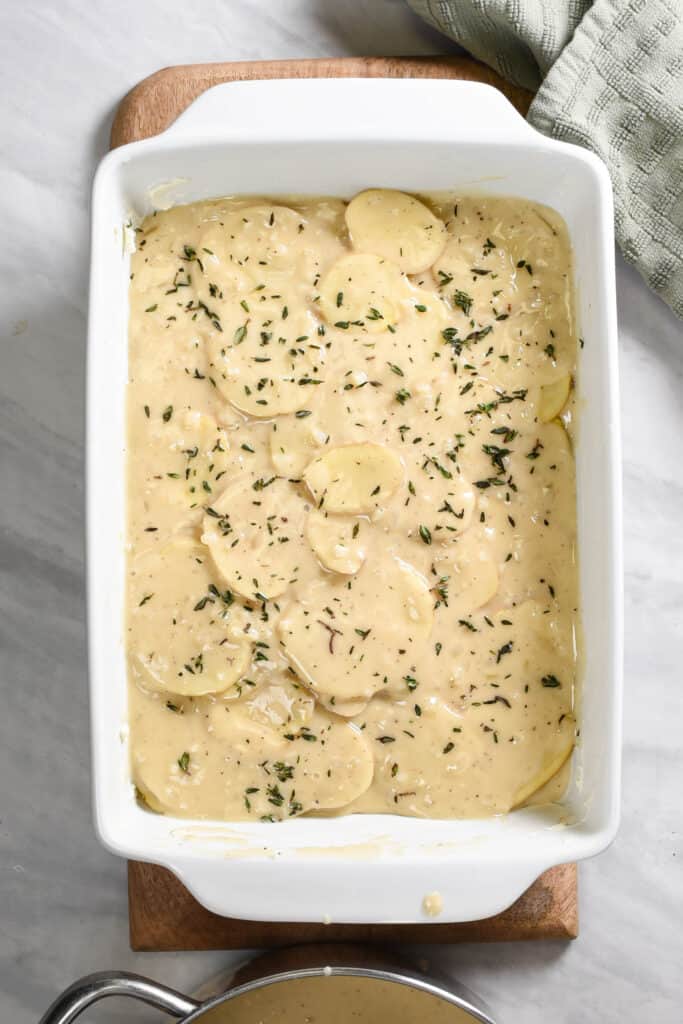 (This post may contain affiliate links. That means I'll get a small commission on any sales made through those links. Read our full disclosure.)
Ingredients For Vegan Scalloped Potatoes
The amazing thing about vegan scalloped potatoes is how a few simple ingredients come together to make a super decadent dish! This recipe uses very standard household ingredients and can be customized to fit your preferences in a few different ways.
Fresh garlic and onion for flavor
Vegan butter, flour, broth, and milk for the sauce. (all-purpose or gluten-free flour works, as well as any non-dairy milk)
Salt & pepper to season
3 pounds potatoes sliced about 1/8″- 1/4″ thick
Using vegetable broth is optional, but deepens the flavor significantly. You can opt to use only milk instead of a combination of milk and broth. You could use 1 cup of white wine in its place or 1 cup of water mixed with 1 tablespoon of miso.
You could also use 1 cup of water and add 1/4 teaspoon of onion powder, garlic powder, dried thyme, and dried oregano.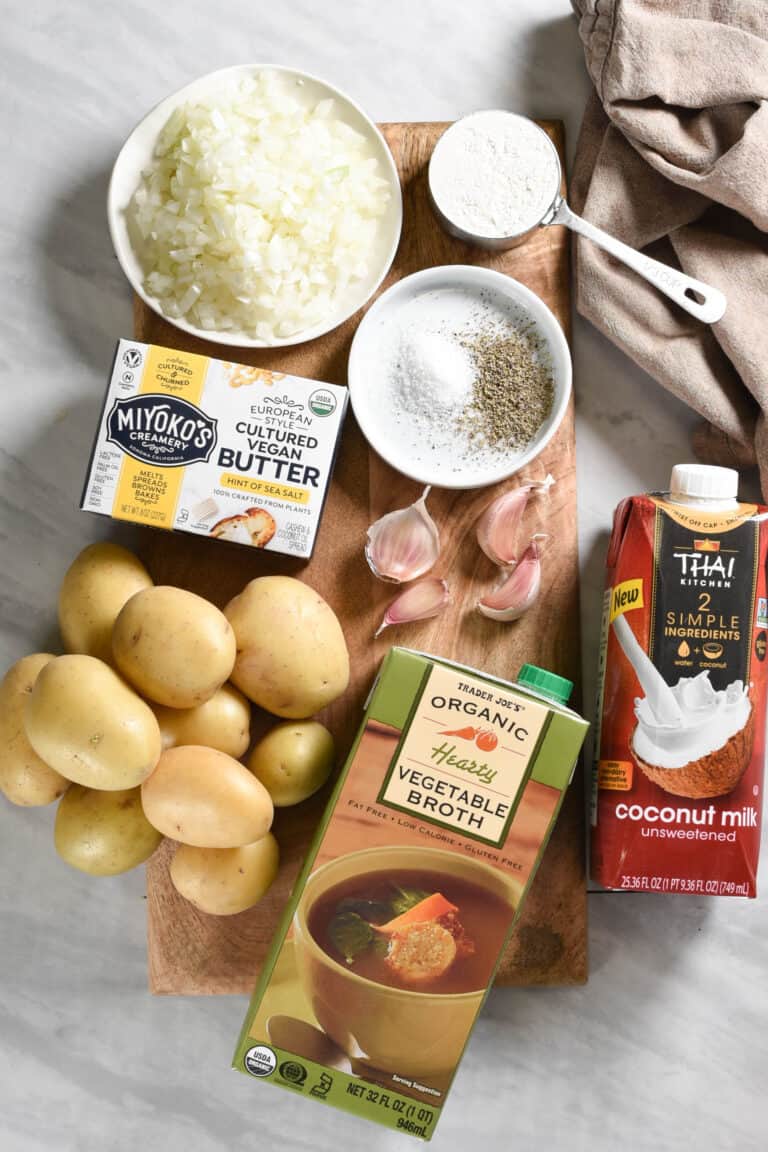 Steps To Make Vegan Scalloped Potatoes
Scalloped potatoes are a beginner-friendly recipe that pairs hands-on cooking with a long hands-off bake time. These types of recipes are great because you can clean up and prep other parts of the meal as the potatoes bake!
Here are the basic steps to make killer vegan scalloped potatoes:
Make The Sauce: The sauce for these scalloped potatoes is a vegan bechamel sauce. It's not scary! It's simply sauteed onions and garlic thickened with butter and flour (a roux), and milk. It's ultra-creamy and can easily be made nut-free or coconut-free! Read all about vegan bechamel sauce here.
Prep The Potatoes: Wash or peel and thinly slice the potatoes. A food processor or mandolin is truly the way to go here.
Layer & Bake: Alternate layers of sauce and sliced potatoes in a casserole dish and bake away to potato perfection!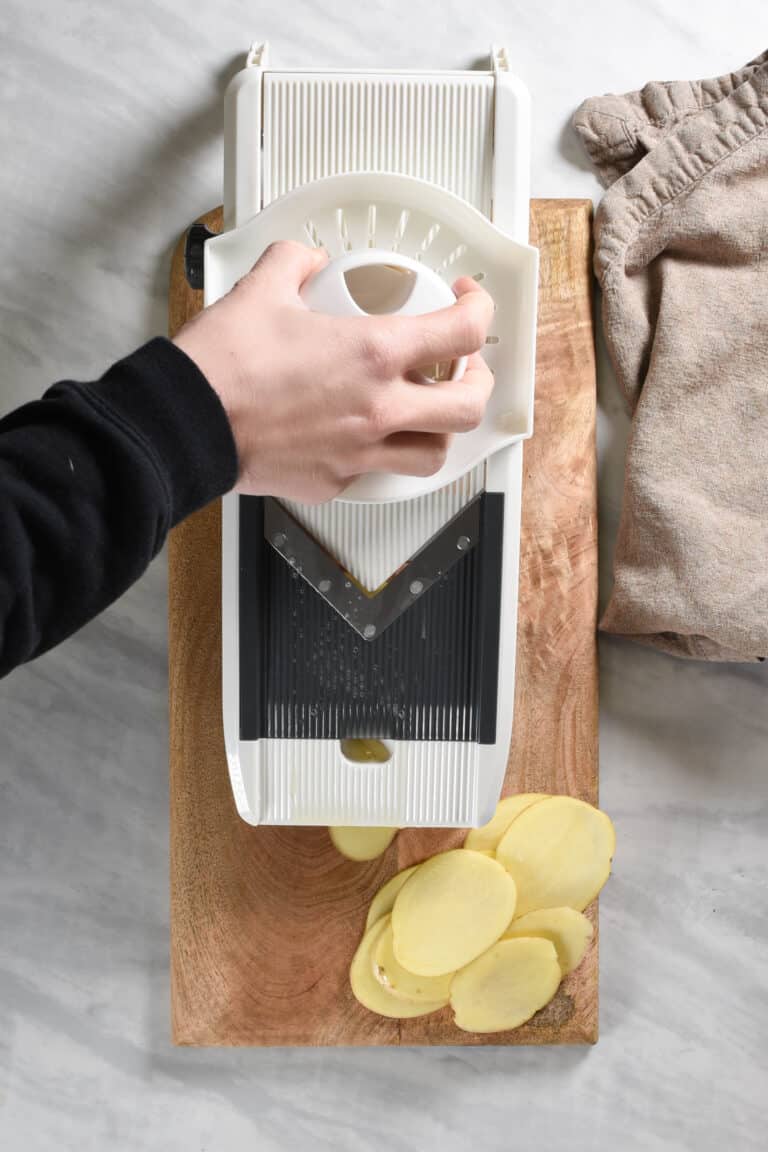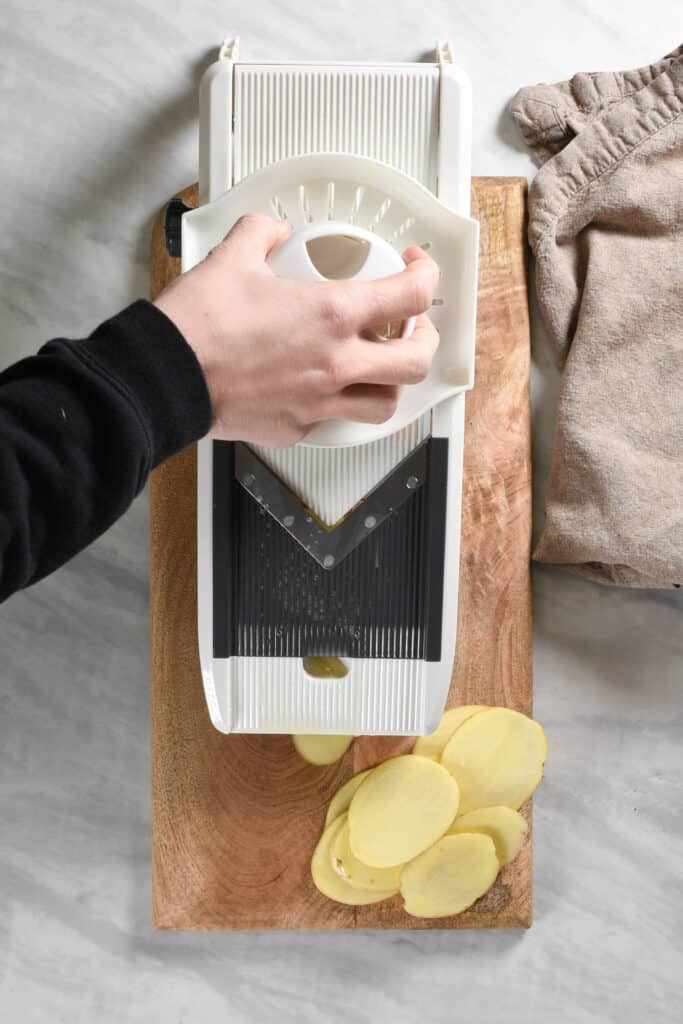 Which Type Of Potatoes Are Best?
Not all potatoes are created equal and the type of potato you use has a big impact on how your vegan scalloped potatoes turn out! The absolute best potatoes for making this dish are Yukon gold potatoes or russet potatoes– read on to learn why.
We recommend Yukon Gold potatoes for vegan scalloped potatoes!
Yukon Golds: Golds are usually on the smaller side and have a round shape with thin, light brown or golden skin. They don't break down as much as russets and keep their shape even after being scooped onto plates. Yukon golds have a superb creamy texture after cooking!
Russet Potatoes: These potatoes have thick dark brown skin and are long and oval-shaped. Russet potatoes are high in starch and are very fluffy once cooked. Because of this, they are the ultimate mashed potato, potato! Russets tend to lose their shape in scalloped potatoes, so the serving of scalloped potatoes on your plate may lack those potatoey circles 🙂
Avoid red potatoes as they stay quite firm after cooking and don't absorb as much of that delicious creamy sauce as Yukon or russet potatoes.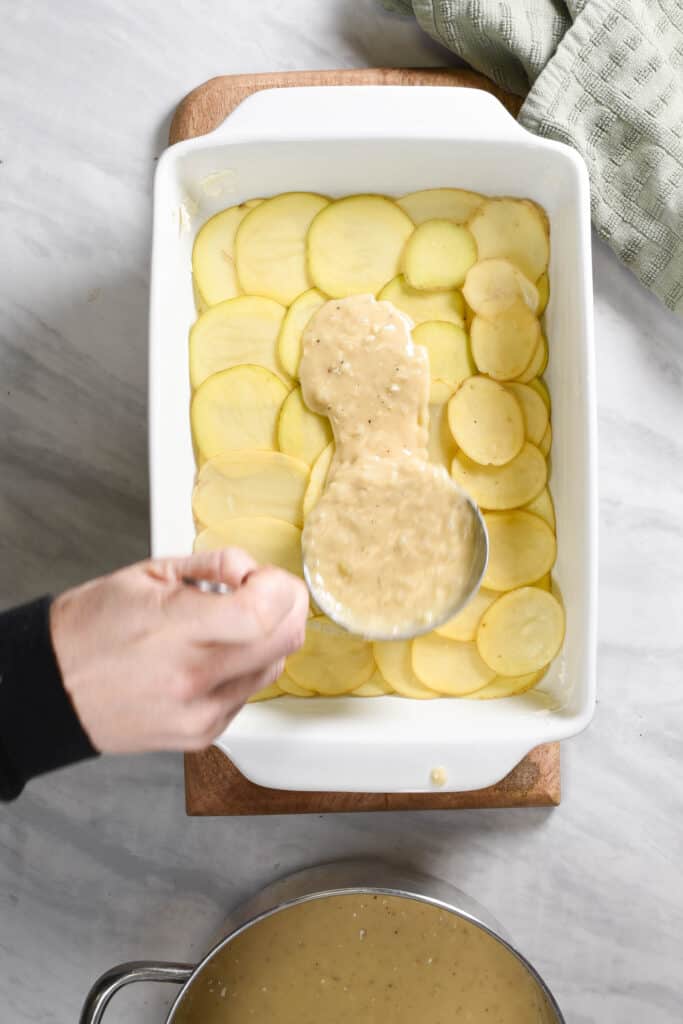 Tips & Techniques For The Best Dairy-Free Scalloped Potatoes
Use high-fat non-dairy milk like canned coconut milk or soy milk. The base sauce for this dish is a bechamel sauce and it is much creamier if the milk you use has a higher fat content. Although very thin non-dairy milk like oat and rice milk will work, the sauce won't be as decadent.
Use a mandolin or a food processor to slice the potatoes. This ensures all potatoes are the same thickness and cook at the same rate. It also creates more slices, thus more layers, and a better final result in your scalloped potatoes!
Scalloped potatoes are done when a fork or a toothpick can easily pierce all the way through the potatoes in the center of the dish. Depending on how thick your potatoes are sliced, the cooking time can vary quite a bit.
Let the dish sit for 15 minutes prior to serving. The sauce thickens up gorgeously if left to cool down just a bit!
Taste the cream sauce prior to layering the casserole. Seasonings or salt levels may benefit from being adjusted to your preferences!
Make Ahead Tips For The Holidays
Vegan scalloped potatoes are a potato recipe on tabletops for the major holidays: Thanksgiving, Christmas, and even Easter. Holiday cooking is a more complicated process than your regular weeknight dinner as you're cooking a big main and many sides to feed all your guests.
These vegan scalloped potatoes taste amazing if prepped beforehand! Prepare the entire dish and cook the potatoes until they are done. Do not cut into them and keep them wrapped tightly in the fridge– we recommend a layer of plastic wrap and a layer of aluminum foil. When ready to serve, warm them up in a 350* oven for 30-35 minutes until piping hot!
Vegan mashed potatoes can even be made ahead and reheated this same way!
Flavor Variations & Substitutions
Once you've got the basic method of making vegan scalloped potatoes down pat, you can really run wild with this recipe based on what your family likes! The easiest way to add new flavors to this dish is by flavoring the creamy bechamel sauce.
Here are suggestions on different flavors and additions for the best vegan scalloped potatoes:
A crunchy top: After removing the aluminum foil, top with breadcrumbs and finish baking. 1/2 cup breadcrumbs mixed with 1 tablespoon of olive oil and a pinch of salt and pepper is a great starting place.
Your favorite herbs: When making the cream sauce, add 1/4 cup of your favorite chopped herbs just after sauteeing the onion/garlic mixture. Sturdier herbs like thyme, rosemary, and oregano work best. For softer herbs such as basil and chives, top the scalloped potatoes when baking is complete.
Add vegan grated cheese to make Au Gratin potatoes! You can sprinkle grated cheese in between each layer or just add some to the top.
Give the sauce a cheesy flavor: Add 1/4 cup of nutritional yeast to the cream sauce!
You can add vegan sausage crumbles, or diced vegan ham to the mixture when layering the dish.
FAQs On Vegan Scalloped Potatoes
Are scalloped potatoes the same as au gratin potatoes? Au gratin potatoes contain cheese and scalloped potatoes do not. Au Gratin potatoes don't just contain cheese– they contain LOTS of cheese. Usually, cheese is sprinkled in between each layer and on top of the dish as well.
Do you need to peel the potatoes? It's a personal preference! We've found the skin on Yukon golds to be less noticeable if not peeled, but the skin of russet potatoes is thicker and doesn't soften as much. The dish has an overall better consistency and appearance if the potatoes are peeled.
How many people does this serve? For us, this serves 8-10 people! The standard rate for a potato side dish is 4oz of uncooked potatoes per person if you are serving several sides. If you know a certain potato dish is a big hit with your crowd, it may be upwards of 6-8oz per person.
Can you freeze scalloped potatoes? You can freeze scalloped potatoes by letting them cool down to room temperature, then place them in the fridge to continue cooling. Wrap well with plastic wrap and foil then store in the freezer for up to 1 month. Reheat scalloped potatoes in a low temperature 300* oven for about 60-90 minutes, depending on how thick they are and the pan they were frozen in.
Print
Vegan Scalloped Potatoes
Author:

Adriana

Prep Time:

30 minutes

Cook Time:

90 minutes

Total Time:

2 hours

Yield:

9

x13 pan

1

x

Category:

Vegan Recipes

Method:

Oven

Cuisine:

American

Diet:

Vegan
---
Description
Vegan scalloped potatoes are a warm, comforting potato recipe that makes life feel comfy cozy. These scalloped potatoes are simple to make and highly customizable to your tastes. Serve this up for the holidays or make a batch as part of meal prep to eat throughout the week in fall and winter.
---
1/3 cup

butter

1/3 cup

flour (all-purpose or gluten-free)

4

cloves garlic minced

½

yellow onion very finely chopped

2 cups

milk (we prefer canned coconut or soy- but any non-dairy milk works!)

1 cup

vegetable broth

1 teaspoon

salt

¼ teaspoon

pepper

3

pounds potatoes sliced about ⅛" thick (Yukon gold or russet)
---
Instructions
Melt the butter in a skillet over medium heat. Add onions and garlic, stir to coat in the butter, and sautee until translucent, about 7-9 minutes. Season with salt and pepper.
While the onion and garlic cook, wash and finely slice the potatoes. A mandolin is best for thin, even slices. 1/8″ thick is ideal. Peeling is optional, but it does help the overall texture of the dish.
When the onion mixture is soft and translucent, make a roux. Sprinkle the 1/3 cup flour in the pan and stir to combine. Cook on medium heat for 1 minute to cook off the flour, then add the liquid slowly in about 1/3 cup increments.

Add some liquid, whisk vigorously to combine, and bring to a simmer. Repeat this process until all liquid has been added. ( 2 cups milk and 1 cup broth, in any order)
Adding the liquid in slow increments drastically speeds up cooking time and makes it easier to mix together into a lush, creamy sauce.
Each time you add more liquid the mixture will clump up and may look doughy- this is normal, keep whisking and adding more liquid and the sauce will smooth out.

When all milk and broth have been added and you have a sauce with a thin, gravy-like consistency, taste for seasoning and remove from heat.
Ladle a small amount of the sauce into a 9×13 baking dish, then add a layer of the sliced potatoes. Ladle sauce to lightly cover the potatoes and repeat the process until you have used all potatoes and all the sauce.
Cover with aluminum foil and bake in a 350* oven for 1 hour. Remove the aluminum foil and bake for an additional 30-45 minutes until the top is golden brown and bubbling, the potatoes are tender, and the sauce has thickened.
Let cool for 10-15 minutes prior to serving to allow the sauce to continue to thicken and coat the potatoes.
Sprinkle with chopped fresh herbs if desired and enjoy!
Store leftovers covered in the fridge for 5-6 days. Reheat in the microwave or in a 325* oven until warmed throughout.
---
Notes
If using russet potatoes, we recommend peeling the skins as they are thicker-skinned than gold or yellow potatoes. This is entirely optional but makes a better final dish! Yukon golds are okay if not peeled, especially if sliced using a mandolin.
You can buy a mandolin for about 15 bucks and it's really worth it for a few recipes like this one.
You can substitute the broth if you must: Or use 1 cup white wine, or 1 cup water mixed with 1 tablespoon of miso. Alternatively, use 1 cup milk or water mixed with 1/4 teaspoon of onion powder, garlic powder, dried thyme, and dried oregano.
The cooking time will vary significantly based on the thickness of the potato slices and the size of the casserole dish you are using! Scalloped potatoes are done when a fork easily pierces through the center of the potatoes.
Keywords: Vegan scalloped potatoes