Calling all fritter lovers! These vegan & gluten-free chickpea corn fritters are a fabulously salty, crispy, sweet situationship! Say hello to the ultimate backyard appetizer- this recipe is easy to make, great as leftovers, and playfully dippable. If you need me, I'll be on the patio…
Let's start this one-bowl, one-pan event!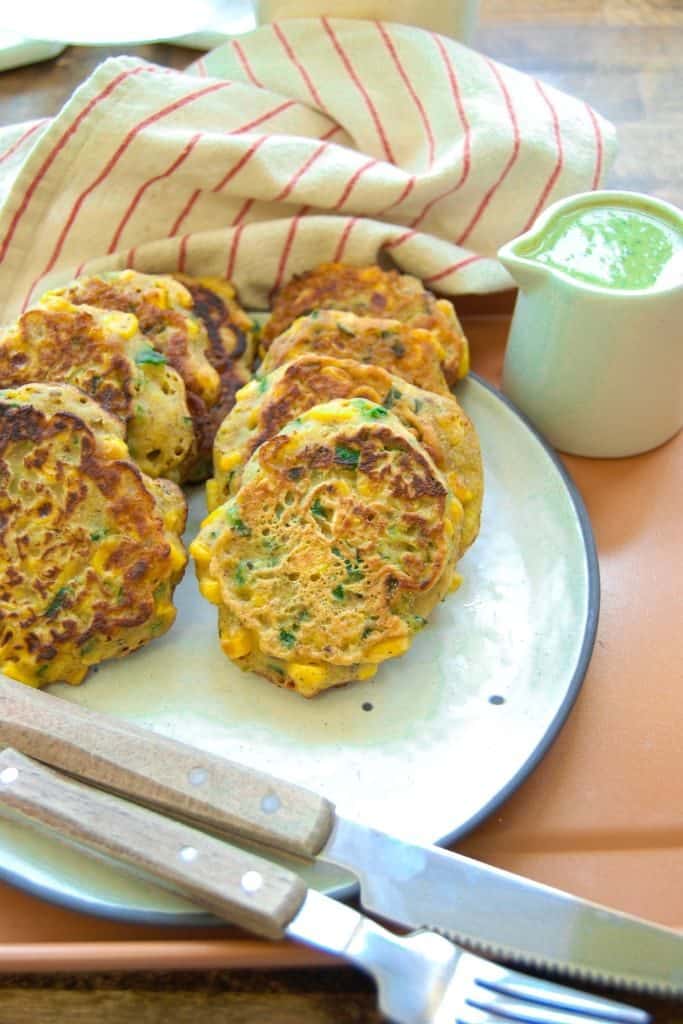 How to make Vegan Chickpea Corn Fritters
This recipe is approachable for all eaters and home cooks. We'll start off by combing all necessary ingredients in a mixing bowl, then pan-frying the fritters in oil. A heavy-bottomed pan like a cast-iron skillet is really helpful in any recipe that requires pan-frying. Cast iron skillets help disperse heat evenly across the cooking surface- giving all the fritters you cook a satisfying crispiness.
We can thank chickpea flour for granting us the egg-free binding powers that be… The chickpea flour and flax egg in this recipe allow us to make this an egg-free (ahem, vegan) corn fritter recipe.
I used poblano peppers in this recipe. You can alternatively use jalapenos, serranos, or even bell peppers based on what you have on hand. I'm a fan the fritters showcasing the sweet corn flavor and pairing them with a spicy dippin' sauce, like chipotle aioli. But you can totes try this doublet: spicy fritters with a basil or cilantro based dip!
Chives are not used as commonly as basil or cilantro and their mild oniony flavor adds to the distinctive lip-smacking quality going on here.
How to serve Vegan Corn Fritters
When we enjoy these gluten-free corn fritters it's usually in one of three ways:
Served drizzled with sauce as a vegan main dish. The chickpea flour gives this recipe a protein boost and I add some grilled veggies and/or rice or quinoa to make it a meal.
Quite possibly my favorite way is on a salad! I make a hefty bed of greens, add some red pepper slices, top with fritters and slather in dressing. Oh my word it is amazing! I'm a fan of exciting salads and this one makes the cut.
As finger food on an appetizer platter! A platter stacked high with corn fritters around a dip is guaranteed to be one of the first empty plates.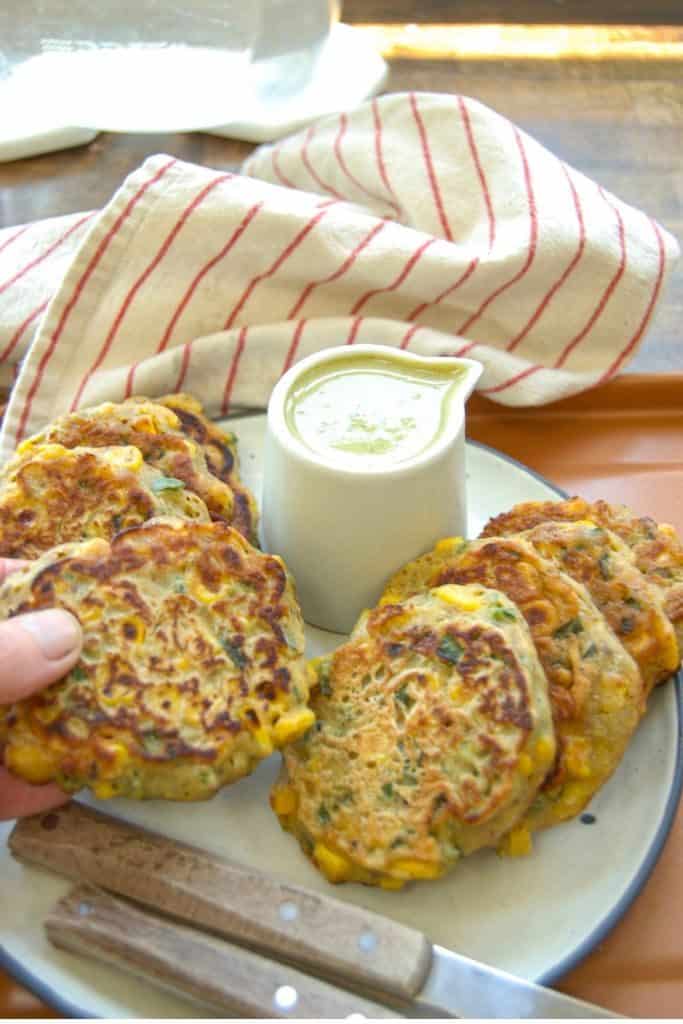 Top Questions About Vegan Chickpea Fritters:
Can I substitute another vegetable- I don't have corn? Oh yes, this recipe is a versatile one to have in your arsenal. Just ensure you chop the veggies about 1/2″-1″ in size so the chickpea mixture can coat all sides of the vegetables!
Do sweet corn fritters work as leftovers? Yes, these will keep in the fridge for 1-2 days after cooking. They are not as crisp after refrigeration, but we commonly eat these as leftovers. You could also save any unused batter in the fridge for 1-2 days and fry up a fresh batch!
Can I make this recipe oil-free? As part of the delicious nature of this recipe, the pan-frying step is pretty crucial. My advice would be to test baking the fritters on a non-stick sheet like a Silpat. If you do try it, please let me know!
Print
Vegan Chickpea Corn Fritters
Author:

Adriana

Prep Time:

10 minutes

Cook Time:

15 minutes

Total Time:

25 minutes

Yield:

8

–

4

" fritters

1

x

Category:

Vegan, Gluten Free

Method:

Stovetop

Cuisine:

Summer
---
Description
Calling all fritter lovers! These vegan & gluten-free chickpea corn fritters are a fabulously salty, crispy, sweet situationship! Say hello to the ultimate backyard appetizer- this recipe is easy to make, great as leftovers, and playfully dippable.
---
1.5 cup

/ 255g (

1

can) corn kernels (fresh or canned)

1

poblano pepper, diced / 115g

1 cup

chickpea flour / 158g

3/4 cup

water / 165g

1 tablespoon

ground flaxseed / 6g

2 teaspoons

salt (more or less to taste) + pepper / 9g

2

cloves garlic, miced / 9g

1.5 teaspoon

cumin / 3g

1/2 cup

fresh chives / 24g (About

1

of those small plastic herb clamshells-you know the ones)

1 tablespoon

coconut oil (less if you use an oil sprayer)
---
Instructions
Place chickpea flour, ground flaxseed, seasonings and water into a mixing bowl. As this mixture sits, the chickpea flour and the flaxmeal work their magic and thicken this batter.
Chop your fresh ingredients: dice the poblano, mince the garlic, chop the chives.
If using canned corn, open and drain well to avoid adding excess water to your batter. If using fresh corn from the cobb, cook the corn and use a knife to carefully remove the kernels.
Add all fresh ingredients into the batter, stirring well so that all surface area of the corn and peppers are coated in the batter. 
Heat a skillet with oil at medium heat.
I use a 1/3 cup to scoop batter onto the hot pan. In my cast iron I can usually cook 3 fritters at a time. Use a spatula to gently flatten the batter into a disk shape and leave for 3-4 minutes. When they are ready to flip, you'll notice air bubbles and the edges drying out (a matte appearance). If you try to flip the fritters too early they are more likely to stick. ** Note: I use a new, clean spatula for flipping!
After flipping, cook the fritters an additional 2-3 minutes.
Remove from pan and set aside to cool. Enjoy these with your preferred dipping sauce!
---
Notes
** I know some readers monitor oil usage. If you have a misto or other oil sprayer, you can reduce the amount of oil you use. If using an oil mister/sprayer, I would spray the pan prior to adding the fritters AND lightly spray the top side of the fritters prior to flipping. You can always, always make one test fritter to get your method dialed in before cooking an entire panful!
** If using 1/3 cup portions, this recipe will yield apprx 8, 4″ fritters. You can make these smaller if you'd like but, to keep the integrity of corn fritters as finger food I wouldn't make these any larger.
** I use a cast iron skillet to fry these. Cast iron has high heat retention, if you notice your skillet gettin' toasty turn down the heat a bit prior to frying your second batch of fritters. (I usually do this).
Keywords: Corn, Chickpea Flour, Fritters