It's here. It's here, it's HERE! This is a vegan (read: egg-free, dairy-free!) gnocchi recipe you can't help but get right. I know you can buy a package of gnocchi at the store for a few dollars but isn't there something so undeniably satisfying about creating these little pillows of perfection from scratch? I know- weird flex, but okay. If you too have shared the vegan gnocchi struggles and failures, the chewy, the gummy, and the -they-disintegrated-where-are-they- moments: Today we CELEBRATE!
And of course, we eat GNOCCHI!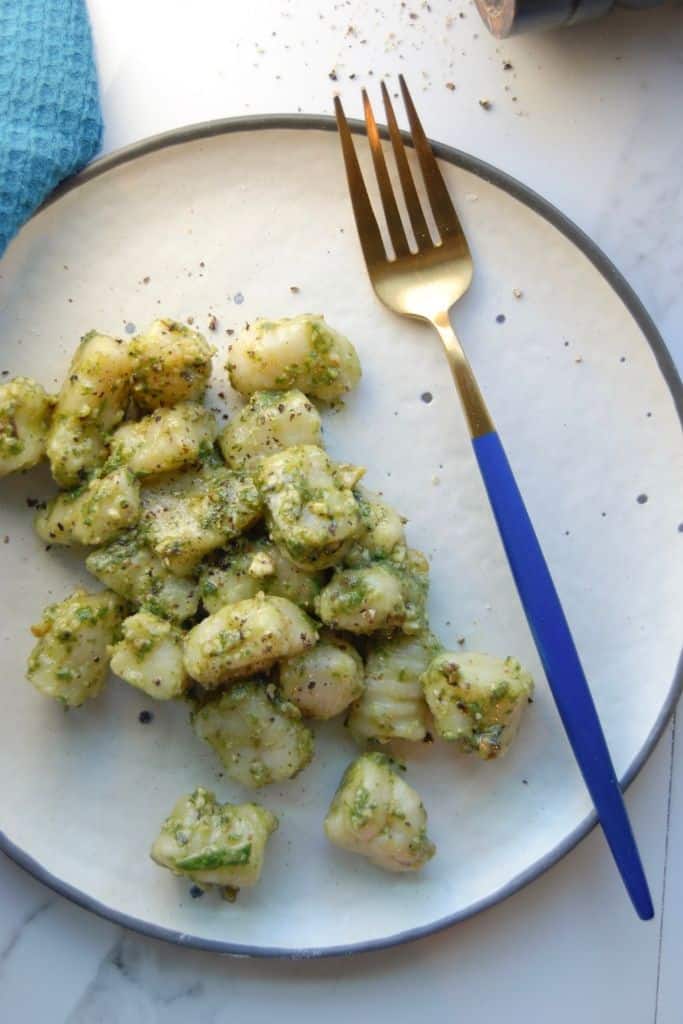 Egg-Free Gnocchi: Tips + Tricks
You guys. I have made vegan gnocchi dozens of times. I've tried everything. I've used squash, sweet potatoes, tapioca starch- you name it, I've tried it. I recently had a gnocchi revelation. I've always considered gnocchi to be potato-pasta, not pasta-with-potatoes. Are you as confused as I was?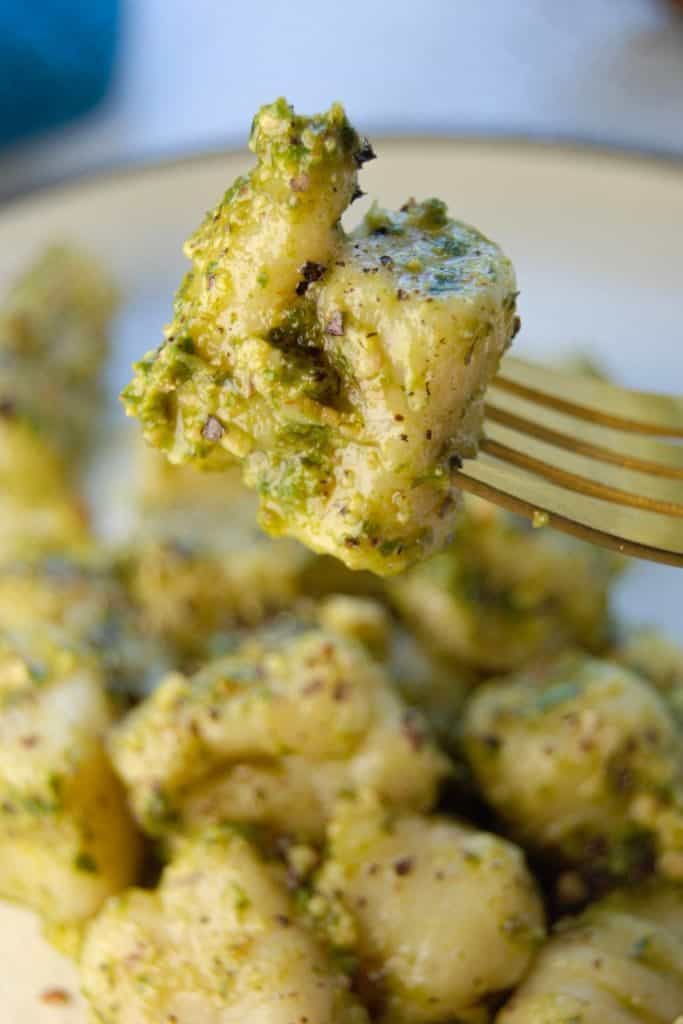 Linda, Linda: Listen. What I'm telling you is gnocchi is more parts flour than potato on most occasions, especially the vegan ones. This has been a serious mental hangup for me! I've spent recipe after recipe thinking gnocchi is more potato than pasta. This is not the case. Gnocchi is more pasta (flour) than potato. Once you realize this, you're going to be basking with me in gnocchi bliss.
Let's make Vegan Gnocchi!
Don't freak out. Don't stress. Don't even think back to all those times trying your hand at vegan gnocchi has left you hungry and frustrated. Nope, today we conquer!
Girl/Boy: First, you gots to peel, chop and boil some potatoes. NBD here. After they are fork-tender, mash them in a large mixing bowl until no lumps remain. Sorry Fergie, we aren't having it.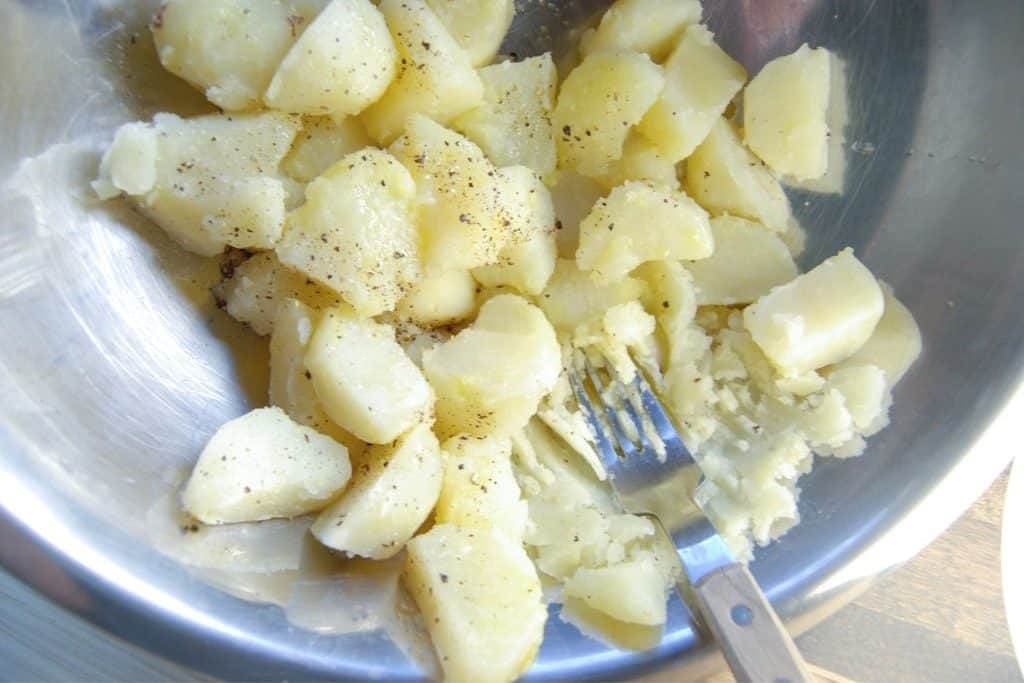 When your potatoes are a creamy, dreamy consistency it's time to get to work. Add in the oil, flour, and salt to create your pasta dough. Pasta, pasta, PASTA Y'ALL!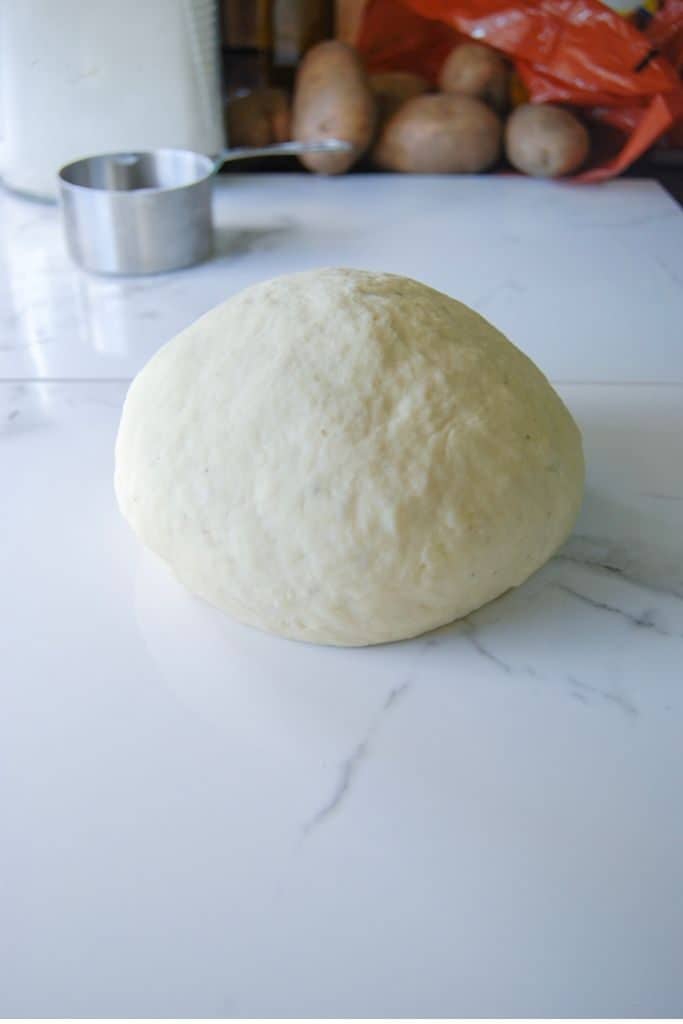 We're going to take this dough and roll it out into gnocchi pasta logs. We're so close, this is happening. We're eating pasta tonight!
Tidbit: You're going to want to be working on a floured surface to avoid dough sticking.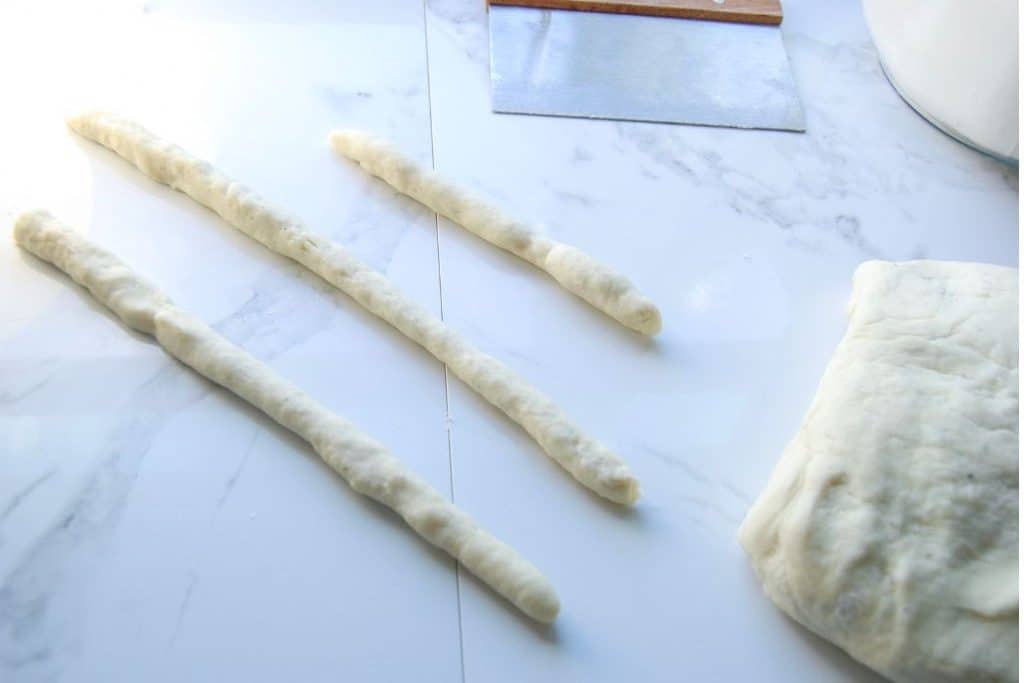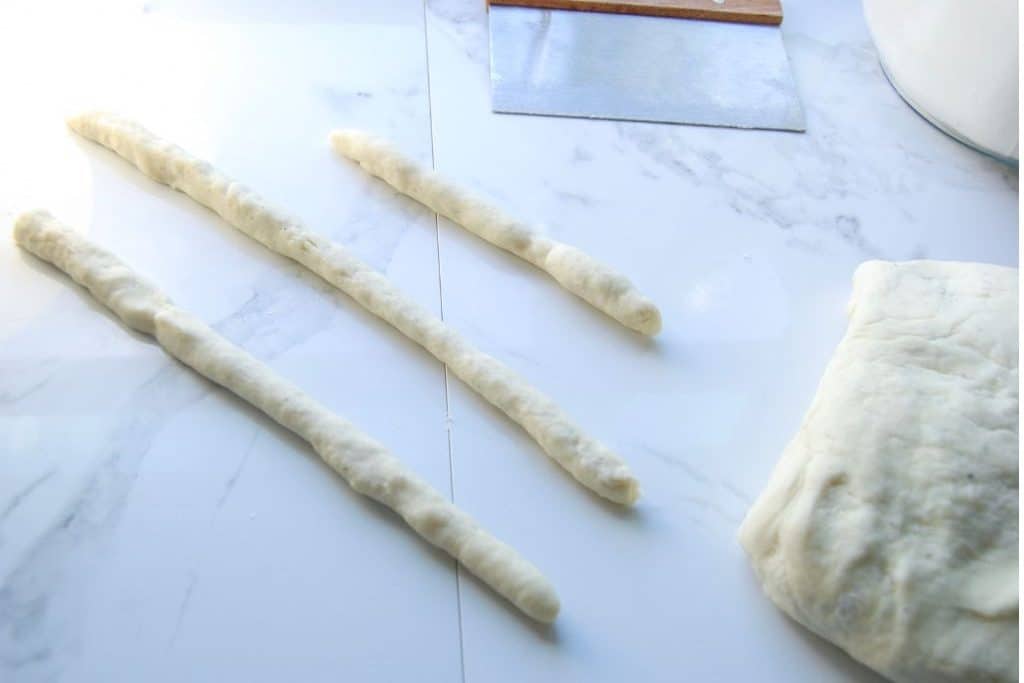 Shaping your gnocchi dumplings
I know you're tired. It's already been a half-hour. Your counter is covered with flour, there are dirty dishes in your sink, and you still aren't there.
Never give up, Never surrender!
Take those dairy-free gnocchi pasta dough logs you just made and slice them up! Action, Jackson! Use a pastry cutter if you have one, and cut into 1/2″ pieces.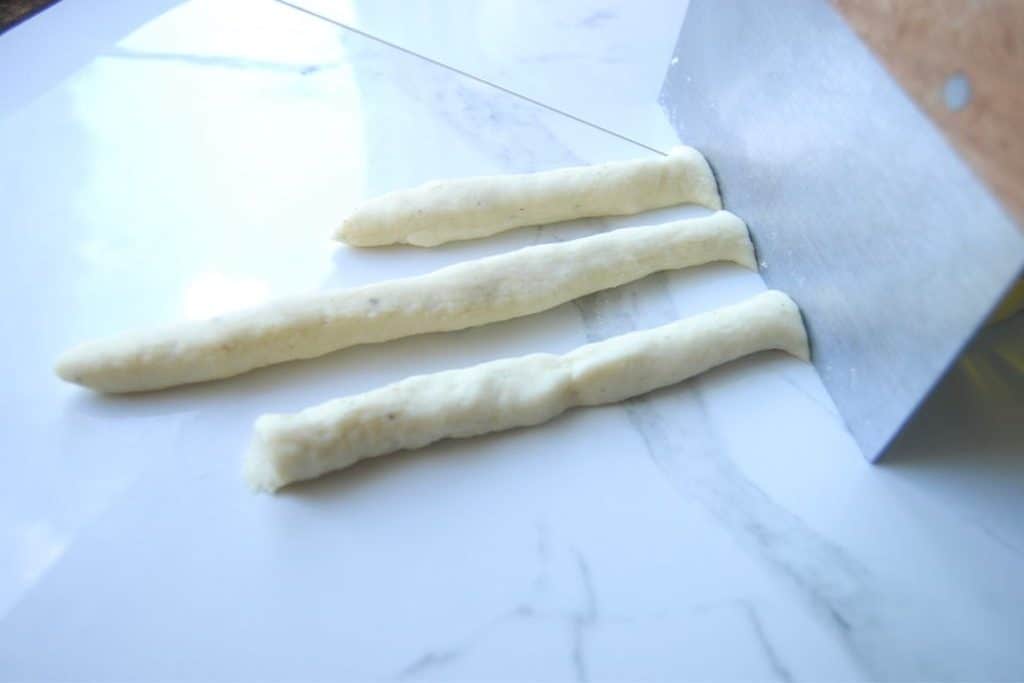 At this point, you can boil them, sauce them, and consume the ever-living daylights outta them…. but we're eating with our eyes and we're here to beautify.
It's time for the fork-tining.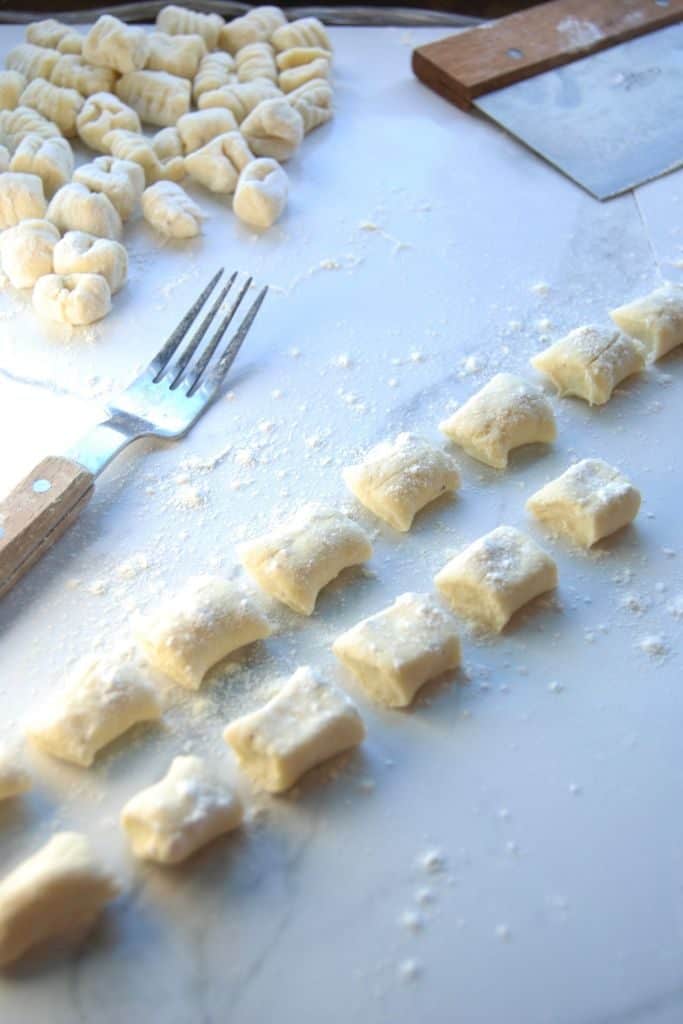 Aren't they just the cutest? I mean hellooooo, each little gnocchi has it's own little gnocchi shadow because they are *that* special.
Basically, you're going to open your silverware drawer, flip a dinner fork over and roll each egg-free gnocchi down the back of the tines for texturing aka the most adorable sauce absorbing nooks and crannies on earth. Earth.
You have arrived. Gnocchi- it's pasta- is really versatile! Serve with tomato sauce, pesto, cream sauce, sauteed veggies, leafy greens, options galore.
Um, also, this meal is firshir insta-worthy so go ahead and salt bae your feed with some gnocchi magic. Proud of you and really hope you enjoy it!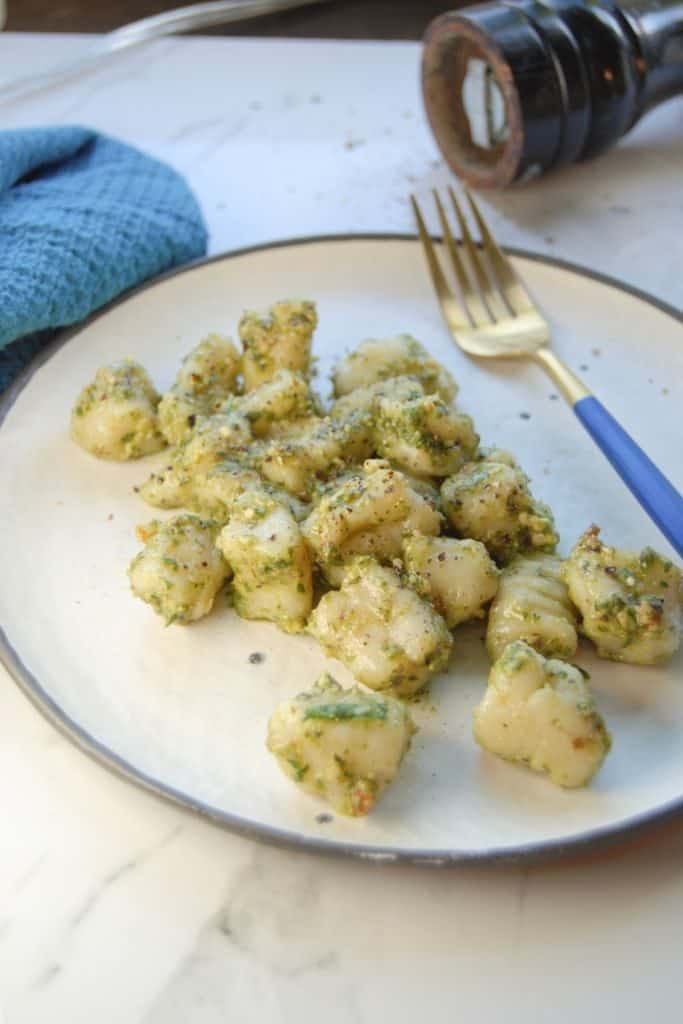 Print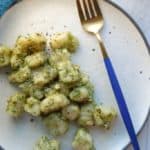 Foolproof Vegan Gnocchi
Author:

Adriana

Prep Time:

55 minutes

Cook Time:

5 minutes

Total Time:

1 hour

Yield:

50

–

75

gnocchi

1

x

Category:

Vegan Dinner

Method:

Stovetop

Cuisine:

Pasta
---
Description
Date Night: Get ready to take things to the next level! This is your go-to, no-fuss, make your mama proud recipe for delectable vegan gnocchi! Take these perfect potato bites, add colorful sauteed veggies, and a flavor-forward sauce to take you to carbohydrate heaven tonight. A little time + a little patience = Pasta feast (with leftovers!) Whose pouring the red wine around here, anyway? 
---
1

lb russet potatoes, peeled and boiled

1

–

2.5

cups all purpose flour

3 tablespoons

olive oil

1 teaspoon

salt 
---
Instructions
1. Peel the potatoes, remove any eyes or dark spots. Cut the potatoes into 1″ thick rounds, cut the rounds in half, then quarter. Try and keep all quarters about the same size and thickness so the potatoes boil evenly.
2. Boil potatoes until fork-tender. A common dinner fork, inserted into a potato piece should pierce through it easily. Strain them and place the strained potatoes into a large mixing bowl.
3. Mash the potatoes until no lumps form. I usually mash the potatoes, then grab and smoosh a bit between my fingers to check for lumps. 
4. Add olive oil and mix into the potatoes.
5. Add flour and salt. Mix into the potatoes with a spoon until a rough dough forms. If a non-sticky dough isn't forming, add more flour, 1/4 cup at a time.
6. Flour a cutting board to knead and roll your gnocchi.
7. Here's where you need to STOP! This is pasta, with some potatoes incorporated for pillowy mouthfeel. This recipe is mainly flour, with some added potatoes. Don't stress if you need to add more flour. I have used 1 cup of flour all the way up to 2.5 cups before. It's a wide range depending on the moisture content in your potatoes.
8. If you think your gnocchi is ready, is a nice smooth, workable dough- wash your hands and walk away for 5 minutes. Come back around a knead the dough a couple more times. Does is actually still feel sticky? Add a touch more flour!
9. Shape the dough into a ball, then smash into a disc shape. Cut the disc into 8 equal sections. Take one section to begin working with.
10. Grab a section of dough and roll it out into a long log shape that's 1/4-3/8″ thick. Cut the log into 1/2″ pieces.
11. Prior to fork-tining the gnocchi for those sauce loving pleats, take your freshly cut gnocchi-log and dust all the pieces with flour. This helps prevent sticking. I always do a couple test gnocchis at this point. Drop a couple gnocchis into boiling water until they float to the top. Cool and taste. Texture okay?
12. This is optional! The pleats. Place a fork upside down on your cutting board. Start at the base of the fork, push and roll your naked gnocchis downward across the tines. Voila! I've found smaller gnocchi are easier to create those IG worthy crevices.
13. Heat a pot of salted water to a rolling boil. Add you gnocchis and boil for 2-4 minutes. They are done after they float on top for about 30 seconds. 
14. Pair with your favorite sauce, fresh vegetables, or leafy greens and enjoy!
---
Notes
**Gnocchi freeze wonderfully! Everytime I make them I freeze half of the uncooked gnocchi for easy weeknight meals. Place them on a baking sheet, not touching one another, until frozen- about 2 hours. Once frozen you can store in a container for future use. To cook frozen gnocchi, simply add to salted boiling water and extend the cook time!
Keywords: Pasta, Vegan Dinner