Adriana has published hundreds of recipes online and is a Board Certified Nutritionist. Read our recipe development process or more about Adriana.
Cinnamon roll pancakes are a decadent breakfast treat! It's the comforting flavor of cinnamon rolls with the amount of time it takes to cook up a simple batch of pancakes. These are great for a holiday or a special morning and are so cozy and comforting with the brown sugar & cinnamon flavors.
There is a quick icing drizzle you can make to serve with these cinnamon roll pancakes to fully evoke cinnamon roll feels, or simply use maple syrup and butter. Either way, these pancakes are delicious!
(This post may contain affiliate links. That means I'll get a small commission on any sales made through those links. Read our full disclosure.)
How To Make Cinnamon Roll Pancakes
Cinnamon roll pancakes are nearly as simple to make as your standard pancakes. Main difference- you'll need another bowl to make the cinnamon swirl mixture and you'll need to pipe the swirl on the pancake.
Like any pancake batter, this recipe begins by mixing the wet and dry ingredients to form a batter. The real magic here is that gooey brown cinnamon swirl! A batter bowl like this makes easy work of it.
By combining butter, light brown sugar, and cinnamon into a paste you can pipe a swirl pattern onto the pancake after you have poured the batter on your pan. The swirl consistency should be similar to toothpaste.
Add the swirl mixture to a plastic sandwich bag, push all the filling down to one corner of the bag, and snip a tiny opening on the tip of the corner- your own DIY piping bag! To pipe the swirl, begin in the center of the pancake about 3-4″ above the pancake. Gently squeeze as you move slowly in a spiral pattern. Touch down with the piping bag toward the pancake if you find the stream of filling isn't landing where you intend, but is 'following' your hand around.
You can do a test spiral on a plate if you'd like and scoop the mix back into the bag but the first pancake is always a learning curve anyway, right?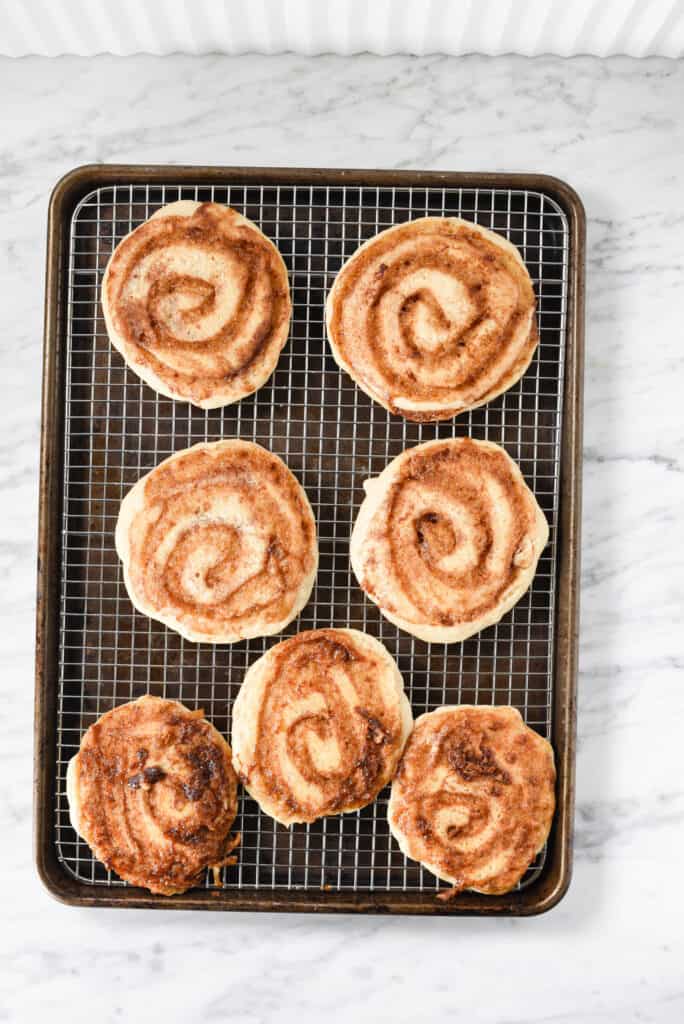 Cooking Cinnamon Roll Pancakes
Adding the cinnamon swirl does change how to cook these pancakes. We recommend piping the swirl as soon as you pour the batter and cooking the pancake 90% of the way on that first side. This gives the swirl ample time to melt into your pancake and become the cinnamon roll 'filling'.
A flip and a brief cook on the second side and voila! Time to drizzle with a quick powdered sugar icing and pour a hot cup of coffee.
When you flip these pancakes, some of the cinnamon swirls will leak out and begin to bubble up around the edges of the pancake. Don't fret, this is expected and we're sharing tips below on the best way to make your swirl.
Note: If you cook pancakes often enough an electric griddle is a total game-changer. Here's our favorite pancake griddle and pancake spatula. Up your pancake game 🙂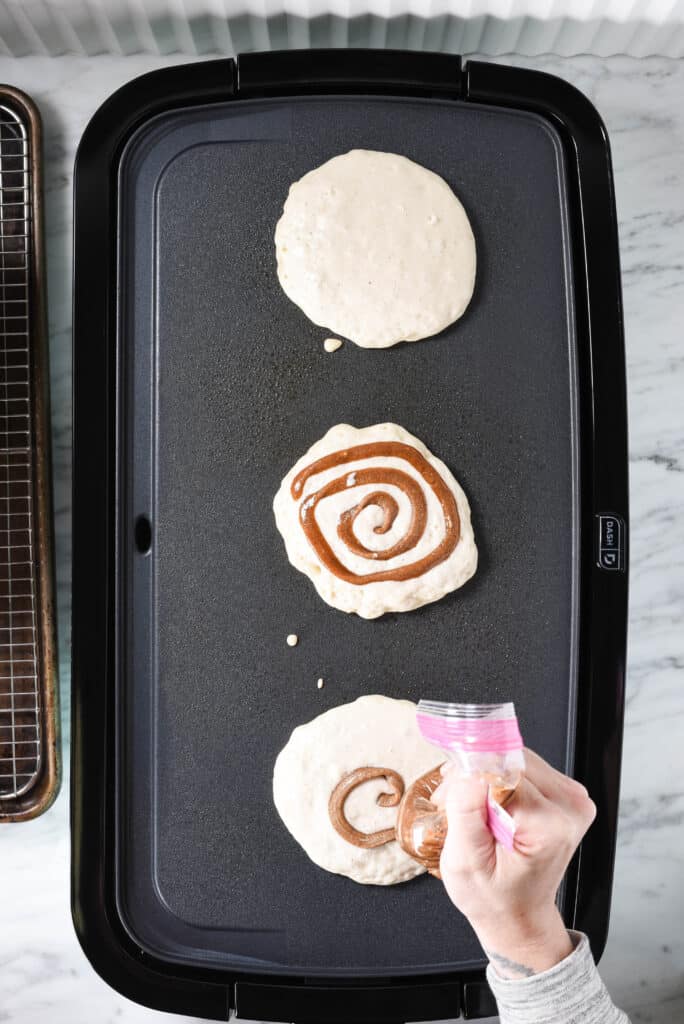 Icing For Cinnamon Roll Pancakes
When you think of a cinnamon roll, what comes to mind? Soft sweet dough, warm flavors of cinnamon and brown sugar, and a thick white icing of some sort. While you can eat these pancakes with maple syrup, a quick icing drives home the cinnamon roll feel.
For the icing, all you need is powdered sugar, vanilla extract (or almond), and milk! Easy peasy but so worth it.
Cinnamon roll pancakes are on the sweeter side, if you're not a huge fan of sweets for breakfast you can eat or serve these with just butter and they will still taste delicious! If we make enough for leftovers, on day 2 I'll usually have mine with only a pat of butter.
Tips On Cooking The Cinnamon Swirl Side
While researching this recipe, we found so many questions and concerns about the cinnamon swirl on other recipe sites, Reddit, Instagram, TikTok, etc. The cinnamon swirl is primarily sugar so it's easy to burn while cooking as it can leave a goopy mess on your pan or skillet.
Some remedies for this were adding a tablespoon or two of batter to the swirl mixture, using a very cold swirl mixture, using peanut butter in the swirl mixture, adding the swirl just before flipping- the list goes on and on. We tried all the tips we could find and have found our favorite method for the best swirls on these pancakes.
Our tip: Add the cinnamon swirl to the pancake as soon as you pour the batter! Let the pancake cook on that first side until almost fully cooked. You'll see the swirl sink into the pancake and the cinnamon sugary goodness will permeate the interior of the pancake. Flip and cook for a brief 20-30 seconds on the second side.
This still requires a quick wipe with a wet paper towel to remove any excess swirl mixture from the skillet.
We also recommend a more careful flip with these pancakes to prevent dragging or moving them around and potentially spilling more filling (when the swirl side is down).
Expert Tips On Making Pancakes
#1 As everyone says 'Don't over mix the batter!' A few spins of the whisk once wet and dry ingredients are combined is all you need, as long as no dry spots are hiding at the bottom of the mixing bowl– you're set.
#2 After mixing your batter, a 5-minute rest will help leaven the batter. The batter will thicken and bubble, almost taking on a cottage cheese appearance! Anything longer and the baking soda will have lost potency as you get around to making your last pancake.
#3 We've found frying pancakes in butter, not oil produces the best result. Either cut a thin slice of butter from the block or swirl the tip of a stick of butter around in the pan a few times.
#4 Pancakes are ready to flip when the perimeter edge looks cooked and dry, and has a matte appearance. There will be visible holes on the surface of the pancakes, where air bubbles have popped.
#5 It is tempting to pat or smash pancakes down with the spatula after flipping, but don't do it! This will compress and flatten the pancake.
#6 How much batter per pancake?
1/4 cup makes 8-9 silver dollar-sized pancakes.
1/3 cup makes 5-6 adult-sized pancakes that are easy to flip.
1/2 cup makes 3-4 big, restaurant-style pancakes.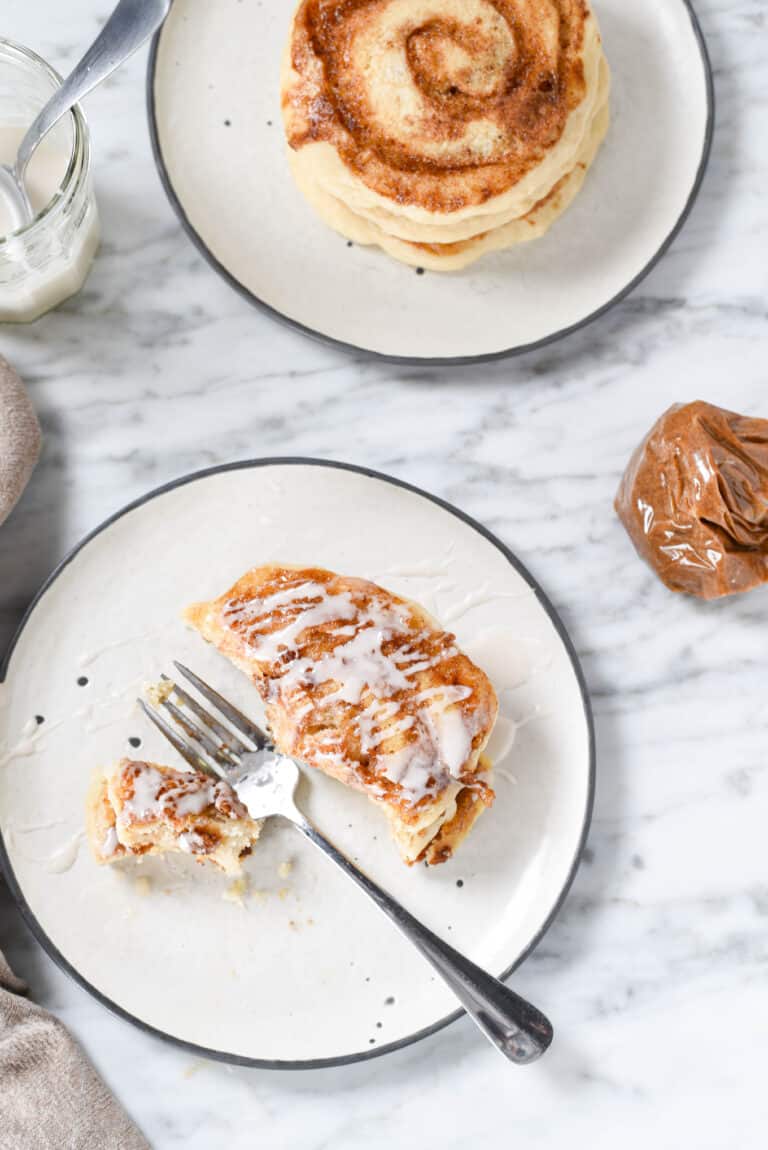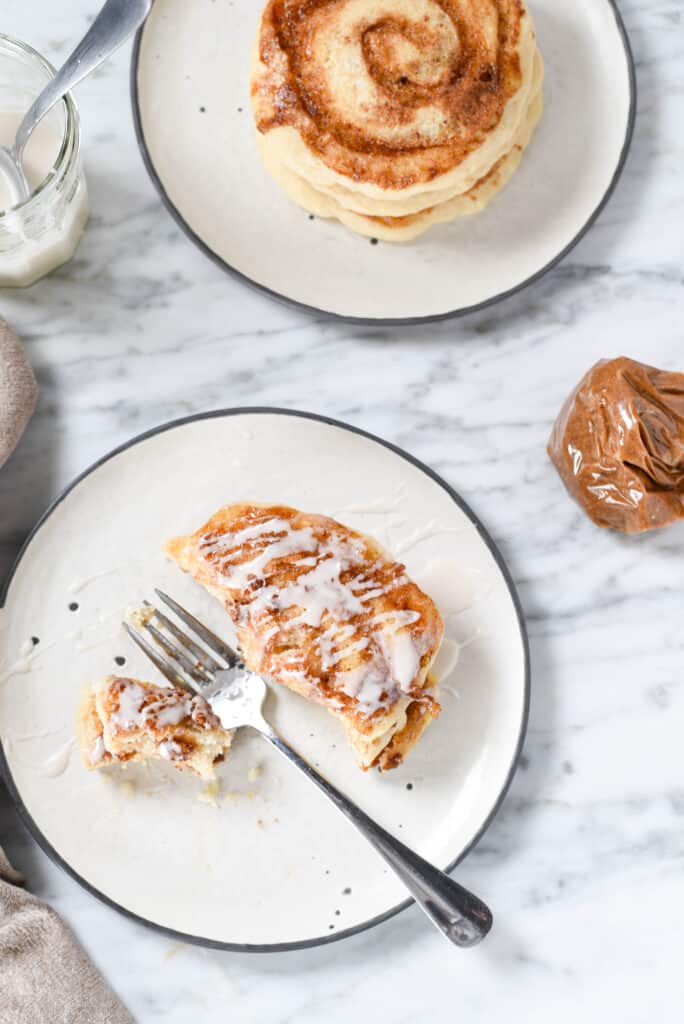 Storage & Reheating
Cinnamon roll pancakes are make-ahead friendly and reheat the same as standard pancakes. Leftover cinnamon roll pancakes can be stored in the fridge for 3-4 days. After they have cooled to room temperature, you can stack them and place them in a plastic bag or storage container. They will stick together a bit, but not terribly.
Another option (what we do) to store leftover pancakes is to place the cooled pancakes on a small sheet pan, a quarter pan like this, and cover it will foil. This way the next morning we just pop the pan into the oven to warm them all up.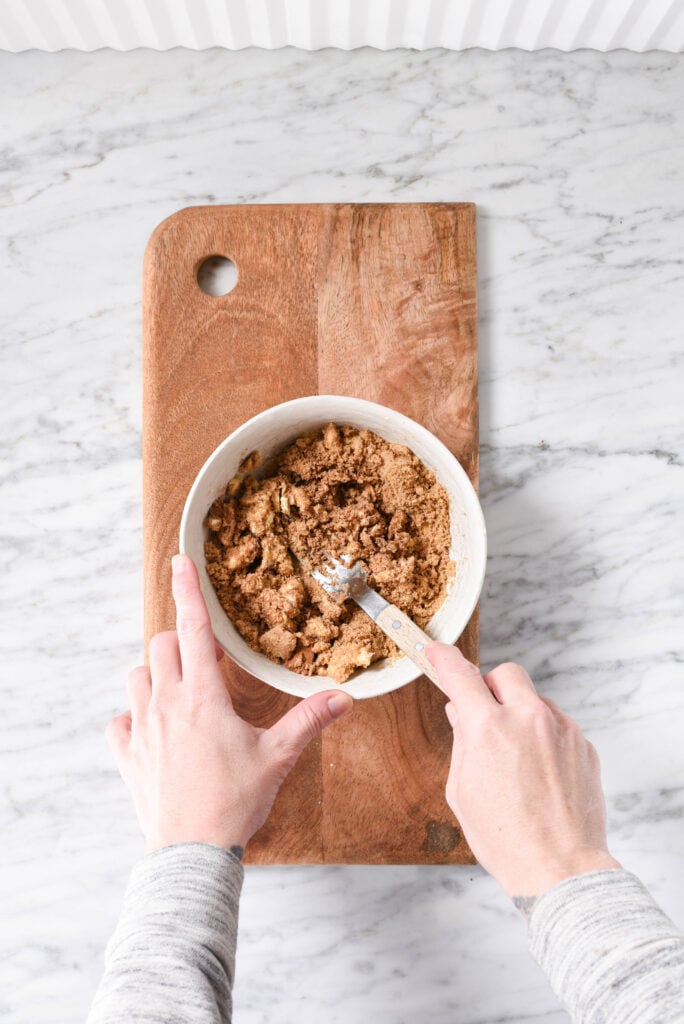 Print
Vegan Cinnamon Roll Pancakes
Author:

Adriana

Prep Time:

10 minutes

Cook Time:

15 minutes

Total Time:

25 minutes

Yield:

8

pancakes

1

x

Category:

Vegan Breakfast

Method:

Stovetop

Cuisine:

American

Diet:

Vegan
---
Description
Vegan Cinnamon Roll pancakes are soft & fluffy pancakes with a spiral of brown sugar and cinnamon that taste just like an ooey gooey cinnamon roll! Drizzle these pancakes with a quick cinnamon roll icing and dig in.
---
WET:
1.5 cups

milk

1 tablespoon

oil or

1 tablespoon

melted butter

1 teaspoon

vanilla extract

1 teaspoon

lemon juice (sub white or apple cider vinegar)
DRY:
1.5 cups

all-purpose flour (scooped & leveled)

2 teaspoons

baking powder

2 tablespoons

sugar

1/2 teaspoon

salt

1/4 teaspoon

baking soda
Cinnamon Swirl:
1/3 cup

cold butter

1/2 cup

light brown sugar (dark brown will work)

4 teaspoons

cinnamon
Vanilla Icing: (optional)
1 cup

powdered sugar

1 teaspoon

vanilla extract

2

–

3

tablespoons milk
---
Instructions
Make the cinnamon swirl mixture:

Cut butter into 1/2″ slices and place in a large bowl. Add the cinnamon and brown sugar and mash together with a fork. It will take about 30 seconds of mashing before the mix starts to come together, but the butter will soften and incorporate with the sugar and cinnamon. Place this mixture in a plastic bag and make a small snip in the corner. (so it becomes a makeshift piping bag!) Set aside and it will continue to soften just a bit.
In a large mixing bowl, combine all wet ingredients and whisk to incorporate. Add all dry ingredients to a sieve and sift into the wet ingredients. This helps ensure wet ingredients are well mixed and prevents dry spots of flour on the bottom of the bowl.
Heat up your griddle to 325 or skillet to medium-low heat. This gives pancake batter adequate time to thicken.

Make the optional icing:

While the batter rises and the griddle heats, sift powdered sugar into a mixing bowl. Add the vanilla extract and 2 tablespoons of milk and stir to combine. Add more milk if the icing is too thick. Set aside until your pancakes are ready.

Cook the pancakes:

Use butter or spray oil to lightly coat the cooking surface then pour batter onto the skillet or griddle.

1/4 cup makes 8-9 silver dollar-sized pancakes.
1/3 cup makes 5-6 adult-sized pancakes that are easy to flip.
1/2 cup makes 3-4 big

Grab the piping bag. Begin at the center of the pancake and squeeze gently as you move in a swirl pattern around the pancake. Touch down to the batter if the stream of filling is 'following' your hand vs sticking to the pancake. For best results, pipe the swirl as soon as you pour the pancake batter.
Cook until the edges are very set, have a dry appearance, and you see holes (not bubbles, but holes from popped bubbles) on the surface of the pancake. Flip and cook for 20-30 seconds on the second side. A very brief cook time on the second side helps prevent the swirl mixture from leaking out all over. Some of this mixture will leak out.
Use a damp paper towel to wipe down the griddle between each batch of pancakes. The swirl side of the pancakes will bubble up and some swirl will leak out during cooking.
To remove, carefully slide a spatula under the pancake and lift. Try to avoid dragging and catching the spatula as this will alter the swirl. It will still taste lovely, just won't look as pretty.
---
Notes
Room temperature/ softened butter melts and makes quite a mess when swirling and cooking the pancakes. If you'd prefer to use softened butter to mix the swirl ingredients together, bag it and place it in the fridge for 30 minutes to thicken and chill.
The best tip for keeping the swirl intact is to pipe the swirl onto the pancake as soon as you pour the batter down. This gives the swirl filling ample time to sink into the pancake. Cook the pancakes almost fully on the first side then flip for a brief 20-30 second cook on the second side.
Wipe the griddle with a damp paper towel in between batches to remove any leftover cinnamon filling as the sugar left on the griddle will burn.
Cook these pancakes on medium-low heat or 325 on an electric griddle as we want to almost fully cook the pancakes on that first side to prevent the swirl mixture from spilling out. If using a cast iron pan, you may need to lower the temp after your first batch of pancakes as a cast iron pan may continue to heat up.
Keywords: Cinnamon roll pancakes