Turmeric juice is an amazing way to celebrate the flavor and benefits galore of fresh turmeric! We're going to walk you through how to make turmeric juice using a variety of kitchen appliances so you too can cheers with us and enjoy the vibrant orange concoction!
Turmeric juice is a delicious and health-forward beverage– It's a great way to begin the morning and a refreshing afternoon pick me up. It's abundant with good-for-you vitamins, minerals, and antioxidants.
If you're after high concentrate turmeric shots, see our updated recipe for turmeric shots here.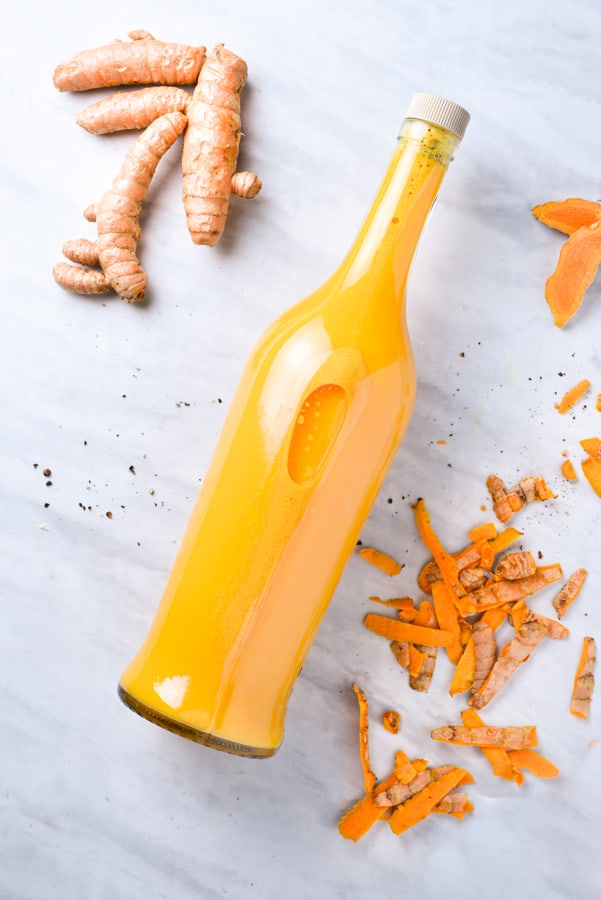 How To Make Turmeric Juice
Let's make fresh turmeric juice! This recipe takes about 15- 20 minutes to come together and only requires a handful of ingredients. Easy, peasy turmeric squeezy!
To make turmeric juice you can use a high powered blender, a juicer, or even a bullet blender. When we make a single batch of this, we usually toss everything in our bullet blender. But for larger batches, we rely on our trusty Vitamix.
Here's what you'll need:
about 3– 4″ pieces of turmeric ~ 75 grams unpeeled
2″ of fresh ginger or 1 tablespoon ground
juice of 1/2 a lemon (about 2 tablespoons)
1 small orange or 3-4 mandarins/clementines
1 1/4 cup water
Optional 2 tablespoons honey or other sweetener
Optional fresh cracked black pepper
We'll peel the turmeric & ginger prior to blending into juice– we have taste tested this both ways (peeled and unpeeled) and haven't noticed a difference. However, as both turmeric and ginger grow underground they can have a significant amount of dirt residue on the skin.
If you choose not to peel them to save time be sure to wash and scrub them thoroughly to remove any dirt and debris.
We think the easiest way to peel fresh ginger and turmeric is the following:
Cut all the small nubs and knots off to have semi-straight, smooth pieces.
Cut the woody base off the root off.
Use a spoon to remove the thin, papery skin by scraping the spoon back and forth across the pieces.
NOTE: Turmeric will stain you hands, nails, counter, cutting boards, and utensils!! Use gloves if you have somewhere to be!!
After you have the turmeric and ginger peeled, simply add that with the remaining ingredients to your blender or juicer!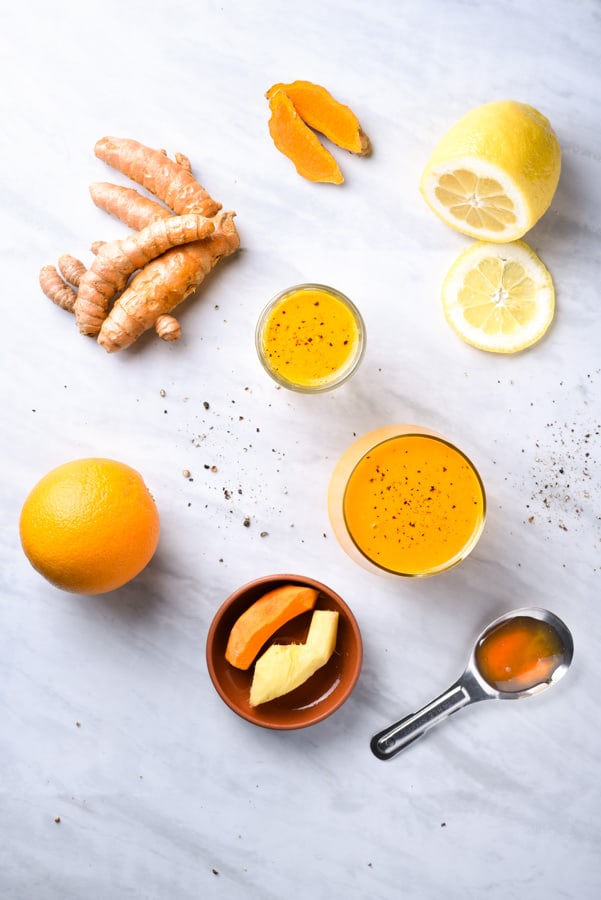 If using a juicer to make this recipe: Prepare and juice your ingredients then stir honey and black pepper into the 1 cup water and add to your finished juice.
If using a blender or Nutri-bullet to make this recipe: Add all ingredients to your blender, including honey and black pepper, and blend until smooth. Pour through a nut milk bag or fine grain cheesecloth to strain and separate the solid pulp.
How To Make Turmeric Shots
We have an entire post dedicated to turmeric shots due to the popularity of them on the site! You can read how to make turmeric shots, info about serving sizes and suggested doses of turmeric, and how many milligrams of turmeric is in the turmeric health shots.
Get all the info and recipe for turmeric shots here!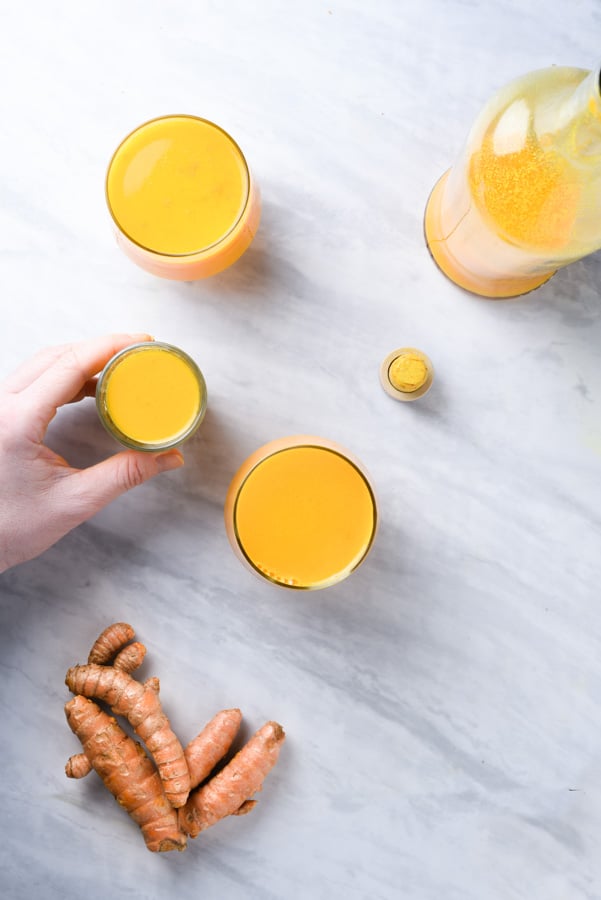 Can You Use Ground Turmeric?
Fresh turmeric isn't widely available across the globe so we tested a version of this recipe using ground turmeric powder as well. The mouthfeel of turmeric juice made using fresh turmeric is superior to using ground turmeric BUT ground turmeric will work.
If you are using ground turmeric to make turmeric juice, use 1/4 cup ground turmeric (and 1 tablespoon ground ginger) and steep this in hot water for 5-10 minutes, then strain to remove the powder.
I found a coffee filter a very easy way to separate the ground turmeric and ginger from the water. This leaves you with a silky smooth 'turmeric tea' that doesn't have any gritty or chalky residue.
ALSO NOTE: Turmeric juice made with ground turmeric lack body compared to juice made with fresh turmeric. It's a thinner viscosity– it's light, like water. To combat this, I found using half coconut milk and half water helps to give ground turmeric juice more body.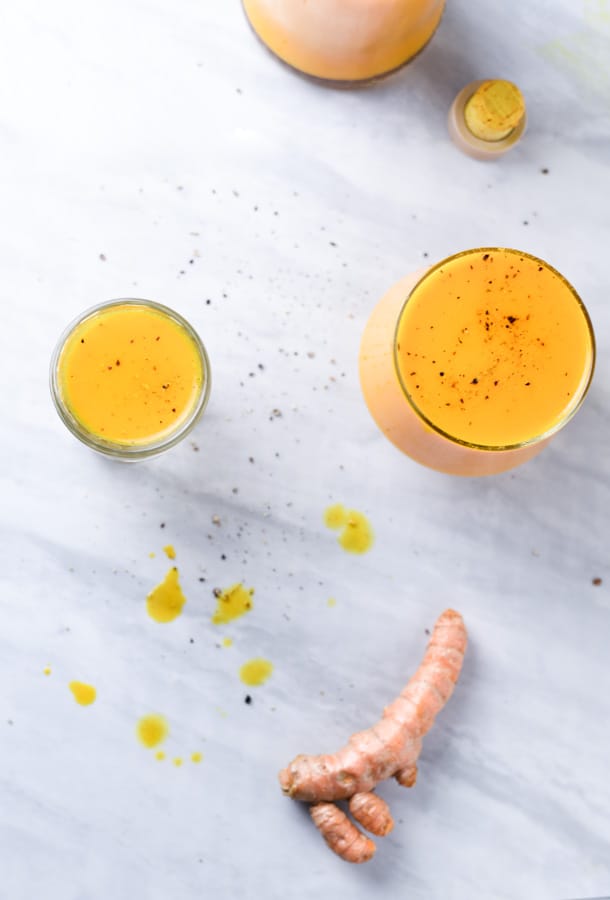 Why Drink Turmeric Juice?
Turmeric is all the rage in the health and wellness community right now– its suggested health benefits probably are probably how you landed on this recipe!
Turmeric may be helpful with a variety of skin conditions- from psoriasis to eczema- and may help maintain homeostasis (things like blood sugar and cholesterol levels) and is considered a powerful anti-inflammatory, which can help with a variety of functions in the body.
It's the anti-inflammatory assistance we're after which comes from a compound in turmeric called curcumin.
Pairing turmeric with fresh black pepper and a dose of healthy fat is touted as the perfect trifecta- here's why: black pepper helps our bodies pull more of the beneficial curcuminoids from turmeric and fat may help our bodies maximize the absorption of curcumin.
If you try to eat turmeric on a regular basis, check out our master list of turmeric recipes!
Add Carrot, Pineapple, OR Orange To Your Turmeric Juice!
We love to make turmeric juice with oranges or clementines as we usually have them on hand and they add a mild natural sweetness that gives turmeric juice a well-balanced quality.
However, adding carrot or pineapple to your turmeric juice also keeps the color an ulta-radiant, gorgeous hue and maintains a health boost. If you prefer carrots or pineapple in place of, or in addition to oranges- feel free to make the substitution!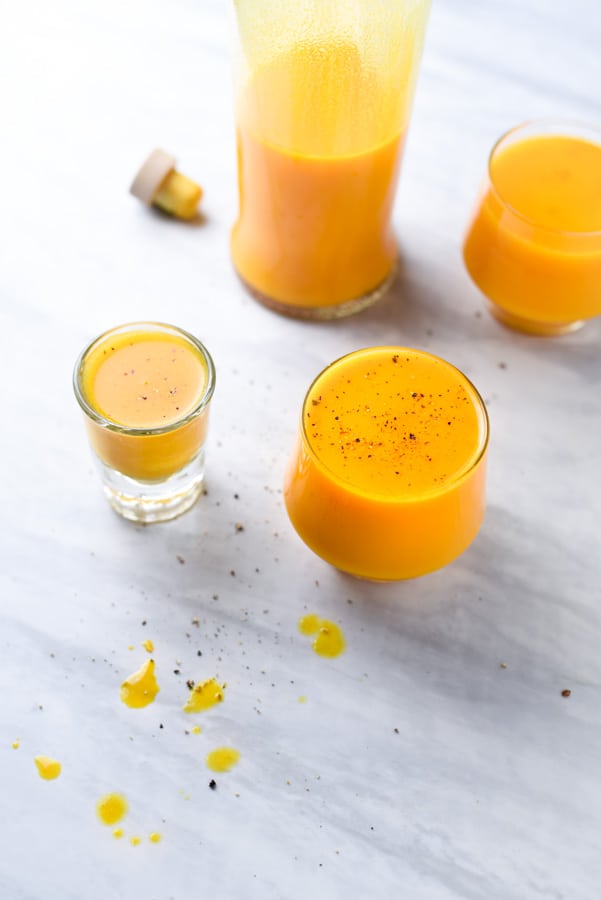 FAQS About Turmeric Juice
How long does turmeric juice last in the fridge? This usually lasts us 4-5 days in the fridge. It may last up to 7 days in the fridge but we recommend using it within 5 days.
How much turmeric juice to drink? That depends! Before starting any new health regimen, speak to your doctor as we can't provide medical advice. However, this isn't concentrated– water and other ingredients are added to the turmeric juice. We usually drink a turmeric shot once a day or an 8-ounce glass of the juice as we feel like it. Consult your doctor or healthcare provider!
Where can you buy fresh turmeric? We buy fresh turmeric at health food stores in our area pretty much year-round. I've heard of people having success ordering fresh turmeric online through Amazon, but haven't tried it myself.
Can you make this in a food processor? We haven't tried making turmeric juice in a food processor– a blender, juicer, or bullet blender will work best.
Turmeric stains my blender- how do you clean it? Hot water and a soapy scrub-down are a great first step, but even in doing so, our blenders become stained. This works spectacularly: Take your washed, dried blender and place it in a sunny window for 4-6 hours. The turmeric stains will all fade away!
Print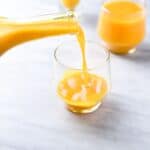 AMAZING Turmeric Juice
Author:

Adriana

Prep Time:

15 minutes

Total Time:

15 minutes

Yield:

~1.5 cups

Category:

Turmeric Recipes

Method:

Blender

Cuisine:

American
---
Description
Learn how to make fresh turmeric juice at home using fresh or ground turmeric– NO JUICER REQUIRED!! Make turmeric juice in a blender or bullet blender!
---
1

small orange

2

" of fresh ginger root OR

1 tablespoon

ginger powder
about

3

— 4″ pieces of turmeric ~ 75 grams unpeeled (about

1/2 cup

– 1″ pieces ) OR 1/4 cup ground turmeric

1.25 cups

water

2 tablespoons

lemon juice

2 tablespoons

honey or maple syrup (optional)
pinch of black pepper (optional)
---
Instructions
Using FRESH turmeric/ginger:
Optional–If peeling fresh turmeric and ginger using the back of a spoon to remove the papery skin. Chop the roots into 1″-2″ pieces and add to blender.
Peel the orange or clementines and chop into 1″-2″ pieces; add to your blender.
Add lemon juice, water, and sweetener if using. Optionally add a 1/4 teaspoon of black pepper.
Blend for 30-60 seconds until no chunks remain.
Use a fine sieve, tea towel, or nut milk bag to strain the juice and separate all solids from the juice, especially if you didn't peel the turmeric/ ginger.
Store in an airtight container in the fridge for 3-5 days.
If using GROUND turmeric/ginger:
Measure coconut milk and water and add to a small pot to warm, heat to a simmer. (1/2 cup coconut milk and 3/4 cup water is a good ratio.) Remove from heat.
Add ground turmeric and ginger to the pot and stir to combine. Steep for 5-10 minutes.
Pour this mixture through a coffee filter of very fine weave nut milk bag to strain. It will take time to strain as ground turmeric is a very fine powder, leave it to strain for 15-20 minutes and let gravity do its thing. (A coffee filter is our recommendation– it works great!)
While this drains, peel and chop your mandarins or orange, juice your lemon, measure your sweetener and add these ingredients to a blender.
Gently squeeze the remaining juice out of the coffee filter to extract the remaining juice without breaking the coffee filter.
Add your turmeric & ginger liquid to the blender with other ingredients. Blend for 30-60 seconds until no large pieces of fruit remain.
You can strain to remove the orange pulp or drink as is!
Store in an airtight container for 3-5 days in the fridge.
---
Notes
** Turmeric juice made with ground turmeric doesn't have as much body, it's a thinner viscosity than turmeric juice with fresh turmeric. To mitigate this, we like to use coconut milk instead of water when making turmeric juice from ground turmeric. You can use half water and half coconut milk for a perfect replacement!
** This will last from 3-5 days in the fridge.
Keywords: Turmeric juice recipe